Sonicare ProtectiveClean 6500 Review
Disclaimer: As an Amazon Associate we earn from qualifying purchases at no additional costs to you.
Any Philips Sonicare ProtectiveClean 6500 review would highlight its remarkable features that make it a popular favorite from the world's top manufacturer of electric toothbrushes.
What's Good About This Model? Here's a mini Sonicare ProtectiveClean 6500 review
Pros:
a choice of 3 different brushing modes
BrushSync technology tells you when it's time to change brush heads
pressure sensor avoids accidental damage to gums and teeth
excellent battery life
a set of 5 replacement brush heads
premium travel case that also serves as a recharger
Cons:
a little uncomfortable to use
costs slightly more than entry-level electric toothbrushes
If you're in a hurry…
3 Quick Questions To Help You Decide
1. Are there any serious problems with the Sonicare ProtectiveClean 6500 electric toothbrush?
No, there's nothing about this model that might make you regret buying it.
Of course there are some premium features which you may not find in this model. But it comes in a range of exciting colors and includes a bunch of useful accessories.
2. Are other models as good as Philips Sonicare ProtectiveClean 6500 ?
For a long time the Sonicare ProtectiveClean 5100 was considered the best Sonicare toothbrush. But the Sonicare ProtectiveClean 6500
 has the edge over it in several little ways. Of course the price is higher, but the value you'll receive is definitely worth paying for.
If you're looking for the top shelf models with all the bells and whistles in an electric toothbrush, then you might prefer the Philips Sonicare DiamondClean Smart 9300 or Oral-B Genius Pro 8000 models.
3. Where can you buy the Sonicare ProtectiveClean 6500 electric toothbrush?
Like any Sonicare ProtectiveClean 6500 review will reveal, you can order this online from Amazon.com
 and have it conveniently delivered right to your doorstep. It's also a good chance to save some money from coupon deals and special offers.
You'll also find the model stocked in retail outlets like Walmart, Walgreens or Target supermarkets. You can read a detailed Philips Sonicare ProtectiveClean 6500 review here.
How Does The Sonicare ProtectiveClean 6500 Compare?
In introducing the Sonicare ProtectiveClean 6500 electric toothbrush
, it's important to point out how similar it is to another hot selling model – the Sonicare ProtectiveClean 6100.
There are some interesting differences that set this electric toothbrush apart from other models and brands. They are responsible for its popularity among users.
At the end of this Sonicare ProtectiveClean 6500 review you'll have enough information to help you decide if this is right for you.
Travel Case
One of the major distinctions that sets apart the Philips Sonicare ProtectiveClean 6500
from its closest cousin is the travel case that comes with it.
The Sonicare ProtectiveClean 6100 has a basic travel case that only has room for the brush handle and a couple of replacement brush heads. The travel case in a Philips Sonicare ProtectiveClean 6500 is a premium design.
You can use it for USB recharging while the handle is stored inside the case. This is helpful while travelling since you don't have to pack a recharging stand. You simply have to plug in the USB cable.
A micro-USB connector at one end of the cable is attached to the travel case on the other side. This fits into any USB socket like a laptop computer, power bank or even a regular power outlet with the appropriate adapter.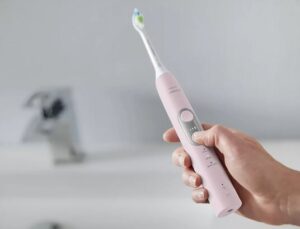 Replacement Brush Heads
One other difference in the Sonicare ProtectiveClean 6500
is that it comes with extra replacement brush heads in the pack.
With the Sonicare ProtectiveClean 6100 you only get one DiamondClean brush head inside the box. The Sonicare ProtectiveClean 6500 electric toothbrush includes two of these heads.
In addition you may also get some more extra brush heads making up five in total. (See the detailed Sonicare ProtectiveClean 6500 review for more details.)
In almost all other respects, the Sonicare ProtectiveClean 6500 is similar to the ProtectiveClean 6100.
But the slightly higher price tag is well worth paying because you'll get additional brush heads and a premium travel case for the extra cost.
What's In The Box?
When you purchase the Sonicare ProtectiveClean 6500 you'll get:
Why Should You Trust Our Recommendation?
A Dentist's Daughter is an independent and unbiased source of information about various electric toothbrush brands and models. Our reviews are detailed and comprehensive, helping you make sense of the vast array of information available.
We are not dentists or dental professionals. No brand or manufacturer supports or sponsors us. None of the information on this site is professional advice. Whenever you are in doubt, please consult your dentist or dental hygienist for advice.
The electric toothbrush reviews on this website are intended to help consumers like you who are struggling to make sense of the vast quantity of information available about brands and models of toothbrushes.
Hopefully this review will help you with enough information about the Philips Sonicare ProtectiveClean 6500
to make a decision. But if it is not right for you, we will never try to nudge or push you towards buying it anyway. Our reviews are free of bias and seek to provide a fair, balanced representation of these dental care products.
So let's go on with the Sonicare ProtectiveClean 6500 review.
Philips Sonicare ProtectiveClean 6500 Review
The Sonicare ProtectiveClean 6500 electric toothbrush may not be much different in cleaning performance from others like it. But it has a gentler brushing action which is ideal for users with gum infections (gingivitis) or sensitive teeth and periodontal disease.
Any Sonicare ProtectiveClean 6500 review must analyze the various aspects of this electric toothbrush. So let's look at comfort and user experience first.
Usability & Convenience
The Sonicare ProtectiveClean 6500
is initially somewhat uncomfortable for new users due to its thickness. But all users quickly adapted to it, and soon confirmed that they like it better than other models. Those with sensitive teeth were especially thrilled at how gentle the cleaning action was.
The toothbrush is also less noisy than other models. The pressure sensor automatically shuts off when you apply too much pressure while brushing. This avoids accidental injury to gums and teeth.
There is also less pain and discomfort. It is vital when a user suffers from gingivitis or has had dental surgery.
The Sonicare ProtectiveClean 6500 has Easy Start functionality which eases a first-time user gently into the experience of using an electric toothbrush.
For the first two weeks the brushing is slower and gentler. Gradually it increases over the next 14 days until it reaches full power. The reason is that many new users find the 31,000 brushstrokes per minute action scary or uncomfortable in the beginning.
Design & Looks
The Philips Sonicare ProtectiveClean 6500 electric toothbrush has a sturdy and sleek design. Also, it is slightly thicker than other models.
You can grip it firmly in your palm while brushing. The brush head is angled gently as with the Sonicare ProtectiveClean 5100 to reach behind the last molars.
The clustering of buttons and LEDs close together has been a concern in some Philips Sonicare ProtectiveClean 6500
reviews. A power button turns the device on and off. Pressing it repeatedly cycles between different intensities.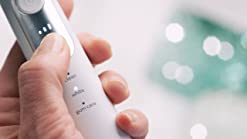 Three LEDs indicate the brushing intensity settings. Another set of vertically aligned LEDs shows you the cleaning modes.
On the whole, there are three modes – Clean, White and Gum Care.
You can choose from 5 different color options:
White Silver
Black
Pastel Pink
Navy Blue
Deep Purple
These models often come with color-matched replacement brush heads. They are identical in technical and performance aspects in every way. The only difference is the color of the brush handle.
A battery charge indicator LED is located near the bottom of the shaft. A metal shaft projects from the other end. This is where you snap on the replacement brush heads.
ProtectiveClean 6500 Review : Brushing Performance
The Sonicare ProtectiveClean 6500
operates in 3 distinct cleaning modes. These have advantages for specific purposes. The intensity of brushing action can be adjusted manually. You have a choice between low, medium and high settings.
Clean mode – 2 minute cycle for regular brushing
White mode – 2 and half minute cycle to polish front teeth
Gum Care mode – 3 minute session with a minute to massage gums
Most dentists recommend brushing for two minutes, equally distributed among the 4 quadrants.
The other modes offer extra time for whitening or gum massage. The electric toothbrush turns off automatically at the end of a cycle. This helps preserve battery charge for longer.
A quad pacer and timer indicate when it is time to shift to a different quadrant. In any case, this ensures uniform and complete cleaning.
The pressure sensor avoids excessive pressing down on teeth and gums. The resulting experience is more comfortable and pleasant.
Sonicare ProtectiveClean 6500 Review : Effectiveness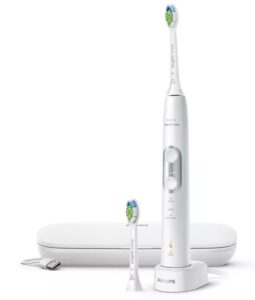 The Philips Sonicare ProtectiveClean 6500
is excellent at plaque removal. Many different tests have confirmed this quality.
BrushSync technology makes sure that you are alerted when it is time to replace worn out brush heads. Whenever the head and bristles get frayed or bent, the technology senses this damage. It will then alert you to replace the old head.
Typically this has to be done once in 3 months. But it also depends on how often you use the toothbrush.
Among other things BrushSync is one of the big pulls of the Philips Sonicare ProtectiveClean 6500. Many users are willing to pay the slightly higher price to enjoy these advantages.
Battery Life
The Philips Sonicare ProtectiveClean 6500
has an excellent battery life just like any other Philips Sonicare electric toothbrush model. It runs on a Lithium ion battery and delivers upto three weeks of regular use on a single charge.
This is superior to most Oral-B electric toothbrush models. However other Sonicare brushes like the Sonicare DiamondClean and Sonicare Essence have even more powerful batteries.
For frequent travellers, the 3 week battery life means that they will not have to take along a recharger.
With the Philips Sonicare ProtectiveClean 6500
, even if you need to recharge on the road you can use the travel case. It has a built-in USB charger that can replenish your toothbrush while it is stored away.
Where To Buy The Sonicare ProtectiveClean 6500 Electric Toothbrush?
A Sonicare ProtectiveClean 6500 review wouldn't be complete without telling you how and where to get great deals. Or enjoy a price discount on the product.
You could buy this electric toothbrush offline in any retail outlet like Target, Walgreens or Walmart. If you're lucky or select to shop during special offers around Christmas or holidays, you might even save cash on seasonal discounts and deals.
But that's even more likely to happen when you purchase online at e-commerce portals like Amazon.com.
These websites usually have special offers and coupon deals running almost all round the year. Just be watchful for announcements about these offers. Many are of limited duration, so if you hesitate too long you'll miss out.
An added convenience is that you can have the product home delivered. It will be shipped conveniently to your doorstep. And you won't run the risk of driving to the store only to find out that the model you want is out of stock!
So before rushing out the door, take a look at the offers on Sonicare ProtectiveClean 6500 electric toothbrushes
at Amazon.com
Philips Sonicare ProtectiveClean 6500 Review : In A Nutshell
Now that you've heard a lot about the Sonicare ProtectiveClean 6500, it's time to decide if you should buy it or not.
As you've seen earlier, there are several pros as well as a few cons to selecting this model. It is almost identical to the popular Sonicare ProtectiveClean 6100 electric toothbrush.
The only difference lies in the smart travel case.  It allows you to recharge the device on the road. There are also a few extra replacement brush heads included along with the Philips Sonicare ProtectiveClean 6500
.
This electric toothbrush is a comfortable, elegant and effective device to improve dental hygiene. Also it has many interesting features. However it may not have all the bells and whistles you might find in a premium model like the Philips Sonicare DiamondClean.
If you're looking for a middle range electric toothbrush with good features, great cleaning performance and an affordable price tag, then the Philips Sonicare ProtectiveClean 6500
is a good choice.
In case you're still not sure, take a look at this Sonicare ProtectiveClean 6100 review. Then go through the FAQ section at the end to see if your doubts and hesitations are addressed.