Philips Sonicare 1100 review reveals why it's such a popular electric toothbrush – Efficient, easy to use and great value for your money.
The Philips Sonicare 1100 is a nifty electric toothbrush that packs a pretty punch.
It's convenient and easy to use. It cleans teeth very well. And is long-lasting with excellent battery life.
(Updated on 19th January, 2023)
Philips Sonicare 1100 Review
The elegantly slim design combined with must-have features like an inbuilt timer and quad-pacer ensure compliance with every dentist's recommended twice daily 2-minute cleaning.
Being a budget electric toothbrush, you don't get too many extras. And not every feature will delight users.
Still, it's an affordably priced electric toothbrush with several nice options for both new first-time users as well as more experienced folks looking to change.
Philips Sonicare 1100 Review
A Quick Overview

Our Rating:
4.7/5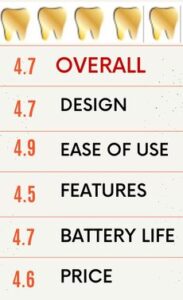 Key Features:
Slim, lightweight handle
Single cleaning mode
Cleans by sonic action at 31,000 strokes per minute
Inbuilt 2-minute timer with quad pacer
Switches off automatically
No pressure sensor
USB charging station
Excellent battery life, like all Sonicare toothbrushes
Pros:
Single cleaning mode, no complex choices to make
Inbuilt timer with quad pacer ensures uniform cleaning
Slim & lightweight toothbrush is convenient to hold and use
Good battery life, easy to recharge using USB stand
Affordably priced to fit most household budgets
Cons:
No pressure sensor to warn you about pressing too hard
Some users find the USB charger inconvenient
Technical Specs
Height: 17.5 cm
Width: 2.5 cm
Thickness: 2.5 cm
Weight: 98 grams
Noise: 61 dB
Color: White
Head: Simply Clean
What's In The Box?
Philips Sonicare 1100 electric toothbrush handle
C1 Sonicare brush head (Simply Clean)
USB charging stand
Warranty
User Guide
Other documentation
Philips Sonicare 1100 Review
3 Vital Questions : If You're In A Rush!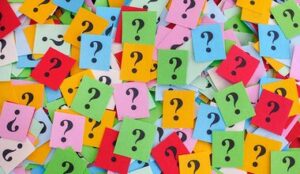 1. Is there any fatal flaw with the Philips Sonicare 1100 electric toothbrush?
Not at all.
This is a good budget electric toothbrush. It does a decent job of cleaning teeth and offers some nice features like a timer with pacer and long battery life.
While it may not have the bells and whistles of a premium electric toothbrush, there's no reason to regret purchasing this Philips Sonicare 1100 model.
2. Are there other alternatives to the Philips Sonicare 1100?
Yes. This is one of the top rated budget electric toothbrushes on the market today.
But if it isn't right for you then there are a few other options that are almost as good.
The Oral-B Smart Pro 1500 is an excellent but inexpensive rotatory electric toothbrush that matches the Philips Sonicare 1100 in performance and price.
The ever-popular bestseller Philips Sonicare ProtectiveClean 4100 is only a little more costly, but comes with many more stellar features that make it well worth the upgrade.
And the newer models like a Quip electric toothbrush might also catch your fancy.
3. Where to buy the Philips Sonicare 1100 electric toothbrush?
You can get the Sonicare 1100 in most retail establishments like Target, Best Buy and Walmart. Or you can shop at the Philips store online or off.
A convenient way is to shop online. You can have your toothbrush delivered right to your doorstep, at no extra cost.
This saves the time and trouble of going to the store – or the disappointment of not finding your chosen model in stock.
There's also the possibility you'll get a special offer or discount deal through online coupons.
Meet the Philips Sonicare 1100
The Philips Sonicare 1100 proves that a fond belief of price being linked to quality isn't always true!
You get almost all the most-desired features of a good electric toothbrush in this budget model – at a really affordable price.
You may not get plenty of accessories, or a load of other features (many of which you'll never use). This is a basic electric toothbrush that's well designed to do it's job nicely.
And yet you'll enjoy the cleaning and teeth whitening effects of pricier models, because the Philips Sonicare 1100 is so easy to use – and you'll enjoy brushing regularly.
Philips Sonicare 1100 Review
Design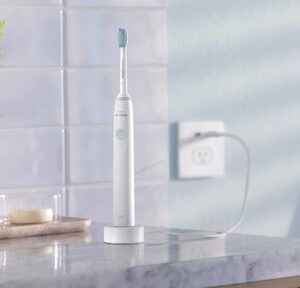 Philips Sonicare 1100 is conventional in its design. There is a handle and a brush head that snaps on to it.
The handle is slim, lightweight and convenient to hold and brush with.
There's a single color option – white. And a single power button on the handle.
Despite no corrugations to get a better grip on it, the handle isn't slippery while brushing. It feels solid and secure.
Within the handle is the motor that drives the brush head. It is operated by pressing on the oval green Power button. There are no other controls.
A metal shaft extends out from it, to which the brush head is attached by pushing it on and snapping together. There's no angle between handle and brush head.
A Simply Clean brush head is included in the pack. But the Philips Sonicare 1100 is compatible with other Sonicare replacement brush heads also.
This budget model doesn't support Brush Sync technology, though.
An LED indicates battery charge levels.
The brush handle can stand upright on a counter. At the base there are tiny projections to ensure it won't roll off when placed lying down.
The handle is water resistant.
Philips Sonicare 1100 Review
Performance
The Philips Sonicare 1100 electric toothbrush operates in just one mode for cleaning. But the effect is excellent, with cleaning being very effective.
While your choice of brush head may vary the experience, the core effect is achieved with any head. Clean, white teeth and a fresh breath are the desirable results you'll enjoy with the Philips Sonicare 1100.
If you suffer from sensitive teeth and gums, the lack of a gentler cleaning mode might be a problem.
EasyStart functionality ensures that even first-time users of an electric toothbrush can ease gradually into the experience. It begins with gentler vibrations to avoid discomfort. Over a two week period, the intensity of brushing slowly increases.
Each brushing session lasts 2 minutes. Every 30 seconds, there's a pause to indicate that it's time to move to another quadrant. After 2 minutes, the brush switches off automatically.
This helps you follow the dentist-recommended 2-minutes twice daily brushing schedule.
By concentrating on 4 quadrants – upper right and left, lower right and left – no area of your mouth will be missed. When you brush for 30 seconds in each section, you'll enjoy uniform dental health.
Unfortunately, there's no pressure sensor to let you know how hard you're pressing down. So lightly brush so that the bristles skim the surface of your teeth.
Motor:
The Philips Sonicare 1100 motor is powerful enough to generate sonic cleaning effect at 31,000 strokes per minute.
However, unlike modern high end Sonicare toothbrush models, it cannot perform at 62,000 strokes per minute. This however does not affect cleaning efficiency.
Philips Sonicare 1100 Review
Battery Life
Like any other Sonicare electric toothbrush, the Philips Sonicare 1100 battery has excellent longevity.
On a single recharge, you'll easily get 2 weeks or more of brushing.
It's rare to need more than this, but if you do, carry along the recharging station to plug into any electrical socket.
The lithium ion rechargeable battery is housed inside the brush handle. It cannot be removed or replaced.
The circular recharging station lets the toothbrush sit on it. A prong slots into a recess in the base of the brush handle.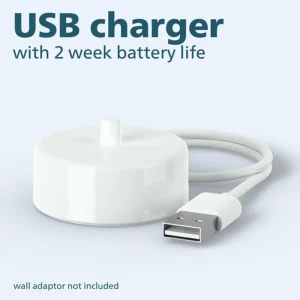 The charger has a USB power adapter, not a pin-power adapter system. You can attach it to a wall socket or a port on a computer, battery pack or laptop.
It takes upto 24 hours to recharge the battery fully. An LED indicator on the handle tells you when the recharge is completed.
Solid green light – full battery
Flashing light – partial battery charge
Amber light – time to recharge
Travel Case
There is no travel case included with your purchase. However, if you travel often, you may get one separately to keep your toothbrush safe on trips.
Sonicare Warranty
The Philips Sonicare 1100 is covered by a 2 year warranty from the manufacturer against defects and workmanship problems.
User incurred damage isn't covered under this warranty.
Philips Sonicare 1100 Review
Price
Philips Sonicare 1100 electric toothbrush is affordably priced to appeal to an audience who is eager to use an electric toothbrush but not ready or willing to spend a lot on it.
In contrast to higher priced models in the Sonicare line up, it can seem that the Philips Sonicare 1100 is incredibly cheap!
But this doesn't mean it's less effective in basic functions than, say, a premium model like the Sonicare DiamondClean Smart, or the expensive Sonicare 9900 Prestige models.
For the price you'll pay, the Philips Sonicare 1100 is excellent value for money.
Being an entry level product, you're more likely to find it stocked in several retail outlets. So it shouldn't be hard to locate one and order.
Of course, the best deals are to be found online. So an e-commerce portal like Amazon.com may be the best place to start shopping for one.
Replacement Brush Heads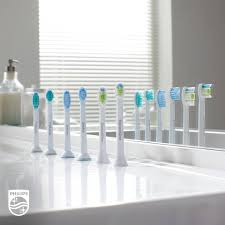 The W-shaped Simply Clean Sonicare brush head comes packaged along with the Philips Sonicare 1100.
Other brush heads are also compatible with this model, though the Brush Sync functionality cannot be enabled.
While there are third party manufacturers who make brush heads that match the Sonicare toothbrushes, it's usually advisable to order the original brand heads.
Measured over the lifetime of your toothbrush, these costs aren't significantly different – and you'll ensure quality and effectiveness of cleaning.
Philips Sonicare 1100 Review
Our Verdict
In summary, the Philips Sonicare 1100 electric toothbrush is a good choice for anyone looking for a basic, no-frills model that'll clean teeth, have decent battery life, and come at a fair price.
The Philips Sonicare 1100 boasts of good performance and excellent battery life.
It has features like a timer with pacer, though not a pressure sensor. And is convenient to use, easy to maintain, and inexpensive.
Sure, there are other premium models with more bells and whistles. But if you want a simple toothbrush that does its job well, you can't go wrong by choosing the Philips Sonicare 1100 electric toothbrush.
Slim, stylish and effective, this affordable budget electric toothbrush is certainly a hit with its audience.
Philips Sonicare 1100 Review : FAQ
Does the Philips Sonicare 1100 offer multiple cleaning modes?
No, there's only a single cleaning mode. It brushes for 2 minutes, with brief pauses every 30 seconds.
Is the Philips Sonicare 1100 a rotatory or oscillating brush?
It is a sonic toothbrush that cleans through sonic waves set up by rapid vibrations of the brush head at 31,000 cycles per minute.
What brush heads are compatible with Philips Sonicare 1100?
The package contains a C1 Simply Clean brush head. However the handle is compatible with any Sonicare replacement brush head.
The only limitation is that it cannot support Brush Sync technology.
Is there a pressure sensor?
No, there is no pressure sensor with the Philips Sonicare 1100.
Does it have wireless/Bluetooth?
No, this is a budget electric toothbrush and does not have Bluetooth or a smartphone app.
Is a travel case included?
No, but you can buy one separately from Sonicare or other 3rd party makers.
Does the Philips Sonicare 1100 come with a charger?
Yes, a circular USB recharging station is included with your purchase.
How long does the battery last?
With typical use (twice daily, 2 minutes per session), your battery will last for 2 weeks on a single full charge.
Is it water resistant?
Yes, the Philips Sonicare 1100 is water resistant. But it shouldn't be immersed in water for long.
Does it come with a warranty?
Yes, a Sonicare warranty of 2 years covers you against manufacturing defects.
See our ULTIMATE Electric Toothbrush Buyer's Guide - and make an informed and smart choice.