Oral-B iO3 review: The Oral-B iO Series 3 electric toothbrush is an excellent choice if you're looking for a brush that cleans well, looks sleek and runs quietly.
This is a simple entry-level model with no fancy features. While it's true that most users don't need those expensive extras, if you expect them here you'll be disappointed!
Essential Features:
Minimalist design looks clean and neat
Comes in an array of color choices
In-built 2 minute timer with quad pacer
3 brushing options with Power & Mode buttons
Pressure sensor avoids injury
Quiet motor, brushless
Round brush head delivers top-notch cleaning
Comes with Ultimate Clean brush head
Brush head replacement system
ADA approved
No wireless connectivity
Travel case included with brush head holder
Pros:
Luxurious look-and-feel
Easily cleaned and needs little maintenance
Runs quietly at low noise levels
Brush head replacement reminder
Cons:
No mode icons or indicators
Compatible only with costlier iO brush heads
Oral-B iO3 Review : It Scores On Design, Usability & Appeal
The iO3 electric toothbrush from Oral-B is sleek and modern. It may not be the most environmentally conscious device. Still, Oral-B has made strides towards sustainability with its cardboard internal packaging.
What stands out about the Oral B iO3 is the clear labeling which makes it easy to understand the key features and box contents.
The toothbrush's rounded handle design without any sharp edges and a minimal rubber grip is more modern and sleek compared to older models. The plastic finish is smooth yet grippy. It feels comfortable and secure in your hand, making it easy to maneuver during brushing.
While the iO3 doesn't have an in-handle display like the Oral-B iO9, it's otherwise identical.
3 Quick Questions If You're In A Hurry
1. Is the Oral-B iO3 electric toothbrush a good choice?
Absolutely, yes. If you're looking for an easy-to-use electric toothbrush that's affordable and efficient, then the iO3 from Oral-B is definitely a good choice.
You can pick it up from a department store or larger retail chains like Walmart, Target or Best Buy. Another option is to order online from Amazon.com and have it delivered to your doorstep.
2. Are there any serious flaws with this model?
No. The only drawback is the slightly expensive replacement brush heads, which are not interchangeable with other models. Other than this, there are no flaws or problems which might make you regret your decision.
3. What other alternatives are good options?
The Oral-B iO3 is a good entry level no-frills electric toothbrush. If the brush head issue is important to you, then the Oral-B Pro 1500 is an excellent alternative.
From the Philips Sonicare line, you may also consider the Sonicare ProtectiveClean 4100 or the Philips One by Sonicare electric toothbrushes viable alternatives.
Introducing the iO3 Electric Toothbrush: Everything You Need to Know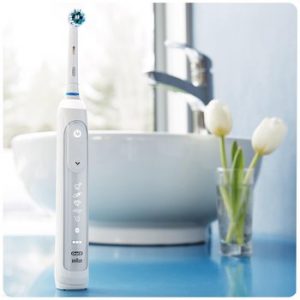 The Oral-B iO Series of electric toothbrushes have made a name for themselves in the market.
With advanced technology and smart connectivity features, they are popular favorites. However, the iO3 is the only toothbrush model in the series that does not come with Bluetooth connectivity.
Without any 'smart tech', the Oral-B iO3 resembles any other electric toothbrush. It does not track the brush position or provide real-time or post-brushing feedback through a smartphone app.
Oral B iO3 Electric Toothbrush Review
Design & Appearance
The Oral-B iO3 electric toothbrush is a sleek and stylish option for those who prefer a simple design. Unlike other models in the iO Series, the iO3 doesn't have a display. But it features two buttons that are placed inside an elliptical rubber grip.
This makes it easy to power on/off the brush and switch between the three cleaning modes.
The upper button on the Oral-B iO3 is the power switch, while the lower one is the mode button. The latter has a solid circle in the middle that lights up as part of the brush head replacement reminder system.
The Oral-B iO3 looks nicer and is easier to keep clean. Its simple design means that there is little in the way of textured grips, which can trap toothpaste residue. With a quick rinse and wipe, the handle can be kept clean.
Color Choices
The matte white variant of the iO3 has a muted grey-colored rubber grip. On the black and blue variants, the rubber grip is more pronounced.
Build Quality
The Oral-B iO3 electric toothbrush is a high-quality and durable minimalist toothbrush. Though not feature-rich, it still delivers excellent cleaning quality.
It is constructed from plastic, yet feels solid and sturdy. When placed on a countertop, it stands upright. A recess in the base allows it to sit on the charger. When laid flat, it may wobble slightly but doesn't roll around.
The Oral-B iO3 toothbrush is water-resistant. It's designed to resist water, toothpaste, and saliva, all of which it will come into contact. Rinse it under a faucet and leave it on the stand to dry.
However, the iO3 is not designed to be submerged in water for extended periods.
Oral B iO3 Review
Replacement Brush Heads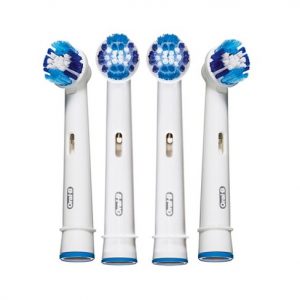 The Oral-B iO3 series of electric toothbrushes require specific brush heads. The number of brush heads that come with the iO3 will depend on the package you choose.
All Oral-B iO Series models come with at least one Ultimate Clean brush head.
The Ultimate Clean brush head has firm bristles angled at 16 degrees to more effectively remove plaque along the gum line.
Premium versions also come with a Gentle Care brush head, which is softer.
There are a total of four styles of heads available for the iO Series:
Ultimate Clean,
Gentle Care,
Radiant White, and
Targeted Clean (also known as Specialized Clean)
You can choose the one you prefer.
But replacement brush heads for most Oral-B electric toothbrush models are not compatible with the iO series. Only these specific brush heads will fit. They are priced higher than the rest, though.
For optimal performance, replace your brush head every three months – or even sooner if the bristles are splayed or heavily worn.
A brush head replacement reminder, indicated by a yellow/orange LED and vibration, tells you when to swap brush heads.
After you replace the head, reset the reminder by pressing the mode button for two seconds.
Oral B iO3 Review
Performance
Like with all electric toothbrushes, there are different cleaning modes available.
Most people will only use one mode. And there is limited evidence that additional modes lead to significantly better results.
However, if you prefer to have options, the Oral-B iO3 offers 3 different cleaning modes:
Daily Clean
Sensitive, and
Whitening.
Unfortunately, there are no icons or labels on the handle to indicate which mode is currently selected.
The Sensitive mode is great for those with sensitive or inflamed teeth and gums. If you're still adjusting to using an electric toothbrush, it can help ease you in to the experience.
The Oral-B iO3 comes with a built-in timer and pacer, which helps ensure that you're brushing for the dentist-recommended 2 minutes and clean all areas of your mouth evenly.
Every 30 seconds, the pacer pauses and changes sound to let you know it's time to move to another quadrant. Divide your mouth into 4 sections (upper right, upper left, lower right, and lower left) and spend 30 seconds cleaning each section.
This will guarantee uniform cleaning of teeth and gums. At the end of the 2-minute brushing cycle, the light ring on the handle displays a rainbow of colors to confirm that you've achieved the recommended brushing time.
While some toothbrushes turn themselves off automatically at the end of a cleaning cycle, the iO3 does not. You must turn it off manually.
Pressure Sensor
One of the standout features of the Oral-B iO3 electric toothbrush is the smart pressure sensor. This alerts you when you are not brushing with the correct amount of pressure.
The sensor is at the neck of the brush handle. It has a light ring that changes color depending on the pressure applied.
What do the colors mean?
White – Low pressure – not enough force is being applied.
Green – The right amount of pressure is being used.
Red – High or excessive pressure, force should be reduced.
If the red light is active, the number of brush head movements decreases until you ease off on the pressure.
Powerful Noiseless Motor
The Oral-B iO3 motor is a brushless magnetic drive system. It's quieter and operates at approximately 64 decibels.
The cleaning experience with the iO3 is fantastic. After each use, your teeth will feel lovely and clean.
The iO3 brush head has an oscillating and rotating cleaning action. Micro vibrations further help to ensure the best possible results.
ADA Approved
The Oral-B iO3 has been awarded the ADA's Seal of Acceptance.
This means it has been proven to be safe and effective. You can relax in the certainty that you have a top-quality product that has been recognized by dental professionals.
Oral-B iO3 Review
Variants And Models
The Oral-B iO3 comes in four different variants, each with its own handle color, box contents, and price.
In the cheapest model, you will receive
the brush head and
charging stand.
But there are no additional accessories.
Travel Case
With other variants, you can get a handy travel case designed to hold the handle and up to two brush heads.
This is great for frequent travellers. The travel case protects the handle and prevents accidental activation.
The travel case is of lightweight molded plastic and comes in either black or white. Its hinged cover opens up like a book. The lid is rounded while the base is flat. There is also a push-style clip to lock the case closed.
Brush Head Holder
You can also order a brush head refill holder.
This is essentially a separate travel case for brush heads. There's a rubber or silicone base with two raised nodules. The Oral-B iO3 brush heads can be placed on them. An opaque plastic lid or cap protects during travel.
Oral B iO3 Electric Toothbrush Review
Battery Life
Battery life is always an important consideration with an electric toothbrush.
The Oral-B iO3 electric toothbrush has a rechargeable battery that lasts for about 18 days on a full charge. Typical use of 2 brushing sessions daily, each of 2 minutes duration, means that you'll get around 72 minutes of activity with a full recharge.
A standard white colored countertop charging stand for the toothbrush is included with your purchase.
It uses a 2-pin US power adapter that is hardwired into it. There's also a cable that is about 1.2 meters (4 feet) long. The charging stand supports 110-130 volts. When you travel overseas, use a voltage and plug adapter.
The Oral-B iO3 brush takes up to 16 hours to fully recharge.
Battery Level Indicator
An LED icon on the Oral-B iO3 toothbrush indicates the battery charge status. When the battery level is good, the icon glows white. If you need a recharge, it emits a red pulsing light.
The Oral-B iO3 battery is not replaceable.
Oral-B iO3 Series Review
Price & Value
If you're looking for a high-quality electric toothbrush that won't break the bank, the Oral-B iO3 may be just what you need.
With its excellent performance and affordable price point, this toothbrush offers a great value for your money.
The Oral-B iO3 is quite reasonably priced.
If you order the more expensive variant that comes with a travel case, brush head refill holder, and an additional brush head, you'll only pay a modest amount more.
You may be able to get good deals and price discounts when you order online at retailers like Amazon.com
Replacement Brush Head Costs
The Oral-B iO3 review uses a unique range of brush heads. They are not compatible with other Oral-B models. It's true that these brush heads offer superior cleaning performance. But they are also more expensive.
When considering ownership costs, it's important to factor in the cost of replacement brush heads.
So, is the Oral-B iO3 a good value purchase?
That will depend on your specific needs and budget.
It's a high-quality toothbrush with excellent performance. But if you want a budget-friendly option, other models may be better.
Oral-B iO3 Review
Our Conclusion
According to most Oral-B iO3 review reports, the Oral-B iO3 electric toothbrush is a reliable and effective device.
It provides benefits over traditional toothbrushes. Using this electric toothbrush will
reduce the need for dental treatment,
ensure healthy and white teeth, and
minimize the environmental impact of dental procedures.
The Oral-B iO 3 electric toothbrush delivers impressive cleaning performance. When used with correct technique, its results are almost as good as other premium models.
There's a 2-minute timer with quad pacer than ensures adequate and safe cleaning. A pressure sensor helps avoid accidental damage to teeth and gums.
The only downside is that replacement brush heads are more expensive. The Oral-B iO 3 is not compatible with other brush heads.
If this is of concern, you might consider other alternatives like the Oral B Pro 1500 electric toothbrush.
Make sure that the Oral-B iO 3 version you pick has a travel case and spare brush head.
Technical Specifications:
Height: 18.5 cm
Width: 2.8 cm
Thickness: 2.8 cm
Weight: 129 grams
Noise level: 64 decibels
See our ULTIMATE Electric Toothbrush Buyer's Guide - and make an informed and smart choice.