Even if the Oral-B Pro 1500 CrossAction Electric Toothbrush falls short in a few ways, any Oral B Pro 1500 review will confirm that it delivers an excellent performance, boasts of a decent battery life, and includes nice features like an in-built timer, quad pacer and pressure sensor.
Unless you absolutely insist on bells and whistles like Bluetooth enabling, smartphone app control and more, the Oral-B Pro 1500 is a capable electric toothbrush for its category.
In A Hurry? Read This!
If you can't spare too long to read a detailed Oral-B Pro 1500 review, then at least look at these 3 questions to guide your decision.
But you'll definitely benefit from reading this full Oral-B Pro 1500 review before buying your electric toothbrush.
1. Is there any critical fault or defect with this toothbrush?
No, there is not. The Oral-B Pro 1500 Electric Toothbrush is a decent model that offers good performance at an affordable price, with particular advantages for people with sensitive teeth.
There aren't many 'bells and whistles' features that most users do not need (or use), making this a simple and useful model for many. It is however true that including a travel case and a spare brush head or two would enhance the value.
2. Are there any other models that are just as good as this one?
The Oral-B Pro 1500 Electric Toothbrush is an improvement upon the earlier Oral-B Pro 1000, a bestseller in its own right. There are a few extra features in this advanced model that more than justify a slightly higher price.
But the Oral-B Pro 1000 is also a very good option (read a detailed review here)
Another alternative to the Oral-B Pro 1500 is the Oral-B Pro 6000, which features additional brushing models and is designed differently.
This premium model from the Oral-B product line includes wireless connectivity through Bluetooth and some other fancy add-ons.
3. Where to buy the Oral-B Pro 1500 electric toothbrush?
It may be harder to locate a retailer who offers the Pro 1500 as it is not as popular as other bestsellers. Online retailers like Amazon.com are easily the best option to get this model – especially at discounted prices.
Home delivery is often free or inexpensive, making this a convenient and comfortable way to buy your Oral-B Pro 1500 CrossAction Electric Toothbrush.
Pros
operates in 2 different cleaning modes – 'DailyClean' and 'Sensitive'
ideal even for users with sensitive gums
handle is slim, strong and is designed for a firm grip
in-built timer with quad pacer ensures adequate brushing for 2 minutes
pressure sensor makes sure you don't press too hard
good battery life, lasts 2 weeks on a single full recharge
approved by the American Dental Association (ADA)
Cons
no travel case
doesn't come with spare brush heads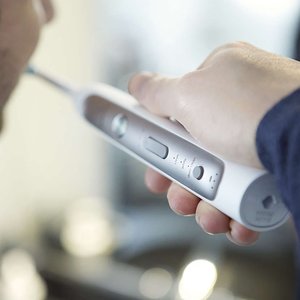 Why Trust 'A Dentist's Daughter'?
The various electric toothbrush reviews and other content on this website is designed to offer consumers fair, unbiased and detailed information that guides you to find the best choice for your needs.
No brand or company sponsors this website, and the only compensation we receive is through affiliate fees for purchases made through our referrals. However, we only recommend products that meet stringent quality standards and that you will find are excellent value for money.
And Now, A More Detailed Oral-B Pro 1500 Review
As any Oral-B Pro 1500 review will tell you, this model is an improvement upon another excellent one – the popular bestselling Oral-B Pro 1000 electric toothbrush.
This newer version is an updated and enhanced version of it that is slightly more expensive – but offers value far greater than the increase in price.
Built upon the form and function of the Pro 1000, it is different in some small yet significant ways. As a result, this model – Oral-B Pro 1500 CrossAction – is probably one of the greatest 'value for money' electric toothbrushes form Oral-B.

Oral-B Pro 1500 – Not A 'Single' Model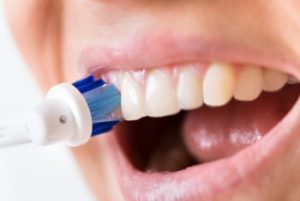 For a brand that puts out many different models, there's usually the risk of confusing a potential buyer about which one is better.
That's because many of them seem to have almost identical features and benefits.
The Oral-B Pro 1500 Electric Toothbrush is no exception to this rule. There may be only one model that's labelled Pro 1500 – but there are several others that appear to be nearly the same.
Take, for instance, the Oral-B kids electric toothbrush. It's practically the same toothbrush, except for the brush head. The Oral-B kids electric toothbrush has a Sensitive brush head in the package. By contrast, the Oral-B 1500 Pro comes with a CrossAction brush head.
This may not matter but for the fact that the kids toothbrush is cheaper by around $20 from the Oral-B Pro 1500 – which may matter to many consumers, especially if they believe there isn't any added value to be got from the higher sticker rate.
So let's take a detailed look at the components in this Oral-B Pro 1500 review to see what justifies getting this model over others.
Inside The Box
Here's what you'll get when you purchase the Oral-B Pro 1500 CrossAction Electric Toothbrush
an Oral-B Pro 1500 rechargeable electric toothbrush
a battery charging station
a CrossAction brush head
a set of documents including a warranty
Features of Oral-B Pro 1500 Electric Toothbrushes
The Oral-B 1500 brushes your teeth by a 3D motion which delivers oscillation, rotation and pulsation. It is far more effective than a manual toothbrush at getting rid of dental plaque.
There are two modes of operation – Daily Clean and Sensitive – that leave your mouth feeling fresh and clean after brushing.
You get an inbuilt timer with quad pacer to make sure you clean all sections of your mouth equally well.
A pressure sensor ensures that you don't cause damage through too much pressure, and also benefits users with sensitive gums.
The battery is rechargeable, with a life of 2 weeks on a full charge.
Oral-B Pro 1500 – Easy To Operate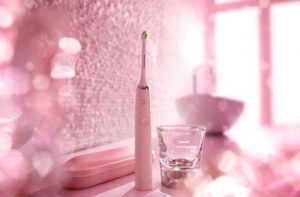 It's easy to get started with this Oral-B Pro 1500 CrossAction Electric Toothbrush. Just press on the Power button and it launches into the regular DailyClean mode.
If you wish to shift to the gentler Sensitive mode, this can be done easily by simply pressing down once again on the Power button to switch modes.
Daily Clean is powerful and effective at whitening teeth and getting rid of dental plaque. However the strong brushing action might be uncomfortable for those with dental problems or gum disorders, making the Sensitive mode a better option that massages the gums and improves circulation to it.
What is 3D Cleaning?
Oral-B's patented cleaning technology is based on the rotating, pulsing and oscillating action of a circular brush head that is powered by a strong motor.
Vibrating at nearly 10,000 oscillations and delivering over 45,000 pulsations per minute, the 3D cleaning effect is thorough and complete. Even behind the teeth and in hard to reach nooks and crannies, the powerful cleansing jet that is set into motion
ensures removal of debris and food particles,
prevents accumulation of plaque, and
achieves a degree of teeth whitening
that's hard for others to match.
When it runs in Sensitive mode, the brush head oscillates 75,000 times per minute, generating a vibratory force that gently massages the gums while also cleaning them effectively.
Oral-B Pro 1500 Review: Design & Use
The Oral-B Pro 1500 Electric Toothbrush debunks the myth that a great electric toothbrush has to be expensive.
While the extras like wireless functionality and Bluetooth connectivity with a Smartphone app sound nice to have, it really doesn't justify the added costs for most users. And while a travel case or spare brush heads would no doubt have been nice, they can always be purchased as add-ons.
What truly matters most is the design and usability of an electric toothbrush. And on those counts, every Oral-B Pro 1500 review gives this model high scores.
It is slim, strong and easy to use. The motor and battery have been upgraded from the better known Oral-B Pro 1000 bestselling model, offering an additional brushing mode as well as a visible indication for the pressure sensor.
Some critics have called the all-white appearance 'clinical' and that may be fair because you don't have a range of color options to pick from. But the Oral-B Pro 1500 offers far more by way of performance to make up for this lack.
The brush handle is an inch thick and cylindrical, making it easy to grip firmly as you clean your teeth. It isn't very heavy, weighing a comfortable 130 grams with the brush head attached.
Brush Handle
The head can be detached and replaced with another after it wears out, or for different kinds of uses. The battery is housed within the handle, along with the controls that let you select a brushing mode and other functions. Ridges and grooves that run along it help give a firmer grip as you brush.
A power button turns the device on. The battery-status icon indicates how much charge remains. When you fully recharge the Oral-B Pro 1500, you can expect it to last around 2 weeks of regular use. If charge runs low, the indicator changes color to let you know that it's time to recharge it.
Around the brush handle's neck is a panel in orange that's the pressure sensor. It tells you whenever you are pressing too hard against the teeth, helping minimize the danger of damage to unhealthy teeth or gums.
After use, the Oral-B Pro 1500 Electric Toothbrush can be stood up on a counter or on the charging station, where a recess in the base fits snugly into a ridge on the charger.
Length: 20 cm
Width: 2.5 cm
Thickness: 3 cm
Weight: 129 grams
Oral-B Pro 1500 Review : Durability
The brush handle of a Oral-B Pro 1500 is water-tight and resistant to water or moisture – though the manufacturer warns against immersing it completely into water. It is reasonably safe to brush in the shower.
The charging stand isn't waterproof, so be careful not to get it wet.
The manufacturer offers a 24 month warranty against defects and damage. Unless the fault is the result of inappropriate use or accidental injury caused by the user, you can get the device repaired or replaced at no cost for the duration of your warranty.
Oral-B Pro 1500 – CrossAction Brush Heads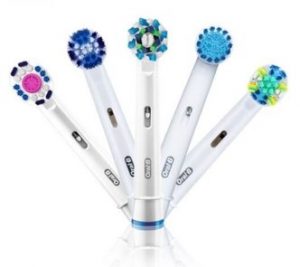 Although there are several different kinds of Oral-B brush heads, the CrossAction brush head is what ships by default when you purchase an Oral-B Pro 1500 CrossAction Electric Toothbrush.
Any Oral-B Pro 1500 review will affirm that this is an excellent choice, because a CrossAction brush head is designed for cleaning effectiveness for both teeth and gums.
The brush head has bristles arranged in small clusters, each angled to the adjacent bristles so that they can move in a way that dislodges food particles and washes out bacteria from between teeth and along the gum line. The result is a clean, fresh feeling and better breath as your mouth becomes healthy and clean.
For specific needs, you can replace the CrossAction brush head with any of the other alternatives like FlossAction, Sensitive, DeepSweep, 3D White, Precision Clean and Ortho Oral-B brush heads. All the kinds of heads are compatible with the Oral-B Pro 1500.
An important thing to keep in mind is that your brush head will wear out with regular use. Replacing it on time is important to achieve a good cleaning effect. As a rule of thumb, replace your brush head with a new one every 3 months.
Indicator bristles on the CrossAction brush head – the blue colored ones – will fade over time. When you notice them becoming paler or turning white, you'll know it's time to change to a new brush head.
Oral-B Pro 1500 Review : Safety Features
Some users apply force while brushing with an Oral-B Pro 1500 and this may lead to injury to teeth and gums. The visible pressure sensor helps safeguard against this, with the bright red/orange light designed to catch your attention.
There's also an automatic reduction in power of the motor, which you can recognize from the different tone of the toothbrush that only returns to normal when you ease off on pressure.
For effective cleaning with an electric toothbrush, it is enough if the brush skims the surface of your teeth and gums. So it helps if you learn how to use an Oral-B Pro 1500 beforehand, but in any case the pressure sensor is available for safety.
Most dentists recommend brushing for 2 minutes. Equally important is that you cover all quadrants of your teeth in this period. To ensure that you do this, the Oral-B Pro 1500 has some features designed to help.
An inbuilt timer, that gets activated as soon as you press the Power button, will keep the motor running for two full minutes – which is the dentist-recommended duration for complete cleaning. In addition, there is a quad-pacer function which breaks down the 2-minute period into 4 equal segments.
For every 30 second interval, you are supposed to clean one of the four quadrants of your mouth – upper right and left, then lower right and left.
When the 30 seconds are up, the brush beeps a couple of times and the motor pauses, giving you a warning that it's time to move to another quadrant. At the end of 2 minutes, the device pauses completely – but then, it will keep running until you manually turn it off.
A Few Oral-B Pro 1500 Drawbacks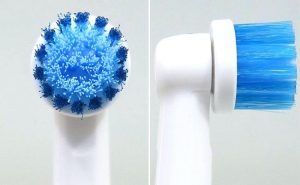 Some users report features on their Oral-B Pro 1500 review that leave them uncomfortable or even disappointed with their choice.
While the conveniently tiny brush heads on an Oral-B Pro 1500 allow access to all parts of the oral cavity, some users prefer to clean with a larger head which feels different.
The vibratory/oscillatory brushing action of an Oral-B electric toothbrush can feel different, especially in the beginning. Some users find this hard to use.
A whining noise and vibrations that spread along the brush handle are features of almost every electric toothbrush. However it can be uncomfortable, even scary when you first start brushing with one. The Oral-B Pro 1500 isn't too noisy, though it can seem to buck and jump in your hand.
Apart from these minor inconveniences, the Oral-B Pro 1500 electric toothbrush is uniformly satisfying to most users.
Oral-B Pro 1500: Battery Life
Like any other electric toothbrush, most users worry about battery quality and longevity with the Oral-B Pro 1500.
And all Oral-B Pro 1500 review reports uniformly endorse this model. One reason is the decent battery life of 2 weeks for typical use. This is better than even high-end models that last a week to 10 days.
The design of this model is intelligent. It makes the extra battery life possible without significantly altering the handle's size, girth or weight. Even if you brush twice daily for 2 minutes each, a full recharge for 12 hours will last for 14 days. That's almost 60 minutes of running time.
The battery in an Oral-B Pro 1500 CrossAction Electric Toothbrush is a Lithium-ion rechargeable cell that can be charged using a station which runs on voltages of 110-130 volts (for the US). The charging station has a cable of around a meter in length.
For frequent travellers, though, there may be limitations.
The lack of a travel case is one. The need to carry along a bulky charger and find suitable pin adaptors is another.
Where to Buy an Oral-B Pro 1500 Electric Toothbrush?
The Oral-B Pro 1500 is widely available in retail outlets and supermarkets like Target, Walmart or smaller local shops. Prices vary a bit depending upon where you pick one up.
It's generally smarter to shop online for an Oral-B Pro 1500 electric toothbrush because you can enjoy dual benefits of free shipping without the hassle of hunting in various stores for the specific configuration you want.
There are also usually special sales, discounts and coupon offers that help you save a few bucks.
While estimating what an Oral-B Pro 1500 electric toothbrush will cost you, don't forget the expenses of replacement brush heads. You can add a package of 6 or 12 extra brush heads at the time of your original order, if you want to save time and trouble later on.
In Conclusion…
The Oral-B Pro 1500 electric toothbrush is an excellent choice for most users. It's a simple, sleek device that offers good functionality for an affordable price – with few drawbacks or problems.
Even though an additional brush head and a travel case would have made this a better deal, for the performance it offers, the Oral-B Pro 1500 is a great choice – particularly for those with sensitive gums.
If you don't care much about bells and whistles like Bluetooth connectivity and Smartphone apps, then this can easily be your best choice.
Buying it online on Amazon or one of the other retailers will help you save money and trouble, while offering all the other benefits.

Oral-B Pro 1500 Review – Frequently Asked Questions
1. Is the Oral-B Pro 1500 an oscillatory or sonic toothbrush?
The 3-D Oral-B patented motion is oscillation, vibration and pulsation which aids in effective cleaning. It is not a sonic toothbrush.
2. Which mode is most popular?
DailyClean is the most popular mode for most users. It offers powerful performance that helps clean your teeth, remove dental plaque and improve dental hygiene.
3. Which mode is best for sensitive teeth and gum disease?
Sensitive mode operates at higher oscillations. This is gentler on the teeth and gums, while being just as effective at cleaning and massaging the gums to improve blood circulation. It is ideal for users with sensitive teeth and gum disease.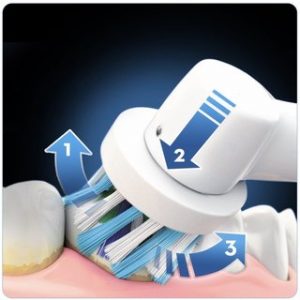 4. Is the CrossAction brush head ideal?
As this Oral-B Pro 1500 review explains, the CrossAction brush head comes packaged with the toothbrush. However you can choose any of the other available options which are compatible with this handle.
The CrossAction is suitable for most users. But if you have unique needs, you can swap it with another head. Your choices include Floss Action, Pro White, Precision Clean or Deep Sweep brush heads also.
5. Is there a pressure sensor?
Yes, you'll get a pressure sensor that helps prevent inadvertent injury to sensitive teeth and diseased gums.
6. Is there Bluetooth?
No, the Oral-B Pro 1500 does not come with wireless connectivity via Bluetooth.
7. How long is the warranty?
The Oral-B Pro 1500 electric toothbrush comes with a 24 month warranty against manufacturing defects. The warranty also covers malfunction not due to inappropriate use or accidents.
8. Is there a timer?
Yes, the Oral-B Pro 1500 comes with an inbuilt timer for two minutes to ensure adequate cleaning. There is also a quad pacer to make sure that you clean all 4 quadrants adequately for 30 seconds each.
9. How long does the battery last?
After a full charge, the Oral-B Pro 1500  battery lasts for around 60 minutes of use – which means with typical use (brushing your teeth twice daily for 2 minutes each time), it will last for roughly 2 weeks.
10. Is there a charger?
Yes, there is a charging station included in the package. It has a 2-pin US charger and runs on a voltage of 110 to 130 volts.
11. Is there a travel case and spare brush heads?
No, the Oral-B Pro 1500 does not come with a travel case or extra brush heads in the box.
See our ULTIMATE Electric Toothbrush Buyer's Guide - and make an informed and smart choice.