In this Philips One by Sonicare Review you'll hear all about the latest 'subscription toothbrush' from Philips Sonicare.
Philips One by Sonicare is a newly launched battery-operated electric toothbrush which is surprisingly nifty and great value for the money.
Available in a range of eye-catching colors, the compact electric toothbrush combines power with style in a strong product that many users love.
If you're looking for the last word in electric toothbrushes, Philips One by Sonicare isn't that. But as a decent choice of electric toothbrush that offers superior cleaning power to a manual brush, it's excellent.
You get to choose between a rechargeable version and another with a removable battery.
Are You In A Hurry?
To help you quickly decide if the Philips One by Sonicare is a good choice, let's quickly consider its pros and cons.
And then, let's ask 3 important questions to help you make an informed choice.
Pros of Philips One by Sonicare
Compact, light and slender
Available in many attractive colors
Inbuilt timer with quad pacer ensures adequate cleaning
Comes in rechargeable and removable battery options
Auto-turn off functionality
Travel case included
Cons of Philips One
Not very powerful cleaning action
No pressure sensor
No indicator for battery charge level
3 Critical Questions
1. Is there anything seriously wrong with the Philips One by Sonicare electric toothbrush?
No, there isn't anything substantially wrong which would lead you to regret ordering the Philips One by Sonicare.
While this is not the most powerful electric toothbrush in the Philips Sonicare product line, the Philips One by Sonicare is a fairly decent choice.
If you're making the transition from a manual toothbrush, or are looking for a basic device which delivers a good performance, then you can't go wrong with Philips One by Sonicare.
2. Are there other alternatives which are as good as the Philips One by Sonicare, or even better?
The short answer is: Yes.
A good entry level electric toothbrush is the Oral B Smart 1500, a popular choice with many beginners and first-time users of an electric toothbrush.
Among the several Sonicare models, the all-time favorite Philips Sonicare ProtectiveClean 4100 is another choice that can give the Philips One by Sonicare a run for its money.
But unless you're looking for all the bells and whistles a premium toothbrush like the Philips Sonicare DiamondClean Smart 9300 offers, you'll find the Philips One by Sonicare an excellent choice.
3. Where can you buy the Philips One by Sonicare electric toothbrush?
You can choose between picking it up in a retail store like Target, Walmart or Best Buy – or ordering it online from an e-commerce portal like Amazon.com
The benefits from making an online purchase is that it's quick and convenient. You can have the Philips One by Sonicare shipped to your address at no extra expense. You may also enjoy price discounts and seasonal offers that help you save some money.
What's Inside The Box?
Philips One replacement brush head
Travel case
AAA battery (in the battery replacement variant)
User manual
Warranty and documentation
USB charging cable (in the rechargeable variant)
Philips One by Sonicare Review
A newly introduced model in the Philips Sonicare family of electric toothbrushes, the Philips One by Sonicare is designed for the subscription toothbrush market.
You can pick between the Philips One by Sonicare version with a rechargeable battery or removable battery.
You get to select from a range of different attractive color options for your toothbrush.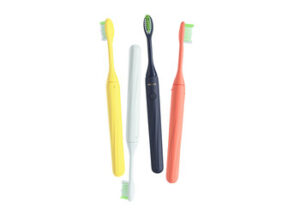 While your order is delivered within 5 days, you'll be invited to sign up to a subscription – where every 3 months you'll receive one replacement brush head, and an AAA battery for your toothbrush.
You are free to cancel (or even temporarily pause) this subscription any time. But it is convenient to receive these replacements on schedule without having to remember to order them.
And at an attractive price of just $4.99, it's no surprise that most customers happily continue with the ongoing replenishments.
In this sense, Philips has modeed this offer against competitors like Quip, which also offers an electric toothbrush on a subscription basis.
How Much Does This Subscription Cost?
Over the first year of your subscription, you'll pay $24.99 initially for the Philips One by Sonicare toothbrush. After that, you'll pay $14.97 (3 x $4.99 payments at 3-month intervals).
So your cumulative expense over the year is $39.96. This compares favorably with other good beginner models like the Sonicare ProtectiveClean 4100 – and even includes replacement brush heads!
Of course, you are free to purchase the Philips One by Sonicare without an ongoing subscription, if you prefer that. But then, you'll have to purchase replacement brush heads and the AAA battery separately.
Philips One by Sonicare Review : The 2 Variants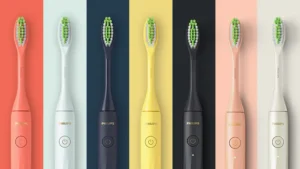 The Philips One by Sonicare comes in two options:
1. With a removable battery which must be periodically replaced
2. With a rechargeable battery
One AAA NMH (nickel metal hydride) battery will last for 3 months of normal use – often even longer.
The rechargeable cell, on the other hand, lasts for 60 brushing sessions on a full charge.
Both are otherwise identical. The only difference is in how they are powered.
Philips One by Sonicare : Several Color Choices
You can buy the Philips One by Sonicare in any of these attractive, eye-catching colors.
Mango yellow
Dark blue
Mint green
The rechargeable variant comes in Snow, Shimmer and Shadow shades.
Philips One by Sonicare Review : Design & Usability
This is a simple, elegant and easy to operate electric toothbrush. There are no fancy features or complicated choices to get confused.
It is a good toothbrush for an affordable price that's remarkably effective at cleaning your teeth.
The Philips One by Sonicare has a brush handle, replacement head, travel case and a battery that's housed inside the handle.
Like any other Sonicare electric toothbrush, the Philips One is also elegantly designed.
Sleek, slim and compact, this is a light brush that's easy to handle and convenient to brush with.
The brush handle feels firm in your grip. What many Philips One by Sonicare review images reveal as grooves running along the handle is partly responsible for this.
The entire device is plastic, and the handle is smoothly contoured to avoid any grime accumulating crevices and cracks. The single button to power the brush on and off is on the front of the handle.
Ridges on the handle prevent the brush from rolling when placed flat on a countertop.
The rounded base screws off to allow the replaceable battery to be removed. On the rechargeable variant, the cap can be pulled out to expose the USB charging port.
A metal shaft projects from the handle onto which the replacement brush head fits. Just push it on – or yank it off.
Philips One by Sonicare Review : Replacement Brush Heads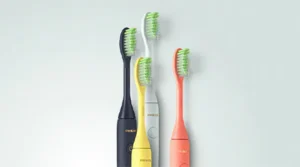 An important point to remember is that the brush head is specific to the Philips One by Sonicare electric toothbrush. Other Sonicare brush heads are NOT compatible with this model.
The bristles are uneven and arranged to have a profile appearance like the letter 'W'.
Longer bristles are at the ends, and on a ridge at the middle. The bristles are soft, and comfortable even with sensitive teeth and sore gums.
There is only one type of replacement brush head for the Philips One by Sonicare. It is color matched to the handle. You can purchase brush heads separately in packs of 2 or 3.
Philips One by Sonicare Review : Operation & Ease of Use
This electric toothbrush runs in just one mode. Pressing on the power button turns the brush on.
Each cleaning session lasts for the dentist-recommended two minutes. At the end of this time, the toothbrush automatically turns off.
Once every 30 seconds, there is a brief pause in the vibration to indicate that it's time to change quadrants. This helps ensure that you don't neglect any part of your mouth.
Brushing twice daily for 2 minutes, with 30 seconds devoted to each quadrant – upper left and right, lower left and right – is ideal for dental health.
One minor drawback of the Philips One by Sonicare is that it lacks a pressure sensor. This feature is common with most other Sonicare models. It can help avoid exerting too much pressure on teeth and gums, avoiding damage.
So while cleaning is excellent even with light pressure, the danger of injury exists when you inadvertently press down too hard.
An appealing feature of the Philips One by Sonicare electric toothbrush is how quietly it operates. There's a barely audible hum while the motor is running.
Philips One by Sonicare Review : Power & Performance
Philips One by Sonicare may not be a very powerful device. This is in contrast to the 31,000 brush strokes per minute that's typical of several other Sonicare models.
Still, despite its gentle vibration and quiet operation, the Philips One by Sonicare delivers an excellent brushing experience. Your mouth will feel fresh and clean after brushing with it.
This makes it a nice transitioning model from a manual to electric toothbrush. However, users who are accustomed to more powerful toothbrushes may not find the Philips One by Sonicare appealing enough.
Durability of any device you'll use regularly matters. The Philips One by Sonicare is a relatively new instrument. From appearances, it looks solid and durable.
Only time will tell if this is true. In any case, the manufacturer offers a 1 year warranty which covers you against defects and flaws.
The Philips One by Sonicare : An Ideal Travel Toothbrush
Like the handle and brush head, the travel case that ships along with your Philips One by Sonicare is also color matched.
It is slender and beautifully designed, a cylindrical tube that fits snugly to your toothbrush. It opens lengthwise on hinges. The design is meant to prevent the case from rolling off a countertop on to the floor.
Inside the travel case itself are ridges that align with the toothbrush and hold it snugly in place during travel. The brush head is fully covered and protected, even as a tiny portion of the handle protrudes out of the case.
The Philips One by Sonicare : Battery Power & Choice
In its two variants, one powered by a rechargeable battery and the other needing periodic replacement, the Philips One by Sonicare delivers solid value.
The rechargeable Nickel Hydride cell lasts for 60 cleaning sessions on a single complete charge. An indicator shows you how much charge is still left. An amber flashing light means it's time for a recharge.
With typical use – brushing twice daily for 2 minutes each – a single recharge should last for a month. Often, it goes a little longer than that.
Once a recharge is due, leave the toothbrush connected to the USB charger for 8 hours. An overnight wait should get you a fully recharged instrument. A non-flashing white light on the indicator suggests you have power for another 60 brushing sessions in store.
With the other variant, you'll use an AAA battery (or even a rechargeable AAA cell) which powers your toothbrush for upto 3 full months.
Towards the end of this period, you'll notice a significant drop in toothbrush movements while cleaning.
In this sense, it is convenient to replace the AAA batteries around the same time as you change to a new brush head.
One drawback is that there is no indicator to suggest when the battery is draining out. You must watch out for a reduction in power, and then swap batteries. If you forget, eventually the toothbrush will stop working.
Why does this matter?
To some users, the advantage of not having to recharge batteries periodically is a strong reason to choose the Philips One by Sonicare over other models.
To other users, the idea of adding to environmental waste by tossing away AAA batteries every few months is an argument in favor of the other variant.
However, battery life is still excellent like any other Philips Sonicare electric toothbrush. So in that sense, it isn't wasteful at all.
Is Philips One by Sonicare Good Value For Money?
As discussed earlier in this Philips One by Sonicare review, this toothbrush is intended to be subscription based.
There's good reason for this approach. Most customers do not replace worn out brush heads regularly. Many of them simply forget!
Without a good brush head, you cannot achieve good results from brushing – even if your electric toothbrush is the best.
So a subscription model that delivers a fresh replacement brush head (along with AAA batteries in the replacement variant) can make it easier for you.
Of course, the subscription is not mandatory.
You can opt to only order the Philips One by Sonicare electric toothbrush alone. But the additional cost is so trivial that it is well worth the benefits of enjoying better dental hygiene and sparkling white teeth.
Also, you can cancel or pause your subscription at any time. There is no additional charge for delivering replacement heads and batteries.
However, regardless of whether or not you choose a subscription model or prefer to buy replacement heads and batteries separately, the cost of owning a Philips One by Sonicare is very reasonable.
It is an affordable entry-level electric toothbrush that will fit almost any household budget comfortably.
Other models may offer greater functionality, more features, or better performance – but at a higher cost.
So if you're looking for a new electric toothbrush to make the transition from manual brushing, and don't want to spend too much, the Philips One by Sonicare is a good choice.
Philips One by Sonicare Review : Should You Buy It?
In summary, the Philips One by Sonicare is a good electric toothbrush.
Its sleek design, colorful options, and the choice between two variants with different kinds of battery are advantages.
The strong travel case, excellent battery life, and convenient subscription plan are other features that tilt the balance in favor of the Philips One by Sonicare.
On the flip side, this toothbrush is not the most powerful, versatile, or feature-rich model in the Philips Sonicare lineup.
But then, the price is much more affordable to align with the relative simplicity of the Philips One by Sonicare.
While power-users who have grown accustomed to more premium electric toothbrush models might not be excited about the Philips One, others will find it a good pick.
Specifications:
Length: 15 cm
Thickness: 2 cm
Width: 2 cm
Weight: 39 grams
Battery: one AAA / rechargeable
Colors: various choices
Noise: 71 dB
Travel case: included
Feature Summary:
Cleans by micro-vibrations
Bristles of soft nylon
2 minute timer built in
Quad pacer at 30 second intervals
3 month battery life
Brush heads replaced every 90 days
Slim and light for convenience
Sturdy travel case for protection
Several colorful options
Color matched brush heads and case
Brush handles NOT cross-compatible
Affordably priced
Subscription service for head replacement
Philips One by Sonicare : Frequently Asked Questions
Do you get a choice of cleaning modes with the Philips One?
No, the Philips One by Sonicare offers only one cleaning mode which is quite effective at removing debris, stains and enhancing oral hygiene.
Is there a timer and quad pacer?
Yes, the Philips One by Sonicare has an inbuilt timer which limits a brushing session to the dentist recommended 2 minutes.
It also has a quad pacer that warns you every 30 seconds by a transient pause and reduction in brushing power. From this you'll know it is time to move to another quadrant.
In this way, the Philips One by Sonicare ensures that you clean all areas of the mouth adequately.
Is there a pressure sensor in Philips One by Sonicare?
No, the Philips One does not come with a pressure sensor.
Does this model have Bluetooth?
No, it does not.
Is there a travel case?
Yes, a sturdy and slender travel case is included. Your toothbrush fits snugly within it, and is well protected from damage during travel.
Can you use any brush head with the Philips One?
No, there is only one kind of brush head that works with the Philips One by Sonicare. It is color matched to the handle and designed to be gentle on sensitive teeth and gums.
However you cannot use other Sonicare brush heads with this model.
Is the Philips One by Sonicare an oscillatory or rotating toothbrush?
No, it cleans by sonic effect through micro-vibrations. The bristles move rapidly from side to side, setting up swirls that clean effectively in between teeth.
How good is battery life with Philips One?
With the replacement variant, a single AAA battery lasts for upto 3 or 4 months of typical use. This means you'll get almost 275 brushing sessions from a new battery.
With the rechargeable model, a full recharge lasts for a month. After this, you can charge the battery for 8 hours and restore full functionality again.
Is a charger included?
Yes, with the rechargeable battery variant, you get a USB charging cable.
Does the manufacturer offer a warranty?
Yes, the Philips One by Sonicare comes with a 1 year warranty against flaws and manufacturing defects.
See our ULTIMATE Electric Toothbrush Buyer's Guide - and make an informed and smart choice.