As any Philips Sonicare 2100 review will affirm, this is a simple, basic and light electric toothbrush that's good at cleaning your teeth.
(Updated on 5th January, 2023)
Sonicare 2100 Review : Pros & Cons
In an impressive lineup of Philips Sonicare electric toothbrush models, the Sonicare 2100 series falls in between the inexpensive Sonicare 1100 and the popular, far more powerful Sonicare ProtectiveClean 4100 models.
Key Features
Sonic cleaning at 31,000 strokes per minute
2 settings for cleaning intensity – low and high
Inbuilt 2-minute timer
Quad pacer to ensure adequate cleaning of all quadrants
Automatic power off function extends battery life
Pros:
2 power settings – low and high
Inbuilt timer with quad pacer
Elegant design and ergonomic
USB charging stand
Effective cleaning action
31,000 brushstrokes per minute
Cons:
Lacks a pressure sensor
Slightly expensive for its features
Philips Sonicare 2100 Review
Any Other Alternatives To Sonicare 2100 Electric Toothbrush?
Yes, there are some options you should consider at a similar price that offer more value in some aspects.
The bestselling Oral-B Smart Pro 1500 is one of them. Though not a sonic toothbrush, it has almost all the benefits of a Sonicare 2100 – at a lesser price.
The Sonicare 1100 electric toothbrush also costs less, and has almost all the same features except for the lack of a choice in brushing intensity.
If you don't mind spending a little more on your toothbrush, the Sonicare ProtectiveClean 4100 is an excellent choice. It offers a far superior cleaning experience and has some other advantages over the Sonicare 2100.
Sonicare 2100 Review
Where To Buy The Philips Sonicare 2100 Electric Toothbrush?
You'll find this electric toothbrush available in retail outlets like Target, Best Buy and Walmart.
You can also order online from the Sonicare Web store, or from e-commerce portals like Amazon.com
The advantages of online shopping are
convenient (and free!) delivery to your doorstep,
periodic discount offers and special price deals,
availability of the model you want
Philips Sonicare 2100 Review
Philips Sonicare is a widely recognized and respected brand in the dental field, with an array of popular electric toothbrushes in a range of prices, and with diverse features.
The Philips Sonicare 2100 electric toothbrush is affordable, and fits a niche between the entry-level Sonicare 1100 and more premium models.
The device is slim with a minimalist design that makes it more user friendly. The sleek design is also appealing to many users.
A white handle with a mint green power button gives it a classy look, even if it is only very basic.
What's In The Box?
1 Philips Sonicare 2100 brush handle
1 Simply Clean Sonicare replacement brush head
1 USB recharging stand
Warranty information
User manual
Sonicare 2100 Review
Design & Usage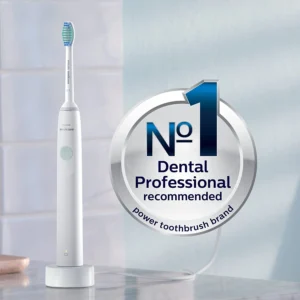 The Philips Sonicare 2100 is nicely designed. Slim and lightweight, it fits comfortably into your hand.
And using it to brush is convenient and easy.
The handle design is almost identical to the Sonicare 4100 and 3100 models.
Although the handle is smooth without any grooves to grip, it is not slippery even while wet.
As with most other electric toothbrushes, there is a brush handle and a removable brush head.
The Philips Sonicare 2100 comes only in white, with a mint green accent and buttons. A mode selector button is the only other control situated on the handle.
There are LED icons that indicate battery level and active mode.
You can leave the brush standing upright. A tiny notch near the bottom ensures the brush handle will not roll off a smooth countertop.
Into a recess on the bottom of the handle, a pin on the charging station fits snugly to wirelessly recharge the battery.
The brush head snaps off the handle when tugged sharply. It fits without any angulation between handle and head. A C1 Simply Clean brush head is what comes along with your purchase.
Other Sonicare replacement brush heads are also compatible with the Philips Sonicare 2100.
However this model isn't BrushSync enabled. So if you use a BrushSync head, you will not be able to take advantage of its functionality.
Philips Sonicare 2100 Review
Ease of Use
The Philips Sonicare 2100 is easy to use.
There are 2 choices for brushing intensity – low and high.
High is powerful and intense. It is extremely effective at cleaning teeth.
The gentler 'low intensity' setting is more comfortable for new users, or people with sensitive teeth and gums.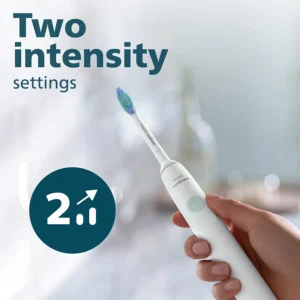 You can switch between modes by repeatedly pushing on the Power button. Pressing once again turns the toothbrush off.
It's true that cleaning intensity determines how effectively a toothbrush will clean your teeth. Still, that isn't the only factor.
Your teeth will feel clean after brushing with the Philips Sonicare 2100, even if you only use the low intensity setting.
At a vibration frequency of 31,000 brush strokes per minute, this sonic device is effective at getting rid of plaque and whitening teeth.
Timer With Quad Pacer
An inbuilt timer ensures that you brush for the dentist-recommended 2 minutes every session.
When you begin a brushing session, the timer is activated. Every 30 seconds, the motor pauses briefly and changes sound. This is to indicate that it's time to move to another quadrant.
At the end of 2 minutes, the brush automatically turns off.
By this time, you should have adequately cleaned the 4 quadrants – upper right and left, and lower right and left.
No Pressure Sensor
As with any electric toothbrush, it is enough if the bristles skim the surface of your teeth. Exerting more pressure only risks damage to teeth and gums.
The lack of a pressure sensor with automatic reduction in brushing intensity means you must be watchful to avoid injury. Excessive pressure can not only wear down teeth and gums, it also reduces the lifespan of brush heads.
The Philips Sonicare 2100 electric toothbrush handle is water resistant. However it is not recommended to use it in the shower, or leave it immersed in water.
A two year Sonicare warranty safeguards against manufacturing flaws and workmanship defects. User induced damage isn't covered.
Sonicare 2100 Review
Battery Life
Sonicare electric toothbrushes uniformly have excellent battery life.
Typical battery life is 14 days after a single recharge. Usually this extends for much longer than that.
This makes a Philips Sonicare 2100 a good choice to carry along when you travel.
Some Sonicare models last upto 3 weeks. But the Philips Sonicare 2100 has a slim handle with a smaller battery, which might explain its relatively shorter life.
Operating the toothbrush in low intensity mode may extend the longevity of a charge. The Lithium ion cell cannot be replaced.
A red glow on the battery indicator LED suggests that it is time for a recharge. You may also leave the toothbrush on the recharging station in between brushing sessions.
Recharging Station
A white stand with circular base is provided along with your purchase.
The Philips Sonicare 2100 toothbrush sits on top of it. A prong that sticks up from the station slots into a recess on the handle's base.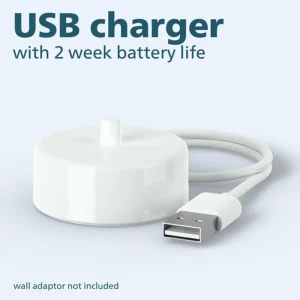 A 3.5 foot-long cable attaches the recharging station to a USB connector. It fits into any USB port on a laptop, battery bank or wall socket.
It takes 24 hours for your Philips Sonicare 2100 brush to recharge fully. An LED indicator glows steadily to indicate charging is complete.
Solid green LED – fully charged battery
Flashing green – partially charged
Flashing amber – low battery, time for a recharge
Flashing amber to red – battery is dead, can't brush until recharged
Philips Sonicare 2100 Review
Price
Even though the Philips Sonicare 2100 is a rather tricky model to position in the Sonicare line, it is competitively priced.
For the modest price you'll pay, you're getting good value.
Add to this the frequent discounts that will get you a 10% or 20% reduction while shopping online, and this becomes an attractive deal.
And that's in keeping with the Philips Sonicare 2100 being known as a budget electric toothbrush. It finds a mention in most lists of the best budget electric toothbrush under $100, or even under $50.
As a general rule, it isn't a good idea to be guided by price alone. If your budget is really tight, a Philips Sonicare 1100 costs even less – and it may be a good choice.
Another important fact to keep in mind is the running expenses of using even a budget electric toothbrush. Mainly, this comes from replacement brush heads.
Even without BrushSync functionality, Sonicare replacement brush heads run around $8 per piece – which lasts 3 months on average.
Be sure to factor this into your cost of ownership. And if it makes sense, upgrade to a Philips Sonicare 4100 instead.

Conclusion
The Philips Sonicare 2100 is a lightweight, sturdy and slim electric toothbrush.
It has a stylish design and delivers a very good cleaning performance.
There are two settings for brushing intensity and a decent battery life.
With an inbuilt timer and quad pacer (but no pressure sensor), you have the basics of a good electric toothbrush.
It is affordably priced as well, to be competitive against other budget electric toothbrush models.
For the features, what you'll pay is excellent value for money. So don't hesitate to go ahead, if you feel this model is right for you.
Of course, if you can afford to pay a little more for greater value, the Philips Sonicare ProtectiveClean 4100 is a nice model to pick.
Another good choice would be the popular Oral B Smart Pro 1500 which has a pressure sensor in addition, as well as excellent economic value.
Technical Specifications
Height: 17.5 cm
Width: 2.5 cm
Thickness: 2.6 cm
Weight: 98 grams
Noise level: 60 dB (quiet)
Sonicare 2100 Review
Philips Sonicare 2100 FAQ
1. How many brushing modes does the Philips Sonicare 2100 offer?
Two intensity settings are available – low and high.
2. Is the Philips Sonicare 2100 an oscillating electric toothbrush?
No, the Philips Sonicare 2100 is a sonic toothbrush. It cleans at a vibrating frequency of 31,000 rpm.
3. What brush head is included?
The Philips Sonicare 2100 comes with a C1 Simply Clean brush head.
4. What other brush heads are compatible with a Philips Sonicare 2100 toothbrush?
Almost all the Sonicare toothbrush replacement heads are compatible with this model. It includes:
C1 Pro Results
C2 Optimal Plaque Control
G2 Optimal Gum Control
DiamondClean
W3 Premium White
However this brush handle does not support BrushSync technology.
5. Is there a pressure sensor?
No, the Philips Sonicare 2100 does not have a pressure sensor. There is a built in timer and quad pacer.
6. Does the Sonicare 2100 have Bluetooth?
No, there is no Bluetooth wireless function, or a Smartphone app.
7. Is a travel case included?
No, you do not get a travel case along with this budget electric toothbrush.
8. Is there a charger?
Yes, the Philips Sonicare 2100 comes with a recharging station which is USB based.
9. How good is battery life?
Very good. A full recharge will last 14 days of regular use, with brushing for 2 minutes twice a day.
10. Is the Philips Sonicare 2100 waterproof?
No. It is water resistant, but not meant to be used in the shower or immersed in water.
11. Is there a Sonicare warranty?
Yes, your purchase includes a 2 year warranty against manufacturing defects.
See our ULTIMATE Electric Toothbrush Buyer's Guide - and make an informed and smart choice.