The best Sonicare electric toothbrush head is compatible with any Philips Sonicare brush. It will remove plaque, improve gum health and make your teeth whiter.
'A Dentist's Daughter' Rating: (4.7/5)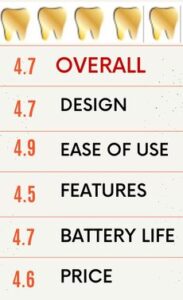 In this comprehensive guide to the best Sonicare brush head, you'll learn all about
the kinds of Philips Sonicare replacement brush heads,
their unique features and drawbacks, and
how to pick the perfect Sonicare toothbrush replacement heads for your needs.
TABLE OF CONTENTS
Which is the Best Sonicare brush head?
What Else Is In This Guide?
This report about best Sonicare replacement brush heads will also reveal
the ideal places to buy replacement brush heads,
the right way to pick your perfect electric toothbrush model, and
exactly how the best Sonicare brush head will help keep your teeth clean and oral hygiene great.
And if you haven't yet read our Buyer's Guide to the Best Electric Toothbrush, be sure to read it for some helpful tips.
You'll learn how to select the right electric toothbrush brand and model for yourself. You'll also discover where to find them at the best rates, and more.
Also:
There are many different types of Philips Sonicare brush heads. And each type varies slightly in features and actions. One of them is sure to be a great match for users with specific needs and desires.
It's difficult to pick one as the 'best Philips Sonicare toothbrush head'.
At the same time, for a busy person in search of quick recommendations on which Sonicare replacement heads to buy, a complex review won't help.
That's why our review of the best Sonicare brush head is structured to help you come to a quick decision.
Skim each section in this review.
Focus on the model or type of best Sonicare brush head you might want to purchase.
Then study it carefully to examine all its pros and cons… before making your decision.
As always, feel free to leave a comment. Or ask any questions that you couldn't find answered in this report.
Best Sonicare Brush Heads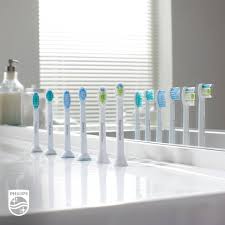 If there's a model that's widely acknowledged as the best Sonicare brush head, then it has to be the ProResults
.
It's perfect for almost everybody looking for an all-round teeth cleaning solution. With almost 60,000 delighted reviews on Amazon alone, you can pick it with confidence and certainty.
Also popular among contenders for the best Sonicare brush head is the C3 Premium Plaque Defence
model. This is specifically designed for brush handles with the BrushSync function.
However, there's probably another kind of Sonicare replacement brush head that's better suited to your unique situation.
So also look at other options for the best Sonicare brush head. Understand the special features of each type. And then make an informed decision.

Best Sonicare Toothbrush Head for Sensitive Teeth
If you suffer from sensitive gums and teeth, it can be quite a challenge to use an electric toothbrush.
The sensitivity may be due to gum or tooth infections. Or prior dental work or surgery. Whatever the reason, using a regular electric toothbrush can be painful or uncomfortable.
The Sonicare Sensitive brush head
is designed especially for people with sensitive teeth and gums.
The bristles are softer than other brush heads. Also, they are trimmed so that they won't rub harshly against your gums.
The overall cleaning experience should be gentler and pain-free. That matters a lot if your gums and teeth are over-sensitive.
Sonicare Sensitive toothbrush replacement heads
are compatible with most models.
If your electric toothbrush has BrushSync functionality, you could get the G2 Optimal Gum Care
brush head instead.
But it doesn't really matter very much.
Any of these best Sonicare brush head models can be used with sensitive cleaning mode to deliver a gentle experience.
However, if even this is uncomfortable, you might have to consult a dentist for treatment. Or try to modify your eating habits and the type of toothpaste you use.

Best Sonicare Brush Head for Braces
If you're wearing braces, cleaning effectively around them can be quite a challenge.
You'll want to avoid staining your teeth by the time you remove the braces. Another problem is that food particles and grime accumulate in the tiny crevices and nooks between your braces and teeth.
There are Sonicare toothbrush replacement heads specially crafted to meet your needs.
The all-rounder best Sonicare brush head – ProResults
– is excellent for cleaning teeth while wearing braces.
It is very cost effective and durable. It's also extremely good at clearing plaque and removing food particles after meals.

Best Sonicare Replacement Brush Head for Teeth Whitening
Do you want bright, clean, gleaming teeth after a cleanse?
Of course! It can feel nice to have someone compliment your lovely smile or healthy teeth.
With the best Sonicare brush head and right cleaning mode, you can achieve this.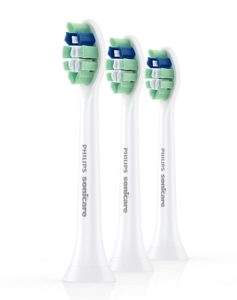 Sonicare DiamondClean Brush Head
For teeth whitening, one of the best Sonicare brush head is the DiamondClean
.
This Sonicare toothbrush replacement head comes in Compact and Standard sizes. Its compact diamond-shaped bristles deliver a fantastic cleaning effect while removing stains and leaving your teeth white and shining.
You'll be amazed at the results.
W3 Premium White Brush Head
If you already own a Sonicare electric toothbrush with BrushSync function, the W3 Premium White
brush head can also deliver a great teeth whitening effect.
The toothbrush will automatically select 'Whitening' mode when it detects the W3 Premium brush head. It then delivers specially programmed vibratory effects and pulsations. They are designed to eliminate stains and whiten your teeth.
For the best results, combine this with whitening toothpastes that help improve stain removal.
Which Sonicare brush head is right for you?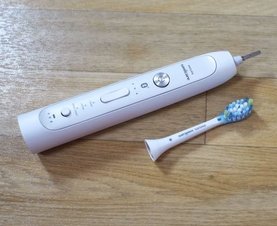 The decision compare the best Sonicare brush head will help find the right replacement for you.
All Sonicare brush heads have some common features and benefits. They deliver a sweeping movement similar to a manual toothbrush, instead of the oscillatory motion of an Oral-B electric toothbrush.
The best Sonicare brush head will work beautifully to remove plaque and improve dental hygiene and oral health.
Each variety of brush heads offers extra advantages that appeal to certain kinds of users.
Best Sonicare Brush Head : Types & Models
DiamondClean brush heads offer better cleaning and gum health, as well as whiter teeth.
ProResults brush heads give the best all-round cleaning effect, with great plaque removal.
AdaptiveClean brush heads deliver a deeper cleanse, reaching more surface area than other models because it has bristles that can adapt to the shape of your teeth

InterCare brush heads have extra long bristles to access hard-to-reach areas inside your mouth.
Sensitive Sonicare brush heads have extra-soft bristles that won't hurt your sensitive teeth and gums while cleaning effectively.
W2 Optimal White toothbrush heads are excellent for stain removal and teeth whitening.
C3 Premium Plaque Defence brush heads offer the deepest cleaning of all Sonicare toothbrush replacement heads. It boasts of 4 times more surface area reach than other Sonicare brush heads.
G3 Premium Gum Care toothbrush heads protect the gums. They do this by buffering any excess pressure applied on the head. It also automatically selects the optimum brushing mode to avoid injury to your teeth and gums.
W3 Premium White Sonicare toothbrush replacement heads are compatible with handles that have Brush Sync technology and can whiten teeth in just 3 days.
Understanding Sonicare Toothbrush Heads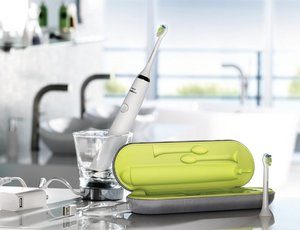 Regardless of which best Sonicare brush head you choose, the effectiveness depends also on how regularly and thoroughly you clean your teeth.
Most dentists recommend cleaning your teeth twice in a day, for 2 minutes each. Using the best Sonicare brush head can make this easier, turning in a pleasant and pain-free experience.
At first glance the diverse range of Sonicare toothbrush replacement heads can seem overwhelming. There are
different styles,
designs,
bristle arrangements,
number of heads in a pack.
Then, there's the question of whether or not a particular brush head is compatible with your Sonicare electric toothbrush handle.
Let's take an overview of the different Philips Sonicare toothbrush heads
.

Sonicare Brush Head Models
There are 11 distinct Sonicare toothbrush heads, in addition to the separate Sonicare kids brush heads range:
ProResults
DiamondClean
Sensitive
InterCare
AdaptiveClean
Optimal:
W2 Optimal White
C2 Optimal Plaque Defence
Premium:
W3 Premium White
G3 Premium Gum Care
Sonicare Toothbrush Head Sizes
Each of these Philips Sonicare toothbrush heads come in two sizes – Standard and Compact.
The Standard brush head looks just like a manual toothbrush head and covers a larger surface area with each sweep.
The Compact brush head is smaller and better suited to those with smaller mouths or if they have special needs. The head covers a smaller area, but can be more easily manipulated within the mouth and reach into crevices and behind your back teeth.
The smaller brush heads are like Oral-B brush heads when compared to Sonicare toothbrush replacement heads.

Best Sonicare Brush Head Packs
Sonicare toothbrush replacement heads come in packages containing varying numbers of heads.
Smaller packs have 2 heads.
The most popular sellers are 4-pack brush heads.
There are also jumbo packs containing 6 or 8 brush heads.
The bigger packs of 6 or 8 brush heads are usually limited to select models and Standard brush sizes, not Compact ones.
However buying these larger packs can help lower your overall cost because the per brush head expense is lesser.

Special Sonicare Heads
Each of the best Sonicare brush head models are special in some way. Still, there are a few that are designed primarily to carry out a certain action.
They are specialized instruments rather than just 'brush heads'.
The Air Floss
and Air Floss Pro
are dental flossers that pulse jets of water into your mouth to flush away debris and clean hard-to-reach corners of your mouth.
This is intended to clean between teeth.  The nozzles are replaceable. That's why we include them with Sonicare electric toothbrush replacement heads
.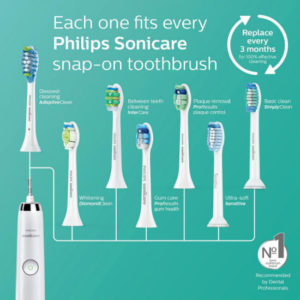 Brush Sync Brush Heads
An interesting Philips Sonicare innovation is a technology known as Brush Sync.
It is essentially a convenient reminder to let you know when it's time to replace a worn out brush head for your Sonicare electric toothbrush.
Using RFID technology, the brush head communicates with your Sonicare brush handle to keep track of usage via an embedded chip in the brush head.
This helps do two things:
automatically matches certain brush heads to brushing mode
reminds users when it is time to replace the head
An LED glows on the handle whenever the brush head has run for a pre-programmed number of minutes, reminding you to change it to a new one for best effectiveness.
The first time you attach a new brush head to the handle, a warning light flashes thrice to indicate that the device has sensed it. The electronics now turn on to tracking usage.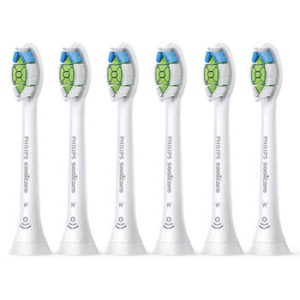 Typically the best Sonicare brush head lasts for 3 months of regular use.
When the embedded chip senses this duration, the BrushSync LED glows orange/amber. This indicates visually that it's time to change the brush head.
But it's more than just an automatic time-keeper.
It's actually a 'smart' technology.
If you exert more pressure, or more often (say three times daily), then your bristles will wear out sooner. The Brush Sync is activated sooner. It tells you to replace the head – even ahead of the usual 3 month deadline.
For less active users, the indication to replace the brush head comes only after you've used the brush for the equivalent of 360 minutes.
Another function of this 'smart' technology is that it pairs the appropriate cleaning mode to your brush head.
So if you get a Sensitive Sonicare toothbrush replacement head, then your brush will automatically select Sensitive mode for cleaning.
Or if you fit a W2 Optimal White
head, you'll find that the White cleaning mode is automatically selected.
Brush Sync heads, though, are more expensive.
Ensure Compatibility For Best Results
You may still use an incompatible brush head with a Brush Sync enabled handle. But you won't get the LED indication or auto-mode selection advantages.
To enjoy these benefits, you need a compatible brush head like
W2 Optimal White
W3 Premium White
C2 Optimal Plaque Defence
C3 Premium Plaque Defence
G2 Optimal Gum Care
G3 Premium Gum Care
Are Sonicare Replacement Heads Interchangeable?
All Philips Sonicare brush heads are interchangeable.
The only exceptions are older Sonicare models which had brush heads that had to be screwed on instead of snapping into place.
You can use the same best Sonicare brush head with a DiamondClean
or ProtectiveClean
or Sonicare Essence
electric toothbrush handle.
It lets you swap brush heads based on your needs, or even try out a new type to see if it works better.
When a family shares a brush handle, it's easy to have separate brush heads for each member.
Third Party Brush Heads – Or Best Sonicare Brush Heads?
It's true that third party manufacturers do make Sonicare compatible brush heads which are less expensive.
However, it is generally advisable to use only Philips Sonicare brush heads for the best results and long life of the brush handle.
The company doesn't guarantee performance when you use other alternatives.

Diamond Clean Sonicare Toothbrush Replacement Head
These brush heads remove stains and leave your teeth gleaming white. In many trials, the DiamondClean
Sonicare toothbrush replacement head removed 100% stains in just 7 days.
The diamond-shaped bristles are specially designed to whiten your teeth. There's a stain removal pad in the middle of the brush head that's comprised of dense diamond-shaped bristles.
If your teeth have stains, this brush head will clean them up quickly.
The design matches the sonic cleaning effect of the best Sonicare brush head to your desired result (e.g. stain removal).
The DiamondClean Sonicare toothbrush replacement head
snaps on to your brush handle. It is compatible with all except the Essence and PowerUp Battery models.
This best Sonicare brush head has 'reminder bristles', which are blue colored when new. They fade away to white over time – to let you know it's time for a replacement. For the best results, replace it with a new head every 3 months.

Adaptive Clean Sonicare Toothbrush Head
This is a larger head with four times more surface contact than other Sonicare brush heads like the DiamondClean. This achieves the best cleaning effect.
It's made of soft rubber that allows better adjustment of bristles to the surface of your teeth. So Adaptive Clean
brush heads are nearly ten times more effective at plaque removal.
The bristles absorb some pressure, and guard your teeth against injury while brushing.
It's easy to snap the head on and off after use. It fits any handle securely and is easy to clean and store away. The only Sonicare models it doesn't fit are the Essence and PowerUp Battery.
For best results, combine this brush head with the perfect handle and the right toothpaste.
There are 'reminder bristles' that fade with use. This indicates when it's time for a new one.

InterCare brush head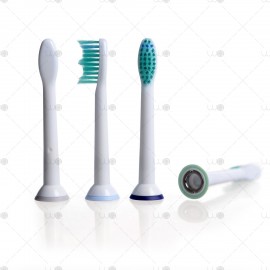 The InterCare brush head's special feature is being able to reach into areas of your mouth that others cannot comfortably manage.
Its high density bristles are longer than other brush heads. This enables removal of dental plaque from between and behind teeth, making it the best Sonicare brush head for plaque removal and overall cleaning efficiency.
InterCare
Sonicare brush heads come in two sizes – standard and compact.
It effectively transmits power to the tip of the brush head, delivering an excellent cleaning and whitening effect.
Most users agree that they notice significantly better gum and oral hygiene within a couple of weeks.
It's easy to snap the InterCare brush head on and off a handle. The brush head is compatible with all Sonicare brush handles except Essence and PowerUp Battery.
Like many other Sonicare brush heads, the InterCare also has 'reminder bristles' which indicate when it's time to replace your old, worn out brush head.

ProResults Sonicare brush head
Unless you have special needs for your oral hygiene, the Sonicare ProResults brush head is probably the best choice for most users.
It delivers an overall good cleaning action without any discomfort or pain.
The ProResults
bristles help to remove dental plaque, enhance gum health and access even difficult-to-reach areas in your mouth.
It is contoured to fit the gum and teeth in a manner that achieves excellent cleaning. The head clicks on and off any Sonicare electric toothbrush handle.
'Reminder bristles' change color from blue to white as the brush head wears out, indicating when it's time for a replacement. Typically, a new brush head will last for 3 months of regular use.
The ProResults Sonicare brush head is compatible with all handles except the PowerUp Battery and Sonicare Essence models.
The brush head comes in standard and compact sizes to suit your requirements.

Sensitive Sonicare Toothbrush Replacement Head

If you have sensitive teeth and gums as a result of infections or previous dental procedures, then the Sensitive brush head
  is your best Sonicare brush head.
It is designed to make cleaning comfortable and pleasant, even if you suffer from hypersensitive teeth and gums.
The bristles are softer by 20% than regular brush heads and don't feel as abrasive when they skim over the surface of your teeth or when they touch your gums.
The Sensitive Sonicare brush head also has a trim profile. This cushions the teeth and prevents rough contact between the toothbrush head and sensitive tissues.
Paired with brushing modes like Sensitive, Massage or Gum Care, you'll enjoy the greatest cleaning benefit without any harmful side effects.
All Sonicare electric toothbrush handles can accommodate the Sensitive brush head except Essence and PowerUp Battery models.
The brush head is easy to click on and remove to replace with another head.
You also have visual indication when it's time to replace the head with a new one.
Sensitive Sonicare brush heads
are compatible with Sonicare 2 Series plaque defence, 3 Series gum health, DiamondClean, FlexCare, HealthyWhite and ProtectiveClean model brush handles.

Cleaning Modes of Best Sonicare Brush Heads
Different Sonicare brush head models offer a variety of cleaning modes.
Your ideal brushing mode will depend upon
what brush head you choose,
which model of electric toothbrush handle you use,
what other unique conditions do you have (braces, prior procedures, sensitive gums, etc)
All Philips Sonicare electric toothbrushes offer the basic 'Clean' mode.
Other options that are available with specific best Sonicare brush head models include:
White
White+
Deep Clean
Deep Clean+
Gum Health
Gum Care
Sensitive
Massage
Polish
Refresh
Tongue Care
How To Understand Sonicare Brush Head Model Numbers?

Unfortunately, there is no simple answer.
Philips Sonicare uses unique serial numbers internally to differentiate its range of brush heads.
However, this numbering isn't intuitive and makes it difficult to know what the combinations stand for.
The part numbers typically begin with HX, with a string of 4 to 6 numbers that follow. Some figures represent how many brush heads are in a pack. Others reference a specific model.
But this is of little help to a consumer. So ignore the model number when it comes to purchasing brush heads
.  Instead, look at the features and specifications to help you decide.

Where to buy Sonicare Brush Heads?
You can order most models of Sonicare brush heads online from retailers like
Ebay,
Boots,
Walmart,
Target.
These businesses offer home delivery of your purchases.
You'll also find these brush heads in larger retail chains and supermarkets. The problem is that at times, these outlets may run out of stocks of the specific model you want.
Price is usually cheaper online. Special deals and discount coupons further lower the amount you'll pay.

Best Sonicare Brush Heads : Frequently Asked Questions
1. Which Sonicare brush heads are compatible with your toothbrush?
All Sonicare models are interchangeable with the others when it comes to brush heads.
2. Are some Sonicare toothbrush models not universally compatible?
The only Sonicare toothbrushes that have compatibility problems with brush heads are the Sonicare Essence (E-Series) and the Sonicare PowerUp toothbrushes.
3. Are any Sonicare brush heads not cross-compatible with brush handles?
There are just two Sonicare brush heads that aren't quite cross-compatible – the Airfloss Nozzle
and Sonicare For Kids
brush heads.
These require only the specific brush handle to fit on.
4. Why should a Sonicare brush head be replaced?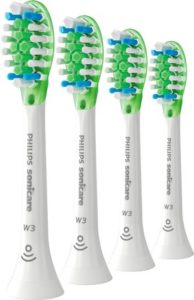 Due to wear and tear, the cleaning efficiency drops. Softer bristles are less effective at removing food debris or clearing away plaque.
That's the reason why old and worn out brush heads should be replaced.
5. When should the best Sonicare brush head be replaced?
Even the best Sonicare brush head should be replaced after 3 months of typical use (2 minutes per brushing, twice every day – or around 120 minutes in total).
6. What happens if I don't replace an old Sonicare brush head?
The bristles grow frayed and soft over use. If they are not promptly replaced, this can actually harm your gums and teeth.
Also, the close-knit bristles separate and this lowers cleaning effectiveness.
So when the initially blue colored 'reminder bristles' on the best Sonicare brush head turn white, replace the brush head.
7. Is there an automatic warning or notification system to remind users to change brush heads?
Yes, there is. If your electric toothbrush comes with BrushSync technology
, a glowing LED will indicate when it's time to replace your brush head with a new one.
8. How to replace Sonicare brush heads?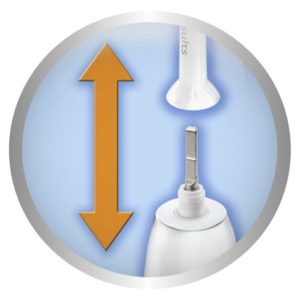 It's extremely easy to replace an old Sonicare electric toothbrush head… just two stages.
1. Use a bit of force to pull the head off from the brush handle. With a click, you'll feel the head release off the toothbrush, exposing a metal prong. This prong is the link between a motor inside the handle and your brush head.
2. Fit the metal prong into a hole in the replacement brush head base and push them together. Again, with a gentle click, the head will snap into place. The head is now attached.
It is alright to have a tiny gap between the head and handle.
Philips Sonicare toothbrush replacement heads
See our ULTIMATE Electric Toothbrush Buyer's Guide - and make an informed and smart choice.