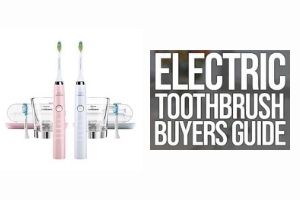 So you want healthy, attractive teeth and gums – and are searching for the best electric toothbrush to help you get there.
You understand that good oral hygiene requires brushing twice a day with a high quality toothbrush. And while you don't mind investing in the best electric toothbrush, you don't want to waste your money on a flimsy instrument with poor performance or unnecessary gimmicks.
We understand exactly what you're looking for.
And in this buyer's guide to the best electric toothbrush, you'll learn everything you need to make informed and smart buying decisions.
Let's start by addressing a few vital questions that run through your mind as you try to pick your best choice.
What goes into the best electric toothbrush?
Few would disagree that electric toothbrushes are better than a manual one for cleaning teeth effectively. But ask people what's their favorite electric toothbrush, and you'll get a range of different answers.
That's why a buyer's guide to selecting the best electric toothbrush is so helpful. You'll find answers to these questions:
What are the different kinds of electric toothbrushes?
How are these types unique from the others?
Which electric toothbrushes are best for braces and dentures?
Is price really a useful indicator of better quality?
What specifications really matter for a consumer?
After reviewing over 100 electric toothbrush models from dozens of brands, seeing what dentists and dental hygienists say about each, and poring over thousands of customer reviews and testimonials, we came up with a list of features and benefits that most buyers of electric toothbrushes found important when it came to selecting the best electric toothbrush.
Things like comfort and ease of use.
Battery life and longevity after recharging.
How good it is at cleaning your teeth, or keeping your gums healthy.
Brush head durability, and overall cost.
And other nice features and functions we'll group under "bells and whistles".
Now if you're trying to do this all by yourself, good luck!
It's quite a job trying to cut through all the marketing hype and over-the-top claims made by "reviewers" on shopping sites. But we dug in and made the effort… just to help you find your perfect toothbrush!
If you only want to see which are our top picks for best electric toothbrush in 2020, go here to see the list of handpicked 'finalists' which we put to the test – 'head to head' – in order to find the greatest value for your money.
But if you want to learn more about electric toothbrushes and how to select the best one for your needs, read on.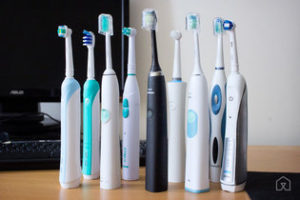 Recommended:
Sonicare Flexcare review
In a Nutshell:
How We Test Electric Toothbrushes
Over the past four years, we've been researching and reviewing electric toothbrushes, analyzing their performance, comparing as many as we could against each other, and determining which is the best electric toothbrush of them all.
It's an ongoing effort, as new products are released from time to time. Here's what we look at to determine rankings:
1. Packaging: What's inside the box, including set up instructions and accessories
2. Brush Heads: How many are included and how long are they expected to last
3. Look and Feel: Weight, comfort while using, ergonomic design and ease of use
4. Battery: Time taken, how long a charge holds, and effectiveness of charging
5. Extras: What makes this model or brand outstanding and special
6. Price: Both initial cost and the expense of replacing heads
7. User Reviews: What owners say about the product
Broadly, our rankings are based on:
how well the electric toothbrush performs at cleaning your teeth
how comfortable it is to use
how easy it is to set up, clean and store away (or carry on travel)
how long the battery lasts after a charge
Now before we get into it, a word of explanation.
We aren't dentists or dental hygienists ourselves. So don't count on any of this as medical advice. Your teeth are unique, and you should always go by your dentist's recommendation while making choices about your oral hygiene. This buyer's guide to the best electric toothbrush is a good starting point to begin your research, but please check with your dentist before making a final choice – especially if you have any dental problems.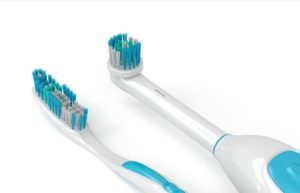 Why are electric toothbrushes better?
Most dentists and dental hygienists agree that an electric toothbrush is better than a manual toothbrush when it comes to effectively cleaning teeth because it doesn't depend as much on 'user technique'. With a motor driving the brushing action, cleaning is more consistent with an electric toothbrush.
Of the two broad categories of electric toothbrush – oscillating, which mimics manual brushing action, and sonic, which cleans through rapid vibrations – many would recommend sonic toothbrushes since they are like scaling equipment used in a dental clinic to clean and whiten teeth. The micro-vibrations are more effective at cleaning both calculus (hard mineral that deposits on teeth) and the softer biofilm.
However this is not to say that oscillatory electric toothbrushes are not as good. With current design, technology and power, your best electric toothbrush could be either sonic or oscillating.
The Sonic vs Oscillating Debate
Sonic electric toothbrushes vibrate an incredible 30,000 times in a minute. The mini-shock waves they set off loosens plaque and removes it from the surface of your teeth. It creates a vortex effect that extends a little beyond the tip of the electric toothbrush, dislodging food pieces and even germs from in between teeth and along the gum line. One of the drawbacks of a sonic electric toothbrush is that a few users are annoyed by the vibration, or feel it irritates their gums.
Oscillating electric toothbrushes have rotating heads that spin in a full or partial circle, delivering around 5,000 brush strokes per minute. They are based on the same mechanism as manual brushing, except that the higher speed and force makes it more efficient at cleaning particles, calculi and bacteria from between your teeth. This kind of electric toothbrush is typically tougher on your gums than a sonic device.
Should You Spend $200 On An Electric Toothbrush?
Let's talk about the elephant in the room first, shall we?
It's a fact that the best electric toothbrush will set you back quite a bit of money. Buy a top of the line model, like a Philips Sonicare DiamondClean, and we're talking a few hundred bucks.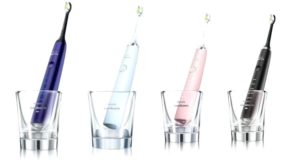 Is it really worth spending that much on a device that simply cleans your teeth? That's a valid question many electric toothbrush buyers ask at some point along their buying journey.
You can't really fix a price on healthy teeth and gums.
Oral hygiene affects all parts of your life and well being.
There's research linking gum infections to heart disease.
Bad breath is social disaster.
Cavities, toothache and bleeding gums are painful to suffer through.
And yet, $200+ on an electric toothbrush can seem a bit too high for many buyers.
Well, you don't have to spend that much. There are many low cost electric toothbrushes that deliver great performance.
And even top brands are often available at steep discounts from online retailers during special promotions and deals. Even if you'll miss out on some advanced functions like speed settings or automated timers or monitoring progress via apps, you'll be able to keep your teeth healthy and cavity-free with these low cost electric toothbrushes.
So don't let budget constraints undermine your decision to find the best electric toothbrush. There's one for every price range and pocket!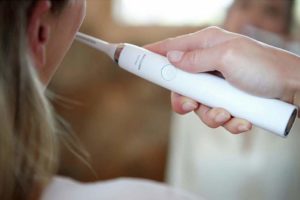 Comfort Is Often Under-Rated
You'll be using an electric toothbrush very regularly. Twice (or more times) every day. Naturally, you should put comfort high on your list of things to consider before buying one.
Yet most people don't – and if you browse through customer feedback comments on any shopping website, you'll find the most frequently voiced complaint is how loud, 'buzzy', or rough their brushing experience has been.
Any hunt for the best electric toothbrush should make 'comfort' a major factor in rankings. That's because it's tough to establish a regular, good brushing habit when the experience sucks!
So a model that's
awkward to hold,
has buttons inconveniently positioned,
that dribbles or sprays spit and foam all over,
feels too loud, or
is difficult to clean and store
will lose out to one that has overcome these failings.
Your best electric toothbrush should be a joy to hold and use, look clean and pretty as well, and be easy to recharge, store away and carry on trips. That's what we mean by 'comfort'.
Added comfort comes from useful safeguards, like a pressure sensor that lets you know when you're pressing too hard on sensitive teeth and gums. A quieter electric toothbrush is preferable to a noisy one. And a toothbrush which can reach every nook and cranny of your mouth, even behind molars and between teeth, is better than another that can't.
Effectiveness of Cleaning
Cleaning performance is the next important factor for your best electric toothbrush. In fact, it might seem strange that we're talking about it only after comfort – when really, cleaning your teeth well is the reason why you chose an electric toothbrush at all!
Well, the truth is that almost any toothbrush will clean your teeth just as well… if you use it correctly. But unless it is comfortable, chances are you WON'T use it correctly!
Brushing your teeth twice in a day maintains healthy teeth and good oral hygiene, prevents decay and gum diseases, and keeps your pearly whites shiny and clean.
Top performing electric toothbrushes are all effective at cleaning teeth and removing plaque. Most visible plaque and food pieces are removed with a normal two-minute brushing session. This impression is confirmed in an extensive research review published in 2009 by the Cochrane Library, which stated that top electric toothbrush models all removed a comparable amount of plaque.
What a few models missed was plaque in areas that were difficult to access. Rotation-oscillation brushes, in general, tended to be slightly better at removing even this plaque. Interestingly, a manual toothbrush matched their performance – so that alone isn't a reason to get yourself an electric toothbrush (but then, there are several other good reasons why you should!)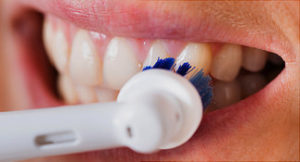 Ease of Use Matters
Just as with any device or instrument that you'll use on a daily basis, it matters how easily your electric toothbrush can be set up, used, and cleaned afterwards. If it becomes a chore, you'll soon lose interest!
An electric toothbrush with a quad-timer that indicates at 30-second intervals that it's time to move to another quadrant scores higher in rankings than one without a timer.
If the recharging base or device can accommodate an extra head, that's a plus, too.
Can you easily swap brush heads on your toothbrush? Great!
And if it's harder to remove toothpaste after brushing, or water residue accumulates on the brush or base, that's a no-no.
In other words, your best electric toothbrush should be a pleasure to use and clean. Everything should happen without too much conscious thought or effort – automatically. Those are the electric toothbrush models that delight users… and thankfully, there are many like it on the market.
Battery Type And Durability
Your electric toothbrush's battery often determines how happy you'll be with it.
Inexpensive 'throwaway' models have weaker batteries that limit the lifespan of the device. Higher quality electric toothbrushes come with more powerful rechargeable batteries. Often the charging base will double as a toothbrush stand.
Most electric toothbrush batteries hold their charge for a week with regular use (two times a day, two minutes each session). However, the time in between recharges varies widely from one manufacturer to another, and even between models. More advanced models have features that require the device to remain on 'stand by' mode, which also gradually drains the battery.
An electric toothbrush that runs on regular (non-rechargeable) batteries is convenient if you travel often. However, a drawback is that these toothbrushes are generally less powerful and their cleaning action is less effective.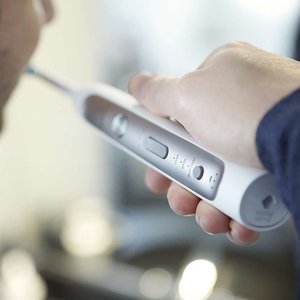 Inbuilt Timer
For the best oral hygiene, dentists recommend brushing twice every day, for two minutes each time. The best electric toothbrush models come with built-in timers that vibrate to indicate the time you'll spend cleaning each quadrant.
The 2-minute brushing time is equally divided between the
inside of your upper teeth
outer surface of your upper teeth
inside of your lower teeth
outside on your lower teeth
This helps to ensure that you don't stop earlier, thereby limiting the oral hygiene benefits from your electric toothbrush.
Pressure Sensor
The best electric toothbrush brands come with extra safety measures including a pressure sensor that warns you when you press too hard while brushing. This is particularly helpful for first-time electric toothbrush users, and people with sensitive or diseased gums.
The sensor typically lights up when too much pressure is detected, allowing you to notice and lighten your force. This helps prevent damage to gums and even teeth from sustained excessive stress.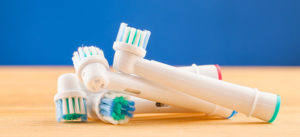 Brush Heads – And Their Replacement
Most popular electric toothbrushes offer a wide range of brush heads to suit your needs, jaw size, and budget. Apart from the standard cleaning heads, there are special electric toothbrush heads designed for people with sensitive teeth and gums, and those who have had orthodontic work done. Abrasive brush heads are better for extra whitening and extensive plaque removal.
Rotation-oscillation electric toothbrushes have slightly larger heads and are more aggressive in their brushing action. Just a quarter inch difference in size can make it rather uncomfortable to use, and most testers rate these brush heads lower on the comfort scale. They are also noisier and make a buzzing sound that annoys some users.
If you have a small mouth or limited jaw movement, a bigger or deeper brush head can make it hard to reach behind your molars. It also makes you drool more than a smaller brush head.
Brushing Modes
Some electric toothbrushes offer only a single mode of operation, and come with just an on-off switch. This is usually enough for most users. The higher end electric toothbrush models come with a range of different brushing modes to suit any special requirements, the most common being sensitive, massage and whitening modes.
Extra Accessories
Packaged more often with premium electric toothbrush models, these extra accessories include:
a smart phone app to keep track of your brushing activity
a movement sensor that monitors adequate cleaning of all areas
adjustment of colors to indicate various functions
bluetooth connectivity to save and store data
Some buyers are thrilled with these features and don't mind paying extra for them. Others feel they are a waste of time and unnecessarily increase the price of an electric toothbrush. Your mileage may vary!
Conclusion
Hopefully this Buyer's Guide to the best electric toothbrush has highlighted some of the important elements to consider before choosing your perfect model.
Don't let the wide array of options available confuse or intimidate you. No matter what your budget or special needs, there's a "best electric toothbrush" waiting for you to discover it.
Just follow these simple tips and you'll do it faster – and more easily.
You can also take our 3-question survey and step-by-step guide to identify a short list of handpicked suggestions for your best electric toothbrush. To get started with the survey, click here now.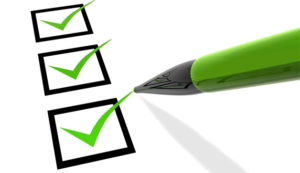 Affiliate Disclaimer: The publisher earns affiliate commissions from Amazon for qualifying purchases. The opinions expressed about the independently selected products mentioned in this content are those of the publisher, not Amazon.
See our ULTIMATE Electric Toothbrush Buyer's Guide - and make an informed and smart choice.