Which is the best electric toothbrush for receding gums?
As a popular destination for electric toothbrush reviews we often get asked at 'A Dentist's Daughter' about our recommendations for the best electric toothbrush for receding gums, just as in various  other categories.
TABLE OF CONTENTS
The BEST Electric Toothbrush for Sensitive Teeth and Gums
If you're in a hurry, here's a quick short list to pick from…
These are currently the best toothbrush for receding gums:
One of them may be your ideal choice. Go through the rest of this detailed review of the best toothbrush for receding gums. Learn more about each of the models above.
Then decide which will be right for you, based on your unique requirements.

What's Special About a Toothbrush for Sensitive Gums?
Many people suffer from sensitive teeth and gums, so it isn't surprising to be asked for suggestions about the
Best Electric Toothbrush For Sensitive Gums
Top Gum Care Electric Toothbrush
Ideal Electric Toothbrush For Sensitive Teeth
Best Electric Toothbrush For Periodontal Disease
Receding gums can be caused by ageing, poor oral hygiene or gum infections (gingivitis) and lead to the gum that surrounds the base of the teeth pulling back or wearing away.
This results in the exposure of more of the root, sometimes being severe enough to extend to the root.
Receding gums can lead to several important problems. Teeth can become over-sensitive to heat and cold. Over time, it can lead to the build up of dental plaque and gum infections called gingivitis.
Having The Right Toothbrush Helps!
Using an electric toothbrush for sensitive teeth can help remove dental plaque and keep your teeth and gums clean and healthy. It helps prevent gum recession or halts its progress.
That's the reason for this list of the best electric toothbrush for receding gums.
While there are several popular and high-quality models and brands of electric toothbrushes available in the market, not all of them are specifically designed for users with receding gums and sensitive teeth.
It's important to look for electric toothbrushes that
offer moderate cleaning modes and
have built in pressure sensors
Together they will help avoid injury to your gums and teeth that may result from brushing too hard. This matters to those with receding gums and sensitive teeth.
The BEST Electric Toothbrush for Sensitive Gums
Brushing Unhealthy Gums And Teeth Can Be Painful
When you use an inappropriate electric toothbrush, pain and hypersensitivity leads to sub-optimal cleaning efforts.
It's hard to continue brushing when every brush stroke hurts!
The result is poor oral hygiene which compounds the problem, leading to worsening gum recession and infections. Dental caries and periodontal disease are the consequences of not maintaining proper oral hygiene and dental health.
It is possible to prevent gum receding, but once the process begins it is harder to control or reverse.
Even though it may take a few months or years to become troublesome, it is an irreversible process. One that you would want to halt in its tracks right at the beginning. It's better than the alternative – to suffer through the pain and discomfort for the rest of your life.
So choosing the best toothbrush for receding gums is an important decision. It's not one you can make casually or carelessly.
 Best Electric Toothbrush For Receding Gums : 4 Top Choices
We have tried to help out with some hand-picked models and brands of electric toothbrushes that have special advantages for users with sensitive gums and teeth.
However you would be best advised to extensively go through this information before making your choice.
Here are our four picks for best electric toothbrush for receding gums
Let's look at what makes each of them a good choice if you suffer from sensitive gums and/or teeth, or have some other periodontal disease.

Best Gum Care Electric Toothbrush #1
Oral-B Pro 6000 Electric Toothbrush
The Oral B Pro 6000 electric toothbrush is an improved and extended version of the other popular Oral B Pro 3000 model. Even if it costs a little more than the earlier model, it includes some nice extra features that make it worth paying more.
The Oral-B Pro 6000
comes with just one CrossAction brush head. However, the Sensitive brush heads are a better option because the bristles are a little softer and easy on the gums. Sensitive brush heads are compatible with the same handle, so you can add them to your purchase.
The device is excellent at cleaning teeth, improving oral hygiene and keeping gum infection down. Even on gum-friendly gentler modes of operation, the Oral B Pro 6000 delivers pulsations and oscillations adequate to ensure great cleaning.
The rechargeable Lithium ion battery delivers upto 2 weeks of active use.
A travel case makes it easy to carry along while you travel.
Bluetooth connectivity lets you synch your brushing record to a smartphone app. It also ensures better compliance which improves gum health and oral hygiene.
Pros:
Has a timer to ensure you brush adequately
Includes pressure sensor to reduce damage to gums
Can be paired to smartphone app via Bluetooth
Round brush head delivers excellent cleaning
Runs in gum care and sensitive teeth modes
Cons:
Sensitive brush head must be purchased separately
Top Gum Care Electric Toothbrush #2
Philips Sonicare 6100 ProtectiveClean Electric Toothbrush


Another great contender for best electric toothbrush for receding gums is this mid-range model from the Philips Sonicare stable.
The Sonicare 6100 Protective Clean
isn't the cheapest option, but is well worth the asking price because of the wonderful features you'll get in return.
The Philips Sonicare 6100 ProtectiveClean
electric toothbrush could be designed with the unique needs of people with gum disease and sensitive teeth in mind.
It is built for users with periodontal disease, and includes a brush head crafted for Optimal Gum Care with precision crafted bristles that are soft, avoid gum injury, yet wickedly effective at removing plaque and debris.
You can run this toothbrush along your gum line without much pain or discomfort because of the bristle and head design.
BrushSynch technology reminds you when the brush head has worn out and needs to be replaced. And although you'll pay a slightly higher price for replacement brush heads, the comfort while brushing is certainly worth that little extra expense.
Powered by Sonicare's patented sonic brushing action, the head operates at around 62,000 movements per minute to deliver a cleansing effect that reaches everywhere inside your mouth.
A timer, pressure sensor and automatic switch-off function make it safe and easy on your gums and teeth.
Battery life of the Sonicare ProtectiveClean 6100 is great, with some users reporting a charge lasting as long as 5 weeks. The brush is quiet and convenient to handle.
Pros:
Brush Sync function tells you when it's time to replace brush heads
Excellent battery life
Travel-friendly, comes with a travel case
Gum care brush head is included
Cons:
Price of brush and replacement heads is a bit higher than other models
Best Gum Care Electric Toothbrush #3
Philips Sonicare FlexCare Whitening Edition Rechargeable Toothbrush
Operating in 3 cleaning modes – Clean, White and Massage – this medium range model Philips Sonicare FlexCare Whitening electric toothbrush
is great for sensitive teeth and receding gums.
You can choose between 2 cleaning routines. The Go Care is a 1 minute brushing session that's designed for quick cleaning. The more detailed Max Care is of 3 minutes duration and offers more thorough cleansing.
An inbuilt 2 minute timer ensures that you brush for long enough to enjoy the benefits of dental hygiene. A quad timer tells you when it's time to switch to another quadrant, making sure you clean all parts of your mouth. A button lets you quickly swap between modes and routines.
The battery life of the Sonicare FlexCare Whitening electric toothbrush
, like all Philips Sonicare toothbrushes, is very good. A full charge typically lasts for 3 weeks of regular use. A UV sanitizer is included with the charging base for bacterial removal and better maintenance of the toothbrush in between uses.
Pros:
Powerful 62,000 strokes per minute cleaning action
Offers 3 cleaning modes and 2 routines
Battery life is excellent
UV sanitizer included in recharging base
Cons:
The charging base is large, making it harder to carry along on trips
Great Gum Care Electric Toothbrush #4
Sonicare ProtectiveClean 4100 Electric Toothbrush
This popular electric toothbrush model ranks near the top on almost every feature. And with its gum friendly action, the Philips Sonicare ProtectiveClean 4100 is fast becoming a favorite among users with sensitive teeth and gums.
Especially attractive is the affordable price of this excellent product. That doesn't mean you're being short-changed for a cheap electric toothbrush. The Sonicare 4100 operates in a single cleaning mode, but offers intensity levels specially designed for those with gum conditions.
The battery life of a Philips Sonicare ProtectiveClean 4100 is decent, with a single full charge lasting 3 to 4 weeks. Recharging is simple through a USB port. There's even a travel case  for users who travel frequently. You'll get 8 brush heads along with the package.
Pros:
Great value for money
Battery lasts for 21 days or longer on single charge
Easy to recharge through USB port
Gentle brushing setting for sensitive teeth and gums
Cons:
Single cleaning mode only
Comes in limited color choices
Which Is The Best Electric Toothbrush For Receding Gums?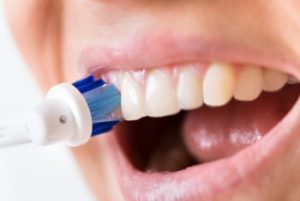 As you've seen, there isn't a single best electric toothbrush for sensitive gums or periodontal disease… only a range of equivalent options.
All the four models shortlisted above are excellent for users who suffer from hypersensitive teeth and gum disease.
Other models are also suitable to use as gum care electric toothbrushes. However, one or other features in these choices above have set them apart from the rest of the field. They are the best amongst all options available today, for reasons explained in the mini-reviews.
You should also learn more about the models of gum care electric toothbrush you're most interested in before making a buying choice. If you'd like to consider alternatives, please browse through other electric toothbrush reviews on 'A Dentist's Daughter'.
And if you have personally found another model to be fantastic for use in gum recession or sensitive teeth, please feel free to suggest it in a comment below.
COMPARISON OF BEST ELECTRIC TOOTHBRUSH FOR SENSITIVE TEETH
| | | | | |
| --- | --- | --- | --- | --- |
| MODEL | Oral-B 6000 | Sonicare 6100 | Sonicare FlexCare | Sonicare 4100 |
| 2-min Timer | Yes | Yes | Yes | Yes |
| Pressure Sensor | Yes | Yes | Yes | Yes |
| Brush Head | Cross Action | Gum Care | Plaque Control | Plaque Control |
| Battery life | 2 weeks | 4-5 wks | 3 weeks | 3 weeks |
| Bluetooth | Yes | Yes | No | No |
| Travel Case | No | Yes | Yes | No |
| UV Sanitizer | No | No | Yes | No |
| Price | +++ | ++ | +++ | + |
| Order | | | | |
Why Listen To Our Suggestions?
'A Dentist's Daughter' is not a professional body or run by medical or healthcare professionals. Our mission, however, is to study available models of electric toothbrushes and identify the best models for specific kinds of users – including those with receding gums and periodontal disease.
Our reviews and recommendations are independent and unbiased. No brand or company sponsors us, nor do we allow external agencies to influence us in the models or products we review or recommend. This website does earn us revenue by way of an affiliate referral fee if purchases originate on the site, but that isn't the reason for choosing or suggesting any particular product.

How To Pick An Electric Toothbrush For Receding Gums?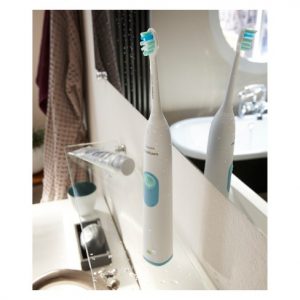 Sensitive gums are those which are painful or sore due to some infection or injury. Left alone, it may lead over time to receding gums, a related condition where the gum actually separates from the base of teeth.
Normally, gums align closely with teeth, making a kind of protective seal around them. The gums cover bone and roots of teeth, helping hold teeth in place. Healthy gums are pink, soft and pain-free when you press or brush them.
Gum infections are called gingivitis. They may be the result of bacteria gathering in the interstices between teeth, or from ulcers or injury to gum surface. Plaque is a sticky substance that builds up over time in areas of infection, and can harm your teeth gradually.
Periodontal diseases are those which affect the gums and areas around your teeth. If you suffer periodontal diseases, your gums may feel tender and sore when touched or while brushing your teeth.
Gingivitis is treatable and reversible. But gum recession is irreversible, and you should prevent it before it sets in.
That is the reason why it is so important to select the best toothbrush for receding gums.
Receding gums may be the consequence of bad oral hygiene, injury, genetic conditions, teeth grinding (bruxism), dental abnormalities (such as mal-aligned teeth) and even from brushing your teeth too hard or using an improper toothbrush.
How The Best Toothbrush For Receding Gums Can Help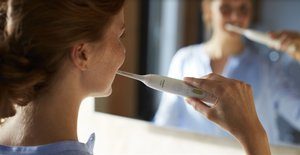 An electric toothbrush effectively removes dental plaque. It clears debris from food trapped between teeth. It can even remove any source of infection between and around your teeth.
Cleaning with an electric toothbrush improves plaque reduction by 21%.
The drawback of using an electric toothbrush for sensitive teeth is the higher cost, both of the toothbrush and replacement heads, as well as the risk of not picking the right electric toothbrush for receding gums. However, if you select an ideal gum care electric toothbrush, you can stave off gum recession and even halt its progression.
The features you'll be wise to consider in an electric toothbrush for sensitive teeth or periodontal disease include:
a built in timer and quad pacer to match dentist-recommended 2 minute brushing
a pressure sensor to let you know whenever you're pressing too hard, which might damage gums or hurt sensitive teeth
a brush head with gentle and soft bristles that won't harm sensitive teeth or receding gums, yet clean effectively
a brushing mode that's gum-friendly and massages gently without causing pain or discomfort with receding gums or sensitive teeth
a setting that allows adjusting brushing power to avoid accidental damage to diseased gums or if cleaning becomes painful
More Features To Consider
Other settings that are desirable, but not essential, in the best toothbrush for receding gums include:
oscillating and rotating sonic technology
extra cleaning modes for specific purposes
travel friendly accessories, if you travel often
battery life being long enough on a single charge
Bluetooth connectivity with smart phone apps to track progress
Last, but not least, an important factor that comes into play while choosing the best electric toothbrush for receding gums is the price. Our four hand-picked choices cover a range of prices, so that one of them will fit your budget.
In summary, picking the best electric toothbrush for sensitive teeth is an important choice.
Make sure that you learn enough about the model of your choice before buying it. Our detailed reviews on 'A Dentist's Daughter' will be of some help, as will our Buyers Guide for Electric Toothbrushes. Be sure to check them out.
See our ULTIMATE Electric Toothbrush Buyer's Guide - and make an informed and smart choice.