A rock-solid Sonicare warranty takes away all the risk from your purchase of a Philips Sonicare electric toothbrush.
Why does a Philips Sonicare warranty even matter?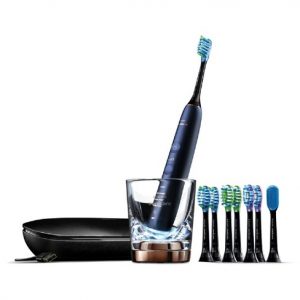 TABLE OF CONTENTS
An Introduction
So you've done your background research and pored over dozens of electric toothbrush reviews in search of the best Sonicare models.
You're convinced that Philips Sonicare is the 'gold standard' when it comes to modern electric toothbrushes. Now you're ready to order.
But still… there's a nagging worry at the back of your mind.
What if my Philips Sonicare electric toothbrush doesn't work?
Stop worrying!
You're Protected by a Philips Sonicare Warranty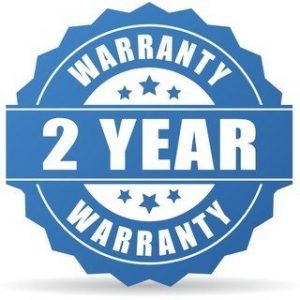 Your rock-solid Philips Sonicare toothbrush warranty backs every Sonicare model in the market for two years against all manufacturing flaws and defects.
It doesn't matter what model you get.
A Philips toothbrush warranty covers ALL purchases of a Sonicare toothbrush.
It is clear, comprehensive and quibble-free. You won't get any weasel clauses that let the manufacturer off the hook for a fault due to production or packaging.
So go ahead and buy your electric toothbrush, secure in the confidence that you're backed by a reliable and reassuring Philips Sonicare warranty.
But if you're not convinced yet, let's explore the details about a Philips Sonicare toothbrush warranty.
You'll see what's covered, and for how long.
You'll learn why the company offers such a comprehensive guarantee.
And you'll understand what makes delighted customers rave over so many Philips Sonicare models, even keep coming back to buy another Sonicare when it's time to replace their old electric toothbrush.
What's The Philips Sonicare Warranty?
Philips Oral Healthcare Inc. warrants to replace your Sonicare electric toothbrush handle or charger if it is found to be defective in workmanship or materials within 2 years of the original retail purchase.
The Sonicare toothbrush warranty gives you specific legal rights and is valid only for the retail purchaser. It applies globally and covers the Sonicare charger and handle.
If you live in the United States or Canada and order a Philips Sonicare electric toothbrush, you'll see the Philips Sonicare warranty printed on a label fixed to the outside of the box.
It says: "Use Sonicare model number ______ for 90 days. If you aren't 100% satisfied, for any reason at all, we'll give you a full refund."
Over it is a bold promise: Better check-ups guaranteed!
The summary Philips Sonicare warranty puts in a nutshell what the longer, more detailed legally valid agreement explains at great depth and detail.
And it telegraphs exactly what a new buyer wants to know.
Can I try it out and see?
What if I don't like it?
It may not work as well as I hope!
If it gets broken or damaged while shipping…?
All these (and more) questions are answered in that short, snappy Philips Sonicare warranty summary.
Yes, you can use the Sonicare electric toothbrush.
You can even test it out for a full 90 days, risk-free.
And at the end of that time, if you feel that you're not happy with it and want to return it for a refund, you can do just that!
See these collections of top-rated electric toothbrush models:
Understand The Philips Sonicare Warranty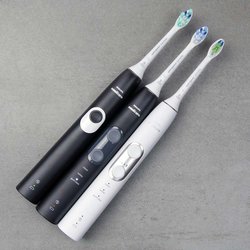 Maybe this is your first Sonicare toothbrush.
So you've heard about the Philips Sonicare brand through a friend or dentist or dental hygienist. Or maybe you just read a Sonicare electric toothbrush review and decided it sounds right for you.
Despite the recommendations and endorsements, you're still not entirely sure this will work for you. Are you really better off with an electric toothbrush?
And even if it works better than a manual brush, is a Philips Sonicare model better than any other alternative?
You simply cannot know… until you try it out for yourself.
The no-risk Philips Sonicare warranty offers you 90 days to do this – with a money back guarantee.

Is the Philips Sonicare Warranty Legit?
If you're a skeptical person, you might be a little worried.  Even though the Philips Sonicare warranty is boldly mentioned on the packaging itself, you don't find details. Not in any other manual or certificate inside the package.
You could even spend some time browsing the Philips website and not easily locate the Philips Sonicare warranty on it.
But the money back guarantee indeed exists. It is official and legit. It is operational.
And quite a few people have taken advantage of its generous terms to return their Sonicare models if they didn't fit the bill.

How To Activate Your Philips Sonicare Warranty?
Even though the actual process is simple, it isn't actually very clearly explained anywhere on the Philips website. So it helps if you understand how the Philips Sonicare warranty is designed to be activated.
To implement your Philips Sonicare toothbrush warranty, all you need to do is call the customer care center.
The telephone number is 1800-682-7664 in the US, or 0207 949 0240 in the UK.  You can request a MBG (money-back guarantee) return authorization form.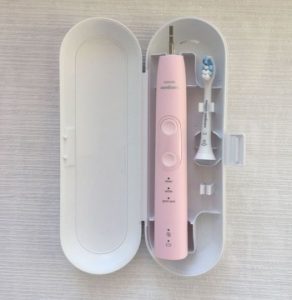 You can even do this on the website by speaking to their Live Chat support team.
At the time of your call, make sure that you have some information handy.
Before you can implement your Philips Sonicare warranty, you will be asked to provide some information. This includes:
the Sonicare model number (look for it on the bottom of the unit)
the serial number of your electric toothbrush
your name
your address, email address, and contact phone number
Once you provide this information, you will receive a Philips Sonicare warranty authorization form by email.
On the form you will find a reference number that identifies your request for an MBG and links it to your personal profile. It helps the company keep track of refunds and returns.
The attached document will also give you details about how to go ahead with activating your Philips Sonicare warranty. It includes the return address to which you will send back the faulty electric toothbrush.
Is the Philips Sonicare Warranty Universal?
Pretty much.
But there are many different offers, and a few of them may explicitly exclude a Sonicare warranty.
Make sure your purchase isn't governed by such exclusions. This information will usually be prominently mentioned on the side of the box, as well as in any manual or letter included in your shipment.
The legal disclaimer on Philips' website also makes it clear that the terms and conditions that apply for any Philips Sonicare warranty are subject to modification without prior notice.
So barring very unusual circumstances, the Sonicare guarantee extends to all its models and purchases – including yours.

How Do I Claim My Philips Sonicare Warranty?
Here's a step by step guide to your Philips Sonicare warranty.
There's such a wide-ranging and comprehensive guarantee as the one Philips offers on all Sonicare models of electric toothbrush. So it is not surprising that you must follow a sequential process. This helps the company process your refund request successfully.
Clearly the manufacturer has to insist upon certain steps being done in a particular order. Otherwise there would be confusion and chaos.
So be careful to follow the instructions. It will ensure that your Philips Sonicare toothbrush warranty is implemented without any delay or question.
1. Retain your bills and receipts. When you buy a Sonicare electric toothbrush (at the retail store or online at an e-commerce portal), be sure to collect your payment receipt. Then store it somewhere safe. For online purchases, the company will send you a digital invoice by email. Save a copy of it, and print it out for later reference.
2. Keep the original packaging. Sensitive equipment like an electric toothbrush can be damaged in transit if not properly protected. The original shipment included such protection. When you send back your defective or unsatisfactory Sonicare toothbrush, be sure to package it in the same way.
3. After speaking with a customer service assistant, and providing your details, you will receive a 'returns form'. It will be tagged with your unique reference number. Fill in the form before returning it.
4. Send the completed returns form via pre-paid, registered mail (with a tracking number) to Philips North America, Returns. The postal address of this service is readily available on the company's website.
5. In your package, send back the defective/unsatisfactory Philips Sonicare electric toothbrush. Along with it, send your original sales receipt, the completed returns form, and your street address to mail your refund check. (A post office box address is not accepted!)
6. Retain a copy of the information that you're sending with your Philips Sonicare warranty request. That includes the tracking number of your postal package.

Do Any Conditions Apply To Your Philips Sonicare Warranty?
When you enforce your Philips Sonicare toothbrush warranty and ask for a refund of your purchase, you must comply with some reasonable conditions.
The Sonicare electric toothbrush must be in working condition.
The brush must be in its original packaging.
Refunded amount cannot exceed the recommended retail price, and the actual purchase price.
You must ship the brush back within 90 days. There will be extensions for weekends or holidays.
This point needs a little more clarity.
If you want to enforce your Philips Sonicare warranty and send the brush back for a refund, you cannot use it for 90 days and then ship it back to the manufacturer.
You must return it a few days earlier, to allow for shipping time. Otherwise, your Philips Sonicare warranty may be invalid.
You must bear the cost of shipping back the brush to Philips.
You are responsible for delivering the shipment to the manufacturer. Added costs of using a tracked postal service and insurance might be well worth the investment.
The company will refund your money within 6 to 8 weeks from the time you send back the brush.
You'll receive the refund only in the form of a check sent by mail to your home/contact address.
If you break or damage your product, or if you violate the terms of the purchase/promotion, the company may turn down your claim.
Can you use the Philips Sonicare warranty to return multiple devices?
There's no information about a limited guarantee in any way. But common sense suggests there may be restrictions on your claim – to only one return from a household.
Don't plan to keep on buying electric toothbrush Sonicare models only to return the ones you're not thrilled with. You might be disappointed if your refund request is turned down.

What Does A Sonicare Toothbrush Warranty Cover?
Most electric toothbrush users are uniformly delighted by
how well Sonicare toothbrush models work,
how durable they are, and
how trouble-free they operate for extended periods of time.
Still, a Philips Sonicare warranty helps ease the mind of a potential buyer. That's because it safeguards against any eventuality which might leave a device non-functional or broken.
An electric toothbrush by nature has several fast-moving parts and is powered by electric charge. So there's potential for breakdown or wear-and-tear over extended use.
Parts may wear out or break down. A Philips Sonicare warranty supports you in such eventualities.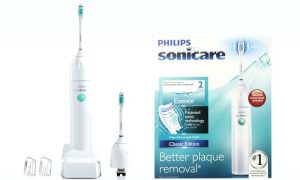 How Long Is The Warranty on Philips Sonicare Electric Toothbrushes?
The comprehensive warranty against manufacturing defects and malfunction is typically 2 years for all Sonicare models.
The money back guarantee that lets you try out a Philips Sonicare electric toothbrush is valid for 90 days only.
This Philips Sonicare warranty applies for purchases made within the USA and Canada. Terms and conditions for international purchase may vary slightly in details.
If you require a longer warranty, it is possible to purchase an extended Philips Sonicare toothbrush warranty by registering your toothbrush online at Sonicare.com/register
It is possible to extend the period of your warranty by an additional 6 to 30 months – at no extra cost!
Please understand that your Philips Sonicare warranty begins from the date of your purchase, not from the day you start using it.

How To Register Your Sonicare Toothbrush?
As soon as you purchase a Philips Sonicare electric toothbrush, you should consider registering it at Sonicare.com/register/
It's simple, easy and free.
Create an account with your email address and choose a password. You can even connect it to your social media accounts, if you like. Some Sonicare models allow you to track your updates online that way.
After activating your Sonicare account, pick your electric toothbrush model from the drop down list of models.
Enter your date of purchase, and scan a copy of your receipt or digital invoice as 'proof of purchase' (POP).
Once these details are confirmed, you will see the brush listed as one of your devices inside your account.
Access to manuals, support guides, FAQs and more are just a click away from this place.
If you purchase one of the smart electric toothbrush Sonicare models, you can register using the Sonicare app. This app is compatible with both Android and iOS smart phones and tablets.
Connect the toothbrush to your app before starting the registration process.
Tap the Support button and go to Product Registration
Simple instructions will guide you to completing the registration process.
Does Philips Offer Extended Warranty on Sonicare Electric Toothbrushes?
Yes, when you register your toothbrush on the Sonicare.com website, you automatically get an extension of 6 months on your Philips Sonicare warranty.
This is helpful in case your brush breaks down or needs repair within a few months of purchase.
Unfortunately, though, there isn't a way to extend the Philip toothbrush warranty for a longer period of 5 years by paying extra.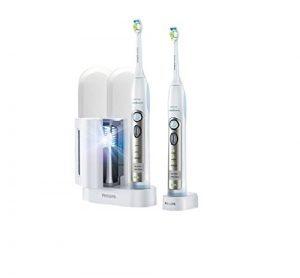 What Does Your Warranty Cover?
The Philip toothbrush warranty applies when you handle a product properly and use it as intended. You should use it in accordance with operating instructions.
Your Philips Sonicare warranty begins from the date of your purchase and runs for 2 years.
If there is a manufacturing defect or fault, Sonicare will replace your instrument at no cost.
A typical Philips Sonicare warranty covers these situations:
Sonicare toothbrush losing charge rapidly
Battery life much shorter than advertised
Toothbrush not turning on and off properly
Intermittently stops working
Speed controls erratic, with brush speeding up or stopping without reason
The Sonicare toothbrush warranty will not cover cosmetic damages like scratches or streaks on the brush handle. It will also exclude damage caused due to:
regular wear and tear
misuse or accidents while using
dirt or water damage
trying to open or repair the instrument yourself
incorrect or improper usage
repairs by unauthorized agents
negligence and lack of normal maintenance
commercial use
With a Warranty, Are Repairs Free?
When your Philips Sonicare warranty is active, the answer is 'Yes'.
If there's any fault with your Sonicare electric toothbrush, you can repair it for free.
In fact, you won't even have to wait. Sonicare usually sends you another working toothbrush as a replacement. Use this while your device is repaired. You'll receive a replacement unit once you qualify for a warranty.
The only cost you may have to incur is the shipping cost of sending the defective piece to Sonicare's repair center.
If the damage appears to be clearly beyond repair, Sonicare might even ask you to dispose the defective brush yourself and send out a replacement. But don't do it on your own. You may need to send back the faulty electric toothbrush by post on request, to explore the problem.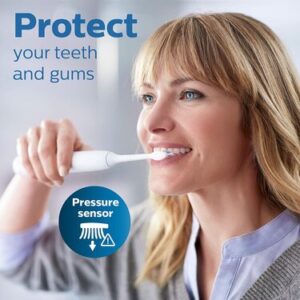 Do You Need Your Receipt?
Yes, it is often necessary to provide details about your Sonicare purchase including the receipt or digital invoice. So make it a habit to save these receipts somewhere safe.
An easier approach is to register your Sonicare online soon after you purchase it.
That way you'll store a copy of your receipt along with it online, and Philips can easily confirm your ownership of a Sonicare model.
Can You Repair A Sonicare Toothbrush Outside the Warranty Period?
No, the company does not offer any option to repair Sonicare electric toothbrushes beyond the warranty period or outside of a Philips Sonicare warranty.

Is The Same Warranty Valid Internationally?
The broad features of a Philips Sonicare warranty are similar around the world. But there are regional differences that you should check up before buying one.
In the box along with your toothbrush you'll find documentation including local warranty conditions and contact numbers to call the support desk for help.
See these collections of top-rated electric toothbrush models:
What Exactly Does The Philips Sonicare Warranty State?
The wording of the official Philips Sonicare warranty is as below:
Philips warrants this product for 2 years from date of purchase. Defects because of faulty materials and workmanship will be repaired or replaced at Philips' expense as long as there is adequate proof of purchase in the qualifying period. Philips recommends using only original Sonicare brush heads for optimal performance. If you use other brush heads it may damage the Sonicare electric toothbrush and limit warranty protection.

Internet: www.sonicare.com (North America) or www.philips.com/support (outside North America).

EXCLUDED FROM WARRANTY

The following are not covered under warranty:

Damage caused by misuse, abuse, neglect, alterations or unauthorized repair.
Damage caused by use of unauthorized use, non-original replacement parts or unauthorized brush heads.
Normal wear and tear, including chips, scratches, abrasions, discoloration or fading.
Brush heads.

If the product is used in a country where its use is not intended, voltage conversion may be required. Philips cannot be held responsible for powering failures due to improper voltage supply to the appliance.

STATES LIMITATIONS ON DURATION OF IMPLIED WARRANTIES DO NOT APPLY.

LIMITATION OF REMEDIES

IN NO EVENT SHALL PHILIPS OR ANY OF ITS AFFILIATED OR SUBSIDIARY COMPANIES BE LIABLE FOR ANY SPECIAL, INCIDENTAL OR CONSEQUENTIAL DAMAGES BASED UPON BREACH OF WARRANTY, BREACH OF CONTRACT, NEGLIGENCE, TORT, OR ANY OTHER LEGAL THEORY. SUCH DAMAGES INCLUDE, WITHOUT LIMITATION, LOSS OF SAVINGS OR REVENUE; LOSS OF PROFIT; LOSS OF USE; THE CLAIMS OF THIRD PARTIES INCLUDING, WITHOUT LIMITATION, DENTISTS AND DENTAL HYGIENISTS; AND COST OF ANY SUBSTITUTE EQUIPMENT OR SERVICES. SOME STATES DO NOT ALLOW THE EXCLUSION OR LIMITATION OF INCIDENTAL OR CONSEQUENTIAL DAMAGES.
Where Can I Find More Information About This?
The manufacturer updates information about a Philips Sonicare warranty is frequently. So look out for recent changes.
For the most recent and up to date information about a Sonicare warranty and guarantee, visit the Philips Sonicare website or contact Sonicare customer support directly over the phone or Live Chat.
To check the Sonicare toothbrush warranty policy, terms and period of cover for your product, go to the specific category on the Philips website.
See our ULTIMATE Electric Toothbrush Buyer's Guide - and make an informed and smart choice.