This Philips Sonicare 9900 Prestige review should convince you that it's the best electric toothbrush choice today. If you're looking for the absolutely best smart toothbrush.
This Philips Sonicare 9900 Prestige review has everything you'd look for when you're buying a premium electric toothbrush.
Sleek looks. A solid, classy feel. Tons of top-notch features. And packed with the latest technology.
If there's a model that looks set to knock the premium Sonicare DiamondClean Smart electric toothbrush from its pedestal, then it's this one.
If You're In A Rush…
When you don't have time to read a detailed Philips Sonicare 9900 Prestige review, the answers to a few questions can help come to a decision.
So here are 3 quick questions for you.
1. Is there anything wrong with the Philips Sonicare 9900 Prestige electric toothbrush?
No, it is an absolutely brilliant electric toothbrush.
It packs an impressive array of features into a technology-driven device that delivers a great brushing experience. You'll enjoy cleaner and whiter teeth, less gum problems, and improved oral hygiene.
The Philips Sonicare 9900 Prestige electric toothbrush is easy to use, looks and feels elegant, and is a great choice for anyone looking for the best electric toothbrush that money can buy.
2. Are there any other models to choose instead of the Philips Sonicare 9900 Prestige?
An important question for any prospective buyer is whether any other model or brand of electric toothbrush is comparable to this one.
And while a 'feature by feature' comparison sets the Sonicare 9900 Prestige far ahead of any other competitor, there are others which are reasonably good that you may consider instead.
Among the premium models, the hitherto market leader is the Philips Sonicare DiamondClean Smart. It is almost as packed with features and technology as this, and is less expensive.
Of course, you may not need a high-end model at all. The Oral B Smart 1500 is a new and improved version of the popular Pro 1000.
For a small fraction of what you'll pay for the 9900 Prestige smart electric toothbrush, you'll get a decent device to keep your teeth clean and sparkling.
If you're looking for a sonic toothbrush but would prefer not to pay quite as much as the Prestige 9900 costs, then check out the Philips Sonicare Protective Clean 4100 or the ProtectiveClean 5100 models instead.
3. Where can you buy the Philips Sonicare 9900 Prestige electric toothbrush?
You can buy the Sonicare 9900 Prestige from retail stores like Best Buy, Target, Walmart or Walgreens. It is also available for sale on the Philips official website.
An easy and convenient way to order is online at an e-commerce portal like Amazon.com. Not only will you be sure to find it in stock, there are often price discounts and special offer deals. You'll also enjoy the convenience of having your electric toothbrush delivered to your doorstep at no extra cost.

Key Features
Offers a choice of 5 different brushing modes
Inbuilt timer with quad pacer to ensure adequate cleaning
Pressure sensor with visible indicator to avoid injury
Long battery life, lasts 2 weeks on a single charge
Automatic power off feature enhances battery life
BrushSync reminder system to change replacement brush heads
Wireless Bluetooth communication with smartphone app
Pros
Good looking and durable premium toothbrush
Inbuilt timer with quad pacer functionality
Powered by AI technology for better cleaning
Pressure sensor avoids injury to teeth and gums
Excellent battery life
Wireless connectivity via Bluetooth with Smartphone app
Compact travel case with recharging capability
Cons
Higher price
Some users may find features that are unnecessary
What's In The Box?
Philips Sonicare 9900 Prestige electric toothbrush
A3 brush head (All-in-One)
USB power adapter
USB cable
Travel case
Charging station (a base plate and plastic frame)
Warranty card
User manual
Philips Sonicare 9900 Prestige Review
It is a relentless commitment to research and ongoing improvement that makes the Philips Sonicare brand world famous.
The manufacturer was not content with having created the best electric toothbrush in the form of the Philips Sonicare DiamondClean 9500 Smart.
By looking for ways to make the electric toothbrush even better, with extra features to improve dental hygiene, Philips came up with the Sonicare 9900 Prestige model.
Amazingly, though, Sonicare achieved this improvement through simplifying how this fantastic electric toothbrush works. The device is less complex to use. And superior features are still available, in case you need them.
Types of Sonicare 9900 Prestige Electric Toothbrush
There are 3 different kinds of this model.
The Philips Sonicare 9900 Prestige is available in Midnight Blue, Pink and Champagne colors.
The travel case matches the handle color, and there are a few minor differences between the three electric toothbrushes.
All models have USB cables for recharging the device inside a travel case. They also come with replacement brush heads and adapters to fit different power outlets.
Brushing Modes
The Sonicare 9900 Prestige electric toothbrush can clean your teeth in a choice of 5 different modes.
While the basic 'Clean' option is the default, it can be chosen from the brush handle. Other choices have to be selected via the smartphone app.
Once a mode is selected, it remains constant through the brushing session. It is not possible to switch modes midway while cleaning your teeth.
Here is a list of available cleaning modes and their duration of each cycle:
Clean – 2 minutes
Gum Health – 2 and half minutes
Deep Clean – 3 minutes
Sensitive – 2 minutes
White+ – 2 and half minutes
Sonicare 9900 Prestige Review : Design & Usability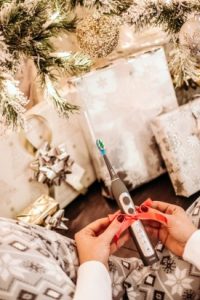 Almost all electric toothbrushes from the Philips Sonicare catalog share some features in common. And good design is one of them.
Even the less expensive models of Sonicare electric toothbrushes look classy and elegant. The premium 9900 Prestige model has a sleek and distinguished appearance.
All three colors – midnight blue, pink and champagne – look appealing and distinctive. Apart from the color of the handle, almost everything else is the same.
An interesting design innovation with the Philips Sonicare 9900 Prestige electric toothbrush is with the brush handle and the replaceable brush head.
The New A3 Premium All-in-One Brush Head
This newly introduced brush head avoids the need to try and decide between the different options available on the market.
With most of the functionality being driven by the programmable handle, this single brush head can manage all the functions that used to be specialized to a specific head.
An easy to overlook feature is the slightly angled brush head. This allows easier access to back teeth and to the space behind your last molars.
Another nice feature is that the back and sides of the brush head are made of soft rubber. This is gentle on your cheeks and gums.
This brush head has been designed to be really effective at plaque removal. According to the manufacturer, the A3 All-in-One brush head removes 20 times more dental plaque than a manual toothbrush.
It is also great at whitening teeth, without injuring sensitive gums. The bristles criss-cross at different angles in order to achieve more complete cleaning between and behind teeth.
A gentle massaging action improves gum health when you clean regularly using it for a few weeks.
Because of all these features, you may not require any other kind of replacement brush head at all.
Attaching the brush head to a handle is simple. The head snaps on the metal shaft at the top of the brush handle. The shaft is attached to the motor, which drives the oscillatory motion of the brush head.
Sonicare 9900 Prestige Review : Ease of Use
The danger with a premium electric toothbrush often lies in how complicated it can be to a new user.
In the pursuit of more features and better technology, it can feel like you need a degree – just to turn on your toothbrush and clean with it!
The Philips Sonicare 9900 Prestige is a refreshing change. This is a simple electric toothbrush that even a first-time user will find easy to use.
And if you run into any difficulty, there's a decent user manual included in the box, with detailed instructions.
Feel and Comfort While Brushing
The brush handle is rounded and feels comfortable and secure in your hand while brushing.
There's just one Power button to turn the toothbrush on and off. Although it is smoothly woven almost into the handle, you'll easily identify it by the icon.
The button is quite sensitive and gentle pressure switches the brush on.
LEDs just below the button indicate the intensity settings – low, medium and high. When operating at the highest intensity, all 3 LEDs glow brightly.
You can cycle through different intensity settings by pressing on the indicator dots themselves. These serve as the Mode changing button. Repeated pressing cycles through the low, medium and high intensities.
Another icon near the base indicates the level of battery charge still left in the device.
A final icon is the Brush Sync indicator that glows to let you know when it's time to replace a worn out brush head.
How Does Brush Sync Work?
In the brush head of most Philips Sonicare electric toothbrush models, there is an RFID chip embedded. It communicates on radio-frequency with a corresponding sensor located in the toothbrush handle.
When a new brush head like the A3 Premium All-in-One is attached to the toothbrush handle, the chip takes note. It also monitors usage.
Once a pre-programmed number of minutes of brushing have taken place, the Brush Sync technology kicks in to remind a user that it's time to change to a new brush head.
This is extremely helpful because many users do not promptly replace worn out brush heads every 3 months as recommended. And an overused brush head does not clean teeth or remove plaque as effectively.
Worse, the splayed out bristles can injure gums and damage your teeth.
Having a visual indication that it is time to replace your brush head is extremely helpful.
Mode Pairing : A Novel Technology
Something unique to the Sonicare 9900 Prestige is a feature called 'mode pairing'. It is a part of the BrushSync technology and matches the cleaning mode to the kind of brush head attached to the handle.
So if you use a brush head designed to achieve better whitening of your teeth, the embedded chip senses this and automatically activates the Whiten brushing mode for the best results.
Other premium electric toothbrushes offer this functionality, but require the user to manually select the mode.
With the 9900 Prestige, since simplicity and ease of use are priorities, the choice is itself automated for your convenience.
When you consider how many users struggle to decide which mode is best for them, having this decision make for you is an advantage.
Sonicare 9900 Prestige Review : Motor Power and Technique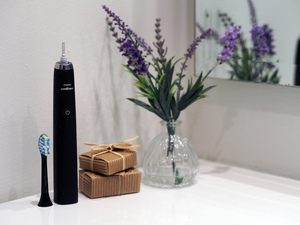 The Sonicare 9900 Prestige is powered by a very effective motor that manages 31,000 brush strokes per minute. This is very good for removing plaque or debris stuck between teeth.
The brushing mode you choose will determine how well this high power motor does at keeping your teeth clean and white.
After a typical brushing session of 2 minutes ends, the motor turns off automatically. This helps save battery life and also indicates that the recommended time for brushing is over.
To continue brushing beyond this duration, you can just switch the brush back on again.

Sensors and Safety
The premium Philips Sonicare 9900 Prestige electric toothbrush comes with some nice safeguards and sensors that keep the brushing experience healthy and comfortable.
A pressure sensor offers visible feedback whenever you press too hard with the handle.
Unlike a manual toothbrush, you don't need to press an electric toothbrush hard against your teeth. It doesn't improve cleaning. And the extra pressure may actually harm your gums.
With the Sonicare 9900 Prestige you'll know when you exert a higher pressure because the vibrations are altered and a light ring near the bottom of the handle flashes purple.
Once you relax pressure on the teeth, both these indicators will vanish.
Due to a technology called 'adaptive intensity', any time the pressure sensor is activated, the Sonicare 9900 Prestige automatically lowers its brushing intensity also.
Another safety feature is the inbuilt scrubbing sensor.
This becomes activated whenever you move the brush head too actively inside your mouth.
Since cleaning is most effective when the brush head is slid gently over the crown of each tooth, the scrubbing sensor warns you against sudden or excessive movement.
The brush handle vibrates differently and the light ring glows amber. When you stop moving the brush around, the sensor is deactivated. The light stops glowing and the cleaning intensity returns to normal.
SenseIQ Functionality
The Sonicare 9900 Prestige features a powerful artificial intelligence engine in the form of SenseIQ.
This is a catch phrase that stands in for a variety of exciting tech innovations included in the 9900 Prestige.
SenseIQ can sense, adapt and care for your teeth.
The toothbrush senses
how often you brush,
the duration of each session, and
the effectiveness of cleaning.
Whenever it senses something amiss, the technology adapts by adjusting the motor power to compensate and ensure good cleaning.
And over time, your brushing technique steadily improves, allowing you to care better for your teeth.
By analyzing and reviewing data collected from multiple sensors, the toothbrush is able to guide even a new user into getting the greatest value from the Sonicare 9900 Prestige.
Sonicare 9900 Prestige Review : Smartphone App
As most Philips Sonicare 9900 Prestige review reports will confirm, the smartphone app is full-fledged and robust.
It allows real-time tracking of the brush head as you clean your teeth, allowing quick feedback on performance.
On your phone you'll get visual feedback in the form of an image of your teeth. The entire area is divided into 6 zones. In a brushing session, you'll rotate through each of them, spending around 20 to 25 seconds on each.
An on-screen timer shows you how long you've been brushing, and how much more time is left. An ideal cleaning session should last at least for the dentist-recommended 2 minutes.
You can store records of your brushing activity to show your dentist at the next appointment. And almost every feature of the Sonicare 9900 Prestige can be adjusted or enabled/disabled using the app.
The toothbrush connects with the app via Bluetooth. This wireless functionality is standard among most premium electric toothbrush brands and models. The app runs on both iOS and Android phones.
As you can see, there are many advantages to having the Sonicare smartphone app.
However, many users may not want or need this functionality at all. If so, you can opt for a less expensive model that's just as good at maintaining oral hygiene.
Battery Life And Charging The Battery
Unlike many other models, the Philips Sonicare 9900 Prestige does not have a recess on the base or any other way to attach it to a charging station.
This is because the battery charges wirelessly without having to be connected through any cables.
On the companions smartphone app, you'll see a record of remaining battery charge expressed as a percentage. This is helpful in knowing when to recharge the brush handle.
Like all other Sonicare electric toothbrushes, the Sonicare 9900 Prestige also lasts 2 weeks of typical use on a single full recharge. This makes it a convenient choice to take along on vacations or business trips.
The lithium ion battery is rechargeable.
The charging stand has a round base plate which attaches via a 100 cm long USB cable to the brush handle. A puck made of plastic helps lend more security to the brush handle while it stands on the charging station.
You can attach the cable to a power socket, laptop, or portable battery pack. The adapter can handle 100 to 240 volts.
The power indicator light flashes while charging, and then glows for some time before switching off after the battery is full. It takes around 14 hours to charge fully.
Philips Sonicare Prestige 9900 Review : Travel Case
The Philips Sonicare 9900 Prestige electric toothbrush comes with a deluxe travel case. For frequent travellers, this is incredibly useful.
Not only does the case protect the brush head and handle while travelling, it also can recharge your brush handle. With a USB-C port you can connect the brush handle to the case. Any power source like a wall socket or laptop will work.
The case itself is made of sturdy leather and color compatible with the brush handle. This is elegant to match a premium product, with a design and appearance that looks nice.
Warranty
The manufacturer offers a 2 year warranty on the Sonicare 9900 Prestige that protects you against defective manufacture or any flaws in the device.
However, it will not cover accidental damage or user-created defects. There is no option for an extended Sonicare warranty either.
Sonicare 9900 Prestige : Where To Buy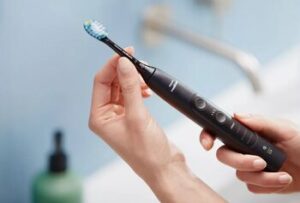 This beautifully designed premium electric toothbrush that's available in a choice of 3 elegant color options is a great buy.
With several delightful features such as
a focus on simplicity,
pressure-sensitive buttons that make it easy to operate,
sensors to warn against pressing too hard,
3 different brushing intensity settings,
inbuilt timer and quad pacer,
BrushSync functionality to remind you about brush head changes
SenseIQ technology to get the most value from powerful technology
top quality A3 Premium All-in-One brush head
a versatile Smartphone app connected via Bluetooth
… this is a fantastic electric toothbrush to own.
Especially if you like having the most bells-and-whistles in your devices, this epitome of technology and innovation for dental hygiene will be right up your street.

You can pick up the Sonicare 9900 Prestige at any retail outlet like Walmart, Target, Best Buy or Walgreens.
A convenient way is to order online from an e-commerce portal like Amazon.com. You'll enjoy discounts and special offers from time to time. This may help you save some money.
In addition, you can have the Sonicare 9900 Prestige toothbrush delivered right to your doorstep without any extra cost.
Now, for all this value, prepare to pay a little more than any other model. For the right user, this will still be great value for money.
But if your budget doesn't stretch so far…
Or if you don't need most of the features offered by the Philips Sonicare 9900 Prestige, then don't hesitate to look at one of the other electric toothbrush models.
There are other affordable toothbrushes that will help you maintain excellent dental hygiene and oral health. Great options are the Philips Sonicare ProtectiveClean 4100 and Oral-B Smart 1500.
Other premium models include:
However, if you want the pleasure and pride of owning the most state-of-art electric toothbrush and consider an investment into one a worthwhile price to pay, then get the Sonicare 9900 Prestige.

See our ULTIMATE Electric Toothbrush Buyer's Guide - and make an informed and smart choice.