This Oral-B Genius Pro 8000 review confirms that it's among the most feature-rich offerings in the electric toothbrush marketplace today.

Oral-B Genius Pro 8000 Electric Toothbrush
Almost every Oral-B Genius Pro 8000 review agrees that feature-rich and powerful premium electric toothbrush is excellent 'value for money'. With it you'll ensure dental health and oral hygiene.
If you're in a hurry, see these 3 major decision-making factors before you order the Oral-B Genius Pro 8000 electric toothbrush.
And if you'd like to learn everything about it, go ahead and read the rest of this Oral-B Genius Pro 8000 Electric Toothbrush
review.
Oral-B Genius Pro 8000 Review – 3 Big Questions
1. Are there any glaring problems with this model?
No. In fact, the Oral-B Genius Pro 8000 is a fantastic and efficient product.
The high price may have once been a drawback, but recently the manufacturer has slashed it to be extremely affordable. And while it isn't the perfect electric toothbrush, the Genius Pro 8000 comes pretty close.
2. Are other alternatives just as good?
If you're looking for a feature-loaded and high-value premium electric toothbrush, then the Oral-B Genius Pro 8000 is one of the best models.
The only possible alternatives that have comparable features and performance are the Oral-B Genius X and Philips Sonicare DiamondClean Smart 9300 models.
But if you're looking for a good all-round electric brush and don't care as much for the smartphone app, then the Oral-B Genius Pro 8000
will save you a few dollars.

Also be sure to browse our Best Electric Toothbrush Buyer's Guide here.
3. Where to buy the Oral-B Genius Pro 8000 electric toothbrush?
Online e-commerce portals like Amazon
are often the best places to buy.
You'll frequently find discount coupons and special deals to save money. It's also convenient and delivery is free to your doorstep. You're also more likely to find your preferred color or other specifications in stock.
Other options are eBay or Walmart's online store.
If you prefer shopping at retail outlets, you'll find this Oral B electric toothbrush model in most stores like Walmart, Target, Safeway, Walgreens and Boots.
Oral-B Genius Pro 8000 Review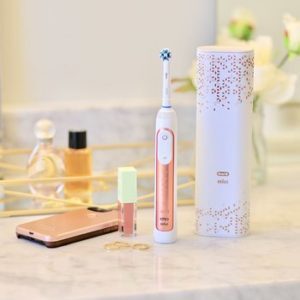 Two years after it launched its blockbuster Oral-B Pro 6000, the new Oral-B Genius Pro 8000 was released after some more improvements and tweaks .
Pros of Oral-B Genius 8000:
6 distinct cleaning modes to meet diverse needs
Pressure sensor to avoid injury to teeth and gums
Bluetooth connectivity that pairs with smartphone app
Position detection to track brushing activity
Excellent battery life
Premium smart travel case included
Customizable Smart Ring visual coaching
Cons:
Takes some practice to get used to advanced features
Smartphone holder isn't convenient to use in bathroom
Not all advanced features of the Oral-B Genius 8000 appeal to every user.  Some think Bluetooth connectivity with a smartphone app adds little value, while others love the idea of actively tracking and recording performance to an app.
What's included in the package?
Charging station
A compartment for storing brush heads
3 replaceable brush heads (Cross Action, 3D White and Sensitive)
One Smart travel case
A holder for smart phone (to use in the bathroom)
Instruction manual
Key Features of Oral-B Genius Pro 8000
Oral-B electric toothbrush cleans by a patented oscillation, rotation and pulsation system
Pressure sensor with visual feedback
300% higher plaque removal capacity than a manual toothbrush
Rechargeable battery
Choice of 6 cleaning modes (Daily Clean, Gum Care, Sensitive, Whiten, Tongue Cleaning & ProClean)
High power ProClean mode with an additional 3000 movements per minute
Smart Ring sensor with multicolor display
Inbuilt 2-minute timer with quadpacer functionality
Bluetooth connectivity to link to a smartphone app
Oral-B Genius 8000 Review : What's Good – And What's Not
6 Cleaning Modes
You can select from any of 6 distinct cleaning modes –
Daily Clean
Gum Care
Sensitive
Whiten
Pro Clean
Tongue Clean
This ensures adequate cleaning of your teeth, leaving them sparkling and white. When more than one person shares the same brush handle, such functionality caters to each user's unique specifications.
Many only need the regular Daily Clean mode for brushing and plaque removal. Additional modes cater to those with sensitive teeth and gums, braces, prior dental work and other special needs.
Pressure Sensor
You could damage your teeth and gums by pressing too hard with an electric toothbrush. To prevent accidental injury, the Oral-B Genius Pro 8000 has an inbuilt pressure sensor.
The sensor tells you whenever you're pressing too hard while brushing. It lights up an LED in red color, so that you can stop immediately. This is particularly helpful for beginners who are unaware that the brush head only has to skim the tooth surface.
Battery Life
While the Genius 8000 electric toothbrush doesn't have as good battery life as Philips Sonicare models, it does last for 12 to 14 days after a single full charge.
Smart Ring
This is an interesting tweak to 'personalize' your Oral-B Genius Pro 8000 electric toothbrush.
A 360 degree ring lights up in different colors (of your choice), letting you create an experience that's uniquely yours.
It lights up every 30 seconds as a timer – and also glows red whenever you apply too much pressure while cleaning.
Accessories
The box contains everything you need to get started, including a charging station and travel case.
The latter helps protect your toothbrush against damage during travel. It also prevents the toothbrush from getting activated unintentionally while inside a suitcase or bag.
Position Detection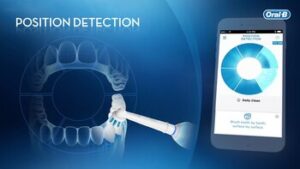 An interesting modern technological innovation is Oral B's position detection feature.
This analyzes the way you clean your teeth based on the position of your brush head during the activity. The Smartphone app then offers you feedback so that you won't miss out on any part of your teeth.
You'll get the greatest benefit from cleaning and enjoy improved dental health and oral hygiene.
Oral-B Genius 8000 Review : The Drawbacks
Price
Many an Oral-B Genius Pro 8000 review
sites focuses on the higher cost compared to other models like the Oral B Pro 1000 electric toothbrush.
However, for the range and versatility of features offered, the Oral-B Genius 8000 is fairly priced. What matter is whether you are likely to use and benefit from these advanced features. If you will, then it's a great deal.
Learning Curve
While the Smartphone app and position detection technology are fascinating, the process of putting it to good use isn't intuitive or easy.
Setting it up and learning how to use your electric toothbrush can be difficult. And for a 2 minute brushing experience, some users might feel it's too much effort.
Design and Ease of Use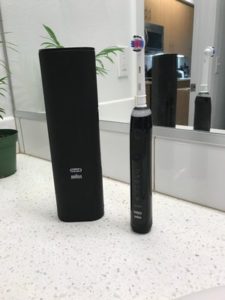 With 6 cleaning modes, a pressure sensor, a choice of brush heads and a good travel case, the Oral-B Genius 8000 has all ingredients of a well designed and packaged electric toothbrush.
Some more aspects are unique to the Oral-B Genius Pro 8000 and set it apart from the other models.
For one, the Genius line of electric toothbrushes from Oral B all have Bluetooth connectivity. Once you pair your device with an Android or iOS smartphone, the technological features can be activated.
The companion mobile app lets you enable 'Position Detection' that lets you track the position of your brush head via the phone's front-facing camera. The data is processed and displayed instantly on the smartphone screen.
In real time, you can see any areas you have missed cleaning. In a sense, the app and its technology serve as personal monitors that watch over you while you clean your teeth. This avoids overlooking any areas, and gives better results.
Timer With Quad-Pacer
The built-in timer ensures that you'll
brush for the desired amount of time,
spend adequate time on each quadrant, and
use the right technique
And the benefits aren't all theoretical. Over three-quarters of all users don't brush their teeth for long enough, and even fewer spend equal time on all zones.
The back teeth (molars) are more often ignored because it's harder to reach them while cleaning. Not surprisingly, these are the teeth prone to cavities and need filling or extraction later.
Smartphone App & Position Tracking
The Position Tracking technology was devised in response to this need.
With a visual display that's easy to understand, users are more likely to develop better brushing technique and enjoy improved dental hygiene.
Along with the benefits of this technology comes one of the biggest drawbacks of the Oral-B Genius Pro 8000 – a learning curve to set this up and get it running. But for the value you'll enjoy, this is a small price to pay.
A smartphone holder that plugs on to a bathroom mirror or wall using a suction cup is included in the package. The arms are adjustable to accommodate smartphones of different sizes.
After fixing the holder to the mirror, your phone's front-facing camera can track motion while you brush.
Pressure Sensor
The pressure sensor in an Oral-B Genius Pro 8000 electric toothbrush serves the same function as in all other models. It helps avoid damage to teeth and gums due to the application of excessive force while brushing.
With a pressure sensor, you'll receive visible notification whenever there is extra force on the brush head by way of an LED in the SmartRing glowing red.
Simultaneously, the motor slows down, stops pulsating and changes in tone.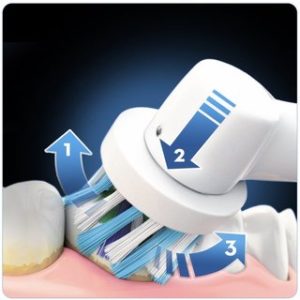 Rotatory Brush Heads
Another innovation of the Oral-B Genius Pro 8000 is its round brush head.
This makes the brush head small and compact, allowing access into remote nooks and crannies inside your mouth such as behind the last molar teeth. Bigger brush heads with smaller handles often find it hard to reach inside these areas.
Some users are also thrilled by the ability to 'personalize' this electric toothbrush. You can set the SmartRing to glow with a different color of your choice. There are 12 options to choose from.
So much for design.
Let's discuss ease of use and how this brush delivers better performance capabilities than others in its class.
Innovations & Aesthetics
There have been many aesthetic improvements made to the Oral-B Genius Pro 8000 over the earlier Smart series of brushes.
The brush handle is slimmer. This makes the brush easier to handle and move.
The body is uniformly cylindrical and houses a larger battery that lasts around 2 weeks.
Size and weight influence day to day usage. If a brush is too heavy or difficult to use, you'll shorten brushing sessions or adopt incorrect technique.
The Oral-B Genius Pro 8000 is 24 cm long when the brush head is attached, and has a girth of 2.6 cm, weighing 140 grams.
The body is a sturdy plastic and comes only in white color.
The handle is water resistant and water won't seep through if it spills on the surface.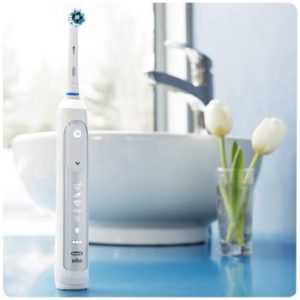 In appearance, the Oral-B Genius Pro 8000 is a dull uniform grey/white with buttons and icons that light up to indicate specific functions.
You can choose from 4 handle colors –
orchid purple,
rose gold,
black and
white
Buttons and Icons
One icon shows the brushing mode in use. Another measures battery life. A third is the pressure sensor.
The power button is located in the upper third along with the cleaning mode selector button.
Operating and using the Oral-B Genius 8000 electric toothbrush is child's play.
Pressing the power button turns on the motor. Press and hold the button for 2 seconds and it turns off.
Only firm pressure will turn it on, so you won't accidentally waste power.
You can switch from one cleaning mode to another by pressing the mode selector button repeatedly. The indicator LED lights up to say which mode is currently active.
Indicator LEDs
A battery level indicator LED near the bottom of the handle glows white. It shows through 3 bars the amount of charge it still retains. When you're down to the last bar, it's time for a recharge.
A contoured rubber grip gives the handle a secure feel in your hand while brushing. You won't worry that it'll slip out of your hand. The indented dots offer enough friction for a firm grip.
The handle's bottom is smooth, with a small recess to fit in a projecting bit on the charging station. This keeps the brush from rolling off a flat counter top.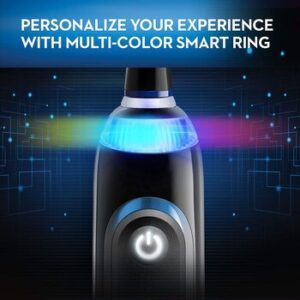 The Smart Ring LED is near the top, at the neck of the handle. Depending on your customization, it will glow with different colors… except for the pressor sensor which is always red.
The brush and all accessories – the charger, smartphone holder, brush body and brush head – come in matching colors.
Cleaning Modes
There are several options for cleaning mode in the Oral-B Genius Pro 8000.
Daily Clean
Gum Care
Sensitive
Whitening
Pro Clean
Tongue Cleaner
Pro-Clean is a newer innovation that's introduced in the Oral-B Genius 8000.
It replaces the Deep Clean mode and is designed to produce a thorough cleansing through vigorous brushing action. In this mode, your brush head pulsates an extra 3,000 times a minute.
Usually cleaning modes are preset to run for 2 minutes, which is the typical recommended brushing duration by dentists.
The inbuilt timer can be configured for two kinds of modes – standard or professional.
Quad Pacer Function:
With 'Professional' mode, the quad-pacer function is activated.
At the end of 30 seconds, the brush will stutter for a few seconds to let you know it's time to move to another quadrant. It will then start up again.
After two minutes, a longer stuttering break indicates the end of a session.
If the brush is turned off for more than 30 seconds in between, the timer resets and a new cycle will begin from scratch.
Oral-B Genius Pro 8000 Review : How Does It Work?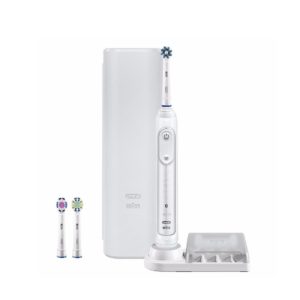 Cleaning efficiency of an electric toothbrush depends on the brush head, motor power and technology.
With the Oral-B Genius Pro 8000, the brush heads deliver oscillating-rotating motion along with pulsations at a high frequency to clean your teeth and gums.
Oral B brush heads are engineered to clean each tooth, one by one, and reach every corner of your mouth. The heads have a dynamic 3D motion so that bristles adapt to the teeth as you move the brush along. This breaks down plaque and removes any food debris in crevices between teeth.
All Oral B brush heads are interchangeable and you can use them with any handle. Depending upon your needs, you may prefer one of the three kinds of brush heads included in the package.
CrossAction
3D White
Sensitive
Cross Action brush heads have bristles set at angles to each other for a better cleaning effect.
Sensitive brush heads have softer bristles which are not angled but straight. This produces a gentler cleaning effect without abrasions or injury to the gums and surface of teeth.
3D White brush heads are tougher and have a cup right in the middle to polish tooth enamel and give it a bright gleam. It is similar to the cleaning effect you enjoy after visiting a dentist.
You can also select from any of the following types of replacement brush heads:
TriZone
Cross Action
Precision Clean
Floss Action
3D White
Sensitive
Replacing Brush Heads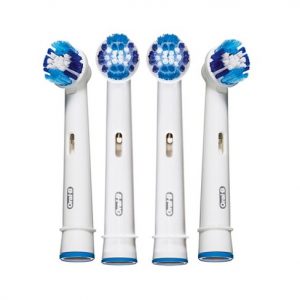 Like other models, the brush heads of Oral-B Genius Pro 8000 electric toothbrushes also need replacing once every 3 months – if not sooner.
The companion smartphone app keeps track of your usage and tells you when its time to replace the brush head. The indicator bristles on most brush heads will also change color from blue to white.
You can even pre-schedule delivery of replacement brush heads on an automated calendar from Amazon.com
Recharging Your Battery
A Smart charging station in the Oral-B Genius Pro 8000 package  also doubles as a storage space for extra brush heads. This is especially helpful if there are many people sharing the same brush handle.
When the translucent battery icon flashes red, or when only the last bar is lighted up, you should charge the battery. Connect it to the charger and the battery icon glows a steady green, indicating that the battery is charging.
It usually takes 20 to 22 hours for a full recharge.
To be on the safer side, you might consider leaving the brush on charge whenever it is not in use.
Oral-B Genius Pro 8000 Review – Smartphone App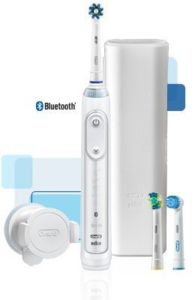 The latest version of the Oral-B app that runs on a smartphone supports the Genius Pro 8000 and other models in this range.
The key component is the position detection function.
The app is cross-platform compatible, running well on both Android and iOS phones and devices. It relies upon bluetooth connectivity to pair your Oral-B Genius Pro 8000 electric toothbrush with your smartphone.
The app is downloaded for free from the iTunes or Google Play Store services.
Get More From Your Toothbrush!
The visual display is intuitive and easy for anyone to follow. You can integrate the app with your calendar to browse your day's engagements and schedule while cleaning your teeth, or catch up with news and updates. This can be distracting at times, though.
Many 'challenges' score you on how well and regularly you brush. This can help you develop a good habit and improve your brushing technique.
The app even recommends products and services that will enhance your oral hygiene. You'll get recommendations for the right cleaning mode, brush head or toothpaste to use.
Your Oral-B Genius Pro 8000 app also offers a Professional Guidance component that connects you to a dental pro.
All the data from your Oral-B Genius Pro 8000 electric toothbrush is stored and backed up online. You can even share it with other related services for extra value.
Summary of Design and Ease of Use – Oral-B Genius Pro 8000
Brush handle is comfortable to hold and use
Hand grip is firm, prevents slipping
Clear LED indicators for cleaning mode, power, battery level
Offers 6 cleaning modes – Daily Clean, Sensitive, Gum Care, ProClean, Tongue Cleaner and Whitening
Buttons for power and mode selection
3 brush heads included in package
Storage compartment for 4 extra brush heads included
Inbuilt timer with quad pacer
Pressure sensor that indicates extra force by glowing red
LED SmartRing for personalization
Bluetooth connectivity to smartphone app
Smartphone holder for phone, attaches to bathroom mirror
Excellent app that tracks use and records data
Travel case and charging station included
Battery life averages 2 weeks
Oral B Genius 8000 Review : Conclusion
Only a few competing brands offer top of the shelf models like the Oral-B Genius Pro 8000 electric toothbrush.
Before deciding if the Oral-B Genius Pro 8000 is your best choice, ask if all you need is a device to clean your teeth and keep your mouth healthy. In that case, Genius Pro 8000 may have too many features for your taste.
On the other hand, if you want to maximize dental hygiene and oral health, the Oral-B Genius Pro 8000 could be a great investment.
With a selection of cleaning modes, great design and a good battery life, the Oral-B Genius Pro 8000 is available at a reasonable price, especially after the recent drop.
You'll appreciate nuances of design and ease of use that lets you effectively get rid of dental plaque and avoid gum injury.
And the Smartphone app functionality will delight you as you monitor your progress in a clear visual display.
Technical Specifications
Brush height – 20.4 cm
Brush including head – 24 cm
Width – 2.6 cm
Thickness – 3.2 cm
Weight – 140 grams
Frequently Asked Questions
Q: Is the Oral-B Genius Pro 8000 an oscillating brush?
A: Yes. The patented 3D motion combines rotation, pulsation and oscillation to deliver an excellent cleaning experience.
Q: What is Gum Care mode?
A: It is a lower speed setting that is gentler on sensitive teeth and gums, stimulating blood flow and improving gum health through a massaging action.
Q: What is Daily Clean mode?
A: This is the most commonly used regular brushing mode where the combined oscillating and rotating action of the brush head cleans teeth. It also removes food debris impacted between teeth and gums.
This electric toothbrush removes dental plaque upto 300% more effectively than a manual toothbrush.
Q: What is ProClean mode?
A: This is a newer mode offered in the Oral-B Genius Pro 8000 electric toothbrush. It delivers extra force through an added 3000 movements per minute over and above the regular Daily Clean mode.
It can be intense and uncomfortable for some users, but delivers superior cleaning effect.
Q: What brush heads are included? Is it compatible with other heads?
A: The Oral-B Genius Pro 8000 comes with 3 brush heads –
Cross Action,
Sensitive and
3D White.
They are all interchangeable. The same brush handle can also be used with other kinds of brush heads like Floss Action, Precision Clean, TriZone and Pro Results heads.
Q: Is a pressure sensor included?
A: Yes, the Oral-B 8000 has a pressure sensor that indicates too much force with a glowing red LED display. This helps prevent injury to teeth and gums from pressing too hard.
Q: Does the 8000 have bluetooth?
A: Yes, the Oral-B Genius Pro 8000 uses bluetooth to connect with a smartphone app. It delivers several additional features for tracking and monitoring use and progress.
Q: What is Position Detection?
A: In the Oral-B Genius Pro 8000, a new technology called Position Detection helps with self-tracking to ensure thorough and complete cleaning.
It also records personal statistics, encourages better brushing technique and engages users through games and challenges to develop a healthy cleaning habit.
Q: Is there a warranty?
A: Yes, the Oral-B Genius Pro 8000 electric toothbrush comes with a 2 year warranty. You can extend it further by an extra year just by registering online on Oral-B website for free.
Q: How long does the battery last?
A: The battery lasts for 48 minutes of use following a full recharge. This means with typical use, you'll have to recharge your toothbrush once in every 12 to 14 days.
Q: How long does it take to recharge?
A: A full recharge can take 12 to 20 hours. When completely discharged, a 30 minute recharge will allow enough power for a single cleaning session of 2 minutes.
Q: Is a charger included?
A: Yes, the Genius Pro 8000 comes with a charging station that can connect to any bathroom socket. It is not wall mounted, but has to be placed flat on a countertop.
Q: Does it come with a travel case?
A: Yes, a travel case is included in the package.
Hopefully this Oral-B Genius Pro 8000 electric toothbrush review has addressed your major questions about the device. If you have any further questions or comments, feel free to leave a comment.
Oral-B Genius Pro 8000 Electric Toothbrush
See our ULTIMATE Electric Toothbrush Buyer's Guide - and make an informed and smart choice.