Mirror, mirror on the wall…
What's the BEST Sonicare Electric Toothbrush Of Them All
You're looking for the best Sonicare toothbrush. Trying to compare Sonicare models. And want to know which Sonicare toothbrush is best.
You want an electric toothbrush that combines cutting-edge technology with unrivalled comfort. That's engineered to perfection. That will banish dental plaque and whiten your teeth.
The best Sonicare toothbrush will do it all. It combines power and innovation to set new standards in efficiency and effectiveness.
BEST SONICARE TOOTHBRUSH
So let's compare Sonicare models. Examine the best toothbrush – on value and features. And find your best Philips Sonicare toothbrush.
TABLE OF CONTENTS
Top 7 Best Sonicare Toothbrush Reviews
Other Contenders For The Best Philips Sonicare Crown
Best Sonicare Toothbrush FAQ
What Makes a Sonicare Electric Toothbrush So Special?
Before we get into pros and cons of Philips Sonicare electric toothbrush models, let's talk about the feature that sets apart Sonicare from all other competing brands…
Efficient Brushing Action
This is critical. Sonicare toothbrushes deliver a powerful 31,000 brush-strokes in a minute (BPM). (Newer premium models go higher, upto 62,000 BPM!)
Why does this matter?
In a nutshell: It cleans your teeth better. And improves dental hygiene.
Here's how.
Your Sonicare electric toothbrush runs on sonic cleaning technology. Other brands have brush heads that vibrate at 2500 to 7500 brush-strokes per minute (BPM).
Sonicare's is much faster. When your toothbrush head vibrates really fast, it sets off turbulence and eddy currents inside your mouth. This has a secondary cleaning effect – even at a distance.
That removes dental plaque more effectively. (Some studies find an electric toothbrush is upto 7 times better than a manual toothbrush at getting rid of plaque!)
These waves and vibrations can reach into spaces between and behind your teeth, even where the bristles can't reach directly. This ensures deeper, better, more thorough cleaning and improved oral hygiene.
The Sonicare brochure calls this the "Clean mode".
The best Sonicare models like Sonicare DiamondClean Smart and Sonicare 9900 Prestige offer it.
Apart from superior cleaning action, the best Philips Sonicare toothbrush models also offer other unique advantages (see our Sonicare comparison chart below).
If You're In A Hurry…
Here's a short list of the best Sonicare toothbrush models.
PHILIPS SONICARE TOOTHBRUSH
BEST PHILIPS SONICARE BRUSH HEADS
5 Best Sonicare Toothbrush Reviews
Now that you know about their efficient brushing advantage, let's look at the 5 best Sonicare toothbrush reviews.
1. Philips Sonicare DiamondClean
Jewel in the crown!
Whenever you list the best Philips Sonicare electric toothbrush models, Sonicare DiamondClean Smart makes it to the top!
It's more expensive, yet it has delighted owners who rave over it. And even dentists highly recommend the DiamondClean Smart for its superb performance.
No wonder many electric toothbrush reviews call it the "best overall choice".
Features:
Elegant and classy design
Sleek and premium look
5 cleaning modes – White, Gum Care, Clean, Deep Clean and Sensitive
3 intensity settings for each mode
Slender, light handle with secure grip
Smart-timer and quad-pacer ensure adequate cleaning
Pressure sensor avoids injury to sensitive teeth and gums
Companion Smartphone app offers real-time feedback
Includes set of replacement brush heads
App can order replacement brush heads automatically
An outstanding feature of the DiamondClean is SmartSensor technology.
It tracks movement of the brush head with sensors, and offers realtime feedback. You'll notice an immediate improvement in brushing efficiency.
Pros:
Great cleaning performance
Durable and long-lasting
Compatible with all brush heads
Choice of colors – black, white, amethyst, pink, rose gold
Excellent battery life, lasts upto 3 weeks on single charge
Includes travel case and recharging glass station
Ideal for travel
Bluetooth wireless connectivity
BrushSync technology to replace brush heads on time
Cons:
Higher price may put it out of your budget
If you're looking for a top-class electric toothbrush with a range of advanced features, then the Sonicare DiamondClean Smart is your best choice.

2. Philips Sonicare ProtectiveClean 5100
Best value for money!
It's not quite a premium model, but much more than an entry-level toothbrush. The Philips Sonicare 5100 is the best Sonicare toothbrush under $100.
It delivers impressive performance at near-budget prices while boasting a few features only seen on premium models.
Features:
Pressure sensor prevents damage to sensitive teeth
Two-minute timer ensures you brush long enough
Quad-pacer indicates when it's time to move to another quadrant
Brush head is effective at removing plaque
Choice of 3 cleaning modes
Has a gentler mode for people with gum disease
Battery lasts upto 3 weeks on a full charge
BrushSync technology tells you it's time to change brush heads
Pros:
Sonic cleaning at 31,000 BPM cleans effectively
Smooth rounded edges make it comfortable to handle
Automatic power off mode conserves battery
Compatible with many types of brush heads
Choice of many attractive colors
Travel case included
Cons:
Price is higher than an entry-level model
The Sonicare ProtectiveClean 5100 is an excellent pick if you're looking for a quality electric toothbrush with many useful features – at an affordable price.

3. Philips Sonicare ProtectiveClean 4100
Best budget Sonicare electric toothbrush!
The hunt for an affordable yet extremely effective electric toothbrush ends here. The Philips Sonicare 4100 makes no compromise on quality and performance… yet has limited features at a really attractive price.
Features:
Compact, light-weight design
Easy to use, handles nicely
Battery lasts for 2 weeks
Smart-timer with quad pacer ensures adequate cleaning
EasyStart convenience for 1st time users
BrushSync reminds you to replace worn out brush heads
No Bluetooth or other fancy features
There are no bells-and-whistles of a premium Sonicare toothbrush like the Sonicare 9900 Prestige or DiamondClean Smart 9700. But you'll get all the essential features that make up the best Sonicare toothbrush models.
Pros:
Affordable and simple electric toothbrush
Remarkable cleaning, gets rid of dental plaque
Convenient to carry along when you travel
Pressure sensor helps avoid damage to teeth
Has the ADA seal of acceptance
Cons:
Offers only one brushing mode
A little noisy while in use
If you're on a tight budget, don't need any frills and fancies, and want an electric toothbrush with excellent performance, then get the Philips Sonicare 4100.
4. Sonicare Prestige 9900
Jam-packed with features!
A new entry into the best Sonicare toothbrush 'Hall of Fame' is the premium Sonicare Prestige 9900 model.
Powered by AI, this 'smart' electric toothbrush automatically alters its brushing intensity based on how much pressure you exert on the handle!
Features:
Smart electric toothbrush with SenseIQ technology
Easy to use and light-weight
Looks elegant and classy
Single multi-purpose brush head handles various functions
Leather travel case for better protection
Loaded with many extra features
Superb cleaning efficiency, great at removing plaque
Battery life is 2 weeks (shorter than other Sonicare models)
A proprietary technology called SenseIQ collects, processes and analyzes data from your brushing activity. It knows how long, hard and effectively you clean your teeth, and offers feedback in real time.
This improves brushing efficiency, leaving your teeth sparkling white and cleaner.
Pros:
Rich, luxurious, and classy
AI powered SenseIQ technology boosts efficiency
Multi-purpose brush head avoids need to swap heads
Travel case has an in-built charging station
Versatile smartphone app for realtime feedback
Quiet operation
Cons:
Battery life is slightly less than other models
Price is higher than most Sonicare toothbrushes
If nothing but the best will do, and price is no hurdle, then the Sonicare 9900 Prestige offers the best value. Being durable and long-lasting, it will recoup your investment over time.

5. Sonicare ProtectiveClean 6100
High priced and feature rich!
The Philips Sonicare 6100 fills a gap in between low-priced entry models with limited features – and costly premium toothbrushes loaded with bells and whistles.
If you are not constrained severely by price alone, then this toothbrush offers an impressive array of features.
Features:
3 cleaning modes: Clean, White and Gum Care
Stain removal is excellent with White mode
Good for users with sensitive teeth and gums
Pressure sensor minimizes teeth and gum damage
Ideal for trips, travel case is included
Battery is long-lasting
What makes the Sonicare ProtectiveClean 6100 unique is its superlative cleaning efficiency. It is extremely good at removing dental plaque, cleaning up stains on teeth, and improving gum health.
Despite its higher price, users who picked it as the best Sonicare toothbrush because of its cleaning effectiveness remain delighted.
Pros:
In-built 2-minute timer and quad pacer
BrushSync ensures timely replacement of brush heads
Excellent cleaning action
Pressure sensor prevents damage
Ideal for sensitive teeth and gums
Cons:
Costlier than other comparable models
If you can afford the Sonicare ProtectiveClean 6100, it may well be your best Sonicare toothbrush model.

6. Sonicare For Kids
Lovingly designed for little teeth!
A gentle cleaning experience that's also fun and engaging. That's what the Sonicare for Kids electric toothbrush delivers.
And kiddies all around the world love it!
Features:
EasyStart gradually increases brushing intensity
Kid Timer that starts at 1 minute, and goes up to 2 minutes
Pacer gives a musical warning when it's time to change quadrants
Colorful stickers personalize the brush handle
Light weight and slender to fit comfortably into small hands
Brush head easily slides into tiny mouths
The idea behind Sonicare's crafting a standalone electric toothbrush for children is to get them to learn healthy brushing habits early.
A companion app that runs on a Smartphone or tablet offers visual feedback. It guides kids on how to brush the right way, offering rewards and games to make it fun.
Pros:
Appeals to kids in many ways, keeps them engaged
EasyStart boosts compliance
Musical notes as an indicator are easy for kids to follow
Games and cartoons on the app retain interest
Battery life is excellent
Kids timer ensures brushing for 2 full minutes
Cons:
Cleaning efficiency depends on a child's behavior
The Sonicare for Kids electric toothbrush is great to introduce young children to brush regularly for better dental hygiene. This will deliver enormous benefits for years to come.

7. Sonicare ExpertClean 7500
Great new model, mid-range excellence!
The new Sonicare ExpertClean 7500 achieves a remarkable feat of combining design elegance and top-notch performance with an affordable price. It's elegant, easy to use, and popular among owners.
This appeal is due to an impressive array of features. Many of them are typically found only in premium models.
Features:
Classy and sleek design
Durable and sturdy construction
4 brushing modes, each with 3 intensity settings
In-built 2-minute timer ensures adequate brushing
Quad-pacer reminds you to switch to other quadrants
Pressure sensor avoids accidental damage to gums
Battery lasts 2 weeks on a single charge
Travel case doubles as a charging station
Versatility in brushing activity sets it apart from other models in this price range. With 4 modes and 3 speed settings, you'll enjoy sparkling teeth and clean, fresh breath.
Pros:
Has a premium look-and-feel
4 color choices – black, white, pastel pink and silver
Convenient to use, easy to hold and brush
Long battery life makes it a great travel companion
Automatic reminders to change worn out brush heads
Cons:
Price is higher than entry-level models
Travel case cannot store spare brush heads
If you want an electric toothbrush that combines looks with quality performance at a reasonable cost, then the Sonicare ExpertClean 7500 is the best Sonicare toothbrush for you.

How To Pick The Best Sonicare Toothbrush
Any Sonicare toothbrush comparison is fraught with difficulty.
That's because there are so many variables – and one or more of them may be relevant to you.
So your decision about which Sonicare to buy may differ from another user with other priorities and preferences.
Let's try to compare Sonicare models. But first, let's determine which factors to use in our Sonicare comparison chart.

How To Compare Sonicare Models?
10 Factors That Really Matter!
1. Design:
The best Sonicare electric toothbrush is elegant, slender and weighs less. This makes it stylish and comfortable to use.
2. Cleaning Performance:
With a brush head vibration rate of 31,000 to 62,000 BPM, the best Philips Sonicare toothbrush is impressive at cleaning. Sonic action ensures deep cleaning. It removes dental plaque, whitens teeth, and makes your breath fresh and clean.
3. Smart Timer With Pacer:
An inbuilt timer ensures adequate cleaning for 2 minutes. Following American Dental Association (ADA) recommendations, the best Sonicare toothbrush models all have a quad-pacer to indicate when it's time to move to another quadrant.
4. Pressure Sensor:
This turns off the toothbrush or automatically reduces intensity when you press down too hard while brushing. It helps avoid injury to sensitive gums and teeth.
5. Long Battery Life:
A single recharge will usually last for almost 3 weeks of typical use. This is much better than other electric toothbrush brands, and makes the Sonicare an ideal travel toothbrush.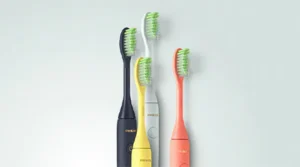 6. BrushSync:
This novel technology synchs the brush head with the handle to track when the bristles are worn out. You are notified when it's time to replace the brush head.
7. Ideal for Travel:
Several features like the excellent battery life, tough and durable travel case, storage space for spare brush heads, and compact size make the best Sonicare toothbrush a great travel companion.
8. EasyStart:
The biggest hurdle with a new electric toothbrush is getting used to the unfamiliar noise and sensation. EasyStart gently eases beginners into the process. By initially operating at lower intensity, and gradually building up power over two weeks, it improves the likelihood of sticking with electric toothbrushes.
9. Wireless Bluetooth Connectivity:
Many Philips Sonicare toothbrush models include wireless communication with a smartphone app. It records brushing data and offers realtime feedback to help improve cleaning effectiveness.
10. SenseIQ:
Advanced AI-based tracking technology in the Sonicare 9900 Prestige premium model gathers data about movement, pressure, brushing time, frequency and regularity. Based on this information, your toothbrush offers personalized guidance and feedback to get better results.
Other features might also help compare Sonicare models to decide which Sonicare toothbrush is the best. They include issues like:
maximum-power settings
choice of operating modes
brush head cross-compatibility
UV sanitizer for brush heads
recharging stations
Best Sonicare Toothbrush : Cost
How much does the best Sonicare electric toothbrush cost?
If you're on a limited budget, which Sonicare toothbrush is best?
The price range for Sonicare toothbrushes varies widely. Some models cost just $25. Others go as high as $379.
(A word of caution: Don't believe what online retailers quote. That's just their 'list price'. Some exaggerate this figure, just so that the discount they offer appears bigger!)
So when you compare Sonicare models, you should also compare prices carefully. Only then can you find the best value for a Sonicare toothbrush.
And also keep this in mind.
There are often special sales, discounts and offers. They can also save you money. If you've decided which Sonicare toothbrush to buy, then you can time your purchase around such deals… and get the best rates.
Is the Best Sonicare Toothbrush Better Than Oral-B?
Both Sonicare and Oral-B are excellent brands in the electric toothbrush market. They offer an extensive range of quality products.
Devices from both brands can boost dental hygiene, clean teeth, remove plaque and stains and enhance your oral health.
So it isn't easy to tell if the best Sonicare toothbrush is better than a popular Oral-B electric toothbrush. The Philips Sonicare vs Oral B debate is nowhere close to being settled.
Let's compare Sonicare models against Oral-B toothbrushes and see how they fare.
Advantages of the Best Sonicare Toothbrush
Sleek, elegant and beautifully designed
Sonic cleaning action at high frequency (31,000 to 62,000 BPM)
Gentle and ideal for sensitive gums and teeth
Liquid propulsion technology effectively removes plaque
Features like Brush Sync and EasyStart offer advantages
Benefits of the Best Oral-B Toothbrush Models
Circular/rotatory cleaning movement is more comfortable
Less expensive, so many more can afford them
Oral-B offers a comprehensive and inclusive warranty
Top models have a range of features comparable to Sonicare
So there's little to choose between the two giant brands.
Your choice between a Sonicare or Oral-B electric toothbrush will more often depend on personal preferences and your unique needs.
Best Sonicare Toothbrush : Other Contenders For The Crown
There are a few other models that qualify as the best Philips Sonicare toothbrush – depending on your unique needs.

1. Philips Sonicare FlexCare Platinum Connected
It offers three brushing modes: Clean, White, and Deep Clean.
BrushSync technology notifies you when the brush head wears out.
A pressure sensor keeps you from brushing too hard.
Battery life is excellent.
The device comes with a travel case.
The Sonicare FlexCare Platinum Connected toothbrush also features Bluetooth connectivity and a smartphone app. It keeps track and offers personalized coaching.

2. Philips Sonicare Essence+
The Sonicare Essence+ is an inexpensive electric toothbrush with some cool features.
A two-minute timer and quadpacer ensure adequate and complete cleaning.
Battery life lasts up to two weeks on a single charge.
It is a good toothbrush for travel.
It's excellent at cleaning, but lacks some advanced features.
A travel case is part of the package.
This model is ideal for shoppers on a limited budget.

3. Sonicare HealthyWhite+
The Sonicare HealthyWhite+ offers effective whitening through a combination of sonic technology and specialized brush heads.
There are 2 cleaning modes – Standard and Whitening (for stain removal).
EasyStart functionality eases new users gently into using an electric toothbrush.
It's elegant and comfortable to use.
The only minor drawback is a slightly poorer battery life. It may require more frequent recharging.

4. Philips Sonicare ProtectiveClean 5300
Sonicare ProtectiveClean 5300 is an updated and redesigned model with many improvements.
The toothbrush is cross-compatible with most Sonicare replacement brush heads.
A timer, pacer and pressure sensor make brushing easy, painless and more effective.
The instrument is elegantly designed. Brush heads can easily be snapped on and off.
5. Sonicare ProtectiveClean 6500
A Sonicare ProtectiveClean 6500 electric toothbrush removes dental plaque effectively and cleans teeth thoroughly.
A choice of several cleaning modes lets you choose the right one for specific needs.
Battery life is excellent, making this a good option for frequent travellers.
It costs a bit more than other comparable models, but offers value for money by enhanced performance and extra features.
(Note: All the models reviewed here were listed on the Philips Sonicare website as currently available.)
Best Sonicare Toothbrush FAQ
1. Which is the best Sonicare toothbrush for travel?
The best Sonicare toothbrush for travel would be a toss up between:
Both are excellent toothbrushes with long battery life and sturdy construction. Travel cases are tough and strong to protect the instrument on trips. They even have storage space for spare brush heads.
Which Philips Sonicare to buy will depend on other constraints like your budget and nature of your travel (international trips may need suitable power adapters).

2. Which is the best Sonicare toothbrush for recessive gums?
The best Sonicare toothbrush for recessive gums is the Sonicare ProtectiveClean 6100 model.
It was designed especially for users who suffer from periodontal diseases like gingivitis. The Optimal Gum Care brush head is crafted with soft bristles that won't injure your gums – but remain effective at removing plaque and debris.

3. Which is the best Sonicare toothbrush for under $100?
The best Sonicare toothbrush for under $100 is the Philips Sonicare ProtectiveClean 5100.
Though more expensive than the Sonicare ProtectiveClean 4100, it offers many additional features that make it a great option if your budget is around $100.
4. What's the best Sonicare toothbrush for under $50?
The best Sonicare toothbrush for under $50 is undoubtedly the Philips Sonicare ProtectiveClean 4100.
It's priced around what an entry-level model costs, but includes some amazing features that add great value. And it delivers an impressive performance at plaque removal and cleaning teeth.

5. Which is the best Sonicare toothbrush for family or group use?
The best Sonicare toothbrush for family or group use is one that
a. offers cross-compatibility with a range of brush heads
b. offers a choice of brushing modes to meet unique needs
Most of the premium Sonicare models meet this requirement. You can choose between the Sonicare ProtectiveClean 6100, or the Sonicare DiamondClean Smart, or even the Sonicare ExpertClean 7500.

6. What's the best Sonicare toothbrush for premium features?
The best premium Philips Sonicare toothbrush is clearly either the Sonicare DiamondClean Smart model or the ultra-deluxe Philips Sonicare 9900 Prestige.
Both are loaded with amazing features (and all the bells-and-whistles you could wish for) – but this functionality comes at a higher price.
7. Which is the best Sonicare toothbrush for long battery life?
The best Sonicare toothbrush for battery life is harder to pick – because all Sonicare models have excellent batteries.
Typically, a single full recharge lasts for at least 2 weeks of regular use… and often upto 21 days. This is far longer than other brands like Oral-B or Waterpik.
So, what Sonicare toothbrush should I buy?
Well, the one that offers other features you need… because you're guaranteed battery life will be excellent!
8. Is 'cheap' really 'best' – or are costly models better?
Economy models in any Sonicare toothbrush compilation may not be deluxe versions. But they still provide an efficient brushing action, making them excellent value for money.
Top of the shelf premium toothbrush models have some high-end features that may appeal to you.
9. What if the toothbrush I choose isn't right for me?
Oh, there's something that'll take away any risk or fear you might have about trying this out… a rock-solid Philips Sonicare warranty.
Most Philips Sonicare toothbrush models come with a 90-day guarantee. If you don't like it for any reason at all, you can return your purchase and get your money back (but check if you're eligible).
Conclusion
Maybe you prefer to buy a Sonicare toothbrush with certain features, regardless of price.
Or you may want a model which can deliver on specific promises – without breaking the bank.
Or perhaps you're one of the typical budget-conscious value-seekers who want to get the best bang for your buck.
Either way, you can't go wrong with one of these great Sonicare toothbrush models.
Which one is your first choice?
Let me know – by leaving a comment below.
See our ULTIMATE Electric Toothbrush Buyer's Guide - and make an informed and smart choice.