Philips Sonicare ExpertClean 7500 is a recent introduction into the stellar Sonicare line of electric toothbrushes. This Philips Sonicare ExpertClean 7500 review will help you decide if it's right for you.
In this Philips Sonicare ExpertClean 7500 review you'll learn about its great features that include
3 power levels of cleaning,
4 distinctive modes,
excellent battery life (with in-case recharging) and
reminders to let you know when it's time to change brush heads,
You really can't ask for much more in a state of art electric toothbrush.

(Last updated: August 25th, 2023)
TABLE OF CONTENTS: What's In This Review
About Sonicare ExpertClean 7500
Philips Sonicare ExpertClean 7500 Electric Toothbrush

'A Dentist's Daughter' Rating: (4.9/5)
The Philips Sonicare ExpertClean 7500 electric toothbrush is a nicely designed, user-friendly, and feature-loaded model with excellent battery life – available at a reasonable price that makes it great value for your money.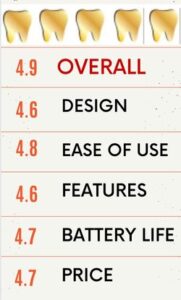 So… should you get this model?
Pros:
great looking electric toothbrush
offers 4 unique cleaning modes
can be operated in 3 speed settings
in-built timer with quad-pacer
pressure sensor avoids gum and teeth damage
durable construction using quality materials
battery life exceeds 2 weeks
can be charged in the travel case
automatic reminder to replace brush heads
Cons:
no tracking and real-time monitoring
lacks a storage compartment for spare brush heads
a little more costly than other models
So is this the ultimate electric toothbrush?
Or are there any other models like the Philips Sonicare ExpertClean 7500
available today?
Two premium electric toothbrushes come to mind.
Both are amazing devices with a slew of features that offer significant benefits to users. You might look at either of them as alternatives to the Philips Sonicare ExpertClean 7500.
However, the ExpertClean model has some unique advantages which we'll discuss in this Philips Sonicare ExpertClean 7500 review.
So should you get the Philips Sonicare ExpertClean 7500
– or pick another electric toothbrush model instead?
If you're in a hurry and don't have much time to compare between models, you'll probably want to look at these 3 vital questions.
Then make your choice – although you'll gain more information and confidence about your choice by going through the complete, detailed Philips Sonicare ExpertClean 7500 review that follows.
QUICK REVIEW : If You're In A Hurry!
3 Questions To Ask About The Philips Sonicare ExpertClean 7500
1. Does it have any fatal flaws?
If you're wondering if there's a good reason NOT to get the Philips Sonicare ExpertClean 7500 electric toothbrush, the quick answer is…
NO. It's just fine.
In fact, it's more than just fine – it's a GREAT choice
, for almost any kind of user.
You can select from a range of different brushing modes which fit a range of needs including people with sensitive gums and teeth, prior dental work, or those who wear braces or have implants.
And with
diverse speed settings,
a pressure sensor and
in-built timer with quad-pacing,
you'll enjoy top-notch performance that will leave your mouth feeling clean and fresh, your teeth sparkling and white, your smile brilliant and bright.
2. Is there a better electric toothbrush than the Philips Sonicare ExpertClean 7500?
As mentioned above, there are two alternatives that are really good – but whether or not you should get them instead will depend upon your needs.
Maybe you want the most sophisticated technology. Or desire all the bells-and-whistles. And enjoy features like wireless connectivity and advanced record-keeping and real-time feedback. In that case, choose a Philips Sonicare DiamondClean Smart.
Or get the Oral-B Genius Pro 8000 electric toothbrush instead.
These premium models are also more expensive. And you'll get a greater bang for your buck.
The Philips Sonicare ExpertClean 7500 electric toothbrush combines superlative performance with a more affordable price tag
. It offers you the best of both worlds.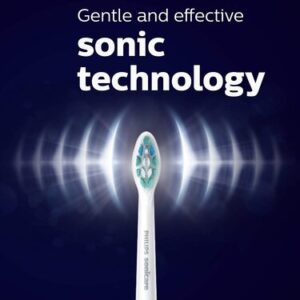 3. Where to buy the Philips Sonicare ExpertClean 7500 toothbrush?
The Sonicare ExpertClean 7500 is now on the shelves at regular retail stores like Target and Walmart, Boots and Safeway.
You can of course order it online. The larger e-commerce Web portals like Amazon.com have reliable stocks of this electric toothbrush. They also offer time-sensitive deals and discounts.
During special periods like on Black Friday, seasonal holidays and even Amazon Prime Day deals, you can save quite a lot by ordering online.
When you buy the Philips Sonicare ExpertClean 7500
on Amazon.com, you'll enjoy the convenience and ease of shopping from home. Your purchase will be delivered right to your doorstep.
It's also possible to get coupons and deals that slash upto 30% off the regular retail price.
HOW TO DECIDE
Is The Sonicare ExpertClean 7500 Right For You?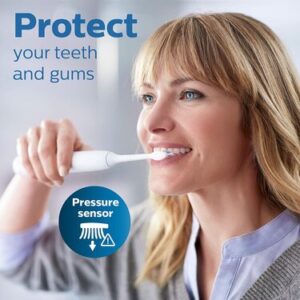 Just as with choosing any electric toothbrush model, the key elements to decide whether or not a Sonicare ExpertClean is ideal for your needs requires careful thought.
Your Needs: The most important aspect in deciding which brand and model to buy is how you plan to use your electric toothbrush.
If all you need is a basic device with little use for fancy features or bells-and-whistles, then this premium electric toothbrush may not be a great choice.
On the other hand, if you want the ultimate in new technology and functions, this is a great option.
Your Budget: As with most things, the quality and range of features you'll get from an electric toothbrush parallel the price you're willing to pay.
A basic no-frills model like the ProtectiveClean 4100 may cost no more than $30. But an elite one like the DiamondClean Smart or Prestige 9900 will set you back a few hundred dollars.
For the price, you'll get excellent value for money from the ExpertClean 7500.
Your Usage Pattern: How you intend to use your electric toothbrush has a lot to do with picking your best model.
Frequent travellers who would like to carry along an electric toothbrush will find this a good model.
If you're disciplined and think you'll clean your teeth regularly for the dentist-recommended 2 minutes, twice every day, then the Sonicare ExpertClean electric toothbrush will be well worth the investment.
Philips Sonicare ExpertClean 7500 Review
If you're still here, it means you're probably not in a rush. And you want to know more details about this electric toothbrush.
So here's a comprehensive Philips Sonicare ExpertClean 7500 review.
Good dental health and oral hygiene are not exactly based on owning the most versatile, feature-rich and high-priced electric toothbrush.
Still, there are so many new advances in technology
related to cleaning teeth and caring for gums. And the best electric toothbrush today is loaded with valuable features with specific advantages. In addition, the best models offer significant advantages over other brands.
Not surprisingly, Philips Sonicare has been at the forefront of this revolution. Along with Oral-B, it is one of the world's most recognized brands of oral care products.
And the latest model in a range of Bluetooth-enabled electric toothbrushes is the Philips Sonicare ExpertClean 7500.
Most reviews compare it against the flagship model, Sonicare Diamond Clean Smart.
While nost experts agree that the DiamondClean is the best electric toothbrush on the market, bar none, they also accept that the ExpertClean 7500 is not much behind.
What is in the package?
Philips Sonicare ExpertClean 7500 toothbrush
2 replacement brush heads (plaque care and gum care)
Recharging station
Travel case (with in-case recharging functionality)
Cable to connect USB to micro-USB
Power adapter
Warranty and other documents

Key Features
The Sonicare ExpertClean 7500 electric toothbrush offers
4 modes of cleaning:
– Clean
– Deep Clean+
– Gum Health
– White+
3 speed settings for intensity
travel case with in-case charging
pressure sensor to avoid damage to gums and teeth
timer with pacer to ensure adequate cleaning
auto-reminder to replace brush heads on time
automatic power-off to conserve battery
long-lasting battery life (over 2 weeks on full charge)
Philips Sonicare ExpertClean 7500 Review : Design & Function
Many Philips Sonicare ExpertClean 7500 reviews compare the electric toothbrush in appearance and performance with the well-known and popular premium Sonicare DiamondClean Smart model.
In design and aesthetics, Sonicare electric toothbrushes are usually a cut above the others. The Philips Sonicare ExpertClean 7500 electric toothbrush
is no exception. It features a classy, stylish design and comes in a choice of 4 different colors
White
Silver
Black
Pastel Pink
When it comes to usability, the Philips Sonicare ExpertClean 7500 is comfortable and convenient. The handle is chunky and fits securely in your hand, without becoming slippery while wet. This despite the fact there are no grooves or projections to enhance the grip.
It's Ergonomically Superb
Assembling and using this electric toothbrush is easy and quick.
All you have to do is snap the brush head onto the handle with a click and you're good to go. To replace it with another brush head, simply tug on the head to remove it.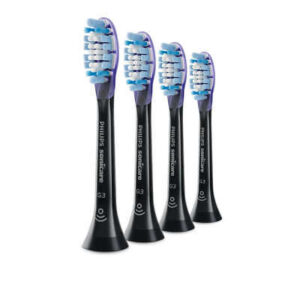 Every electric toothbrush head is angled so that you get easy access to crevices between and behind your teeth. The patented sonic action achieves even further cleansing in hard to reach corner. Therefore it delivers an effective performance.
The brush handle has a control panel to regulate the speed and mode settings of a Philips Sonicare ExpertClean 7500
. An indented power button turns on the device. An icon of 3 bars illuminates to indicate the speed and intensity of brushing.
The speed can be adjusted using buttons beneath this icon. Repeatedly pressing the button cycles through various speed settings.
Cleaning effectiveness varies by speed, but at higher brushing intensity, new users and those with sensitive teeth or gums are likely to feel more uncomfortable.
Choice of Brushing Modes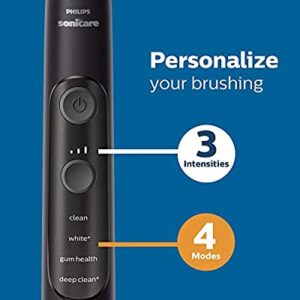 The Philips Sonicare ExpertClean 7500 offers a choice of 4 different modes
for brushing your teeth.
Clean: regular cleaning mode, most commonly used
Deep Clean: more intensive clean, greater force for effective brushing
Gum Health: optimized for gum health and to massage gums while boosting circulation
White+ : intense cleaning mode, useful to remove stains from teeth
Not only do the different modes allow intensity and speed settings to be altered, but they also vary by the duration of cleaning.
The default 'Clean' setting brushes for a dentist-recommended 2 minutes. Other modes extend for a longer period to achieve enhanced results.
A nice distinction that sets this model apart from predecessors is that it allows the mode to be preset before turning on the instrument. This helps prevent spattering of toothpaste as you attempt to find your mode of choice.
Most users will operate the electric toothbrush in only one mode. But it's nice to have the facility to increase speed and intensity for specific purposes.
Brush & Battery Indicators
A handy feature is the presence of indicators that let you know when it's time to replace brush heads or recharge the battery.
The brush head LED lights up when the bristles wear out, reminding you that a replacement is due.
The battery charge LED, with 3 parallel bars, offers visual feedback on the amount of charge remaining.
When the battery is full, all 3 bars are lit up. If only 10% of charge remains, only 1 is bright. When you are almost out of juice, an amber light flashes to announce an impending end to a brushing session.
Interesting Design Twists
Tiny but functionally effective design elements make the Philips Sonicare ExpertClean 7500
interesting.
At the bottom of the handle there is a little recess. This is to allow a vertical prong on the charging station to fit while recharging the battery.
A little button-like nodule at the base of the handle protrudes out from the smooth slickness of the brush. When you lay the brush flat on a countertop, this protrusion helps keep it from rolling off the flat surface.
Of course, the wide and flat base of the handle allows the brush to be stored in a vertical or upright position, too.

Philips Sonicare ExpertClean 7500 Review : Performance & Efficiency
Housed in the brush handle are the motor that powers the brush head, a rechargeable battery
, and other electronics that drive the device.
The motor rotates a shaft that runs through the handle and into a rod that slots into a replacement brush head. This translates the motion into sonic vibration at 62,000 RPM, creating a vortex that cleans effectively between and behind teeth.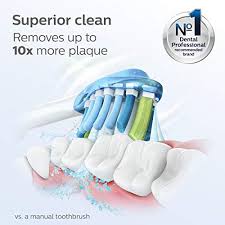 The rapidly vibrating brush head skims over the surface of teeth, removing particulate debris and stains to leave your mouth feeling clean and fresh.
To boost the cleaning effectiveness, it is possible to cycle through 3 different speed settings
for more powerful brushing. With 4 modes for diverse purposes, each running at 3 intensity levels, there are 12 options to match your unique needs.
The brush handle is sealed tight against leaks, and rinsing it under running water is safe. However, it is wise not to immerse it entirely under water.
Timer & Quad Pacer
The Philips Sonicare ExpertClean 7500
, like other Sonicare electric toothbrushes, comes with an inbuilt timer and quad-pacer.
An automatic timer is a nice aid to ensure that you brush for an adequate duration. Most dentists recommend brushing for two minutes per session.
Unless you are highly focused on the action, it is easy to stop brushing sooner. This means you do not get the greatest value from your electric toothbrush. A timer automates this process, and optimizes your dental health.
The quad pacer is another neat addition to encourage you to clean all parts of your mouth uniformly. Every 30 seconds, the motor slows down temporarily and an audible beep sounds to indicate that it's time to move to another quadrant.
For convenience, you can divide the areas of your mouth into 4 quadrants – an upper and lower right, and upper and lower left.
Instead of being absent minded and cleaning only some areas and ignoring the rest, a quad pacer can indicate when 30 seconds are over and you can then switch to another quadrant.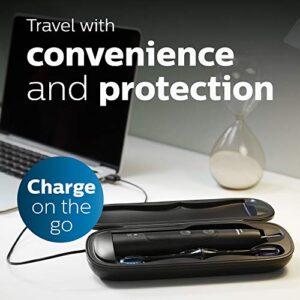 The end result is that you get better performance and more uniform cleaning that
avoids dental plaque build up,
prevents cavities and
keeps your teeth sparkling white and
gums healthier.
At the end of a two minute brushing session, your toothbrush will switch off automatically. This conserves battery power and gives you feedback on how long to brush.
Study the user manual to understand how this works.

Philips Sonicare ExpertClean 7500 : Extra Functions
There are a few additional features and functions to highlight in this Philips Sonicare ExpertClean 7500 review which will distinguish this new model from others like it.
Pressure Sensor
The Philips Sonicare ExpertClean 7500
has a pressure sensor to avoid pressing down too hard on your teeth. This is particularly useful in those with sensitive gums, gingivitis or prior dental surgery or implants.
If you are switching over to an electric toothbrush after using a manual toothbrush for a long time, it is natural to try and press down just as you've always done. However, with an electric toothbrush, this is not necessary.
Since the cleaning effect is provided by the rapid to and fro movement of the brush head and not by how much pressure you apply, it is only necessary to skim the brush lightly over your teeth. In fact, pushing down hard may cause damage to teeth and gums.
The pressure sensor in a Philips Sonicare ExpertClean 7500 electric toothbrush safeguards against this. If the device sense too much pressure, it will instantly reduce motor power, or even temporarily switch off the device.
In addition, an audible beep and a flashing indicator let you know there's a problem to be fixed. Once you ease off on the pressure, the device switches back on automatically.
This routine kicks in as often as necessary during a brushing session. The goal is to prevent accidental damage to gums and teeth, a nice function for users with sensitive gums and teeth.
Easy Start
For first time users of an electric toothbrush, the experience can initially seem strange and even uncomfortable. Because this may discourage effective use, the Philips Sonicare ExpertClean 7500
comes with an EasyStart function to gradually introduce users to this device.
If you start off at 31,000 or 62,000 RPM, the vibrations and buzzing sensation may be uncomfortable. To avoid this discomfort, the EasyStart feature allows brushing to begin at a fraction of this intensity and gradually work up over the next 14 cleaning sessions.
For long term compliance and regular use of an electric toothbrush, it matters most how comfortable and pleasant the experience will be. Easy Start has the potential to introduce new users to the joys and advantages of using an electric toothbrush.
Brush Sync
Sonicare first introduced BrushSync in the flagship model DiamondClean Smart. This is a feature that reminds you to replace worn out brush heads.
With the Philips Sonicare ExpertClean 7500 electric toothbrush
, BrushSync functionality is integrated seamlessly. Whenever your brush head has bristles that are worn out and splayed, an indication shows up on the brush handle.
An amber glow indicates that it is time for a brush head replacement. Another advantage of Brush Sync is in pairing a brush head with the most appropriate brushing mode.
Embedded in various types of original Philips Sonicare replacement brush heads is a chip that can be sensed by the technology embedded within the Philips Sonicare ExpertClean 7500 toothbrush.
The head is tracked so that the best and most appropriate brushing mode can be automatically activated.
This means that a Plaque Control brush head will activate the regular Clean mode, while a Gum Care brush head will operate in Gum Health mode instead. The choice to override this automatic selection still remains to the user.
For Brush Sync to work its magic, you must use only authentic replacement brush heads manufactured by Philips Sonicare. Other kinds and brands of brush heads will work with the handle, but the mode pairing and reminder alert functionality of BrushSync will not be available.
Bluetooth Wireless Connection
Like other premium electric toothbrush models, the Philips Sonicare ExpertClean 7500 comes with Bluetooth wireless connectivity
.
This means that you can store and review brushing data from a companion smartphone app. The application logs, stores and tracks data from your brushing activity.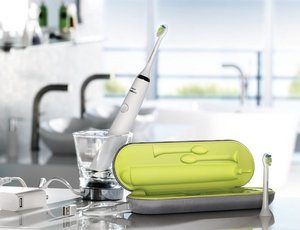 It documents details such as
how long you brush
how often you clean your teeth
the amount of pressure you apply
whether you cover all quadrants
and much more
Not only does the Bluetooth connectivity provide real time feedback, it also offers suggestions to optimize your brushing activity. The value of this is clear when you review brushing performance and realize that the outcome is far superior than it might have been.
The Smartphone app
saves data from your toothbrush handle, and allows later retrieval, analysis and reporting. The brush itself stores data for upto 7 days.
Beyond this point, you will need to transfer it to the app by synchronizing the devices. Otherwise, newer data will overwrite older information – which will be lost forever.
It is possible to personalize your app in several ways. You can also use it to order replacement brush heads at the right time, or even collect useful information about dental health and oral hygiene.
Recharging Station
The Philips Sonicare ExpertClean 7500 comes with a recharging station for the battery
.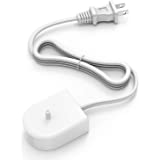 Along with the station, you'll receive
a charging stand
travel case (with in-case charging)
USB power adapter
connector cable (USB to microUSB)
instruction manual
This charging station can be used to replenish the battery after regular use. It is connected to a wall power socket, or can be linked to a laptop computer using the included cables.
Instruction Manual
A user manual accompanies the Philips Sonicare ExpertClean 7500 and explains ways to get the best value from your purchase.
For new users who have not brushed with an electric toothbrush, this can be a helpful guide to get started
. Deploying powerful technology in the right way can bring several benefits. This instruction manual will guide you step by step through the process.
Warranty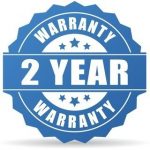 The Philips Sonicare ExpertClean 7500 electric toothbrush comes with a two-year warranty against manufacturing flaws and defects. However, problems caused by incorrect or careless use are not covered under this warranty.

Philips Sonicare ExpertClean 7500 Review : Rechargeable Battery
The lithium ion rechargeable battery that powers a Philips Sonicare ExpertClean 7500
has a typically excellent long life. It can last for over 14 days on a single full recharge with typical use.
This means that recharging the battery will deliver 58 minutes of performance. This works out to brushing your teeth twice every day for the dentist-recommended duration of 2 minutes.
This estimate is a broad generalization.
Depending upon the mode and intensity of use, your battery life may vary slightly. In the most frequently used Clean mode, a single recharge lasts for almost 25 days.
You'll know when it is time to recharge the battery by the indicator LED on the brush handle.
When all 3 bars are lit, the charge is close to 100%. A single bar indicates a remaining charge of only 10%. When the brush dangerously runs out, an amber light flashes to let you know it must be recharged immediately.
If you allow the electric toothbrush to drain entirely, it takes upto 24 hours to recharge fully. When you place the toothbrush on the recharging station, it beeps to indicate that charging is underway. A light on the LED indicator also blinks.
Once fully charged, all 3 bars on the LED indicator glow steadily. There is no harm in leaving the brush on a charger overnight.
Charging is also possible with the travel case, especially when you are travelling. Using the cable to connect microUSB to USB, the device can be hooked up to a laptop computer and charged.

OUR RECOMMENDATION
Philips Sonicare ExpertClean 7500 Review
From this Philips Sonicare ExpertClean 7500 review it is clear that like any Sonicare brush, this one is also a high quality device that delivers top class performance and is very reliable.
It looks sleek and stylish with a finish that reflects the quality of its construction. A Philips Sonicare ExpertClean 7500 is comfortable to hold and use, convenient even for a first-timer to operate, and delivers great cleaning performance.
There's no question at all that this is a premium electric toothbrush with a slew of features and advantages to thrill even the most demanding user.
Bluetooth wireless connectivity hooks it up to a smartphone app, allowing you to track, monitor and record brushing data.
A timer with quad pacer helps ensure uniform cleaning.
A pressure sensor helps avoid accidental injury to teeth and gums.
The choice of different modes and intensities allows greater control.
Additional features such as in-case battery charging, Easy Start functionality for new users, BrushSync to remind you when it's time to replace brush heads and little innovations in design and controls make this a delightful choice of electric toothbrush.
If what you're looking for is a mid-range model that delivers superlative brushing performance at an affordable cost, then the Philips Sonicare ExpertClean 7500 is a reliable model from a trusted brand.
While you can buy it from a retail outlet, there are many advantages to ordering the Philips Sonicare ExpertClean 7500
online from Amazon.com, including convenient and prompt home delivery and special deals or discounts that could save you money.
Order from the comfort of your home from Amazon's online portal.
Hopefully this Philips Sonicare ExpertClean 7500 review
helped you decide. If you have any other questions or comments about this new model of electric toothbrush, please leave a comment below.
VIDEO: Philips Sonicare ExpertClean 7500 Review
Why Trust 'A Dentist's Daughter' To Guide You?
We are NOT dental professionals or healthcare providers. We are regular consumers, just like you. And our electric toothbrush reviews are written from that perspective.
Our goal is to conduct a thorough analysis of the electric toothbrush brands and models that are reviewed on this site. The aim is to save you time and trouble finding this information yourself, by compiling it for you in an easy-to-consume form.
These electric toothbrush reviews are not a substitute or alternative to medical advice. You should always listen to your dentist or dental professional before deciding what to buy.
Going through these electric toothbrush reviews and reading our Buyer's Guide to the Best Electric Toothbrush can help you become more informed consumers.
No brand, manufacturer or dentist influences our reviews in any way. And while we may get a commission for any purchase online made through this site, that will never be the reason why we recommend or suggest a particular brand or model of electric toothbrush.
'A Dentist's Daughter' is about providing you with fair, balanced and unbiased information about electric toothbrushes – so that you can make informed choices.
See our ULTIMATE Electric Toothbrush Buyer's Guide - and make an informed and smart choice.