The Philips Sonicare ProtectiveClean 5300 electric toothbrush is just like its close cousin the ProtectiveClean 5100 model. It is excellent value for money. In this Philips Sonicare ProtectiveClean 5300 review you'll learn all about it. Afterwards, you can decide whether it's right for you.
It is one of the best value for money choices in a galaxy of excellent electric toothbrushes from Philips Sonicare. That's why the ProtectiveClean 5300 deserves your attention.
This Philips Sonicare ProtectiveClean 5300 review will explain the powered by BrushSync technology and several other innovations. Together these have made Sonicare a globally appreciated brand. This handy electric toothbrush ensures great cleaning and better oral hygiene.
In A Hurry?
Maybe you're in a hurry and don't have much time to go through a detailed review of the Sonicare ProtectiveClean 5300 electric toothbrush. Well, here are 3 quick questions.
The answers will help you decide whether or not this is a good choice for you.
1. Is there any particular reason why this may not be a good choice?
No. It's a great choice.
As every Philips Sonicare ProtectiveClean 5300 review will affirm, there are no serious flaws or problems with this model. So you will not regret choosing it. In the rest of this review, you'll learn more details about them.
2. Where can you buy the Sonicare ProtectiveClean 5300 electric toothbrush?
The best prices are often available on e-commerce portals like Amazon.com which also allows the convenience of having your purchase delivered to your doorstep. You can also pick up the toothbrush at physical retail outlets like Target, Walmart or Walgreens.

3. Are there better choices to the Sonicare ProtectiveClean 5300 model?
As a mid-range electric toothbrush with an affordable price, there are few others to compare with the Sonicare ProtectiveClean 5300.
The Philips Sonicare ProtectiveClean 5100 is of course a near-identical twin with color and brush head numbers being the only difference.
If you're looking for a top-shelf option with bells and whistles, then the Sonicare DiamondClean Smart 9300 and Oral-B Genius Pro 8000 are excellent choices. But expect to pay more for the extra functionality.
Sonicare ProtectiveClean 5300 – At A Glance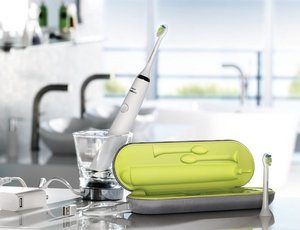 The Philips Sonicare ProtectiveClean 5300 is an almost perfect clone of another extremely popular, versatile and bestselling electric toothbrush. You can see a full Philips Sonicare ProtectiveClean 5100 review here.
The brush handle on the Sonicare ProtectiveClean 5300 comes in only gray-black. In this respect it is different from the Sonicare ProtectiveClean 5100 which offers a choice of 3 colors. This and the inclusion of two extra replacement brush heads in the box are the only significant differences between the two models.
Any Philips Sonicare ProtectiveClean 5300 review will confirm that some excellent features set this apart from other rivals.
You get a choice of 3 cleaning modes. The toothbrush has a pressure sensor that lets you know whenever you press down too hard. This helps avoid damage to gums and sensitive teeth. The battery life is excellent and lasts for weeks on a single charge.
Full Sonicare ProtectiveClean 5300 Review
The Philips Sonicare brand includes a vast array of electric toothbrush models. Broadly they fall under three categories. The Sonicare ProtectiveClean 5300 is right in the middle.
The model's biggest benefit is the features and value it offers for a modest and affordable price. If there was one feature above all else to recommend the Sonicare ProtectiveClean 5300 over others, it would be the new BrushSync technology that optimizes the cleaning experience and ensures that you'll automatically be reminded when it's time to change to a new replacement brush head.
What's Inside The Box?
When you order the model, this is what you'll find in the box:
one Sonicare ProtectiveClean 5300 brush handle
one Optimal Gum Care G2 brush head
two Optimal White W2 brush heads
recharging station
travel case
warranty and user manual

Sonicare ProtectiveClean 5300 Features
Sonicare's patented sonic cleaning movement at 31,000 per minute
Operates in 3 cleaning modesl – Gum Care, White and Clean
Inbuilt timer with quad pacer
Auto shut-down functionality
BrushSync technology for optimum cleaning
Pros:
elegantly designed
ergonomic, easy to hold and brush
3 cleaning modes for different needs
2 minute timer to ensure thorough cleaning
quad pacer to achieve equal brushing
BrushSync to remind you about replacing brush heads
pressure sensor avoids damage to gums and sensitive teeth
auto shut-down to conserve battery power
exceptionally long battery life
sturdy travel case keeps your brush safe on trips
Cons:
no visual feedback for pressure sensor
price is a bit higher than basic models

As mentioned earlier, this model is almost the same as the Philips Sonicare ProtectiveClean 5100. However it is especially more interesting for users with specific needs from their electric toothbrush.
On the other hand, if you use a variety of brush heads to meet these needs, then you may find the ProtectiveClean 5300 a lot better than the 5100 model.
Design, Usability and Efficiency
The Philips Sonicare ProtectiveClean 5300 is a nicely designed, planned and created product. From the moment you unbox your purchase, you'll be impressed at how elegant and sleek the device looks and feels.
Here are some highlights:
design is rounded smoothly for comfort and ease of use
the handle is smooth with no ridges or bumps
it is light and convenient to hold and brush
a sedate black-gray color looks professional
compatible with a range of replacement brush heads
Angling of the Brush Head
A unique design element of the Philips Sonicare ProtectiveClean 5300 is that there is a little tilt to the head.
When attached to the handle, the brush head is at an angle. This allows easier and better access to the area behind your molars. So plaque removal is more effective. Your mouth will feel clean and fresh after brushing.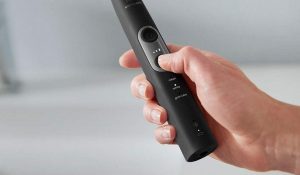 Control Buttons
On the handle are a series of buttons to control specific functions. They are situated conveniently to operate while you brush.
The first button is the Power On/Off switch that turns the electric toothbrush on. The next one below it helps cycle between the three different brushing modes allowed by the Sonicare ProtectiveClean 5300.
The handle is gently curved to fit more snugly into your palm and gives you a better grip while wet. Everything feels smooth to the touch. Also, the weight isn't so much that you'll feel fatigued after a while.
All buttons are easy to operate. A plastic panel sets them apart from the surrounding handle and yet looks appealing.
Cleaning Modes
To switch between the choice of 3 different cleaning modes on the Sonicare ProtectiveClean 5300 electric toothbrush, you simply press a button.
When you press on the mode change button an LED lights up. They indicate whether the Clean, White or Gum Care mode is operational. To change from one mode to the next, simply keep the button pressed. The LED lights up under the appropriate mode.
You can change the brushing mode midway through your brushing session. When you switch off the device, the last mode is stored in memory. Consequently, you won't have to reset it for each session.

LED Indicators
In addition to the LEDs that indicate what mode is operational, there are two more near the bottom of the handle.
One of them is a battery level indicator. It lets you know when the charge is running low by glowing orange or red. There is also a BrushSync LED at the lower end of the brush handle.
A tiny projection near the bottom of the handle is helpful in preventing the toothbrush from rolling off a counter top. The brush stands upright when recharging on the station.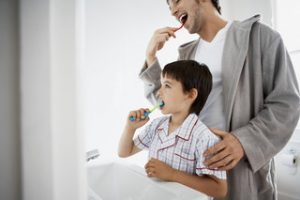 Battery & Motor
At the top of the brush handle is a metal shaft to which a replacement brush head can be fixed. The shaft is attached to a motor in the brush handle. In turn, the motor is powered by a Lithium ion battery and conveys movement to the brush head.
Brush Heads
Replacement brush heads for the Philips Sonicare ProtectiveClean 5300 electric toothbrush are easy to attach. You just snap one on the handle shaft and it clicks into place. To remove it, you simply pull it off.
The Sonicare ProtectiveClean 5300 comes with 3 brush heads.
2 of them are Optimal White brush heads that are meant for regular use and promise whiter teeth.
One is an Optimal Gum Care brush head that is softer and intended for users with gum disease or sensitive teeth.

Bristles on Heads
The arrangement of bristles on replacement brush heads sets the Philips Sonicare toothbrushes apart from other competitors. Mainly, the bristles vary in their arrangement, height and firmness.
Some are meant to polish the teeth and remove stains. Others are designed to reach into crevices between teeth. And the rest are structured to remove plaque effectively. Collectively they deliver a good cleaning experience.

Special Features in the Sonicare ProtectiveClean 5300
Any Sonicare ProtectiveClean 5300 review would be incomplete without mentioning the special and unique feature called BrushSync.
This is Sonicare's custom technology that can alert you when the brush head is wearing out and needs to be replaced. Through an RFID microchip that is embedded into these brush heads, the device tracks performance. Electronics in the chip monitor how well it cleans.
Whenever the head gets worn out or the bristles become weak, the BrushSync technology warns you. This maintains performance at the desired level. On average, you must replace a brush head every 3 months.
For BrushSync to work, however, you will need replacement brush heads that are embedded with the chip. Of course, these heads are slightly costlier than third-party alternatives. But considering the advantages, the higher price is worthwhile.
Philips Sonicare ProtectiveClean 5300 Review : Performance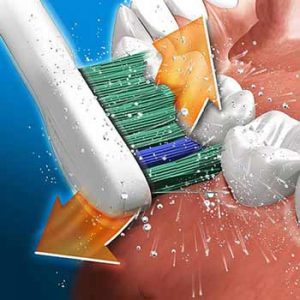 There's no doubt among reviewers that the Philips Sonicare ProtectiveClean 5300 electric toothbrush delivers top class performance.
All three brushing modes are excellent at cleaning teeth and removing plaque.
The most frequently used Clean mode runs in 2 minute cycles. They completely and efficiently clean the teeth. Once in 30 seconds you will be notified that it's time to move to another quadrant.
In Whiten mode, the brushing action is more intense to whiten teeth. The cycle lasts for two and a half minutes. The extra 30 seconds helps polish the front teeth.
In Gum Care mode, the cycle lasts even longer. Out of the three minutes, the first 2 minutes are for cleaning. However, the last minute is for massaging and stimulating the gums. For users with sensitive teeth and previous gum infections or gingivitis, this is ideal.
This is also a less aggressive cleaning mode which avoids pressure or vibration on sensitive and fragile teeth and gums. But it is not possible to adjust the intensity of brushing action. For that you will need a more advanced electric toothbrush like the Philips Sonicare DiamondClean Smart 9300 model.
Pressure Sensor
If you've seen other Philips Sonicare ProtectiveClean 5300 reviews then you'll already be aware of the importance of a pressure sensor. It is easy to unconsciously press down too hard on your teeth while brushing. Therefore, it could cause injury to teeth and gums.
With an inbuilt pressure sensor in the Sonicare ProtectiveClean 5300, this will not happen. Whenever you exert too much force, the vibrations stop.
A visual cue in the form of a glowing LED also alerts you to the pressure. When you ease up on the pressure, the brushing action resumes.
After some time you will get familiar with the right level of pressure to apply. But especially in the beginning, the pressure sensor is a blessing.

Easy Start Program
If this is the first time you are using an electric toothbrush, then Easy Start in the Sonicare ProtectiveClean 5300 is a nice touch.
For the first 14 uses, the Easy Start program ensures that the brush runs at slower speeds and with less force than usual. Also, you will  gradually adjust to the new experience of brushing with an electric toothbrush.
At 31,000 movements per minute, the full strength Philips Sonicare brushing action may be uncomfortable for beginners. Easing in with Easy Start improves compliance and fewer users give up on this effective device.
Expert users have the option to bypass Easy Start and go straight to full power brushing.
Travel Case
A sturdy travel case with storage space for an additional two spare brush heads make the Philips Sonicare ProtectiveClean 5300 electric toothbrush a good pick for frequent travellers.
The toothbrush is compact and convenient to take along on trips. Clearly the battery life of 2 weeks means you won't need to carry along a recharging station.
Sonicare ProtectiveClean 5300 Review : In Summary
In a nutshell, the Philips Sonicare ProtectiveClean 5300 electric toothbrush is a great choice. It is affordably priced, effective at cleaning teeth, and has some lovely features and benefits.
The design is sleek and elegant. The device is user friendly and convenient to handle. It comes in gray-black color and offers 3 different cleaning modes – Clean, White and Gum Care.
An Easy Start program helps ease new users into cleaning with an electric toothbrush. And inbuilt timer and pressure sensor ensure safe and adequate cleaning. Therefore the excellent battery life of 2 weeks makes this a good travel toothbrush.
BrushSync technology offers a convenient reminder when it's time to replace a worn out brush head.
Where To Buy The Sonicare ProtectiveClean 5300
You can purchase the ProtectiveClean 5300 from a retail outlet like Walmart, Target, Safeway or Walgreens. However, shopping online offers some advantages.
You'll get coupons and special deals from time to time that can slash a few dollars off the price. Obviously, you'll also enjoy the convenience of shipping the device to your doorstep.
Amazon.com is one of the e-commerce portals that often offers great deals on the Sonicare ProtectiveClean 5300 electric toothbrush.

See our ULTIMATE Electric Toothbrush Buyer's Guide - and make an informed and smart choice.