Philips Sonicare ProtectiveClean 6100 Review
In this Sonicare ProtectiveClean 6100 review you'll discover why the Philips Sonicare ProtectiveClean 6100
is still a good electric toothbrush. It has been able to hold its own despite the arrival of newer electric toothbrush models. This is primarily because of its excellent cleaning performance.
Many Philips Sonicare ProtectiveClean 6100 reviews rank it in the middle of the field. It's better than the Sonicare ProtectiveClean 5100 and Oral-B. But most reviewers rank it below the Oral-B Pro 1000 electric toothbrush.
Still there's no denying that the ProtectiveClean 6100 brush is a very good model.
It performs brilliantly on any objective assessment of teeth cleaning, and gets rid of most dental plaque. However, some users don't like how it is clunky and hard to use. The clincher for many is the value for money computation. The ProtectiveClean 6100 electric toothbrush is priced a bit higher than other competing brushes.
Pros:
offers 3 different brushing modes
BrushSync tells you when to replace worn out brush heads
includes pressure sensor to avoid teeth and gum damage
battery life is excellent
Cons:
slightly uncomfortable to use
costlier than other comparable models
For a complete run down of this toothbrush, read the rest of our Philips Sonicare ProtectiveClean 6100 review below. But if you're in a hurry, here are 3 quick questions to help you decide whether or not to grab this toothbrush.
1. Does the Sonicare ProtectiveClean 6100 have any serious problems?
It is a worthy representative of the Philips Sonicare stable of electric toothbrushes. There is nothing seriously wrong with the ProtectiveClean 6100
that might knock it out of consideration.
There are several exciting features that may well make it your best electric toothbrush of choice. It comes with several color choices and accessories, although the higher price may turn off a few buyers.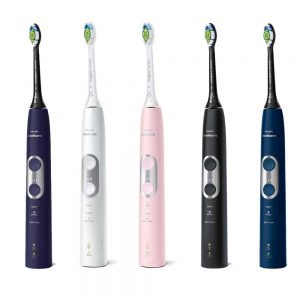 2. What other models are just as good as ProtectiveClean 6100?
The earlier ProtectiveClean 5100 has consistently topped several best electric toothbrush reviews lists for good reason. It has almost the same range of features and options as the ProtectiveClean 6100. It also delivers almost similar performance.
For a top of the line deluxe experience, the Philips Sonicare DiamondClean Smart electric toothbrush is a great alternative to the ProtectiveClean 6100… even if it is a lot more expensive.
Should you consider one of them over the ProtectiveClean 6100? That depends upon your unique needs and requirements. You may find the electric toothbrush buying guide of some help in making this decision.
3. Where can you buy the ProtectiveClean 6100 electric toothbrush?
Like most other Philips Sonicare electric toothbrushes, the ProtectiveClean 6100
is also available in retail outlets and online stores. You can find the model stocked at Walgreens, Walmart, or any high street store that sells dental hygiene products.
Online orders can be placed from the manufacturer's website directly. However, you'll often find great price discounts and special deals on e-commerce outlets like Amazon. In these places you can save money, get some nice freebies and also enjoy a wider range of options.
Now let's go ahead with this Sonicare ProtectiveClean 6100 review, and take a more detailed look at the pros and cons of this Philips Sonicare electric toothbrush.
But first…
Why should you trust us?
'A Dentist's Daughter' is an independent, unbiased resource to review and compare various brands and models of dental hygiene products.
We are not dentists or dental care professionals. We are not sponsored or supported financially by any brand of toothbrush manufacturers. This site intends to help concerned consumers like you who struggle to make sense of the vast amounts of performance data out there.
Because purchasing an electric toothbrush
is not simple or quick, our mission is to sift through the information. We help you identify the most relevant points, and list them for you in a simplified form. This way you can easily understand and quickly consume it.
Hopefully this will help you make an informed buying decision. We do recommend products, but not because anyone pays us to. Only because we believe it will be worth your money. And if you order using links on this page, we will earn a small affiliate referral fee. But that definitely is NOT the reason why we recommend an electric toothbrush.
So let's begin with this ProtectiveClean 6100 review.
Sonicare ProtectiveClean 6100 Review
The ProtectiveClean 6100 electric toothbrush isn't as great at cleaning as the best electric toothbrush of 2021 – the Oral-B Pro 1000. But it is gentler on teeth and gums. This makes it a far better option than the Oral-B 1000 for those with sensitive teeth and gingivitis or periodontal problems.
And while the ProtectiveClean 6100 is a bit more expensive than comparable models, it has a great battery life. There are also a range of other features to justify this price difference.
Any good ProtectiveClean 6100 review should break down an analysis of the electric toothbrush by various facets of performance. We will address the functions and features of Philips Sonicare ProtectiveClean 6100
under 4 heads.
Comfort and User Experience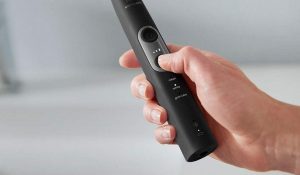 How comfortable is the ProtectiveClean 6100 to brush with?
Most users initially find the Sonicare 6100 a bit uncomfortable to use because it is clunky and slightly thicker. However, 6 out of 10 users say they like how comfortable it is. Even the other 4 quickly got used to it.
Where the ProtectiveClean 6100 knocks out other competitors is with users who have sensitive teeth or gums. Almost all of them loved to use this model because it is gentler and kinder to their sore gums.
Even if this gentle brushing leads to a less effective plaque removal, they find this a very acceptable tradeoff because they can brush teeth more regularly without pain or discomfort while using the ProtectiveClean 6100.
It is also less noisy than other electric toothbrushes, with an inbuilt pressure sensor slowing down automatically whenever you press too hard. Both add to the comfort of brushing with the Philips Sonicare ProtectiveClean 6100
.
Easy Start is a unique function for first time users, where the power and intensity of cleaning starts out low and gradually increases over a 2 week period. This is because the full 31,000 stroke intensity can be intense for those who haven't used this device before.
Cleaning the brush handle after use is a little difficult.
Appearance and Design
The brush handle is sleek and sturdy, slim without being clunky. You'll get a firm grip on it while cleaning, which is helpful when the handle turns slippery. Some find the clutter of buttons on the handle a problem.
The brush head is inclined at a slight angle to allow easier access to the space behind the last molars.
The Sonicare ProtectiveClean 6100 comes with a range of color options which makes it appealing to users. Instead of being stuck with a clinical White, you can buy this electric toothbrush
in 5 distinct colors –
Pastel Pink
White Silver
Navy Blue
Black
Deep Purple
Some of these models come with colored brush heads, charging stands or travel cases to match. The design and technical performance is otherwise identical.
A power button turns the device on and off. Another button regulates the brushing intensity. Pressing this repeatedly cycles through different intensity settings.
Three LEDs arranged horizontally indicate the intensity. Another series of vertically aligned LEDs tells you what cleaning modes are available – Clean, White and Gum Care.
An indicator to show battery charge levels is near the bottom, and flashes to indicate when it is time to recharge. A neat design touch is a tiny ridge at the bottom of the handle which prevents the brush from rolling off a counter when placed lying down.
A metal shaft sticks out from the handle over which the brush heads can slot. Heads can be easily replaced by tugging them out, and snapping on a replacement head.
A compact, hinged travel case of strong plastic lets you conveniently and neatly pack the Sonicare ProtectiveClean 6100
toothbrush for trips. There is room for a brush handle and 2 brush heads.
In The Box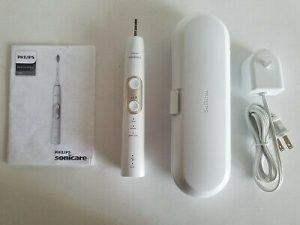 You'll get the following components:
Philips Sonicare ProtectiveClean 6100 electric toothbrush
2 replacement brush heads
travel case
charging stand
warranty
user manual
Cleaning Performance
The Sonicare ProtectiveClean 6100 offers 3 different cleaning modes – and you can adjust brushing intensity to alter the power intensity delivered to the brush head. You can select between three settings – low, medium and high.
Clean mode is a 2 minute cycle for thorough cleaning
White mode is a 2 minutes and 30 seconds cycle to polish front teeth
Gum Care mode is a 3 minute session, including 1 to massage gums
An inbuilt two-minute timer makes sure that you comply with the dentist-recommended duration for cleaning teeth. Automatic power off functionality limits battery life by shutting down the brush after a cleaning session ends.
A quad pacer included in the Philips Sonicare ProtectiveClean 6100
indicates when it is time to move to another quadrant. This helps make sure that you clean all areas of the mouth equally.
A pressure sensor limits the amount of force you can use while brushing. When you press down too hard, the sensor detects the problem and turns off power to the motor. But unlike other Sonicare models, there is no visible indicator that glows red. This helps avoid injury to sensitive teeth and gums.
Effective At Plaque Removal
The Sonicare ProtectiveClean 6100 electric toothbrush removes most dental plaque on several tests. Some have claimed, though, that in hard to reach areas like the inner surface of teeth or back molars, a bit of plaque still remains.
BrushSync is a technology that's designed to let you know when the brush heads are frayed and need replacement. Another advantage is 'mode pairing', where the Sonicare ProtectiveClean 6100 toothbrush
  automatically sense the kind of brush head you are using, and adjusts the cleaning mode to match it. This helps achieve the best cleaning results. Of course, a user can override these automatic selections.
To avail of this functionality, the brush heads also must be BrushSync compatible. You can however continue to use the device with a standard brush head, except that it will mean missing out on the BrushSync benefits.
Here are the types of brush heads that have this feature:
W2 Optimal White
Optimal Gum Care
Optimal Plaque Defence
Premium White
Gum Care Premium
Premium Plaque Defence
While this range of features make the Philips Sonicare ProtectiveClean 6100
an attractive model, there is still very little to clearly differentiate it from other models in the range.
This is why, because of the price constraints, many buyers find it hard to justify purchasing the 6100 from a 'value for money' perspective.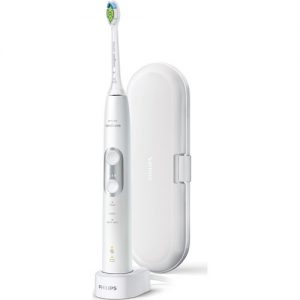 Battery Life of Sonicare ProtectiveClean 6100
The final variable that determines whether or not the Sonicare ProtectiveClean 6100 is a good electric toothbrush for your needs is the battery life.
Like any Philips Sonicare electric toothbrush, the lithium-ion battery technology of the Philips Sonicare ProtectiveClean 6100
is excellent. But because of the range of cleaning options available, the operating longevity of the battery on a full charge is a little under 3 weeks of regular use.
This is somewhat less than other models like Sonicare Essence and Sonicare DiamondClean, though superior to almost all Oral-B electric toothbrushes.
Even if you travel frequently, an electric toothbrush that holds charge for 3 weeks is good enough for most users. In the event your usage is heavy and the battery runs out, you can always carry a charging station along.
The battery is rechargeable, but cannot be removed or replaced by a user. Charging is by placing the device on the base of a charging station, which is attached by a cable to power outlets. A prong on the base fits into the bottom of the brush handle.
Charging is through induction and can be safely performed even in damp environments.
A full recharge takes 24 hours. The battery indicator LED flashes to indicate low charge. When fully charged, the indicator glows green before switching off.
Where To Buy The Sonicare ProtectiveClean 6100
Many a Sonicare ProtectiveClean 6100 review
tries to convince you to immediately click on a link and purchase the device right now. While there's good reason to buy your electric toothbrush online, you could also pick one up at a neighborhood retail outlet.
It's always nice to get a deal or discount on anything you buy. And for an electric toothbrush that's priced around $100, being able to get 20% off is a nice saving.
Strange as it might seem, online retail outlets seem to have perpetual deals going on. This means you can typically get a Sonicare ProtectiveClean 6100 electric toothbrush from Amazon or another e-commerce website – and pay 20%, or even 50% less with a coupon or special offer.
Part of the reason is that these outlets don't have exorbitant costs of maintaining a showroom or hiring staff or stocking expensive inventory. So they pass on their reduced costs to you in the form of a discount.
You might do well to order the Sonicare ProtectiveClean 6100 from Amazon, especially if saving a sizable amount is of value.
You might also get some extra accessories thrown in instead of a price discount, which eventually works out to a similar saving. If you get 2 replacement brush heads for free, you'll save around $20 on buying them separately.
Durability and Warranty
Any mechanical and electrical device has a limited shelf life. No manufacturer guarantees perfect performance forever. But the durability of a Sonicare ProtectiveClean 6100 toothbrush
is extremely good, and your purchase comes with a Philips Sonicare warranty that safeguards your purchase against technical defects.
As long as you use the device in accord with the manufacturer's specifications, you have little cause for concern. And in the rare event that there's a malfunction, your warranty ensures that you'll get a replacement from the company.
Height: 19 cm
Head: 6 cm
Width: 3 cm
Thickness: 3 cm
Weight: 132 grams
In Summary…
So should you buy a Philips Sonicare ProtectiveClean 6100 electric toothbrush
or not?
Hopefully this Sonicare ProtectiveClean 6100 review was of some help in learning about the pros and cons of this popular electric toothbrush.
The device is laden with features, but some users may not require such versatility and functions. If price is an important concern, then paying more for features you don't need can force a decision in favor of another model.
If you're looking for a decent electric toothbrush that is effective at achieving dental hygiene, offers a range of useful features, and is priced at a moderate rate, then the Sonicare ProtectiveClean 6100 may be your best electric toothbrush.
Frequently Asked Questions – Sonicare ProtectiveClean 6100
Q: Is the Sonicare ProtectiveClean 6100 an oscillating toothbrush?
A: No, it is a sonic brush
Q: How many operating modes are offered?
A: There are 3 modes in the Sonicare ProtectiveClean 6100 – Gum Care, Clean and White
Q: What brush heads are included in the package?
A: You can get 2 W2 Optimal White replacement brush heads in the Sonicare ProtectiveClean 6100 package
. You can also buy additional brush heads which are compatible.
Q: Is there a pressure sensor?
A: Yes, the Sonicare ProtectiveClean 6100 comes with a pressure sensor to protect your teeth and gums
Q: Is there Bluetooth?
A: No, there is no Bluetooth functionality
Q: Is there a warranty?
A: Yes, the Sonicare ProtectiveClean 6100
comes with the regular Philips Sonicare warranty that covers your purchase for 2 years
Q: Is there a timer?
A: Yes, not only is there a 2 minute timer to ensure that you brush for the recommended duration, you also get quad-pacer functionality to know when it's time to move to another quadrant. This ensures all areas of your mouth and teeth are well cleaned.
Q: How good is the battery life?
A: Battery life is excellent. While the manufacturer claims that you can get 2 weeks of brushing action from a single charge, many users enjoy much longer activity.
Q: Is there a charger?
A: Yes, the Sonicare ProtectiveClean 6100 comes with a charging station
Q: Is it safe to use this electric toothbrush in the shower?
A: No, even though it is water resistant, you should not soak it in water
Q: Is there a travel case?
A: Yes, a compact and tough travel case is included with the Sonicare ProtectiveClean 6100 electric toothbrush
See our ULTIMATE Electric Toothbrush Buyer's Guide - and make an informed and smart choice.