Philips Sonicare DiamondClean Smart review : A new, good looking, top-of-the-line premium electric toothbrush. It is feature-rich, powerful, and combines technology with aesthetic design.
In this Philips Sonicare DiamondClean Smart review you'll see why the Sonicare DiamondClean Smart rechargeable sonic electric toothbrush is widely regarded a jewel in the crown – and great value for money!
It's also among the best Sonicare toothbrush models today.
(Last updated: 19 March, 2023)
TABLE OF CONTENTS: What's In This Review
Any Philips Sonicare DiamondClean review will affirm that this is as close as you'll get to an ideal electric toothbrush.

Quick Review : If You're In A Hurry!
Before investing in this fantastic premium electric toothbrush, it is worth going through this detailed Philips Sonicare DiamondClean Smart review.
But if you're in a hurry and want just the good stuff, here are 3 questions to help you decide whether to buy the Sonicare DiamondClean – and which model of Sonicare DiamondClean Smart is right for you.
1. Are There Any Serious Problems With The Sonicare DiamondClean Smart electric toothbrush?
Absolutely no problems at all!
This is one of the best electric toothbrushes of all. It comes loaded with features designed to make your brushing experience easy, convenient and effective.
There are numerous bells-and-whistles including multiple cleaning modes, an excellent versatile smartphone app, long battery life, an elegant travel case and more that makes your choice to buy a Sonicare DiamondClean a great one.
2. Are There Any Good Alternatives To The Sonicare DiamondClean Smart?
Not quite!
You see, this is an electric toothbrush that's in a class above anything else.
Maybe the Oral-B Genius Pro 8000 comes close in some aspects, but not all. And the Sonicare ProtectiveClean 6100 is almost as good in some ways as the DiamondClean Smart.
But if you're looking for the best electric toothbrush of all, there's no question about it. Therefore you should get the Philips Sonicare DiamondClean Smart today.
3. Where To Buy The Sonicare DiamondClean Smart Toothbrush?
You could purchase this electric toothbrush from any large retail chain or supermarket outlet, including Target, Best Buy, Walmart, or Walgreens.
Another convenient option is to buy it online from Amazon.com
. The advantages are that:
you get seasonal discounts and special deal coupons to help save money, and
can have the toothbrush delivered to your home at no added cost, to save you time and effort.
Brief Summary : About Sonicare DiamondClean Smart
Without question, the Philips Sonicare DiamondClean Smart is the pinnacle of electric toothbrush excellence.
It offers
superb cleaning efficiency at 31,000 brushstrokes per minute,
a pressure sensor, timer and quad pacer functionality,
the choice of compatible replacement brush heads,
5 different brushing modes,
a battery that lasts upto 3 weeks,
a great travel case with an inbuilt recharger,
Bluetooth connectivity with a Smartphone app and
rock-solid manufacturer's Sonicare warranty
But there are just a few drawbacks.
It's inconvenient to switch between modes. And the higher price of a Philips Sonicare DiamondClean Smart often raises the question if it's worth paying extra.
Who should get the Sonicare DiamondClean Smart?
Anyone who wants the very best!
Because this is an excellent device to upgrade to. And more so when you're getting a good deal.
It's even more true of a recently updated, modified and improved version called the Philips Sonicare DiamondClean Smart electric toothbrush.
And that's for good reason – because of the star-studded Sonicare range of models, the DiamondClean stands out as the jewel in its crown!

Top Philips Sonicare DiamondClean Smart Models
These are the currently top-ranked, best-selling electric toothbrushes in the Philips Sonicare DiamondClean Smart range…
(Also available in Black and Pink)
There's one other model in the Philips Sonicare DiamondClean Smart lineup:
Experience The Philips Sonicare DiamondClean
This top-of-the-line model from the Philips Sonicare stable combines technology with design aesthetics.
Among all electric toothbrushes, the DiamondClean Smart model offers an attractive oral hygiene solution. Also, one that's economical and offers great value for money.
Here's a quick summary of the best points of a Philips Sonicare DiamondClean Smart toothbrush:
A choice of different cleaning modes
Timer to ensure adequate brushing
Quality, durable construction
Elegant design and style
Pressure sensor to avoid damage to sensitive teeth and gums
Excellent battery life
BrushSync functionality to remind you to change brush heads
Bluetooth connectivity
Great companion smartphone app to track and monitor
It has very few drawbacks, like:
the lack of space to store spare brush heads
no holder for a smart phone
But these are far from being deal breakers.
In fact, if you have the budget for it, the pros of owning a Philips Sonicare Diamond Clean Smart electric toothbrush
will automatically make this a fabulous choice.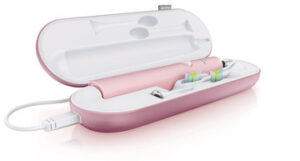 And if you travel extensively, you'll find the DiamondClean Smart toothbrush an excellent companion to take along even on long trips.
Other Philips Sonicare DiamondClean review reports seem shocked at its high retail price. But don't let that scare you away.
You can buy the Philips Sonicare DiamondClean electric toothbrush online
for a considerably less (I'll show you how later on in this review).
Also recommended:
Now let's look at the features and benefits of a DiamondClean toothbrush first, to help you make an informed choice.
HOW TO DECIDE ABOUT BUYING
Philips Sonicare DiamondClean Smart
(Models: HX9903/11, HX9924/41, HX9954/56 & HX9957/51)
If you've decided to get the best electric toothbrush money can buy – and have the money to afford it – your job isn't quite over yet.
That's because Sonicare have 4 models of the DiamondClean Smart toothbrush!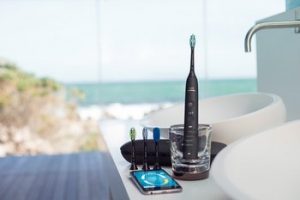 These are the
They all share more in common than have differences. For instance, all DiamondClean models have these features:
offers 3 options for power intensity
clean through sonic action
timer with quad pacer
pressure sensor
automatic power off
travel case with recharging station
excellent battery life (3 weeks on average)
BrushSync recognition
But there are some features that vary from one DiamondClean toothbrush model to another. And so you may feel some of them are important for your unique needs.
This includes:
Cleaning modes:
All have a choice of 5 cleaning modes – Clean, Gum Health, White+, Deep Clean+ and Tongue Care . One exception is the 9300 Series which has 4 (no Tongue Care).
Color options:
The Sonicare DiamondClean 9300 Series comes in pink, white, black and silver/grey.
The 9500 Series is available in pink, white, black, silver and rose gold.
The other two come only in one color – the 9700 Series in lunar blue, and the 9750 Series in rose gold.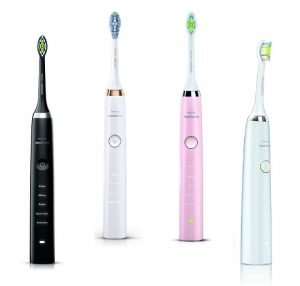 Package contents:
All DiamondClean models have a brush handle, replacement brush heads (which differ in number and type from one Series to another). Also, they have a charger and travel case.
In the Sonicare DiamondClean review of Smart 9500 Series
and 9700 Series electric toothbrushes, you'll see how the travel case doubles as a USB charging device.
Storage unit:
Unique to the DiamondClean Smart 9750 Series
is the inclusion of a brush head storage unit that can hold 4 replacement brush heads.
Apart from these distinctions, these toothbrushes share many other features in common.

Philips Sonicare DiamondClean Smart Review : Colors & Design
The DiamondClean toothbrush comes in 4 colors:
white
black
pink
silver / grey
My favorite is Lunar Blue, a rich shade with a metallic sheen. I hear that the choice of this new color scheme was inspired by "deep space" – and there is a hint of the "unexpected and daring" in its aesthetic appeal.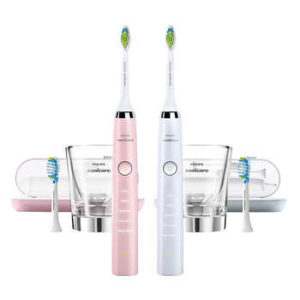 As you may expect, the design of such a high-end model is sophisticated, yet simple and elegant.
No longer is the universe of toothbrushes limited to a white stick capped with bristles! The Philips Sonicare DiamondClean range
brings a bit of fashion. It adds style to the staid, conventional world of dental care and oral hygiene.
This is an electric toothbrush with an aesthetic appeal and class. Both make it worthy of its positioning as a premium product aimed at discerning users.
Matching replacement brush heads are available for different colored handles. The color themes extend to the travel case as well. A pink or white brush handle comes in a white travel case. In the black, grey or lunar blue handles, this is accompanied by a black case.
To feel, hold and handle, the Philips Sonicare DiamondClean electric toothbrush
is a high quality product with a premium finish. Nothing about this device is cheap, plain or cheesy.
Even the arrangement of control buttons and LED lights reflects the thought and effort invested into its design.
The result is a toothbrush anyone would feel proud to own and use.
If there's a downside to the design of the DiamondClean toothbrush, it would be a sense of being slippery when wet. This is due to the lack of a groove or ridges to offer a firmer grip.

Battery Life of Philips Sonicare DiamondClean Smart
Sonicare toothbrushes usually offer superlative battery performance, and the DiamondClean is no exception.
The Sonicare Diamond Clean model
runs on a lithium polymer battery. This will deliver power for up to 3 weeks of cleaning teeth after a complete charge.
The Lithium-ion battery is housed within the handle. It is not meant to be removed or replaced. It is rechargeable and lasts for at least 14 days of typical use following a complete charge.
One innovation that helps conserve battery power is the DiamondClean's 'automatic shut down' feature. Guided by the in-built timer, this powers the electric toothbrush down at the end of a brushing cycle.
The battery is rechargeable using a charger that is included in the package.
The procedure to recharge the battery is simple. Just slide the base of your electric toothbrush on to the glass base of the charger. Or you can plug it into the USB charging case, if you're travelling.
Sonicare DiamondClean Smart Review : Brushing Modes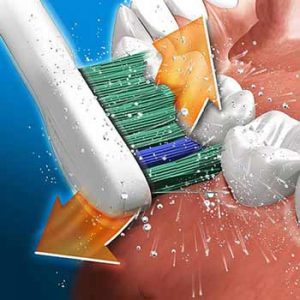 Your toothbrush operates on 5 different settings.
This may not be a huge advantage. Most users will only run it on the standard Clean power-brushing mode!
But it's nice to have additional options. This is especially true for users with special needs.
The available options are:
1. Clean
2. White
3. Gum Care
4. Polish
5. Sensitive
Switching between modes is easy using a button near the base.
In Clean mode, the toothbrush head delivers 31,000 strokes per minute.
This is extremely effective at cleaning your teeth and also has the secondary "power wave" effect of cleaning at a distance. It helps remove plaque and stains from areas not easy to reach directly with your brush head.
Typically, it is recommended that you brush for two minutes twice daily.
In White mode, you can set a timer for two and a half minutes for better teeth whitening.
The Polish mode is designed to help remove stains and achieve better cleaning, and is a more intense brushing action.
Gum Care mode is gentler and can be used by people with gum disease, bleeding, gingivitis and more.
Sensitive mode is very weak, and is a good way to begin if you've never used a sonic toothbrush before.
As you get used to it, you can tweak your Philips Sonicare DiamondClean Smart electric toothbrush settings to more powerful modes.
 Philips Sonicare DiamondClean App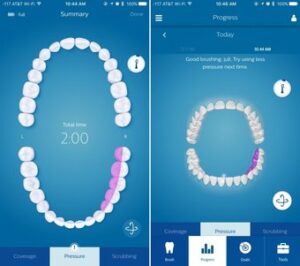 A unique feature of the DiamondClean Smart toothbrush is a companion smart phone app. It is meant to enhance your cleaning experience.
The brush handle is equipped with Bluetooth connectivity that links it to an Apple or Android smartphone app. This displays images designed to help you brush better and enjoy oral hygiene of a high order.
The app provides a record of how effectively and regularly you clean your teeth. It can also serve to give your dentist feedback on how well you're following dental advice.
How It Works
With the app running as you clean your teeth, you'll get realtime feedback on where to clean. You'll know how good your technique is at removing plaque and debris.
Watching the graphic display show teeth whitening as you clean can be a fun way for younger users to develop the brushing habit. It also helps avoid missing any section or quadrant, thus ensuring better overall oral health.
Data is temporarily stored in your toothbrush itself for four weeks. It can be synchronized with the app any time.
The app offers reports of brushing activity and effectiveness over the past months. This is presented in visually appealing and easily understood form.
The app also reminds you when it's time to replace the brush head.
If there's a drawback to this feature, as explained in most Philips Sonicare DiamondClean review reports, it's that the brush doesn't come with a phone holder. It would have let you conveniently position your smartphone nearby as you brush.
Holding it or setting it up suitably every time you brush can be a bother.

Philips Sonicare DiamondClean Smart Review : Replacement Brush Heads
The innovation that sets apart the Philips Sonicare DiamondClean Smart electric toothbrush from older models like FlexCare and EasyClean is the design of its brush heads.
Bristles in the new toothbrush model are shaped like a diamond, which gives the product line its name.
The bristles are high density, arranged at angles that extends your reach and helps remove troublesome stains and dental plaque.
The density of bristles is also higher than in earlier models, which gives a more intense cleansing effect.
The Philips Sonicare DiamondClean Smart electric toothbrush brush heads come in two sizes – regular and compact.
Both are effective at generating fluid currents in your mouth which helps cleaning at a distance ('non-contact brushing
').
It is recommended that you change brush heads after 3 months of regular use. Replacement brush heads are available for purchase, and they snap-on easily to your toothbrush.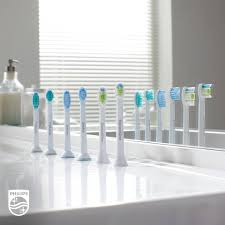 What Are 'Smart' Brush Heads?
Replacement brush heads for the Philips Sonicare DiamondClean
are the result of intricate product engineering.
They are crafted to position bristles at the perfect angle and length to offer excellent reach and cleaning. They come in a range of colors to complement your brush handle.
Sonicare DiamondClean Smart brush heads are 'smart' and come with RFID chips embedded into them.
This chip helps the brush head 'communicate' with the handle through BrushSync technology to allow 'mode pairing'. It can send reminders about when the head is due for replacement.
The smart technology ensures that the brushing mode and speed are automatically selected for optimal cleaning results.
This convenience does come at a cost, though. Replacement brush heads for the DiamondClean cost around $15 apiece. They come in packs of 2 heads or 4 (with a larger pack offering a discount).
Of course, if you'd like to save a couple of dollars, you could use standard Sonicare brush heads with a DiamondClean Smart handle. You won't be able to enjoy the automatic mode selection or get auto-reminders when it's time to replace a worn out head.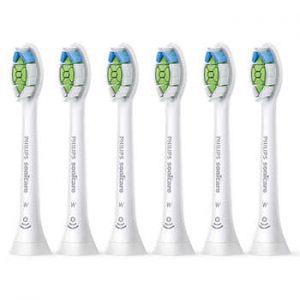 How To Choose Replacement Diamond Clean Brush Heads… And Where To Buy Them
What's your ultimate goal in choosing a powerful electric toothbrush like the Philips Sonicare DiamondClean Rechargeable toothbrush
? It's likely to enjoy healthy, shiny, clean teeth.
It's deeply satisfying to hear delightful praise like "your teeth look fabulous" or "what a lovely smile you have". And it's amazing that you can achieve this without costly and painful cosmetic surgery!
But to make this happen, you need the right combination of a great electric toothbrush, the appropriate cleaning mode, and a good toothpaste – along with the perfect replaceable brush head.
For the Sonicare DiamondClean Smart electric toothbrush, which is the best brush head? From the range of options available, our pick is the DiamondWhite whitening brush head
. It comes in both Compact and Standard models.
The DiamondClean brush head is almost magical at how effectively it removes stains to leave your teeth looking whiter in just a week. Since your brush handle is Brush Sync compatible, choosing a Premium White brush head can tap into its reminder functionality as well.
You should try to get the perfect combination of DiamondClean Rechargeable toothbrush
and DiamondWhite brush head
. This ensures that you'll select the best option of programmed pulsations and brush strokes. It will help to clean and whiten your teeth efficiently.
And when you use a whitening toothpaste like NuSkin's AP24 or Oral-B whitening toothpastes like 3D White Luxe, you'll get even better results.

Is a DiamondClean Electric Toothbrush Travel Friendly?
The short answer is: Yes.
A premium travel case, of hard plastic covered with soft leather, is included with all models of the Philips Sonicare DiamondClean toothbrush
.
This case holds the toothbrush handle, some spare replacement heads, and the charging cable within it. The lid is held shut with a magnet and closes securely without any clips or buttons.
In most of the Series (except 9300), you can charge the brush from right inside the case.
The charging cable is 2 feet long and is detachable with the 9300 Series and incorporated in the travel case in other DiamondClean Smart models.
The charging cable attaches to a suitable power source through a Type A USB connector. Unless you take very long trips, you'll not mind this.
The toothbrush holds charge for as long as 3 weeks following a recharge.
All of this makes the DiamondClean Smart electric toothbrush an excellent travel companion for road warriors.
What's NOT to Like About Philips Sonicare Diamond Clean Toothbrushes?
Well, if there's any criticism, it's that the process of shifting modes is quite cumbersome.
For instance, to use the electric toothbrush in Sensitive mode, you must press the button five times.
Now, this in itself wouldn't be a major hassle – except that the toothbrush starts even while you're making these adjustments. So unless you already have it inside your mouth, you might end up with toothpaste sprayed all over your face!
An unconfirmed complaint about long term use of Philips Sonicare DiamondClean Rechargeable toothbrushes
is that the gums tend to recede.
There is no mention of this on the official website and it's hard to explain it as being the result of an electric toothbrush. But the complaint has been voiced on a few consumer forums.
Battery life is another relatively weak point that shows up in a Philips Sonicare DiamondClean Smart review.
Some of the reported cases have been tracked down only to a defective item. So if you notice this early, please return the product for an exchange.

OUR RECOMMENDATION
Is Sonicare DiamondClean Worth It?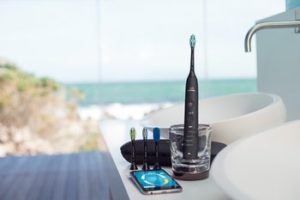 That's a harder question to answer.
Maybe you're already a happy user of the Philips Sonicare Flexcare Platinum or Philips Sonicare 2 Series electric toothbrush.
Then whether it's worth an upgrade to the DiamondClean isn't quite clear.
The good news is that, if you choose to do it, your brush heads will all be compatible with the DiamondClean.
So you'll be able to use Adaptive Clean, ProResults Plaque Control, ProResults Gum Health, Sensitive and SimplyClean brush heads with your Philips Sonicare DiamondClean Smart.
It's easy to snap-on a new head.
So, Should You Buy a Sonicare Diamond Clean Smart Electric Toothbrush?
Are expensive toothbrushes worth it?
After reading this Philips Sonicare DiamondClean review, I hope you have enough information to make a decision.
If you're looking for a high-end, top quality sonic toothbrush with all sorts of features and a decent battery life, then this is a great choice.
To summarize…
Pros:
the Sonicare standard of 31,000 brushstrokes per minute is very effective at cleaning teeth and removing plaque
wide choice of brush heads with unique bristle design for better cleaning
the choice of 5 cleaning modes gives you options to suit your specific needs
good battery life and an included USB/glass charger mean you'll have a good brushing experience even while traveling
travel case included
Cons:
switching between brushing modes is a little inconvenient
the price is a bit higher than other models, but you get many extra features that make it worthwhile
Buying Guide to Sonicare DiamondClean Smart
At the beginning of this Philips Sonicare DiamondClean Smart review, I mentioned a place where you can find great discounts and deals on electric toothbrushes.
It's the online retail outlet Amazon.com
.
Periodically, you'll find models coming on sale at special rates which are a significant discount on the full retail rate.
And you can also compare other related models right on their website.
This way you'll convince yourself that the one Philips Sonicare DiamondClean Smart electric toothbrush model you pick will be perfect for your unique needs.
As a nice added benefit, you can have your toothbrush delivered directly to your doorstep… free of charge!
What Philips Sonicare DiamondClean Smart Is Best?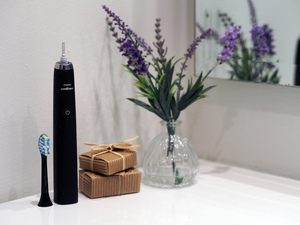 After all that you've learned until now, you will be able to choose one of these hot selling electric toothbrushes in the Philips Sonicare DiamondClean range…
(Also available in Black
and Pink
)
If you have any specific questions or comments about the Philips Sonicare DiamondClean electric toothbrush
, please feel free to write to me with them. Or you can leave a comment below.
See our ULTIMATE Electric Toothbrush Buyer's Guide - and make an informed and smart choice.