What is the best costly electric toothbrush if you don't have to watch your wallet?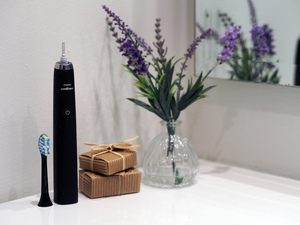 Here are the 6 top electric toothbrush models if money is no object!
6 Best Costly Electric Toothbrush Models In 2022
It's official.
Electric toothbrushes are better than manual brushes in cleaning your teeth and removing dental plaque.
Not only does this give you a brilliant smile and fresh breath, the evidence suggests that good dental hygiene can also help you live longer.
Gum disease (gingivitis) can cause mental decline at a rate much faster than healthy people, as well as raise the danger of a heart attack or stroke.
That's why this report sets out to identify what is the best electric toothbrush – if money is no object.
You see, most buyers aren't fortunate enough to be able to ignore the price tag, or carefully consider 'value for money'. But some are – and they want recommendations of the VERY BEST electric toothbrush… price no bar!
If that's you, then you're going to love this review of the 6 costly electric toothbrushes that are well worth the money… because of their range of features and benefits.
Top Picks : Best Costly Electric Toothbrush
In a nutshell:
If you're looking for the best costly electric toothbrush, this model will amaze you. You'll love how clean your teeth feel after just a week of use. Try the popular favorite Philips Sonicare DiamondClean Smart.
If you'd like to keep track of your dental hygiene, harness the power of digital technology and machine learning, then try the Oral B iO Series
The other two models that easily belong in this category of costly electric toothbrush models are the Oral-B Genius Pro 8000
What Is The Best Electric Toothbrush Pick #1
Philips Sonicare DiamondClean Smart
Hands-down the very best electric toothbrush if money is no object is the Philips Sonicare DiamondClean Smart
.
Sure, it is more expensive than most other models. But when you consider the value you're getting, even at that price this is among the most 'value for money' electric toothbrush models on the market.
Here's a quick look at why this comes to mind immediately when you think about what is the best electric toothbrush. You get
a set of 5 distinct cleaning modes
a choice between 3 different settings for intensity
a collection of 4 unique brush heads designed for specific uses
a smartphone app that boasts a ton of lovely features
You'll enjoy cleaning, whitening and polishing your teeth to a bright, clean white very quickly. Believe it or not, there's even a setting specifically for cleaning your tongue.
You can brush your teeth in one of 5 cleaning modes:
Clean – for daily use
White – to remove teeth stains
Deep Clean – to effectively clean spaces between and behind teeth
Gum Health – to massage gums and boost circulation for healthier gums
Tongue Care – especially to keep your tongue clean and breath fresh
Versatile Smartphone App
The companion smartphone app can help you do some cool things like
know when it's time to replace the brush head, or
see how effectively you are brushing your teeth, or
improve your technique for better results
Your Philips Sonicare DiamondClean Smart electric toothbrush
synchronizes with your smartphone app via a wireless Bluetooth signal.
Using this app, you'll be able to keep track of your brushing behavior over time, know where you need to focus more time and attention, and show you the best technique to get great results.
The pressure sensor that ensures you don't press hard enough to damage your teeth or hurt sensitive gums also synchs with the app, lighting it up to let you know to ease off on the pressure.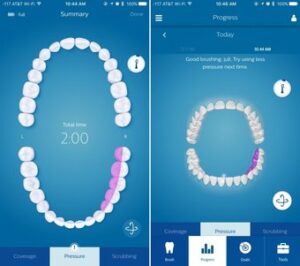 At the end of a two minute brushing session, the smartphone app reviews your performance and tells you if any part of your mouth needs some extra attention. That way you can go back and complete a thorough cleaning right away.
The app also monitors your brush head wear and tear, indicating whenever it is time to replace it with a new head. You can even order replacement brush heads right on the app for a seamless experience.
Design Elegance
Another aspect of the Philips Sonicare DiamondClean Smart electric toothbrush
that merits mention is the superb design and construction.
The device looks and feels classy, reeking of great quality and accompanied by a stylish charging station made of glass.
The travel case is elegant and practical, incorporating a USB charging port so that you can recharge your toothbrush while away from home.
It's little wonder that this nifty little device makes it to the top of almost every best electric toothbrush review – and when you try it out, you'll love it.
So if money is no object, grab yourself the Philips Sonicare DiamondClean Smart electric toothbrush today.
Buy the Philips Sonicare DiamondClean Smart electric toothbrush
Costly Electric Toothbrush Pick #2
Oral B Genius X
If you're looking for what is the best oscillating electric toothbrush that money can buy,  then get the Oral B Genius X
today.
Rich in Features
Here's what makes it special. It offers you a choice of six cleaning modes –
DailyClean,
ProClean,
Whitening,
Sensitive,
Gum Care and
Tongue Cleaning
There's a built-in timer to make sure you brush for the dentist-recommended two minutes.
And a pressure sensor, excellent battery life and a rock-solid warranty to back it all up.
But what truly sets it apart from the rest of the pack is its Artificial Intelligence guided teeth cleaning functionality.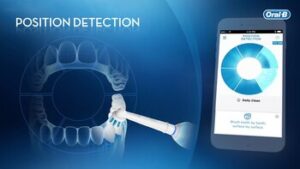 Powerful Smartphone App
Your Oral B Genius X electric toothbrush
interacts wirelessly through Bluetooth with an app on your Smartphone.
It helps track the duration for which you clean each section of your teeth. When you're done brushing, your performance is scored – with a perfect 100 being a hallmark of excellence.
Not only that, the smart app
tracks the pressure you apply on each tooth and
records where you cleaned adequately and
notices which parts you missed out
So you can go back in real time and ensure a thorough and complete cleaning.
If there's a constraint on this powerful feature, it's that many users quickly get bored of carrying a phone into the bathroom while brushing. It might seem like firing up the app, setting it up, and synchronizing data from your toothbrush is too much trouble.
Especially if it's late at night and you're sleepy, or rushing to work in the morning, you're likely to just want to clean your teeth and get going.
Effective, Attractive and Still Affordable
Yet even without the app and its benefits, you get great value from the Oral B Genius X electric toothbrush
.
In addition to its range of cleaning modes, you get an excellent travel case equipped with a USB charging capability.
Like all oscillating toothbrushes, the cleaning action is more familiar to manual toothbrush users. You get the sense of having your teeth vigorously cleaned.
You'll notice just how good your mouth feels after brushing for just a few days with the Oral B Genius X.
In appearance and build quality, however, the Oral B top model feels a little less classy than the Philips Sonicare DiamondClean Smart
.
Still the Oral B Genius X is a good choice if you're looking for the best costly electric toothbrush. You can get a good deal if you watch out for the occasional discount deals and take advantage of a better price.
Read our full Oral B Genius X review
Buy the Oral B Genius X electric toothbrush
Costly Electric Toothbrush Pick #3
Philips Sonicare Prestige 9900
The DiamondClean Smart
model isn't the only Philips electric toothbrush that's top of the line.
Another that has great features worthy of including in any list of best costly electric toothbrushes is the Sonicare Prestige 9900.
Among the reasons for its popularity are
the range of cleaning modes offered,
the built-in timer with quad-pacer,
excellent battery life and
a top class travel case.
On the flip side, the overall look and feel aren't as appealing as most Sonicare toothbrush models.
The sonic cleaning action is powered by a brush head that vibrates at 31,000 strokes per minute. The timer is set to limit a session to two minutes, automatically turning off the device after this period.
Excellent Features
With Philips Sonicare Prestige 9900, you get the choice of 6 modes for customized oral care:
Clean mode is ideal for whole mouth cleaning
White mode is optimized to remove stains on teeth
Gum care mode gently massages your gums and improves circulation
Deep clean for more intense cleaning
Sensitive mode is gentler and designed for sensitive teeth and gums
Tongue care
One of the interesting user-friendly innovations of the Sonicare brand is an EasyStart function. It helps introduce first time customers of an electric toothbrush to ease gently into the new experience.
For the first week, you can brush at a lower intensity before gradually working up to full power brushing.
Another innovation is the snap on design for brush heads that makes it quick and easy to replace worn out heads with new ones.
The handle is compatible with the entire range of brush heads. This offers you the freedom to choose what is the best electric toothbrush head optimal for your needs.
Powered by a standard lithium ion battery, the rechargeable cell offers excellent performance with a typical charge lasting almost 3 weeks of regular use.
Buy the Philips Sonicare Prestige 9900 electric toothbrush
Costly Electric Toothbrush Pick #4
Oral-B Genius Pro 8000
There's no argument about whether the Oral-B Genius Pro 8000
belongs in a list of feature-rich costly electric toothbrushes. Of course, it does!
This model offers 5 cleaning modes, a pressure sensor to avoid accidental damage to sensitive teeth and gums, Bluetooth connectivity that pairs to a smartphone app, and position detection that harnesses AI to track and monitor brushing activity.
What's not to like about it?
Well, it may take a bit of practice before you get the hang of how to use the advanced features. Another drawback is how inconvenient it can be to set up the smartphone holder in a bathroom.
Of course, a point of criticism is how costly this model is – but then, this review is about what is the best electric toothbrush if money is no object... so that doesn't even qualify!
Innovated On Demand
Here's how the Oral-B Genius Pro 8000 came about.
For years, Oral-B basked in the glory of a blockbuster model – the Oral-B Pro 6000, which was an international best seller.
But the ace manufacturer and brand leader wasn't just resting on its laurels. Oral-B kept on making further improvements and tweaks that enhanced an already very good electric toothbrush – and transformed the level of quality and function in this Oral-B Genius Pro 8000 model
.
Some users might consider these features unnecessary, or even useless.
But others love the thought of being able to link their teeth cleaning record via wireless technology to their smartphones, and benefit from the advantages offered by artificial intelligence and machine learning.
For users who are comfortable having all aspects of their lives hooked up to a smartphone that they carry around everywhere, the functionality of an electric toothbrush being added to this makes the Oral-B Genius Pro 8000 a very appealing choice.
Feature-Rich
The technical advantages aren't something to sneeze at, either – like the 5 cleaning modes on offer:
Daily Clean
Gum Care
Sensitive
Whiten
Pro Clean
The extra 3000 movements per minute in a super powerful Pro Clean mode means better cleaning and stain removal with a whiter teeth, healthier teeth and a fresher breath.
Having cool functions like an inbuilt timer, quad pacer and pressure sensor in addition to the Bluetooth connectivity make this a popular choice for what is the best electric toothbrush… for all the right reasons.
Buy the Oral-B Genius Pro 8000 electric toothbrush
A Framework To Decide
Your most important decision when it comes to what is the best electric toothbrush is picking between a sonic or oscillating model.
Sonic toothbrushes have a brush head that is almost similar to a manual toothbrush which vibrates at a high frequency.
On the other hand, oscillating toothbrushes have circular brush heads that are much smaller to let you target specific teeth or areas.
Oscillating electric toothbrushes like Oral-B rotate at upto 7,500 strokes per minute. A sonic electric toothbrush like Philips Sonicare brushes at an estimated 30,000 strokes per minute.
However, extensive studies have shown that both kinds are just as effective at getting rid of dental plaque and cleaning teeth. And they are both superior to a manual toothbrush.
One more common feature among premium electric toothbrush models is the Smartphone app that synchs with the instrument through Bluetooth wireless connectivity.
It can help track your brushing performance, ensure that you clean thoroughly and indicate any areas you have overlooked.
Is there a downside to this functionality?
Sure.
Like any other bells and whistles feature, the novelty wears off quick. In a week or two, you may find yourself not even turning on the app to set it up with a few clicks.
Another factor to help you decide is that most manufacturers will extend a one-month trial during which you can test out the electric toothbrush and see if you like it. If you don't, you're free to return it for a full refund.
So take advantage of this benefit.
Now let's go back and look at 4 of the costliest electric toothbrushes today that are still worth your money.
Best Costly Electric Toothbrush
Click on the links to read full, in-depth reviews of our handpicked choices of what is the best costly electric toothbrush today.
After you've discovered the details about
build quality and battery longevity,
travel case and smartphone apps,
inbuilt timers and pressure sensors,
you'll agree that although expensive, these are actually a great bargain.
See our ULTIMATE Electric Toothbrush Buyer's Guide - and make an informed and smart choice.