Should you get the OralB 6000 electric toothbrush or not?
This Oral-B Pro 6000 review will share the pros and cons of this decision, so that you'll have everything you need to make the right choice for your electric toothbrush.
The Oral-B Pro 6000 Smart Series electric toothbrush
is one of the most popular models, consistently ranking among the best selling electric toothbrushes. As any Oral-B Pro 6000 review will tell you, this solid mid-range electric toothbrush lives up to its reputation for excellent cleaning, multiple features and affordable cost.
For buyers looking for something more than a basic no-frills electric toothbrush, the Oral-B Pro 6000 is a good model to choose, especially if you like the idea of tracking your brushing performance on a Smartphone app.
Oral-B Pro 6000 review – Key Features:
Patented oscillating-rotating-pulsing Oral-B 3D cleaning system
Triple pressure sensor
Better at getting rid of dental plaque than a manual toothbrush
Battery life excellent at 14 days
Runs in 5 cleaning modes: Daily Clean, Gum Care, Sensitive, Whitening and ProClean
360 Degree SmartRing
Timer with quad-pacer function
Bluetooth connectivity with Smartphone app
Pros:
operates in many different cleaning modes
has a built in timer with quad pacer functionality
has a pressure sensor to avoid injury to teeth and gums
offers Bluetooth connectivity with a Smartphone app to track performance
Cons:
LED indicators for the operating mode aren't clear
battery life is modest
At A Glance…
If you're in a rush and want a quick guide to deciding whether or not to buy the Oral-B Pro 6000 electric toothbrush
, here are 3 questions to help make your choice.
For a more detailed evaluation, be sure to read the rest of this Oral-B Pro 6000 review. Learn more about one of the best electric toothbrush models from Oral B.
1. Is there anything terribly wrong with the Oral B Pro 6000 toothbrush?
No, this is a reasonably good model.
Operating in several different modes to improve oral hygiene, this brush offers many useful features at an affordable price and has very few drawbacks or deficiencies. Any Oral-B Pro 6000 review will affirm that you can go ahead and buy it confidently and without any concerns.
2. What other models are comparable in value?
The other good electric toothbrush that has all the functionality of an Oral-B Pro 6000 electric toothbrush is the Oral-B Genius Pro 8000, which additionally offers an extra cleaning mode, a luxury travel case and charging station, as well as a stand to mount your Smartphone. Of course, the extra functionality comes at a higher price.
A simpler brush that lacks some of the extra features in the Oral-B Pro 6000 but delivers an excellent cleaning experience and is priced much lower is the Oral-B Pro 1000.
As you will see in the Oral B 1000 Pro review it is a functional electric toothbrush for a budget-conscious buyer. It has none of the frills and fancies of other premium models. But it delivers excellent value for money.
3. Where to buy the Oral-B Pro 6000 electric toothbrush?
While you can pick up the brush from any retail outlet like Walgreens or Walmart as well as a local pharmacy, you'll often get discounts and special deals by ordering online from Amazon
, especially during festival promotions.
Why Trust 'A Dentist's Daughter' And Our Opinions?
'A Dentist's Daughter' is not a dental professional-run organization, nor are we influenced in any way by leading brands or retailers. Our opinions and reviews are independent and unbiased.
Recommendations for a particular product or brand are based on extensive research and evaluation which includes feedback shared by dozens, if not hundreds, of shoppers. Even though we may earn a referral fee when you order through a link on this website (at no extra cost to you), our reviews will never be slanted to convince you to pick up a product you do not need or to hustle you into a sub-optimal purchase.
The process of picking an ideal electric toothbrush has grown quite complex. Thanks to the wide range of models and variations in the features and benefits they provide, it is difficult and time-consuming. That's why we put in the time and effort to sift through the evidence.
We present the pros and cons of each model of electric toothbrush such as with this Oral-B Pro 6000 review. And we compile all this so that you won't have to.
Oral-B Pro 6000 Electric Toothbrush Review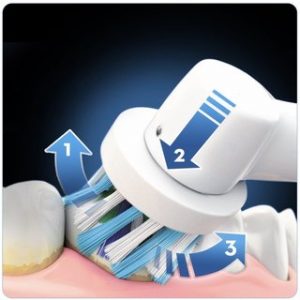 Among the many models of Oral-B electric toothbrushes, the Pro 6000 Smart Series
is one of the best in features and functions. It has wireless connectivity and can link up to your Smartphone via an Oral-B app that allows for tracking your brushing performance and logs usage for future reference.
Such performance tracking is not new. Oral-B has included the feature in some of their toothbrushes for a few years. But lately, this has grown quite popular with users who relish the idea of seeing how consistently they have kept up with their dental hygiene.
Since regular brushing can help avoid dental caries, improve dental hygiene, prevent dental plaque formation and keep oral health good all through the year, this has been viewed as a significant advantage for electric toothbrush users.
The Oral-B Pro 6000 electric toothbrush, also called the Genius 6000 and Pro 6000, is a slimmer and more stylish version of the popular Oral-B 7000 which is also a best seller from the well-known manufacturer.
Pro 6000 Smart Series Variants
The brush comes in a choice of 4 different colors:
Black
White
Rose Gold
Orchid Purple
All other contents in the box are identical, with only the color of the panel in front of the brush handle being different. Some other Oral-B Pro 6000 review reports overlook this point.
You'll get:
Another variant called the Oral-B Pro 6500 electric toothbrush
is a near clone of the Pro 6000, with the inclusion of an extra brush head – 1 CrossAction and 1 FlossAction head – in the box contents being the only difference.
Benefits & Advantages
Offers a choice of cleaning modes. The Oral-B Pro 6000 electric toothbrush operates in 5 modes which make it suitable for people with different needs such as sensitive teeth and gums.
Design and structure are stylish and functional, offering excellent reach behind and between teeth.
Bluetooth connectivity links it to a Smartphone app allowing brushing performance to be recorded and tracked.
Battery life is good, with the Lithium ion cell lasting approximately 14 days on a full charge.
You can personalize the SmartRing by choosing from 12 different colors, and control it from the Smartphone app.
Pressure Sensor lets you know if you're brushing too hard and helps avoid damage to teeth and gums.
ADA (American Dental Association) approved, which means the Oral-B Pro 6000 electric toothbrush has passed stringent lab testing standards.
Drawbacks & Problems
Surprisingly, of the 5 operating modes, only 4 have indicators on the brush handle – leaving the other one a mystery!
Bluetooth may not be of importance or value to some users, because they are not tech savvy or interested. There is no wireless guide to help people who aren't sure about how to do it.
A smartphone stand is not included. Neither are extra replacement brush heads. Some Oral-B Pro 6000 review analyses downplay this.
Oral-B Pro 6000 Electric Toothbrush Review: Design and Usability
The Oral-B Pro 6000 electric toothbrush
has some design and functionality developments from previous models that enhances its appeal to many users. In a sense, it encapsulates some of the best design elements of the high-end Oral-B Genius Pro 8000 model but at a lower price.
Even at first glance, you'll appreciate that this is a premium model that looks classier and more comfortable in your hand. The handle is white with an inset of silver that looks attractive and stylish.
The handle is a rounded rectangle in cross section, keeping it from rolling off a counter when lying down. On front is a cluster of buttons and LED indicators that give it an over-crowded appearance. There are no controls on the sides or back.
A rubber grip coats the rear surface for a secure grip while wet or foamy, a nice improvement on the Oral B Pro 1000 which feels somewhat slippery while brushing.
Control Buttons
An illuminated power button turns the Oral-B Pro 6000 electric toothbrush on and off. While the same button is used to change modes in some models, the Oral-B Pro 6000 electric toothbrush
has a dedicated cleaning mode button for this purpose. Pressing it repeatedly shifts through the 5 available modes.
However, you can only select the brushing mode after turning the brush on. This is a slight drawback because after applying toothpaste and putting the brush into your mouth, you must recall how many clicks of the button are needed for your preferred mode.
Operates In Multiple Modes
Four icons beneath the buttons represent the active mode. However, it feels strange that while there are FIVE modes of operation, there are only four indicator LEDs! So while Gum Care, Sensitive, Whitening and Pro Clean modes have their indicators, the commonly used Daily Clean doesn't have an icon.
These seem like minor nuisances, but they significantly detract from the usability of what is an otherwise lovely electric toothbrush. Oral B could have fixed these glitches to come up with a bigger winner.
Daily Clean is the most often used mode for brushing teeth. For those with sensitive teeth or gums, the less powerful Sensitive mode delivers fewer oscillations and at lower pressure. Unless you have special needs that require one of the alternate modes, it isn't sure if this pricier model is right for you. The cheaper Oral-B Pro 1000 may be a better choice.
Interesting Innovations
The handle's lower third has a Bluetooth icon that lights up when wireless connection is active. There is also a battery charge indicator with 3 bars to let you know how much charge is left, and when the brush is due for recharging.
A recess on the bottom allows a prong on the charging station to fit into it. A ring around the handle, called the SmartRing, allows personalization of the Oral-B Pro 6000 electric toothbrush
by choosing from one of 12 colors using the Smartphone app. This visual indicator also serves as a pressure sensor, to let you know whenever you're pressing hard enough to cause gum and tooth damage.
A metal rod at the top fits into the replaceable brush head. A single CrossAction brush head ships along with the Oral-B Pro 6000 electric toothbrush. It is designed to make it easy to reach behind molars and in between teeth, making the head effective at removing even persistent dental plaque.
The handle is water resistant, but should not be immersed in water or used in a shower. The Oral-B Pro 6000 electric toothbrush has a brush head storage compartment, but you only have 1 brush head in the box though you can buy additional spares.
Replacement Brush Heads
Brush heads must be replaced once the bristles fray, which happens typically in around 3 months of use. Fading indicator bristles will change color from blue to white to let you know when it's time to replace it with a fresh brush head.
The inbuilt timer with quad pacer ensures that you brush for the dentist-recommended 2 minutes twice every day, with the time divided equally between the 4 quadrants. At 30 second intervals, the toothbrush will pause to let you know it's time to change over to another quadrant.
Wireless Functionality
An attractive feature of the Oral-B Pro 6000 electric toothbrush is the Bluetooth connectivity with a Smartphone app. Improved in performance for this newer model, the Oral B app serves like a dental hygienist watching over your performance. You can track how regularly you brush, and how effective each cleaning session has been.
Preventing dental problems is always better than treating them, and from this perspective the record/track function is useful. The app works on Android and Apple phones and can be downloaded from the iTunes or Play store.
You can store data from 20 cleaning sessions on the toothbrush before you have to synch with the app. Of course, if you're not interested in this feature, you can ignore the app and Bluetooth entirely and just use the Oral-B Pro 6000 electric toothbrush
as a regular cleaning device.
A minor nuisance for those who use the Bluetooth/Smartphone feature regularly is the lack of a stand that can hold your phone while brushing. Though this is an overall positive Oral-B Pro 6000 review, this little drawback merits mention.
For users concerned about quality standards and ratings, it will come as good news that the Oral-B Pro 6000 electric toothbrush is approved by the American Dental Association. This means each device undergoes strict lab and performance tests set by the ADA.
Rechargeable Electric Toothbrush
A plastic charging station is included in the box. The charger can connect to regular mains. A full recharge typically takes 12 hours. It is safe to leave the brush on the recharger in between uses. With regular use, you'll get roughly 15 days of use per recharge.
The travel case is plastic, thin, transparent, and can hold the brush handle along with 2 replacement brush heads.
This model is missing the Wireless Guide which indicates through smiley faces how well your cleaning session is going. It has been replaced by the Smartphone app.
The Oral-B Pro 6000 electric toothbrush
comes with a 2 year warranty against manufacturing defects.
Highlights of Design and Usability
White in color, grey/silver inset
Comfortable to hold and use
5 cleaning modes, with a button to switch between them
Indicator LEDs only for 4 modes
Changing modes is only possible with the brush switched on
One Cross Action brush head in the box
Inbuilt timer with quadpacer
Pressure sensor to avoid gum and tooth damage from pressing too hard
You can customize the color of the LED SmartRing
Bluetooth connectivity to link up with Smartphone app
App records and tracks brushing performance
ADA approval is granted
Travel case to hold handle and 2 spare heads
2 year warranty
Recharging station included
No stand for Smartphone
Oral-B Pro 6000 Electric Toothbrush – Battery Life
Oral-B electric toothbrushes are excellent. However, this is a fair Oral-B Pro 6000 review. And so it must state that in one area they remain inferior to the competing Philips Sonicare electric toothbrushes.  And that is in battery life.
With Bluetooth connectivity working, a full recharge lasts for 14 days on the Oral-B Pro 6000 electric toothbrush. That's not bad, though you'd wish for better.
The Oral-B Pro 6000 electric toothbrush
has a Lithium ion battery in contrast to the Nickel hydride battery in other Oral-B models. With superior technology that's also used in Smartphones, this lends better longevity to the Pro 6000.
The battery is fixed and not replaceable by a user. It can be recharged by using the charging station provided along with the toothbrush. On multiple tests, the Oral-B Pro 6000 electric toothbrush delivered around 60 minutes of full activity on a full charge.
It's Travel Friendly
Based on a typical user brushing twice daily for 2 minutes each, this should provide 15 days of activity using DailyClean mode.
For frequent travellers, the 2-week limit may be a sticking point because they'll have to remember to pack their charging station on longer trips. But for most users, this isn't a major drawback. The charging station is compact and fits easily into baggage.
Most users will leave the brush on the charging station so it will recharges automatically in between uses. This is safe and does not damage the brush or battery. Just remember to drain the battery and recharge fully once every 3 months or so.
A charging station takes around 12 hours to recharge the brush fully. If it runs out of charge entirely, the Oral-B Pro 6000 electric toothbrush
can be recharged within 30 minutes for a single cleaning session.
A flashing light on the battery icon is a visible indication that your device is running low and needs to be recharged. When fully drained, the battery icon will flash in red. However there is no accurate indicator to say when your charge is at 25% or 20% or less, even though the Smartphone app could easily have been modified to offer this data.
Where To Buy The Oral-B Pro 6000 Electric Toothbrush?
Even though at around $100 this isn't a cheap or inexpensive electric toothbrush, it consistently tops bestseller charts for a good reason. The Oral-B Pro 6000 electric toothbrush
is well worth the price, and is excellent value for the money.
Many retailers sell the device at full price, but others offer discounts of as much as 40% to 50% off. More often, online retailers like Amazon
sell at really competitive prices that you'll find it hard to match on retail outlets. See the comparative rates here.
An Oral-B Pro 6000 review must look at the value you'll get from buying this model. While calculating what your Oral-B Pro 6000 Smart Series electric toothbrush will cost, don't forget to budget for the expense associated with replacing worn out brush heads periodically. Replacement heads vary in price, but on average you can expect to pay $8 to $10 per head.
Assuming that you will use the device over a 3 year period, the cost works out to roughly 15 cents per day, which is not exorbitant considering how many features you'll get with this toothbrush.
Most Oral-B electric toothbrushes have a great track record. Typical users enjoy their device for around 3 years. The manufacturer's warranty covers you against defects for 2 years.
Conclusion
As you've seen in this Oral B Pro 6000 review, the Oral-B Pro 6000
electric toothbrush is an excellent choice which offers a superlative tooth cleaning experience. With 5 different modes to suit the preferences of various users, there's something in it for everyone.
The device looks sleek and elegant, is easy to handle and convenient to use, and performs very well at maintaining oral hygiene and removing dental plaque effectively.
Bluetooth connectivity and the Smartphone app features are especially appealing for certain users who wish to track and record brushing performance over time.
Battery life is decent, and lasts for around 2 weeks of typical use. It would have been nice to have a Smartphone holder and spare replacement brush heads included.
So if you're looking for the best Oral-B electric toothbrush, this isn't it. That's the Oral-B Pro 1000 model.
And if you're searching for the most feature-rich and advanced Oral-B toothbrush, this isn't it either. That's the Oral-B Genius Pro 8000.
This is an excellent choice for a mid-range device which offers 5 different operating modes and very good cleaning performance for a price that's not too high.
Height: 21 cm
Width: 2.8 cm
Thickness: 3 cm
Weight: 132 grams
Frequently Asked Questions – Oral-B Pro 6000
Q: Is the Oral-B Pro 6000 an oscillating toothbrush?
A: Yes, the Oral-B devices all offer oscillating, rotating and pulsating effects (Oral-B 3D movement) for effective cleaning. See the full Oral B Pro 6000 review for more detail.
Q: What is the most popular mode of operation?
A: The DailyClean mode is a comprehensive mode for every day cleaning. When used with the CrossAction brush head, it is very effective at removing dental plaque and maintaining oral hygiene.
Q: What does Gum Care mode do?
A: It is a lower speed mode which avoids pain and discomfort for those with sensitive gums and teeth such as when there is periodontal disease. It massages the gums, increases blood flow, prevents infections, and ensures regular cleaning
which enhances oral hygiene.
Q: Why is Sensitive mode popular?
A: Sensitive mode is very gentle on teeth which are sensitive or have had dental work done. While not very powerful, it is still thorough and cleans the teeth and mouth very well. It gets rid of bacteria and dental plaque completely.
Q: What brush head ships with the Oral-B Pro 6000 electric toothbrush?
A: You get one Cross Action brush head in the box, which you can use in Daily Clean mode effectively. You can replace this head with any other type of brush head such as the Floss Action, Pro White / 3D White, Sensitive/SensiClean, Precision Clean, Dual Clean, Power Tip and Pro-Results brush heads.
Q: Is there a pressure sensor included?
A: Yes, there is an inbuilt pressure sensor that works through the SmartRing and lights up whenever you press too hard on teeth and gums. This helps prevent gum and tooth injury from excessive pressure.
Q: Is there a timer device?
A: Yes, there is a built in timer to ensure that you clean your teeth for 2 minutes. In fact, this fits in with recommendations of most dentists and dental hygienists. Also, there is a quad-pacer functionality which indicates every 30 seconds that it is time to move to another quadrant. Together, this ensures complete cleaning of all parts of the mouth.
Q: Does Oral-B Pro 6000 have Bluetooth?
A: Yes. Ideally, the Bluetooth function with wireless connection to a Smartphone app is one of the popular features of the Oral-B Pro 6000 electric toothbrush
.
Q: How long is the warranty on Oral B Pro 6000?
The manufacturer's warranty is for two years. Consequently, the warranty protects you against faults in the device.
Q: How long does the battery last?
A: On DailyClean mode, the battery lasts around 60 minutes on a complete recharge. With regular use (2 minutes of cleaning twice a day) this means a single full charge will last 2 weeks.
Q: Is there a Smart Wireless Guide?
A: No. In fact, the Pro 6000 works with a Smartphone app. The Genius Pro 8000 from Oral B has a Smart Wireless Guide.
Q: Is a recharger included?
A: Yes. As with other models, there is a stand charging station as well as a travel case which includes a power adaptor for charging the battery.
Q: Is there a holder to fix it to the wall?
A: No. Actually, you cannot fix the Pro 6000 to the wall.
Q: Does it come with a travel case?
A: Yes. As you'll see in any Oral B Pro 6000 review, a premium plastic travel case is in the box.
Q: How long does it take for the Oral-B Pro 6000 to charge?
A: A full recharge takes around 12 hours. From a fully dead battery to charging enough for a single brushing session will take around 30 minutes.
Q: Is this a quiet toothbrush?
A: No, the Oral-B Pro 6000
is quite loud. In this way, it is similar to other Oral B models.
Q: Is the battery replaceable?
A: No, you cannot replace it.
See our ULTIMATE Electric Toothbrush Buyer's Guide - and make an informed and smart choice.