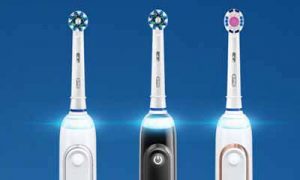 When it comes to electric toothbrushes, two brands dominate the market.
Sonicare from Philips is a popular favorite among many electric toothbrush users, with 5 models topping most bestseller charts. You can read about the 5 hottest selling Philips Sonicare electric toothbrush models in 2020 here.
The other well-known brand worldwide is Oral B, which also has some chart busting electric toothbrush models that are owned and loved by millions of happy users. In fact, on consumer websites like Amazon, you will find the best Oral B electric toothbrushes reviewed positively by thousands.
Among the several great Oral B toothbrushes, three consistently top the bestseller rankings. These are the 3 best hot selling Oral B electric toothbrushes in 2020.
This is not to say that feature-rich and top rated models like Oral B Genius Pro 8000, or the Oral B Vitality Floss Action, or the Oral B Pro 1500 Cross Action electric toothbrushes aren't popular in sales ratings. They are, and have rave reviews from their users as well.
In fact, you'll find a more complete list of all the best Oral B electric toothbrush models in our comprehensive review here.
Still, these are the cream of the crop… the ULTIMATE hottest selling Oral B electric toothbrush models in 2020.
1. Oral-B Black Pro 1000
When it comes to delivering exceptional value at a really affordable price, few other electric toothbrushes can beat the Oral B Pro 1000. This is why it continues to rank among the best selling toothbrushes all around the world.
On Amazon's online marketplace alone, this model has over 7,000 gushing reviews that praise this device's performance, quality and durability. The only drawback (if you could call it that) is that this model offers only one mode of brushing.
The only other models that can match the Oral B Pro 1000 on features and functionality are the higher end models like Sonicare ProtectiveClean 4100 and Oral B Vitality, both of which cost more and are positioned at the middle of a spectrum of electric toothbrushes.
The Oral B Pro 1000 is a no-frills model that is nice looking, works effectively at getting rid of dental plaque and cleaning your teeth, and is convenient to operate. If you have sensitive teeth or gums, the Oral B 1000 may be a little too rough for your taste. For other users, it is ideal.
This model comes with an inbuilt timer with quad pacer functionality to ensure adequate cleaning of all teeth. There is also a pressure sensor that switches off the motor when you apply too much pressure. There is only a single mode of operation called Daily Clean which is effective at cleaning teeth and leaving you with great dental hygiene.
For a budget priced electric toothbrush, it should not be surprising that there are only few accessories included. But from a performance standpoint, few models can beat the Oral B Pro 1000 electric toothbrush
– and definitely none in this price range.
Pros:
proprietary Oral B 3D cleaning system
effective at removing dental plaque
reasonably long battery life
pressure sensor and inbuilt timer
very affordable, budget friendly
Cons:
operates in only one mode
Buy the Oral B Pro 1000
2. Oral-B 7000 SmartSeries
On the higher-priced, feature-rich end of the spectrum of Oral B electric toothbrushes, the top selling model is the Oral B 7000 SmartSeries.
It offers you the choice between SIX modes of operation that deliver differing levels of whitening and gum cleaning action. This model is safe to use even if you have sensitive gums and teeth. Driven by the patented 3D movement for efficient cleaning, the sonic toothbrush generates more than 38,000 pulses every minute.
Five different kinds of brush heads are included in the package for your convenience. All are interchangeable, so the same handle can be used with multiple heads. The Oral-B 7000 SmartSeries electric toothbrush
is exceptionally water proof, sturdy and suitable for travel.
Pros:
excellent teeth cleaning action
6 modes of operation
suitable for users with sensitive gums
5 types of brush heads included
great for travel, comes with a premium travel case
Cons:
slightly more expensive than other models
Buy the Oral B 7000 SmartSeries
3. Oral-B Pro-Health Jr.
A popular best seller from the famous Oral B brand is the electric toothbrush designed especially for children. An Oral B Kids is often a child's first electric toothbrush, setting the tone for a lifetime of good habits and healthy dental hygiene.
The Oral B Pro Health Jr kids electric toothbrush is a great choice for children. It cleans teeth effectively, while making brushing teeth fun and enjoyable. There could well be many more features included, but the ones it has are really good.
This junior toothbrush is a hybrid that includes features often seen in adult brushes, along with some that appeal to younger kids. The ideal age of a user is 3 to 14 years. The Pro Health Jr has a small brush head that fits into a child's mouth comfortably, and has soft bristles that won't injure tender gums and teeth.
The Oral B Pro Health Jr
kids toothbrush comes in purple and green colors that are eye-catching. The brush is easy to use and operate, with a simple on/off switch that runs the brush motor.
The battery is rechargeable and retains charge for around a week. However, battery life is relatively short, making it a poor travel companion unless you take a charging station along.
Pros:
comfortable handle that fits into tiny hands easily
single cleaning mode
built in timer that ensures adequate cleaning
Cons:
not very attractive despite bright colors
Buy the Oral B Pro Health Jr
So there you have it… the three hottest selling Oral B electric toothbrush models in 2020.
Other feature-laden Oral B models are also popular, and priced suitably to their benefits. For various reasons, sales volumes dip and soar from year to year. The three featured above are currently the most popular in terms of unit sales.
If you'd like to learn more about the specific models, please click on the links to read our in-depth reviews of each.
To purchase them online, you can use the links to Amazon right at the end of each mini-review.
And in case you're looking to evaluate other brands and models, you'll find our handpicked selection of hottest selling Philips Sonicare electric toothbrushes, or the 15 top rated electric toothbrushes, or the overall best electric toothbrushes of interest also.
No matter what your preference or taste, you'll find the reviews on 'A Dentist's Daughter' helpful in identifying your ideal electric toothbrush.
See our ULTIMATE Electric Toothbrush Buyer's Guide - and make an informed and smart choice.