Best Cross Action Replacement Head Reviews
Oral-B Cross Action Electric Toothbrush Replacement Brush Heads
Are you looking for Oral B electric toothbrush replacement brush heads for you and your family members? You could easily get confused with such a wide range of Oral-B electric toothbrush models and replacement heads for them.
You have multiple models of brush handles. Then there are an array of compatible electric toothbrush replacement heads for each one.
To make things easy, let's look at one of the top choices of consumers around the world. The Oral-B Cross Action Electric Toothbrush Replacement Brush Heads
is one of the most popular brush heads in the market today. So this Oral B electric toothbrush replacement heads review will focus heavily on this model, giving you good reasons to pick it over other options.
Each type of Oral-B electric toothbrush head has its own unique advantages, and is engineered with minor differences that suit people with distinctive needs. For example, some Oral-B replacement brush heads are designed for those with sensitive gums and teeth. So there isn't such a thing as a universally "best brush head" when it comes to replacement heads for an electric toothbrush – only the best choice for YOUR unique needs!
But since you're probably looking for simple answers and not more complexity, this guide will break down the problem and give you general answers. After you've read this report, if you have more questions or still aren't sure about the Oral-B Cross Action brush head
, be sure to check out our FAQ at the end. We've tried to cover as many details as possible, but would be glad to try and address any further questions or concerns you might have.
Cross Action Oral B Electric Toothbrush Replacement Heads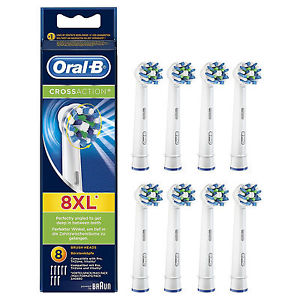 A broad consensus favorite for best all-round Oral-B electric toothbrush replacement head is the Cross Action brush head. A close runner-up is the Oral-B Sensi Ultra-Thin brush head. But before you read more about the favorite, understand that there isn't a catch-all "best brush head" at all… just the most suitable one for your needs.
So what makes the Cross Action Oral-B brush head
such a popular favorite?
As the name suggests, CrossAction toothbrush heads have their bristles set at an angle. These bristles, arranged at 16 degrees to each other, help to clean your teeth better as they can reach all around the teeth and even into the gaps in between them.
Angled bristles help reach deeper and loosen plaque by upto 100% better as compared to a manual toothbrush. It also brushes along the gum line and provides for healthier gums and teeth.
Where can you buy Oral B electric toothbrush replacement heads?
Cross Action toothbrush heads are available from retail outlets like Target and Walmart, as well as in packs of 4, 5 and 8 on Amazon
and few other online ecommerce websites.
In case you aren't sure if Oral B toothbrush heads will fit your toothbrush handle, you can check for cross-model compatibility on standard charts. Cross Action Oral B toothbrush heads are compatible with the following models:
Advance
Pro-Health
Clinical
Vitality
Vitality Plus
TriZone
SmartSeries
Oral B Pro
Oral B Smart
Oral B Genius
Which Oral-B Electric Toothbrush Head Should You Use?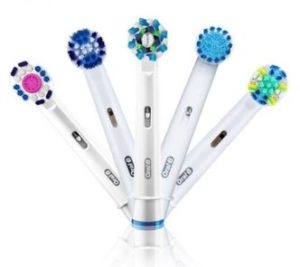 There are two elements that will guide your decision.
1. Do you want a wider sweeping cleaning action?
The Oral-B TriZone brush head looks and feels more like a manual toothbrush. The smaller round brush heads of the Oral-B Pro series, on the other hand, are preferred by many dentists and are widely considered to clean better. The major difference between both is that the TriZone cleans 2 to 3 teeth simultaneously, while the Pro brush head cleans one tooth after another, individually.
Both brush heads deliver better cleaning results than with a manual toothbrush. Plaque removal is more effective and oral hygiene over time improves more with regular cleaning using an electric toothbrush. The rotating-oscillating action delivered by electric toothbrush heads are more effective at dental plaque removal.
2. Do you own a specific kind of Oral-B electric toothbrush?
Your choice of a Cross Action, Floss Action, 3D White, Sensitive or Precision Clean electric toothbrush head will depend upon your need for the potential advantages each one offers.
Oral-B Cross Action is good for a general cleaning action.
Floss Action is better for those with severe plaque build up in the spaces between teeth.
3D White helps get rid of stains better than the others and your teeth will be whiter and shinier.
Sensitive brush heads are ideal for those with gum inflammation or sensitive teeth.
Precision Clean works best on the gum line where it can eliminate plaque five times better than any of the other brush heads.
And then, there are specific Oral B electric toothbrush replacement brush heads
designed for use with braces, implants and crowns, such as the Ortho and Power Tip/Interspace.
Now, it should be stated that all these brush heads are effective at good general cleaning and you won't lose out on this by picking one kind over another. The advantage only comes from tailoring a specific benefit to a user who will find it useful.
It's also good to keep in mind that a brush head alone won't make a difference unless you also follow good brushing technique. The correct way to brush your teeth using an electric toothbrush is at least as important as your choice of replacement brush heads.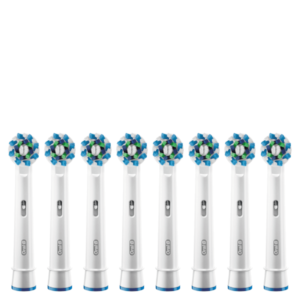 CrossAction Oral-B Toothbrush Head Review
One of the best brush heads for everyday use available today, Oral-B Cross Action Brush Heads
fit a wide range of electric toothbrush handles, and will clean your teeth really well, leaving you feeling fresh after every use.
The angled bristles actually go to war on dental plaque. You'll feel the bristles working along your gum line and in between your teeth, removing debris, clearing away built up plaque and polishing your teeth as you brush.
Some users feel the action is a bit hard or severe on teeth and gums, especially when the brush head is new and the bristles can feel quite stiff. If you have sensitive, inflamed, sore or swollen gums, you might prefer the sensitive toothbrush head range which cleans more gently and painlessly.
Bristle Arrangement and Patterns
If you take a closer look at the Oral B electric toothbrush replacement brush head
, you will notice the bristles bunched into small clusters. There are 26 of them in all.
Right at the centre of the brush head are two clusters of short, white bristles. Arrayed around this are 8 dark blue and green clusters, all angled at 16 degrees.
If you examine these bristles closely, you will see that the green bristle clusters are of the same height as the inner white ones, while the dark blue bristles are slightly taller.
Surrounding these two circles comes the final out ring of 16 bristles, which are also angled at 16 degrees. In this outer ring, the bristles are coloured light blue and white. The white bristles are shorter, and the light blue bristles are taller.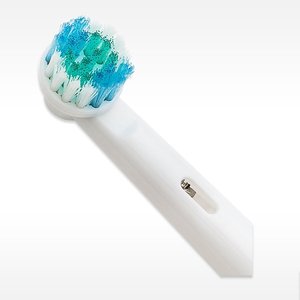 The light blue bristles are indicator bristles which fade with usage over time. They offer you a visual indication of when it's time to replace your toothbrush head.
Even after several months of using the Oral B electric toothbrush replacement brush head
, the high quality bristles don't fray or split and will remain effective at cleaning teeth. This is what makes the Cross Action electric toothbrush head a clear winner.
Types of Oral B Electric Toothbrush Replacement Heads
There are six distinct kinds of Oral B electric toothbrush replacement heads and knowing about their specifications will come in handy to choose which kind of brush head you should opt for.
Oral B Precision Clean toothbrush heads
Oral B Trizone toothbrush heads
Oral B Cross Action toothbrush heads
Oral B 3D White toothbrush heads
Oral B FlossAction toothbrush heads
Oral B Sensi Ultrathin toothbrush heads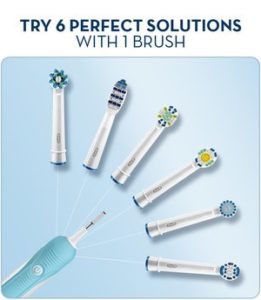 In addition, there are some specialized replacement brush heads like:
Oral B Ortho Care Essentials
Braun Oral B Power Tip
Oral B Vitality Dual Clean
Oral B OxyJet 4er Pack
All Oral B electric toothbrush replacement heads
are interchangeable with different handles. So you can use any of these brush heads along with your Pro or TriZone 2000 electric toothbrush, and take advantage of the compatibility to even try out different kinds of brush heads at each replacement cycle.
It is also helpful if more than one person shares an electric toothbrush. This way, each user can change to a brush head that suits their needs. It's easy to just snap off one of the brush heads and replace it with another. No longer does everyone in the household need a separate electric toothbrush.
The company recommends only using Oral B electric toothbrush replacement heads with their brush handles to maximize performance. Wear and tear or damage cannot be guaranteed if you use other brands or products.
Cleaning Modes for Oral B Electric Toothbrush Replacement Heads
The choice of cleaning modes will be based upon the model of electric toothbrush you own and the brush heads you purchase. The most common modes are:
Daily Clean
Gum Massage
Sensitive
Whitening
Deep Clean
Tongue Cleaner
All the brush heads can be used with these different modes, although a few are designed specifically to work with certain modes. For example, the Sensitive brush heads are meant to work best with Sensitive mode, cleaning the teeth effectively while not damaging sore gums. In a similar fashion, 3D White brush heads are best for whitening mode.
By matching the brush head to a cleaning mode, you can ensure optimal and complete cleaning of your teeth and the best results for oral hygiene. If you aren't certain about which mode or brush head to use, consult your dentist about it.
Replacing Your Oral B Electric Toothbrush Replacement Head
It is recommended that you replace an electric toothbrush head once every 3 months. With typical use (brushing your teeth twice daily for two minutes each time), your brush will begin to show wear and tear
after this period. For more intense use, the lifetime of your brush head might decrease and you'll be forced to replace the head sooner.
What happens if you continue to use the old brush head beyond this point? You could actually harm your teeth because the damaged and aged bristles won't sweep smoothly over your teeth and into the gaps between them. Cleaning efficiency drops, leading to plaque accumulation. Rarely, distorted or bent bristles can hurt your gums and cause infections.
Some toothbrushes come with features to remind you when its time to change brush heads. It's good practice to periodically examine your brush head and decide if its time to replace it with a new one.
Indicator Bristles
Oral B electric toothbrush bristles have certain areas designated as 'indicator bristles'. These are dark and full in color when you buy a new brush head. As time passes, they grow lighter and look worn out.
The fading color serves as a warning that it's time to change brush heads. Another helpful indicator is the nature of the bristles themselves. Are all of them pointing in the same general direction, or are a few sticking out irregularly?
When the bristles grow shorter, appear frayed, or seem to straying in every direction, you can know that the brush head has worn out and needs replacing sooner than later.
Conclusion
Oral B electric toothbrush replacement brush heads
 are available in a range of models and have unique features of value to people with special needs. Almost all of them are cross-compatible with a range of toothbrush handles, making it possible to switch and swap between brush heads.
Of the 29 different models of Oral B electric toothbrush, it isn't always easy to figure out compatibility patterns – which makes it quite a pleasant surprise that you can use any brush heads with any handle. However, whenever you are in doubt, check one of the compatibility charts on the manufacturer's website to make sure that the combination can work.
Hopefully this Oral B electric toothbrush replacement brush head
review was helpful in picking your brush head. If you have any further questions, please leave a comment below.
See our ULTIMATE Electric Toothbrush Buyer's Guide - and make an informed and smart choice.