This Oral-B Pro 7000 review shows how the SmartSeries electric toothbrush remains a popular favorite despite the introduction of newer models. 
How Good Is This Electric Toothbrush? An Oral-B 7000 Review
As this Oral-B Pro 7000 review will clearly highlight, even if the Oral B Pro 7000 electric toothbrush
has been succeeded by another model, the Oral B Genius Pro 8000, there are still loyal fans who prefer the Oral B 7000 – and continue to replace their older instrument with a new one of the same kind.
Their loyalty is not misplaced.
Even if the Genius Pro 8000 offers an improved design, enhanced battery life and some extra features not found in older models (learn more about them in our review here), that doesn't take away from the incredible value users have got from the Oral-B 7000 Pro electric toothbrush
.
In a nutshell, here's what is good and bad about the Oral-B 7000
Pros:
offers 6 different cleaning modes
inbuilt timer for adequate brushing
pressure sensor avoids damage to sensitive teeth and gums
Bluetooth connectivity with smartphone apps helps track performance
brush heads cross-compatible with different models
Cons:
design is somewhat clunky and inelegant
battery life can be improved
older model
Is there anything wrong with the Pro 7000 electric toothbrush?
Definitely not. This is among the electric toothbrush models available in the market that are loaded with features.
Users will vary in their opinions about how much value you'll when you buy this model. But with such a wide range of features, there's sure to be what you need on offer.
The black brush handle looks nicer than a white one, but the finish and elegance characteristic of modern electric toothbrushes is missing. The brush head for all color handles is white.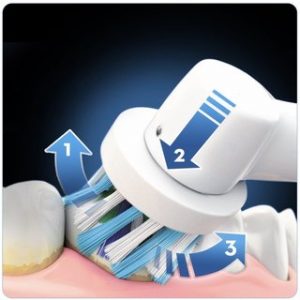 What other models are comparable to Oral B 7000 Pro?
The most frequently contrasted electric toothbrush is the Oral B Genius Pro 8000 which was designed to be an improvement upon the existing one. While technology and features are no doubt better, the difference isn't great. For most users, the extra edge may not be of much value or importance.
The Oral B Genius 8000 is costlier than the 7000 Pro. So if cost is an important factor, then you might find the Oral-B Pro 6000 of interest. There are fewer features, though. So make sure you research it carefully before opting for it instead.
Where to buy the Oral-B 7000 Pro electric toothbrush?
Many retail outlets, supermarkets and pharmacies have the Oral-B 7000 in stock. Prices may differ and you might have to shop around to get the best deal or a specific color.
Online retailers also offer the Oral-B 7000 Pro electric toothbrush
, and you'll often get better discounts and options from Amazon, Walgreens, Target or any of the other outlets.
Amazon offers free delivery for most electric toothbrush purchases online, as well as often having the best deals and lowest prices.
Why take our word for it?
A Dentist's Daughter is a purely unbiased review website that compares and evaluates different models of electric toothbrushes with the view of helping you make better informed decisions.
We are not healthcare or dental professionals. The reviews published on this website are consumer-oriented and non-expert views based upon extensive research, often personal use, and a thorough review of customer feedback – both good and bad.
Our reviews are not paid-for or sponsored in any way by manufacturers and brands. This service is supported through affiliate revenue from referred sales, but that is never the basis upon which our electric toothbrush reviews are made.
We recommend products on their merits and value, and our visitors know and appreciate the unbiased and fair reviews we post on different brands and models of electric toothbrushes.
The Best Oral-B 7000 Pro Review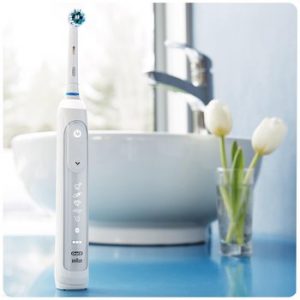 Available in white and black options, the Oral-B 7000 Pro SmartSeries electric toothbrush
is named for its advanced functionality including Bluetooth wireless communication with a smartphone app.
While not in the same league as the much more expensive Philips Sonicare DiamondClean and Oral-B Genius Pro 8000 models, this one still offers fantastic value for money. Just take a look at what's inside the box:
Oral B 7000 Pro electric toothbrush
4 replacement brush heads (2 CrossAction, 1 FlossAction and 1 ProWhite)
Recharging station
Premium travel case with a compartment to store brush heads
Wireless set up guide
User manual
What are the key features of the Oral-B 7000 Pro ?
The patented 3D cleaning system cleans your teeth through pulsations, sweeping and rotating over, behind and between teeth.
On a full charge, the toothbrush can be used for 40 minutes – which means with regular use, you can go upto 10 days without having to charge again.
6 cleaning modes are available – GumCare, Sensitive, Daily Clean, Whitening, Deep Clean and TongueClean – for specific purposes
A readily visible pressure sensor helps avoid excessive pressing down on teeth and gums while brushing, reducing pain and damage
Inbuilt timer with quad-pacer ensures that you'll brush for adequate duration and cover all parts of the mouth effectively
Wireless smart guide helps even non-techies get easily set up to track and monitor brushing activity
Travel case is sleek and convenient to pack and carry along your toothbrush on trips. There's even a compartment to store spare brush heads.
The Positives of Oral-B 7000 Pro
There's enough in the box to satisfy even the most discerning buyer. In fact, most users will not need features offered as a default.
Six cleaning modes allow the needs of different types of users to be met. Be it sensitive teeth, receding gums, braces, caries or other conditions, you'll find a mode that is comfortable and painless.
Audible and visual indicators remind you when it is time to switch to another quadrant, ensuring effective cleaning of all parts of the mouth
Battery life is decent and on a single recharge, you can go for almost 2 weeks without having to top up
Pressure sensors that glow red whenever you press too hard while brushing help prevent accidental damage to gums and teeth. This avoids injury and pain, allowing better overall cleaning efficiency.
A SmartSeries guide to help you set up wireless functionality ensures that even non-tech savvy users can enjoy the fullest benefits of the Bluetooth connectivity
The Negatives of Oral B 7000 Pro
Some think the Oral-B 7000 is higher priced than comparable offerings when you consider the range of features and the design elements,
The design isn't as sleek or appealing as top shelf models from Oral-B or other manufacturers
Even though battery life is good for average use, it is not comparable with best brands like Philips Sonicare. Frequent travellers will have to carry along a recharging station
A Smart Electric Toothbrush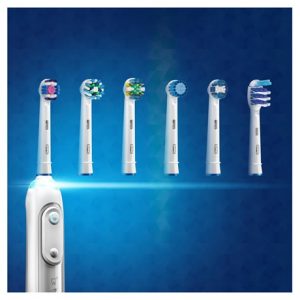 As a proud member of the line of electric toothbrushes called the Smart Series, the Pro 7000 is among the earliest models to have Bluetooth connectivity. This is a smart way to keep track of your oral hygiene and brushing record, through integration with a smartphone app.
The Smartphone App
You must download the Oral-B app on an Android or iOS mobile device and then link it to your Oral-B 7000 Pro electric toothbrush
. This is a simple process that's similar to connecting an audio player to wireless speakers.
From the moment the two are synched together, your brushing history will be tracked and stored in the app. You'll have access to a digital diary that documents each session, showing if you brushed for long enough, and adequately in all quadrants.
The app will also monitor and let you know when it is time to replace brush heads when the bristles grow worn out. You can use the app to synergize with your calendar and news sites, allowing you to keep up to date even as you clean your teeth.
It isn't necessary to carry your phone on you while brushing. The brush itself can keep records of upto 20 sessions before downloading the data to the app. While not flawless, this is a quick and convenient way to ensure that you maintain good brushing habits.
The app also offers precious feedback that can serve to motivate young users to be actively engaged with their oral health. At a glance, you can tell if you're doing well or not. And since oral hygiene is linked to regularity of brushing your teeth, the health benefits of such an app are hard to ignore.
For non-techie users, it may take a while to get used to the Bluetooth connectivity and app features. But it is quick and easy to learn, and given the benefits, worth putting in the effort to try.
Oral-B Pro 7000 Review – Design & Usability
While the Oral B 7000 is a bit bulkier and heavier than other models, measuring nearly 1 cm thicker and weighing 35 grams more, the benefits you'll enjoy are far greater. But if you've grown used to a thinner brush handle, it may take a while before you're comfortable using the Oral B 7000 Pro.
The payoff comes by way of 6 choices of operating modes. Also, a rubberized handle lends a firmer grip that prevents the toothbrush slipping out of your hands when wet with foam. This adds a touch of class to the instrument, in keeping with its premium positioning.
The button to power on the brush and adjust modes is nicely recessed and accessible easily. Blue LED strips have indicators to let you know what mode the brush operates in.
The panel also lights up whenever you are pressing too hard, and helps avoid accidental injury to teeth and gums. Effective cleaning only requires that you gently run the brush head over teeth. It doesn't even require pressing hard.
That's why you will notice an audible change in the tone of the motor, and on the companion app, a frowning face pops up to tell you to ease off. The power to the brush head automatically decreases during such times, and only returns when you reduce pressure.
A Choice of Colors
There are two color options – Black and White. The Black looks a bit classier, with a nice complementing silver band offering visual appeal that's lacking in the White toothbrush (which, frankly, looks rather clinical, like something you'd see in a dentist's clinic!). A downside with the Black brush is that water marks and dirt show up clearly and so you'll have to keep your toothbrush clean and dry.
Brush heads are all white. This clashes against the black handle, though it isn't ugly at all. But unlike the Philips Sonicare models where the replacement brush heads are also color co-ordinated, the Oral B heads are uniformly white.
As many an Oral-B Pro 7000 review points out, from an aesthetic standpoint this is an elegant looking toothbrush
. The only gripe a purist might have is the heft and bulk which take some getting used to. And of course, from a functional view of cleaning teeth, the Oral-B 7000 Pro electric toothbrush leaves little room for complaint.
The consistent delivery of a powerful rotatory motion to the brush head in Oral-B 7000 Pro increases efficiency at dental plaque removal significantly. No matter what cleaning mode you operate in, the instrument is extremely good at cleaning teeth, whitening them, and getting rid of even stubborn plaque and stains.
The head has a rotating and pulsating motion that sets eddy currents into motion and enables cleaning behind and between teeth, even in hard to reach nooks of your mouth.
Cleaning Modes & Brush Heads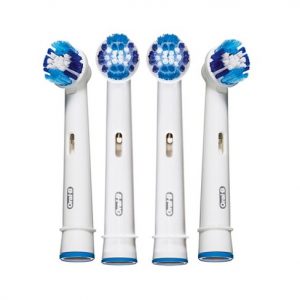 Inside the Oral-B 7000 Pro box you get a set of brush heads – 2 CrossAction brush heads, 1 FlossAction head, 1 Sensitive head and 1 Pro White/3D head.
If you need them, you can add a Precision Clean, Deep Sweep or Dual Clean brush head to your order. The handle is compatible with all these Oral B replacement brush heads.
The Oral B brush head's bristles are dyed blue. Over time, this color fades slowly. You should replace the brush head when the color is almost gone. Of course, the Oral-B 7000 Pro will also remind you on the smartphone app.
The cleaning modes offered by this electric toothbrush are:
Gum Care
Daily Clean
Teeth Whitening
Sensitive
Tongue Clean
Deep Cleaner
Of these, gum care and sensitive modes are specific for people with gum recession, gingivitis and periodontal diseases that lead to sensitive teeth and gums. Daily clean and teeth whitening modes are more powerful cleaning programs that keep teeth white. And the others are for specific purposes.
Choose The Best Brushing Mode
Depending on your unique needs, you can switch to the appropriate mode
by pressing on the function selecting button with the brush turned on. Pressing and holding the button turns off the toothbrush. For the best results, you should combine a mode with the most appropriate replacement brush head.
Regular brushing cycles last 2 minutes, but for some modes like Deep Clean, you will need to brush for longer. At the end of the scheduled interval, the brush will beep and pause slightly to indicate it is time to change quadrants. The pressure sensor glows green as long as you are not pressing too hard.
At the end of 2 minutes, there is a longer pause to let you know the session is over. Although it is important to brush for long enough, what matters even more is using the correct technique and picking the right brush head.
Oral-B Pro 7000 Review : Wireless Connectivity
The Smart Wireless Guide is helpful in ensuring that you make regular brushing a habit. AA batteries power the unit which sits inside a clear plastic frame. You can fix it to the bathroom wall or hold it at eye level.
By keeping in touch with your toothbrush while you clean your teeth, this device is able to keep you on track and makes sure that you brush for the recommended duration. For many users, this may sound like making a lot of fuss about nothing. But for youngsters and those who struggle to establish a good regular brushing habit, these accessories can make the difference between good and poor oral hygiene.
If you're a first-time user of an electric toothbrush, it is best to start in Sensitive mode until you get used to the feeling and only then move to the more energetic Daily Clean or other modes. Initially, your gums may feel sore or even bleed a little. But if it doesn't subside in a few days, check with your dentist and stop using the brush until then.
Battery Life of Oral-B 7000 Pro Electric Toothbrush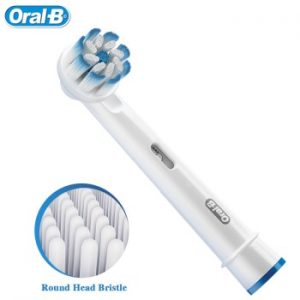 When it was first launched the Oral-B 7000
had the best battery life of any model from the global brand. Newer models have adopted the same technology, making Oral-B competitive in a market dominated by the superior battery life of Philips Sonicare electric toothbrushes.
On a full charge, the battery on Oral B 7000 lasts 10 days of regular use.
Typical use is for 2 minutes, twice every day. This means a single charge of the battery will run your toothbrush for around 40 minutes. Even though the Sonicare DiamondClean beats this performance with 3 weeks use on a charge, in a practical sense this isn't much different. Frequent travellers seldom go on trips longer than 10 days, which makes the Oral B 7000 Pro as a good choice for travel electric toothbrush.
The Pro Genius range of brushes run on lithium ion batteries, but the Pro 7000 has a nickel metal hydride cell. For the premium pricing, Oral B should have considered using the higher performance battery. However, given the performance standards of this NiMH battery, this is probably not a bad tradeoff.
You'll get a charging dock which is convenient to take on a trip. It mounts and stores easily, sitting comfortably on flat surfaces and with a charging power pin that's compatible with most outlets. A prong on its base fits into a recess in the toothbrush's base, but the charging is really wireless and achieved through complementary coils.
How Long Does A Charge Last?
If you're a power use who runs the brush in intensive modes like Deep Clean, the number of cycles will reduce per charge. But for most users, a charge will last for 20 cycles of 2 minutes each – or 10 days of regular use.
The brightness with which a battery power icon glows will let you know when it is time to recharge the brush. Unfortunately, the smartphone app currently does not monitor battery charge. At low power levels, the indicator flashes and you will notice the brush power becoming weak. Eventually, when charge runs out, the motor will stop and the icon glows red.
Docking the Oral B 7000 into a charging station can recharge your electric toothbrush in around 40 minutes to the point you can brush for 2 minutes. A full recharge typically takes 24 hours.
A manufacturer's warranty covers the battery against faults. However users cannot replace it. Trying to open the toothbrush and meddle with it may invalidate your warranty.
Where To Buy The Oral B 7000 Pro
The Oral B SmartSeries 7000
model has a mid-range price point. With frequently available discounts and coupons, you may be able to slash anywhere from 20% to 50% off this rate.
Also, since the introduction of higher end and more recent models, the price of the Pro 7000 has gone down further. You can now buy this model for a little over $100.
Although you can pick up a model from an offline retailer, we recommend going through an Oral-B Pro 7000 review and at least checking it out on Amazon because there are frequent discount deals available online. Usually, Amazon also offers the lowest prices and you'll have the option of picking the color you want.
An Affordable Electric Toothbrush
Your budget should also factor in the cost of replacement brush heads. Most heads will last 3 months, after which they will need to be replaced. You can purchase brush heads in packs of varying size, with the larger packs offering cheaper rates per head.
The CrossAction brush head costs around $8, while a 3 pack would be priced around $18.
Most users own Oral B 7000 Pro for 3 years, which makes the lifetime cost of ownership around 20 cents per day of use. That's not prohibitively expensive. Especially when you consider how effective this device will be in keeping your teeth clean and oral hygiene better.
In Summary…
While the Genius Pro 8000 is a newer model from Oral-B, there is no doubt that the Oral-B 7000 Pro electric toothbrush remains a popular model that's great value for money even in 2020.
The SmartSeries 7000 Pro
has a range of features and delivers top quality performance which makes it a no-brainer choice if you can afford the price as this Oral-B Pro 7000 review has tried to assert.
With 6 distinct operating modes, features like timer and quad pacer, as well as pressure sensors, and excellent Bluetooth connectivity with a smartphone app, this sleek and elegantly designed workhorse is a great deal.
Height: 20 cm
Width: 3 cm
Depth: 4 cm
Weight: 165 grams
Frequently Asked Questions About Oral-B 7000 Pro
Q: Is the 7000 Pro a sonic toothbrush?
A: No, the Oral-B 7000 is an oscillatory, rotatory and pulsating toothbrush. It's function is based on the Oral B 3D motion technology.
Q: What does Daily Clean mode do?
A: This is the most frequently used mode for day to day brushing. It works with the CrossAction brush head to effectively remove plaque and clean teeth. Studies have shown that this is twice as effective at getting rid of dental plaque as other manual toothbrushes.
Q: How is Gum Care mode better?
A: Some users have sensitive teeth and receding gums. This makes regular brush heads painful and conventional electric toothbrushes uncomfortable to use. Gum Care mode is gentle and lower speed brushing that massages the gums to improve blood flow.
Q: Does Sensitive mode work?
A: Yes, it is popular with people who have periodontal diseases like gingivitis that causes sore gums. Sensitive mode is gentle, yet thorough in cleaning your teeth. A Oral-B Pro 7000 review focuses on how it removes bacteria and plaque. It does this effectively from even hard to reach corners of the oral cavity.
Q: What does Deep Clean do?
A: A more powerful form of cleaning, the Deep Clean
runs for 45 seconds per quadrant and brushes more vigorously to remove stains and leave teeth whiter and cleaner than before. The total brushing duration lasts 3 minutes per session.
Q: What brush heads come with the Pro 7000 model?
A: In the box you'll get 4 brush heads – the Cross Action, Sensitive, Floss Action and Pro White. All are compatible with the same handle, and can be used interchangeably. In addition, there are other heads like Precision Clean and TriZone brush heads that can be purchased additionally.
Q: Is there a pressure sensor?
A: Yes. It also synchs with the smartphone app to tell you when you apply too much pressure. It also automatically reduces power to avoid gum or teeth damage.
Q: Does the Pro 7000 have Bluetooth?
A: Yes, as any Oral-B Pro 7000 review suggests, the Bluetooth connectivity helps link the toothbrush to a smartphone app. This tracks brushing performance and keeps records.
Q: How long is the warranty?
A: The Oral-B 7000 Pro
comes with a two year warranty from the manufacturer.
Q: Is there a timer?
A: Yes, and a quad pacer to indicate when it's time to switch over to another quadrant. An audible warning at the end of 30 seconds, and a longer pause after 2 minutes serves as a reminder. In addition, a visual indication shows up on the companion smartphone app.
Q: How good is battery life?
A: The Oral-B 7000 Pro
has a NiMH battery that lasts for 40 minutes of regular use on a full recharge. This means you can use it for 10 days of typical use.
Q: Is a charging station included?
A: Yes, a charging station comes along with the electric toothbrush.
Q: Is there a travel case?
A: Yes, you get a travel case also.
See our ULTIMATE Electric Toothbrush Buyer's Guide - and make an informed and smart choice.