The ultimate Sonicare FAQ has answers about any Philips Sonicare electric toothbrush, one of the world's most popular brands.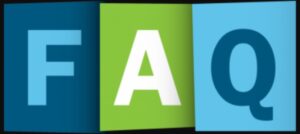 Time and again, someone will contact me to ask: "Which is the best Sonicare toothbrush?"
After spending hours answering the question individually, we decided to prepare this comprehensive guide of Sonicare FAQs to answer other commonly asked Sonicare questions.
It took weeks and weeks to prepare this report… but now it's ready.  Here's the…
The ULTIMATE Sonicare FAQ
Now hopefully you won't have to ask anybody which Sonicare is best again.
In fact, if someone asks you about a Sonicare electric toothbrush, you can confidently point them to 'A Dentist's Daughter'!
SONICARE FAQ : Quick 'JUMP LINKS' To Specific Questions
SONICARE FAQ
STANDOUT BEST-SELLER
Sonicare DiamondClean Smart 9300
The best feature-rich premium electric toothbrush in our roundup is among the most popular models in 2022.
Read our Sonicare DiamondClean review here. And grab a juicy discount when you get it online from Amazon.com – click.
So let's begin with the most frequently asked Sonicare FAQ question:
Which Sonicare is the best?
Any Sonicare FAQ should begin with this question.
Well, in a sense, this question has already been addressed in depth here – "Best Sonicare Toothbrush".
For that report, we studied various Philips Sonicare electric toothbrush models on the market. After tuning out the loud claims of marketers and fans, we then distilled reliable data and details about the most popular Sonicare models.
Now clearly, there is no single best Sonicare toothbrush for all users. That would be impossible because different people want different things from their electric toothbrush.
Some want the most feature-rich models.
Others are price-conscious.
Some put function and effectiveness over everything else.
Others value durability and reliability highest.
And of course there will be specific choices for users of diverse ages and dental health states.
At the top of any list of best Sonicare models are:
Philips Sonicare ProtectiveClean 4100
– read the ProtectiveClean 4100 review
Philips Sonicare ProtectiveClean 5100
– read the ProtectiveClean 5100 review
Philips Sonicare DiamondClean Smart
– read the Sonicare DiamondClean review
Philips Sonicare ProtectiveClean 6100
– read the ProtectiveClean 6100 review
Philips Sonicare ExpertClean 7500
– read the Sonicare ExpertClean 7500 review
Philips Sonicare Kids Electric Toothbrush
– read the Sonicare Kids review
BEST DEAL OF ALL :

Sonicare ProtectiveClean 4100
Sonicare DiamondClean Smart 9300
What earned these models top rating are 3 features that most electric toothbrush users consider more important than others:
Affordable price
Have Sonicare's hallmark 31,000 brush-strokes/minute
A few more desirable features
For instance, brushing action is critical. And the ability of your toothbrush to clean your teeth, remove dental plaque and preserve dental hygiene comes above all else.
Still, your vote for which Sonicare is best may depend on other things such as:
a Smart timer and Quad-pacer
a choice of different brushing modes
wide range of replacement brush heads
battery longevity and ease of charging
travel friendliness
accessories like a UV brush sanitizer
The good news?
Thankfully, all the top Sonicare models have most of the relevant features, even if they may vary in other optional extras.
That's the reason why any selection of the best Sonicare toothbrush will include these 6 or 7 models.
If you press hard to answer your question of "Which Sonicare is the BEST?", many will pick the Sonicare DiamondClean Smart 9300 electric toothbrush.
As mentioned earlier however, your choice will depend upon the specific features you're looking for.
So be sure to explore our in-depth reviews of the best Sonicare electric toothbrush models – and the rest of this Sonicare FAQ – before making your choice.
And go through our step-by-step best electric toothbrush buyer's guide. It will take you by the hand and help you pick the perfect tooth brush for your needs.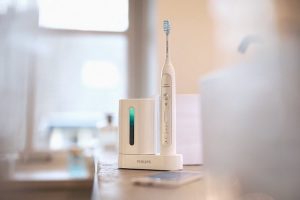 Best Electric Toothbrush – A Buyer's Guide
SONICARE FAQ : Is Sonicare or Oral B better?
Right after "Should you buy a Sonicare?" comes another common query:
Is Sonicare or Oral B better?
But… better for what?
You see, brushing your teeth is important to maintain oral hygiene. And from that perspective, both Sonicare and Oral B are excellent electric toothbrush brands.
BEST-SELLING ORAL-B ELECTRIC TOOTHBRUSH
Oral B Pro 1000 CrossAction
What many users don't appreciate is that there is a correct way to brush your teeth – and choosing the right electric toothbrush affects this significantly.
The Sonicare electric toothbrush has long been very popular. Yet the cost makes a few wonder if they should indeed get one. And while scoping out alternative options, one name crops up almost immediately – Oral B.
Another global brand with an excellent line up of electric toothbrush models, Oral B is a worthy rival of a Philips Sonicare for top position in the competition for 'best electric toothbrush'.
So to help you choose between these contenders, I'm going to quickly take you through the important points of comparison.
Cleaning Power
The biggest reason to buy an electric toothbrush is to enjoy clean teeth and the oral hygiene benefits from it.
The two major brands differ fundamentally in the way they clean your teeth. Sonicare uses sonic motion while Oral B uses a rotatory motion.
Through a combination of oscillating, rotating and vibratory action, Oral B toothbrushes can break up dental plaque and clean in between your teeth.
The circular brush head is designed for non-contact brushing, where the cleansing effect is generated through high-frequency pulses.
The Sonicare, on the other hand, vibrates at a rate of 31,000 strokes per minute. This helps clean multiple teeth at once from the sonic vibration set up within your mouth.
Which is better at cleaning your teeth?
Well, both are better than manual brushing.
And while each company points at a study that says their brand is better, the truth is both have wonderful cleaning power… that's almost equal!
Price
Now here's an easier differentiator to help decide which one to get.
Feature for feature, the Oral B models are less expensive than Sonicare toothbrushes… by up to $70.
But what you must understand is that the less expensive devices have fewer features – and some even compromise the quality of cleaning.
So don't get carried away by an electric toothbrush being cheaper.
Unless it delivers the power and includes the features you need, don't pick Oral B over Sonicare just because you can get it for a few bucks less!
Travel Readiness
Both Oral B and Sonicare electric toothbrush models are travel-friendly.
They come with travel cases that make it easy to stow and carry your brush on trips. On this score, the Sonicare DiamondClean is probably one of the best models for travellers.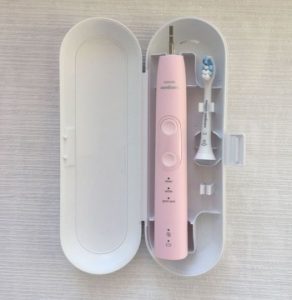 Battery Life
On battery strength, Sonicare is a clear winner.
A typical full recharge will last for 3 full weeks on high-end models like the Sonicare DiamondClean.
On the other hand, Oral B devices often need to be recharged at least once in 2 weeks.
Philips Sonicare DiamondClean Smart
Value for Money
Finally, we're left with a tricky choice – and must rely on a 'soft' measurement like value for money.
If you want a wider range of features and a better clean, pick the Oral B.
If you prefer style and long battery life, get a Sonicare.
Which Sonicare model is the best? We'll address that shortly in the next section of our Sonicare FAQ. But one of my favorites is the Sonicare DiamondClean.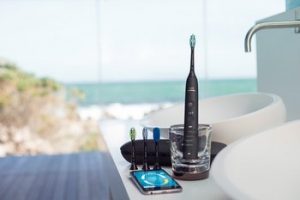 Sonicare DiamondClean – a jewel in the crown!
Which electric toothbrushes do dentists recommend?
Who would know better about keeping your pearly whites clean, free of plaque and cavities, and healthy – than a dentist?
That's why many folks are curious to hear about the electric toothbrushes that dentists recommend.
The American Dental Association shares useful data about favorite recommendations. Not all of them are the same brands or models on this list.
So here's a composite collection. These are the 5 electric toothbrushes that are most frequently recommended.
Foreo ISSA
Rotadent Contour
Which of these should you pick up?
That depends upon which of the other features is most important to you. Dentists agree that a powered toothbrush is better than a classic manual toothbrush at removing dental plaque.
Beyond that, there's little to overwhelmingly prefer one of the models above over another.
The best way to decide might be to read detailed electric toothbrush reviews on other sections of this site and see which appeals most to you.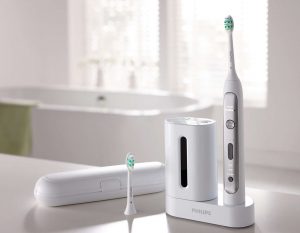 Sonicare Flexcare – a popular choice
SONICARE FAQ : What is the best electric toothbrush in 2022?
We could debate this question for the rest of the year – and still not arrive at a consensus.
Check out our special Sonicare FAQ report on the 'Best Electric Toothbrush 2022' for the top picks – here.
Now, if you agree that a Sonicare is the best option for first time electric toothbrush users, you're still not out of the woods. You must decide which of a wide range of models to buy.
Here's a short list of the 5 best Sonicare electric toothbrushes to make your task a little easier!
Having this much choice is dizzying and wonderful.
Technology has indeed helped hyper-personalize your teeth cleaning experience. Everyone can find a model that's perfect for their unique needs.
You just have to figure out which of them is best for you.
Whether you're on a tight budget, or want all the bells and whistles, or are just looking for a decent cleaning solution for your oral health, there's a Sonicare model for you. (See the other Sonicare FAQ)
All 5 of these brushes are great at what they do. And by going through the reviews, you'll hopefully figure out which one is yours!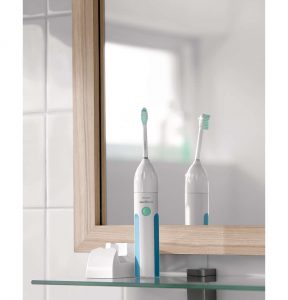 Sonicare Essence – a simple luxury!
What is the best Sonicare toothbrush to remove plaque?
A Philips Sonicare electric toothbrush is effective at removing plaque because of its trademark 31,000 vibrations per minute 'sonic cleaning' technology.
If you visit a dentist regularly, floss daily, stay away from sugar and sweets, AND brush your teeth every day, you can keep nasty dental plaque away.
Electric toothbrushes make it easier to clean your teeth for the recommended two minutes every day.
But what if you already have developed dental plaque? Is there a Sonicare that can get rid of it fast?
Of course.
And the answer to "What is the best Sonicare toothbrush to remove plaque?" is 'hiding' right in plain sight… on Amazon.com's online marketplace!
Here are the 3 great electric toothbrushes to remove plaque:
While molars are hard to reach with manual cleaning, a Sonicare electric toothbrush makes it easy.
With an angled neck and soft, rounded bristles that can access crevices between and behind your teeth, this brush won't let any plaque escape or hide.
No wonder there are over 8,500 delighted reviews from users who love how the Philips Sonicare Electric Toothbrush helps remove plaque, leaving their teeth gleaming white and shiny.
As one of them says, "It's just like being at the dentist every day!"
Does Sonicare remove tartar?
Tartar, also known as dental calculus, causes staining and discoloration of your teeth by trapping food and other material within a crusty deposit that forms on the surface.
Tartar bonds strongly with your teeth, and typically requires a dental professional to remove it.
So another common Sonicare FAQ is:
Does Sonicare remove tartar?
Very likely, no… but then, no other manual or electric toothbrush can.
However, you can help prevent plaque formation in the first place.
While a Sonicare electric toothbrush may not remove tartar, using it regularly will reduce the chance of tartar build up as well as related dental problems like gum infections, cavities and bad breath.
Just two minutes of cleaning your teeth with an electric toothbrush twice every day will improve dental hygiene and prevent buildup of plaque.
And the sooner you get started on this, the better.
Even young children can start developing tartar deposits on their teeth and good oral care can keep this from happening.
Several studies have proven that electric toothbrushes like Oral B and Sonicare models help remove 22% more plaque than by brushing or cleaning with other devices.
A major advantage of using a motorized toothbrush is that you'll hit all areas of your mouth, including behind the last molars and in between teeth.
Each quadrant of the mouth gets 30 seconds of brushing time, and going over each tooth in order ensures thorough cleaning.
Also brush your tongue to remove bacteria that can cause bad breath.
Rinse the brush after use and store it with the brush handle upright to dry.
Another important aspect of tartar removal is to schedule regular dental visits to pick up early build up of plaque and for a professional cleaning.
Sometimes fluoride treatment might be necessary to dissolve tartar. Remember, only a dentist can remove tartar – but a Sonicare toothbrush can help prevent it by regular brushing.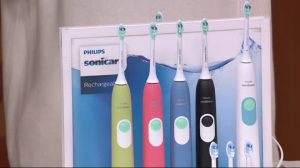 Philips Sonicare 2 Series – great for plaque prevention
Does Sonicare remove plaque?
Plaque removal is important to prevent tooth decay and gum disease.
Dental plaque is a white, sticky material made of a substance that bacteria in your mouth secrete. It accumulates on the surface of your teeth, and must be periodically removed.
Both manual and electric toothbrushes can remove plaque. And yes, a Sonicare will remove plaque, too – provided you brush your teeth daily.
Or, as most dentists recommend, twice daily!
The Sonicare toothbrush is particularly effective at removing plaque. It works in a novel manner that's based on the observation that 'cavitation waves' are set off when a rapidly oscillating object is placed in fluid.
The brush head for a Philips Sonicare moves at a rate of 31,000 per minute, creating waves that carry sufficient energy to break up early plaque. (See the next Sonicare FAQ for more)
In studies done outside the human body, it was shown that the cavitation waves set up by a Sonicare toothbrush are powerful enough to break up plaque that is as far as 3 to 4 millimeters away from the tip of the brush.
That's right… a Sonicare removes plaque even without touching it!
Within the mass of a plaque, bacteria are held in place by hair-like structures known as fimbriae.
When a Sonicare cavitation wave strikes the plaque, these hairs are ripped off, causing the plaque to crumble and break away from the surface of teeth.
Other motorized toothbrushes that don't deliver this kind of oscillation frequency may not be as effective as a Sonicare at removing plaque.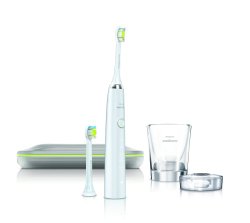 Is Sonicare better than a regular toothbrush?
To achieve good dental health, it is important to brush your teeth regularly – using the right technique, with the right toothbrush.
For this, a Sonicare electric toothbrush offers certain advantages over a regular toothbrush.
For people with gum recession, or any condition that makes it difficult to brush thoroughly using a manual toothbrush, a Sonicare is better than a regular toothbrush.
Philips Sonicare was the first device to use sonic wave technology where a vibrating tip at high frequency (over 31,000 strokes per minute) generates cavitation waves that clean the surface of teeth.
Sonicare is extremely effective at removing a thin layer of plaque and tartar that builds up on your teeth overnight. Left unremoved, it will lead to cavity formation over time.
Sugary, sticky food makes this biofilm layer thicker. You must remove it by regular brushing.
Any of the range of Sonicare toothbrush models can work just as well for this purpose. So whether you choose a Sonicare Essence, or Sonicare Series 3, or Sonicare DiamondClean, it will generally be better than a regular toothbrush at getting rid of plaque and tartar.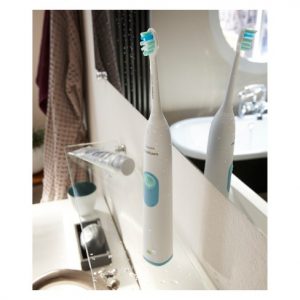 Philips Sonicare 2 Series
How long does a Sonicare battery last?
If you've been shopping around for an electric toothbrush, you'll quickly learn that the different models and brands vary widely in battery life.
You'll also discover that the Sonicare electric toothbrush is, far and away, the best in terms of battery life and durability.
But just how long does a Sonicare battery last?
It can be challenging to come up with a clear answer because it will depend upon your usage.
The Philips company has designed a powerful Lithium ion battery to power their electric toothbrushes. They are rechargeable and effective at holding charge for longer durations.
Recharging a Sonicare battery takes a while.
You may have to leave it on a charging station all day long. After 24 hours, the flashing light that indicates a low battery will stop blinking – and this charge will typically last for a full three weeks of regular use.
That's long enough for an extended holiday or business trip… even if you brush your teeth twice every day!
This is good news for most people because we tend to forget things. Recharging our electric toothbrush regularly is far from our mind as we begin a hectic workday.
So doing it only once every 3 weeks appeals to most users.
Another Sonicare FAQ query is…
Sonicare ProtectiveClean 6500
What if your Sonicare battery doesn't last as long?
Check to see if your battery is fully charged.
After charging, the green light on the handle should glow a solid green, and not blink. You can leave it on the charger for longer without any harm, to ensure you get a full recharge.
Consider your usage.
If you brush very frequently, or if many different people share the same Sonicare electric toothbrush, your battery life will be shorter than 3 weeks.
It's possible that your battery is faulty.
If you notice this within the 2 year warranty period, contact Philips for a free replacement.
A few models like Sonicare Essence+ have lower rated batteries that only last for 10 days. The Sonicare 2 Series lasts only 2 weeks with typical use.
So Sonicare toothbrushes have the longest lasting battery life and your battery will typically last for 3 weeks of regular use.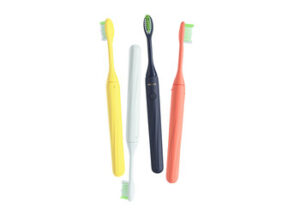 What Makes A Sonicare Toothbrush So Special?"
Sonicare FAQ – How do I clean my Sonicare toothbrush?
Most electric toothbrush guides advice proper cleaning and storage of the instrument to improve its lifespan and performance.
However, not many of them explain exactly how to clean a Sonicare toothbrush!
So here are some simple and easy steps to follow in order to get great value from your Philips Sonicare electric toothbrush:
Clean your toothbrush after every use. No exceptions.
Rinse the brush head and bristles under a stream of water to remove any particles of food and remnants of toothpaste. After you've finished, wipe the handle's surface gently with a cloth.
Once every week, clean your Sonicare toothbrush more thoroughly.
For this, you should remove the brush head and rinse the bottom of it with warm water. Make sure it isn't plugged in to a charger or electrical outlet while you're cleaning!
Rinse the metal shaft gently. Afterwards, wipe down the entire surface with a damp cloth.
Never use sharp objects to rub or push on the seal around the metal shaft. If it leaks because of damage, the toothbrush may stop working.
For even better cleansing that sanitizes your brush head completely and removes 99% of all bacteria, you can use a Philips Sonicare UV Brush Head Sanitizer.
Does Sonicare toothbrush use ultrasound?
An ultrasonic toothbrush uses high frequency vibration (called ultrasound) to
clean your teeth,
remove bacteria and plaque,
leave you with good dental hygiene and health.
The big difference an ultrasound toothbrush has over any other is that it doesn't rely upon physical brushing movement to achieve this cleaning effect.
Most electric toothbrushes including the Sonicare and Oral B brands use sonic technology.
Ultrasonic brushes oscillate or vibrate at over 20,000 Hz which is the limit of audible sound for the human ear. The sound waves themselves clean your teeth.
To qualify as an ultrasonic toothbrush, it should emit a wave with a frequency higher than 24,000 Hz (or movements per minute).
High frequency but low amplitude vibrations are very effective at breaking up plaque that coats your teeth.
This effect is seen as far as 5 millimeters beneath the gum line, achieving excellent cleaning effect. While sonic toothbrushes must physically reach the area, ultrasonic toothbrushes can clean at a distance.
Ultrasound toothbrush
The Sonicare toothbrush uses ultrasound along with sonic vibrations at a range of 9,000 to 39,000 movements per minute to clean teeth, remove food particles and other debris from the surface and crevices of your teeth.
But although the marketing suggests that vibrations at 31,000 per minute might make this an ultrasonic toothbrush, the Sonicare FAQ reveals that it is actually just a standard toothbrush that cleans through physical vibrations.
There really isn't much of a benefit from ultrasonic cleaning, though. So if you can't locate an ultrasound brand of toothbrush, select from one of the regular vibration models. This includes any of the best Sonicare models.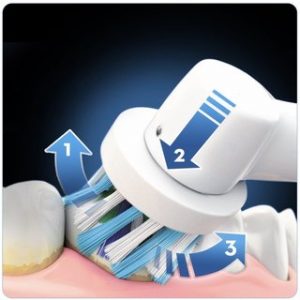 Is a sonic toothbrush better than electric?
After going through technical specs and reading a dozen reviews of electric toothbrushes, you might justifiably feel confused.
That's when questions like this arise. You begin to wonder if a sonic toothbrush is better than any other electric toothbrush.
To answer it, let's talk about sonic technology.
Sonic toothbrushes have tips that vibrate at between 24,000 and 40,000 strokes per minute. Regular electric toothbrushes, on the other hand, move the head at 2,500 to 8,000 strokes per minute.
The sonic pulse generated within your mouth by the rapid vibrations allow cleaning of not only the surface of your teeth, but also in hard to reach crevices between and behind the last molars.
The pressure wave set off by sonic vibrations sluice fluid into the space between teeth and gum line.
Sonic toothbrushes are uncomfortable for users with sensitive teeth and gums. For others, it may feel ticklish in the beginning – but you'll quickly get used to it.
Rotatory electric toothbrushes clean by an entirely different mechanism.
The brush head rotates rapidly, and bristles physically remove dirt, food and bacteria from the surface of your teeth. This brush allows greater precision and doesn't place extra pressure on any teeth.
Sonicare FAQ: So is a sonic toothbrush better than electric?
Opinions are divided on the issue. Even experts are hard pressed to say one or the other is better.
Electric toothbrushes are less powerful than sonic ones, but the rotating head is able to abrade plaque off teeth more effectively.
Sonic toothbrushes, because of their higher power, seem more effective at cleaning teeth.
Bottomline: Instead of worrying too much about this issue, focus on other variables while choosing your ideal electric toothbrush. Whether you get a sonic or electric toothbrush doesn't make a big difference.
One of the best choices today is the Philips Sonicare ProtectiveClean 4100.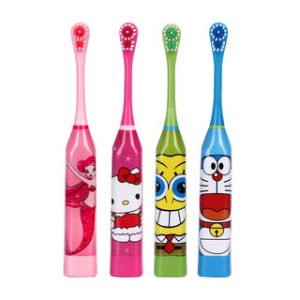 Do Sonicare toothbrushes really work?
Well, indeed yes, they do.
And they do a better job than manual toothbrushes at improving oral hygiene, preventing cavities and getting rid of dental plaque.
But what you really want to know is if a Sonicare toothbrush is worth paying a lot of money for.
And the answer to that is also 'Yes'.
Look at how an electric toothbrush is built.
It has a removable brush head that does all the hard work of cleaning away food debris, mineral deposits and early plaque from the surface of your teeth.
A mechanism inside the brush handle powers the head and makes it vibrate or oscillate. This back and forth motion is what cleans your teeth so effectively.
Philips Sonicare ProtectiveClean 5100
An electric circuit board allows all the programmable functions that make your Sonicare electric toothbrush operate in various modes. The entire structure is powered by Lithium ion batteries inside the plastic casing.
Sonic toothbrushes like the Sonicare work just like ordinary ones by moving back and forth over your teeth at high speed. Sonic brushes vibrate at a high frequency of 260 Hz, which means the cleaning happens at a rate of 31,000 brush strokes per minute.
Why do Sonicare toothbrushes really work so well?
Because a sonic toothbrush cleans your teeth at a far higher speed than any other regular electric toothbrush.
Its direct action removes dental plaque. But indirectly, the brush head also sets off waves of turbulence that cleans your teeth more effectively than simply brushing them.
In the ultimate analysis, however, your decision to get a Sonicare toothbrush will be a matter of opinion. Customer reviews are all over the place, indicating that it's often a personal preference for one over another.
The key factor that governs your dental health is how regularly and thoroughly you use the Sonicare electric toothbrush to clean your teeth… not which toothbrush you use to do it.
That's what an ultimate Sonicare FAQ should answer – the unasked, but important question!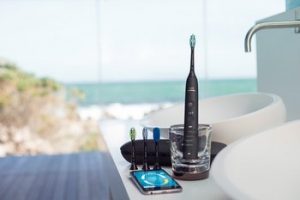 How often should you change your Sonicare toothbrush?
Philips Sonicare electric toothbrushes start showing signs of wear and tear after three months of regular use. The brush heads get frayed and bristles splay, making it less efficient at cleaning or removing plaque.
Sonicare C2 Optimal Plaque Control Brush Head
This is why the standard recommendation is to change your Sonicare toothbrush head every three months.
Watch this video for more on how often you should change your Sonicare toothbrush:
Philips Sonicare FAQ brush heads have
"reminder bristles"
to help indicate visually when it is time to change them. If you notice these bristles wearing out, replace the head right away.
The process of changing brush heads is simple. All you have to do is place the new brush head over the metal rod on the base and press down firmly to have it slot into place.
When removing it, pull steadily without jerking or twisting the brush head.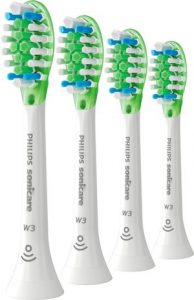 Are Sonicare replacement heads interchangeable?
Because one brush head won't fit everyone's needs, Philips Sonicare brush heads come in a range of different styles. Each one is uniquely designed to suit multiple preferences.
Since every user has different needs, let's not get locked into a debate about which is the best Sonicare replacement brush head. Instead, let's talk about whether Sonicare replacement heads are inter-changeable.
Broadly speaking, there are 15 different styles in Sonicare brush heads.
Each of them comes in two different brush sizes – Standard and Compact.
And you can buy them in multi-unit packs with 2, 3 or even a dozen brush heads.
Replacement heads are also available in your choice of colors.
Philips Sonicare C3 Premium Plaque Control Brush Head
Now, to address the question: Are Sonicare replacement heads interchangeable?
Yes, most Sonicare heads are interchangeable.
There are only few exceptions. Otherwise, the entire range of brush heads will work with just about any Sonicare brush handle.
So no matter whether you own a DiamondClean, or a FlexCare, or a ProtectiveClean handle, you'll be able to 'click on' a Sensitive, or AdaptiveClean, or ProResults brush head to it.
In fact, there are even third-party alternatives available for these devices.
The PowerUp brush handle however is not cross-compatible with other models than the PowerUp brush head.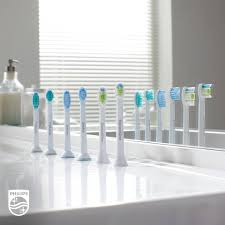 Sonicare Replacement Brush Heads – interchangeable options
Sonicare FAQ : Do Sonicare toothbrushes have lithium batteries?
Most Sonicare toothbrushes have rechargeable lithium ion batteries.
A few models come with a Nickel Metal Hydride (NiMH) battery. But the lithium battery models have more benefits.
Lithium-ion batteries are lighter and smaller. The toothbrush is therefore lighter, and can be handled more easily.
Lithium batteries also charge faster and can be safely recharged even while partly loaded.
Philips Sonicare electric toothbrushes with lithium batteries can hold their charge for up to 3 weeks after a single charge. This assumes you use them on average to brush twice a day, for 2 minutes each.
NiMH batteries, on the other hand, only last for 2 weeks on a single charge.
Cons:
A drawback to Sonicare lithium batteries is the slightly higher cost. There are also some restrictions on carrying devices with lithium-ion batteries inserted on airplane flights. You may have to check in your Sonicare toothbrush for air travel.
Reviewers have criticized Philips' decision to make their Sonicare batteries non-replaceable by the owner.
As a result, when your battery dies, you'll have to replace the entire toothbrush as a unit. However, a few smart and enterprising folks have figured out ways to hack this and get replacements done anyway.
The Sonicare user manual has detailed instructions about recycling lithium batteries after they've worn out their use.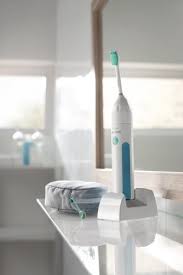 Sonicare Batteries – long life, more power
How long do Sonicare batteries last?
Various toothbrushes come with a diverse range of features. Models differ in how quickly they can be recharged, and how long a charge lasts.
A common question asked by prospective buyers is about how long do Sonicare batteries last.
Philips' advanced battery technology maximizes the duration for which your toothbrush will function after a single complete recharge. These lithium-ion batteries are designed to effectively hold their charge for a long time, so you won't have to worry about loss of battery life.
It often takes a full day (24 hours) to recharge a Sonicare battery, and while recharging the LED light on your handle will flash amber or green.
Once fully charged, this changes to a solid green glow. This will last for up to 3 weeks of regular use – which equates to brushing twice in a day, for two minutes each time.
As any Sonicare FAQ shows, this longevity is one of Sonicare's biggest advantages over other competitors.
In case you expect to travel for extended periods beyond the 3 week limit, then you can carry along your charging station to allow recharging your Sonicare periodically.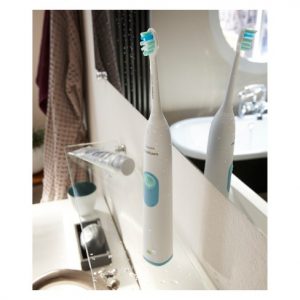 Are Sonicare toothbrushes worth it?
Just like the Sonicare FAQ : Should you buy a Sonicare toothbrush?…  This is a tricky question to answer.
Because the answer depends on so many variables.
After all that you've read about a Philips Sonicare electric toothbrush in this exhaustive report, you no doubt already have a preference.
Either you've decided this is right for you, because you're convinced by one or more elements in the design, function and appeal of a Sonicare model.
Or you're not yet convinced because of other reasons like expense, features or the lack of clear evidence of any superiority over other options.
If you don't fall into either group, maybe you're looking for a good reason to get a Sonicare toothbrush.
Well, here's why Sonicare toothbrushes are worth it.
Sonicare uses sonic wave technology to effectively clean your teeth, remove dental plaque and tartar, improving oral hygiene and dental health.
It has superior battery life, lasting 3 full weeks of regular use following a charge.
It delivers great cleaning action, being effective even in hard to reach spots, along the gum line, and in between teeth.
On the other hand, using a Sonicare for the first time can be a bit uncomfortable.
The cost of a Sonicare toothbrush is a bit higher, on average, than other brands and alternatives.
In the ultimate analysis, a Sonicare is worth it for most users and especially for people above age 40, who have gum recession, or want a good cleaning solution for oral hygiene.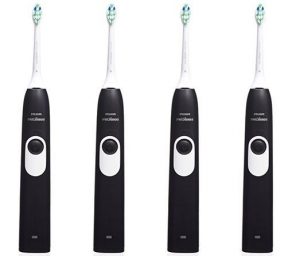 Sonicare Toothbrushes – worth it!
SONICARE FAQ : What is the best Sonicare toothbrush?
Philips Sonicare DiamondClean Smart 9700
Before telling you what is the best Sonicare toothbrush, let's first talk about the way to evaluate the different models.
First, look at all the features offered by different Sonicare models.
Then consider the perceived performance ratings and reputation, as measured by reviews by consumers and experts/professionals.
Finally, certain proxies can help assess quality without actually  running extensive comparisons.
So – Sonicare FAQ: what is the best Sonicare toothbrush?
The answer will be conditional – based upon what YOU are looking for!
Do you want the best possible Sonicare toothbrush ever? Then a Sonicare DiamondClean or Sonicare 9900 Prestige are your only choices.
Philips Sonicare 9900 Prestige
Are you looking for the brush with best qualities overall, and that you can purchase at reasonable cost?
Then your options are broader – and the choice becomes a bit harder.
Philips Sonicare ProtectiveClean 4100
The Sonicare ProtectiveClean 4100 and Sonicare ProtectiveClean 5100 are clearly good picks.
Philips Sonicare ProtectiveClean 5100
How about bargain Sonicares?
If cost is a big consideration, think of the Sonicare Essence+ or Philips One by Sonicare.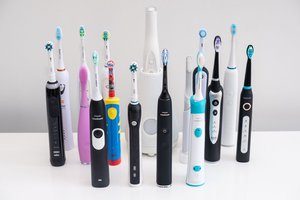 Which is the best Sonicare of them all?
SONICARE FAQ
Can I leave my Sonicare on the charger?
A reasonable question that has a clear answer.
Yes.
It is perfectly okay to leave your Sonicare on a plugged-in charger while you're not using it.
It will not have any adverse impact on the lifespan of your battery, or interfere with recharging.
This information is reliable because it comes right from the manufacturer's website – here.
Should I charge my Sonicare every night?
There is no harm in leaving your Sonicare toothbrush on a charging station in between uses. Still, you do not have to charge it every night to enjoy optimal performance.
Based on a typical use of brushing your teeth twice every day, for 2 minutes each time, your Sonicare electric toothbrush should last 3 weeks. That's after a single complete recharge.
This means you do not have to charge it every night.
For each recharging session, however, you will need to leave the toothbrush on charge for a full day (24 hours) in order to ensure that the battery is fully topped up.
This is indicated by a steady green glow of the LED light on the brush handle.
Following a complete recharge of your Sonicare battery, the toothbrush will work normally for 3 weeks if you have a DiamondClean, Flexcare, Sonicare 3 Series, or HealthyWhite model.
For other Sonicare models like Flexcare Platinum Connected, ProtectiveClean, Sonicare 2 Series and Essence, this period is a little shorter at 2 weeks.
And the Sonicare Essence+ has a weaker battery that lasts barely 10 days on a single charge.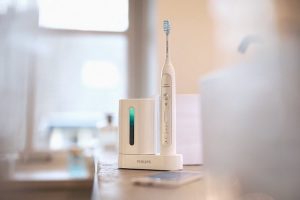 Can a Sonicare toothbrush battery be replaced? How do I remove the battery from my Sonicare toothbrush?
The Philips Sonicare website clearly declares that you cannot replace the battery from your Sonicare toothbrush.
So this might beg the question of how to remove the battery from a Sonicare brush.
Yet there's a reason some users want to try it.
Having spent $100 or more on an electric toothbrush, it's hard to simply give up on it if the battery fails – without wanting to attempt a change of the rechargeable battery. Adventure-seeking DIY'ers with some experience in electrical work might want to try it out.
But consider the complexity of the process. And the manufacturer's explicit statement about replacing a Sonicare battery. It seems to be a wiser bet to simply bite the bullet and get a new toothbrush.
Choose from one of this set of best electric toothbrushes here.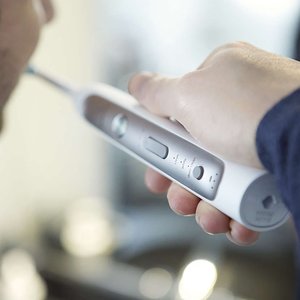 How do you get mold out of a Sonicare toothbrush?
Though rare, it is possible that your charging base gets moldy after extensive use.
So how do you get mold out of a Sonicare toothbrush is a Sonicare FAQ?
The simple answer is – by regular cleaning.
Mold and mildew can be harmful, even toxic at times. It is best removed frequently, even before it builds up to being a nuisance.
This means you should clean the base of your toothbrush often, following the method detailed above.
If your brush head has mold, it is best to replace it with a new one.
It can be practically impossible to get rid of mold from the interstices of bristles, and it is probably time anyway to replace your brush head if it grows mold.
By changing heads every 3 months, you'll minimize the chance of mold forming on it.
So here's how to get mold out of a Sonicare toothbrush:
Dip your Sonicare brush into a solution of chlorine bleach in water (in 1 to 10 ratio) and briskly scrub the base until all the mold is gone.
Wash it again with clean, hot water. Wipe the brush handle dry.
Screw off the nut near the base and clean inside it with the bleach solution using a brush.
Finally scrub the charging base with bleach again.
A note of caution: Wear rubber gloves while cleaning with bleach as the caustic liquid can harm sensitive skin.
The cloth you use to clean will likely be damaged, so be prepared to throw it away!
You could also use a disinfecting wipe to keep mold from forming.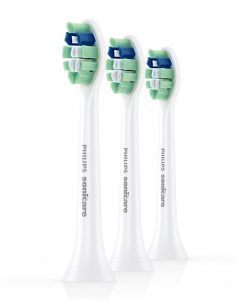 Sonicare Replacement Brush Heads
How do you disinfect Sonicare toothbrush heads?
To get the best value from your Philips Sonicare electric toothbrush, you must clean your brush and brush heads regularly.
On the official website, you will find a video that shows you how to disinfect Sonicare toothbrush heads.
Don't put your toothbrush into a dishwasher, or use it to clean the brush head or charger either.
Instead…
First rinse your toothbrush in running warm water to remove any toothpaste and particles stuck to it.
Then wipe off the surface using a damp cloth.
Do this every day as a routine after you finish brushing.
Philips Sonicare C3 Premium Plaque Control Brush Head
Once every week, do a more thorough cleaning by removing the brush head and rinsing the bottom of the toothbrush in water.
Do the same for the metal shaft area.
Afterwards, wipe the entire brush dry using a cloth.
Avoid using sharp objects or pushing/probing around the rubber seal that keeps the area of the metal shaft waterproof.
Brush heads can be further disinfected to get rid of all bacteria by removing them from the handle and using the Philips Sonicare UV brush head sanitizer. With just a simple push of the button, you'll get rid of 99% of all bacteria on your brush head!
The UV sanitizer works on clean technology that destroys disease-causing bacteria that may coat the surface of your toothbrush heads. The reflector spreads out the sanitizing rays over the entire brush head, delivering optimal disinfection results.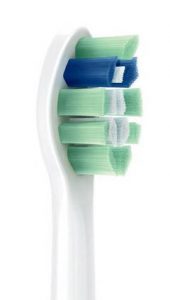 How do I clean the bottom of my Philips Sonicare toothbrush?
It is recommended that you keep the bottom of your Philips Sonicare FAQ toothbrush clean by following a simple weekly routine.
Take off the brush head.
Rinse the handle bottom in warm water.
Brush off any debris, grime or mold on it.
Rinse your brush's metal shaft under water.
Wipe the entire surface dry.
If you follow this routine strictly once every week, you will give your Sonicare a longer lifespan and enjoy better performance as well.
What to do if your Sonicare won't charge?
The Sonicare electric toothbrush runs on a rechargeable battery that can be connected to a charger that plugs into standard wall power outlets.
As long as there is no problem with the circuit board or the battery itself, here's what you can do if your Sonicare won't charge.
Keep the Sonicare on your charger, plug it into a working power outlet, and let the toothbrush charge for 24 hours. The LED indicator will glow a solid green when fully charged.
If this doesn't happen, try with another power outlet in case that was the problem.
In case this isn't the issue, unplug the charger, wipe the surface with a damp cloth to clean any dirt. Then leave it to dry completely.
Try again with the charger plugged into a working socket.
If this doesn't do the trick, chances are that your Philips Sonicare's circuit board or battery are damaged and you will need to replace your electric toothbrush.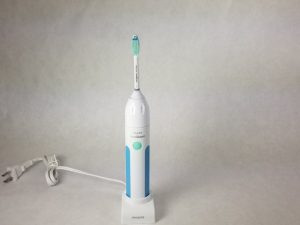 Why is my Sonicare blinking?
A blinking light on your Sonicare FAQ is perfectly normal, and does not indicate any kind of damage or malfunction. In fact, it is meant to indicate the level of charge remaining on your battery.
Your Sonicare electric toothbrush is designed to work for 3 weeks of regular use following a full charge. When you aren't sure how much charge is left, you can place the toothbrush on a charger and observe the LED display.
If you see an amber light flashing, it means the battery is nearly drained and will need to be recharged. While you may still get a couple of cleaning sessions out of it, it is advisable to recharge as early as possible.
If you see a green light flashing, it means the battery is partly charged, but not yet completely. You should leave the toothbrush on charge for a while longer to get the highest performance out of it.
When the LED glows a solid green, it means your Sonicare is fully charged. This light remains glowing for 10 minutes and then switches off.
Please note:
You must test for this only while your Sonicare is placed on the charger.
If you remove the handle from your charger, sometimes the brush will glow green even if it isn't fully charged. A flashing amber light means you have very little charge left, while a solid green light that disappears after thirty seconds means there's another 10% charge on your battery.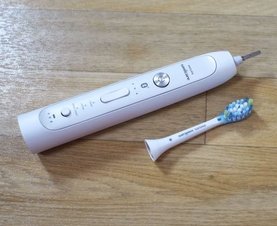 Dealing with your blinking Sonicare
How do I know if my Sonicare is charging?
To charge your Sonicare electric toothbrush, plug in your charger to a live electric power outlet. Then leave the brush handle on the charger for 24 hours to recharge fully.
While your Sonicare is charging, a green indicator light will flash and blink. This indicates that your battery is being actively charged.
Sometimes, you will not see this blinking light immediately. This could be because your battery has fully run down. In these cases, wait for ten to fifteen minutes for the toothbrush to recover.
After this, the indicator LED will start flashing, and this will continue until the battery is fully charged. Typically, this will take 24 hours of constant charging.
In the Sonicare DiamondClean Smart toothbrush, in addition to the blinking LED lights, you will also hear a beep sound twice when the brush is placed inside its glass charger and begins to recharge.
Even when you are traveling and try to recharge your toothbrush with the mini-USB cable attached to a laptop or power bank, the LED will flash white or green while the battery is charging.
So you will know from visual and audible indications when your Sonicare toothbrush is charging, and can find out when it is fully charged.

How do I reset my Sonicare Flexcare?
This Sonicare FAQ is no longer available.
Which model is the best Sonicare toothbrush to remove plaque?
According to the American Dental Association, both electric and manual toothbrushes are effective at getting rid of dental plaque.
The only drawback with a manual toothbrush is that it takes a little more effort and skill to do this than with a powered toothbrush.
Philips Sonicare ExpertClean 7500
On the other hand, electric toothbrushes are more expensive. So before you pick a model, you should ask yourself which is the best Sonicare toothbrush to remove plaque.
There are 2 options that are almost equally good at it:
Philips Sonicare ProtectiveClean 4100 – a budget Sonicare toothbrush equipped with softer bristles that make it less uncomfortable to clean between your teeth and near your gums.
Sonicare DiamondClean – a high-end electric toothbrush that is extremely effective at removing plaque and stains on your teeth, thanks to a powerful motor and versatile brush heads that are almost as good at cleaning as a visit to your dentist.
Got a Sonicare FAQ question that's not answered yet?
Please leave a comment below and we'll get around to it shortly. Thanks!
And if you know anyone else who might benefit from this information, please share this report with them.
See our ULTIMATE Electric Toothbrush Buyer's Guide - and make an informed and smart choice.