Oral B iO Review : The iO Series is a powerful and sleek electric toothbrush model from the world-famous Oral-B brand.
It delivers top class cleaning performance and offers excellent advantages over other models. The Oral B iO electric toothbrush is quieter and allows tracking of brushing activity in 3D detail.
Though expensive, most users consider it great value for money. If quality is a high priority and you will make use of the diverse functions, this may well be a great choice for you.
Pros:
Elegant look and feel, with a color display in the brush handle.
Small rotatory brush head delivers impressive cleaning performance.
Powerful motor is remarkably quiet while cleaning.
A visible and tactile pressure sensor protects against injury to teeth and sensitive gums.
The battery is long lasting and can be readily recharged using a magnetic 'no contact' charging station.
Has Bluetooth and 'intelligent' brushing functionality.
Cons:
Expensive model, may be beyond the budget of many interested buyers.
Requires proprietary replacement brush heads that add to the overall operating costs.
Before You Decide…
Here are 3 questions to help you make up your mind, if you're in a hurry and don't have time to go through a detailed Oral B iO review.
1. Are there any serious drawbacks to the Oral B iO electric toothbrush?
No. This is an excellent toothbrush with many useful features and a great, sleek appearance and design.
If your only concern is if there's any flaw or problem that may make you regret your decision to buy this model, put your mind at ease… there are none!
2. Is there another model with these features and that is better value for money?
This is a difficult question to address. The Oral B iO electric toothbrush is a premium model and is priced accordingly. And it is loaded with features that fully justify the price tag.
With that said, there are definitely other electric toothbrush models that offer almost similar functions – but at a much lesser price.
One of them is the overall best Oral B electric toothbrush – the Oral-B Smart 1500. As you'll see in this Oral B 1500 review, all the features that are widely used by most owners is packaged into an affordable toothbrush.
In a similar fashion, the Philips Sonicare ProtectiveClean 4100 is a great electric toothbrush for a shopper on a smaller budget – but who still wishes to enjoy the benefits of a powerful device like the Oral B iO.
See our Sonicare ProtectiveClean 4100 review for more information.
Among premium electric toothbrush models, the biggest contender for top spot against the Oral B iO electric toothbrush is the Sonicare DiamondClean Smart, which is the top-rated model from Philips Sonicare.
As you'll see from our Sonicare DiamondClean review, this is an electric toothbrush that is widely accepted as the ULTIMATE device against which any other will be compared – to determine the "best".
So there are other models that offer good value for money.
If you desire the latest, state of art features and functionality in your electric toothbrush, and have decided that Oral B is a great brand, then the Oral B iO electric toothbrush is an excellent choice.
3. Where to shop for the Oral B iO electric toothbrush?
As with buying any electric toothbrush, you can choose between a retail outlet or store, or order the device online.
Shops like Walgreens, Walmart, Best Buy, Safeway and Target often have the Oral B iO in stock. During special offer sales, you may even get to enjoy a discount, or get extra bonuses that make it a great buy.
Online, you could order the Oral B iO electric toothbrush from Oral-B's own website, though you'll often get a better price on e-commerce portals like Amazon.
Oral B iO Review
Oral B, one of the two top brands of electric toothbrush manufacturers, is known for its high class performance and top quality products.
And in the new iO Series of electric toothbrushes, Oral B has come up with a completely redesigned, sleek and elegant product line that combines superlative features with a classy look and feel.
What's Inside The Box?
Oral B iO Series toothbrush handle
Replacement brush heads
Basic or Premium travel case (with Power2go charging)
Magnetic charging station
Warranty information
Documentation and User manual
Differences Between iO Series Models
As with its other lines, the Oral B iO series has different models – the Series 7 and Series 8 and Series 9 devices. All are similar, but have some differences that may make one or the other more suited to your unique needs and preferences.
Oral B iO review – Series 6 summary
The iO 6 Series toothbrush comes with two color choices and 5 cleaning modes. There's a travel case and one replacement brush head included in the pack. This is the lowest priced among all iO Series toothbrush models.
Oral B iO review – Series 7 summary
The iO 7 Series electric toothbrush is also available in 2 colors and operates in 5 different modes of cleaning. But along with the travel case, you get 2 replacement brush heads as well as a magnetic charger included in the pack.
The price is higher than the iO 6 Series, but lesser than iO 8 models.
The iO 7C Series is a variation on this theme that throws in an extra brush handle and charger, as well an additional brush head. There's also a couple of premium travel cases included, for a premium price tag.
The iO 7G Series (with an extra brush head holder, but only 1 replacement brush head), and the iO 7S Series (with 3 replacement brush heads but a basic travel case) are minor tweaks on the above mentioned models – with correspondingly different prices.
Oral B iO review – Series 8 summary
The iO 8 Series electric toothbrush offers a choice between 3 different colors and 6 cleaning modes.
There are 3 replacement brush heads included along with a basic travel case, all at a price midway between the 6 and 7 series.
Oral B iO review – Series 9 summary
The iO 9 Series stands out in that it offers 3D tracking functionality. It also runs in 7 different cleaning modes and you can choose from 3 color options – alabaster white, black onyx, or rose quartz.
There are 4 replacement brush heads thrown into the pack, along with a travel case with an inbuilt charging station. It also costs as much as the most premium iO 7 Series models.
Oral B iO Review : Key Features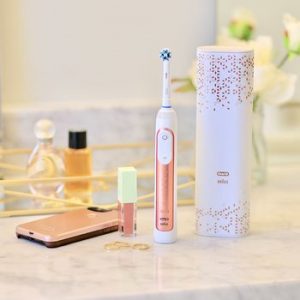 The key features of an Oral B iO Series electric toothbrush are:
choice of cleaning modes (5 to 7)
inbuilt timer with quad pacer
pressure sensor to avoid damage to sensitive teeth and gums
magnetic charging station
long lasting battery (2 weeks life on a single charge)
powerful motor that runs quietly
3D tracking (for the iO Series 9 models only)
Oral B iO Review : Design & Usability
In contrast to the earlier Oral B models that somehow tend to look a bit cheap and unstylish, the iO Series is classy through and through.
The distinctive improvements in design standout to make this a truly premium electric toothbrush. Most features are the same as older models, but just polished up a little differently – but make a big difference.
From the moment you pick up the Oral B iO Series electric toothbrush, the experience is obvious. Cylindrical and smooth, the same brush handle now seems more comfortable, ergonomic and stylish.
An oval panel houses the power button, readily identified by the distinctive icon. Another button, this one with a solid dot, determines the cleaning mode.
Each button is designed to be easy to operate even while brushing. A gentle pressure switches effortlessly from one cleaning mode to another.
Design Improvements
Rubber grips to enhance the usability on older models is no longer a part of the iO Series toothbrushes. What's sacrificed in security of grip is compensated by the sleek appearance and design elegance that catches the eye and will appeal to users.
Another interesting innovation is how the weight and center of gravity of the brush handle is distributed so that it will not roll off a bathroom counter when placed on its side.
A clear ring panel is the pressure sensor, which lights up if you press too hard on the teeth while cleaning.
A flat base allows the toothbrush to be placed vertically on a counter. The shaft projects from the handle, onto which the replacement brush head simply snaps on.
One minor drawback is a slim gap remains between the head and handle even after the head is securely fastened.
iO Ultimate Clean brush heads come in matching colors to the handle. These heads are small and round for better reach and more effective cleaning.
Oral B iO Series brush heads are not cross-compatible with other models. This means CrossAction, UltraThin or other brush heads will not fit an iO Series brush.
Another brush head is the Gentle Care model that's specially designed for sensitive teeth and gums.
Indicator bristles are a part of these new brush heads. They let you know when it is time to replace a worn out head. Over the typical 3 month lifespan of a new brush head, the blue color of these bristles wears off.
In addition, if the bristles splay or fray, you should replace the brush head earlier.
The smartphone app that connects via Bluetooth can also be programmed to remind you when it is time for a replacement.
Oral B iO Review : Performance
Brushing with an Oral B iO Series electric toothbrush is a unique experience. The cleaning action is gentler than with other models, but is extremely effective at removing plaque and cleaning your teeth.
Brushing Modes
The device operates in many (or all) of 7 separate cleaning modes.
Daily Clean is the most frequently used regular mode.
Sensitive is a gentler mode to avoid injury to gums and teeth.
Supersensitive is even more gentle.
Whiten is an intense mode to remove stains.
Intense is even more forceful – and removes plaque.
Gum Care massages infected gums, relieving pain
Tongue Clean is to keep your tongue free of debris
Most users have a single preference that will most often be used. The others are more like options for special needs, and used only on rare occasions.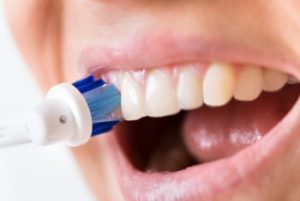 Daily Clean is the mode many people will use by default, and is extremely effective for brushing teeth.
In addition to the nature of cleaning, each mode is also pre-programmed to run for differing periods. So an Intense cleaning session lasts 3 minutes rather than the regular 2 minute cycle with most other modes.
The noise level while brushing is noticeably lower. This is due to a patented frictionless magnetic drive technology that powers the brush head. For experienced Oral B electric toothbrush users, this will feel refreshingly different.
The cleaning effect of the Oral B iO electric toothbrush also happens through micro vibrations.
These are set up in the brush head through the magnetic drive that powers the device. It conveys motion from the handle to the bristles, which then gently vibrate to generate a cleaning effect.
Timer and Quad Pacer
Teeth whitening and plaque removal are enhanced by the inbuilt timer which ensures adequate brushing. Dentists recommend brushing for at least two minutes in each session. The timer ensures that you won't stop earlier.
A quad pacer further guides you to switch from one quadrant to the next after 30 seconds. This makes sure that all parts of your mouth are equally cleaned, without overlooking any quadrant.
As you move the toothbrush from the upper right to left quadrants, and then to the lower left and right quadrants, all the teeth are cleaned effectively. The quad pacer stutters to indicate that it is time to move to another quadrant.
If you prefer brushing for a longer duration, these intervals can be reprogrammed using the smartphone app. In models of the Oral B iO Series electric toothbrush with 3D tracking and AI recognition, this has been shown to enhance cleaning.
When you've finished brushing, the display screen even lights up with a smiling face emoji!
Pressure Sensor
The Oral B iO Series electric toothbrushes have inbuilt pressure sensors. These constantly monitor your brushing sessions to detect whenever you press too hard.
Something which is unique to this 'Smart' pressure sensor is that it can also recognize when you are not applying enough pressure for adequate cleaning.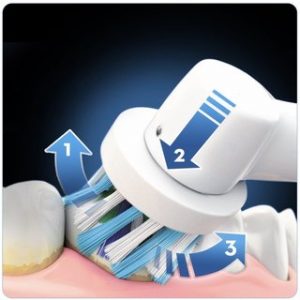 So where other models will notify you when you press down too hard, the Oral B iO Series will also let you know that you're not applying enough pressure to clean your teeth adequately!
The LED ring around the neck of the brush handle glows green when you are pressing down just enough – and red to warn you about too much pressure, or too little.
Whenever the sensor detects too much pressure, it will automatically reduce motor power and slow down until you ease off. This helps protect against damage to diseased gums and sensitive teeth.
One minor annoyance is that the glow from the warning LED isn't always easily noticed. Unless you're brushing in front of a mirror, you may miss the glow completely. And there is no matching noise alarm to draw your attention to it.
Oral B iO Review : Bluetooth Connectivity
A benefit of premium electric toothbrush models like the Oral B iO Series is the Bluetooth wireless connectivity. When synched with a smartphone app, you can monitor several aspects of your brushing through technology.
The app runs on both Android and iOs phones. It interacts with a sensor in the brush handle and data is transferred wirelessly. You can view in real time or store it for later retrieval and analysis.
It is easy to pair the two devices. You can make any adjustments using the app on your smartphone. When your phone is within range, all information about brushing sessions is stored securely.
The model boasts of an improved artificial intelligence (AI) component of the smartphone app.
As you brush, an image of your mouth lights up on the app once you finish with a quadrant. This feedback helps you modify the way you brush and avoid overlooking any areas.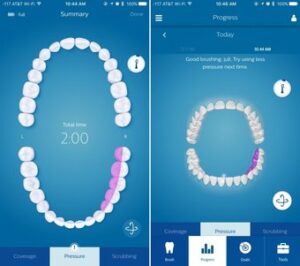 Added features such as a scoring system help you know how well you've done. And a comparative analysis against past performance lets you see if you've been slipping lately.
However, the truth of the matter is that this functionality is purely optional. You'll get great value from the Oral B iO Series electric toothbrush even without using the smart features at all.
Oral B iO Review : Travel Case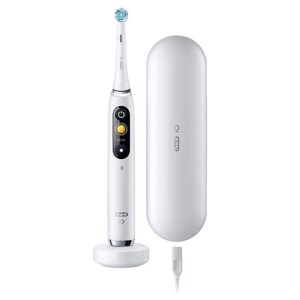 The toothbrush comes with a handy travel case. Some models have a basic travel case. Others include a premium case with inbuilt recharging capability.
While the travel case is functional, it doesn't quite feel as classy as the toothbrush does. Neither is it as sturdy as one might wish. While only an accessory, and adequately water proof and protective, it still detracts a little from the premium nature of the device.
The hard plastic case is large enough to hold the brush handle and one replacement brush head. The Power2Go case allows recharging of the battery while you store the electric toothbrush inside it.
A power cable attaches the case to an electrical outlet for charging purposes. An electrical adapter is necessary, making it a bit clunkier and unwieldy.
Oral B iO Review : Battery Life
Battery life has always been a weak point with Oral B electric toothbrushes.
Philips Sonicare models regularly deliver 3 weeks or longer on a single charge. But Oral B electric toothbrushes seldom last longer than 14 days on a full charge.
The Oral B iO Series electric toothbrush is no different.
The manufacturer advertises 2+ weeks of regular use on a full charge. And the Oral B iO electric toothbrush delivers on this promise.
For brushing on the most popular Daily Clean mode, which is what most users do, a single recharge will last for at least 14 days, and reportedly upto 6 full weeks.
This is adequate for most typical users. Even while you travel, it is unlikely you'll be in a position where you cannot recharge once in a while.
The brush handle houses a lithium ion rechargeable battery. You can recharge it with the magnetic no-contact charging station. It takes around 4 hours to fully recharge, but you can leave the device on the stand for as long as you wish.
A cord of 1.2 meters length is provided to connect the station to a power outlet. An LED indicator on the battery handle shows the level of battery charge.
Many other electric toothbrush models have to recharge overnight. So this becomes a serious advantage for travellers who spend only short periods in a room or with access to charging facilities.
A warning that the battery is running out comes in the form of a pulsing red glow from the light ring. While recharging, this ring pulses slowly until the battery is fully charged.
The Oral B iO toothbrush can also be recharged inside the Power2Go travel case attached to a power adaptor. A full recharge takes six hours.
Oral B iO Review : Where To Buy It?
As mentioned earlier in this Oral B iO review, you can purchase this electric toothbrush online, or at a retail outlet like Walmart, Target, Best Buy or Walgreens.
The higher price of this premium electric toothbrush makes some interested buyers hesitate.
But then, it is a top-of-the-line model with several advanced features and technology. So it offers excellent value for money, even at a higher price.
It also compares attractively with the Philips Sonicare DiamondClean Smart electric toothbrush.
It is widely acknowledged that the DiamondClean is the best premium electric toothbrush. And this Oral B iO Series toothbrush is of comparable value – at a similar price.
By shopping online at an e-commerce portal like Amazon.com, you can enjoy the advantage of having home delivery right at your doorstep. In addition, you will often be eligible for special offers and discount deals.
Surprisingly, you'll often find the discounted price for an Oral B iO Series 9 toothbrush only slightly more than what you'll pay for a Series 7 or Series 8 model.
So it makes sense to splurge just a little bit extra – to enjoy all the advantages of the absolutely state of art premium model.
Oral B iO Review – Conclusion
So… should you buy the Oral B iO electric toothbrush?
That's a question every Oral B iO review seeks to help with… but only you can answer for yourself.
This is a high end premium electric toothbrush. It has an improved design and excellent features. The performance is impressive and it is effective at cleaning teeth, removing dental plaque and improving oral health.
The quick recharging ability and elegant look and feel set it apart from most other models. The smartphone app and wireless functionality offers some significant advantages to improve dental care.
The smart features like AI and tracking may not be essential, but are nevertheless cool. And having a choice of several different cleaning modes means you'll find one ideal to your preferences and needs.
If you're sure this is the right electric toothbrush for you, check out the online retail resources to see if you can get it at a special price.
With a 2 year warranty, your risk is small. If anything doesn't work as expected, you can exchange it for another model – or even get your money back.
Oral B iO Review – Technical Specs
Length: 18.6 cm
Width: 3 cm
Weight: 130 grams
Color options: 3 (onyx black, alabaster white, rose quartz)
Oral B iO Review : FAQ
1. How does the Oral B iO electric toothbrush clean?
This is not a sonic toothbrush. The brush cleans through a circular rotatory action.
You'll enjoy additional cleaning effect through the micro vibrations set up inside your mouth by the magnetic motor. This aids with deep cleaning.
2. How many cleaning modes are available?
The iO Series electric toothbrushes operate in a few (or all) of 7 modes. Each model differs in how many of these modes it includes.
The 7 modes are:
Daily Clean – most commonly used
Sensitive – for users with gum or teeth diseases
Super Sensitive – even more delicate cleaning
Whiten – to remove stains and whiten teeth
Intense – even more forceful deep cleaning
Gum Care – for users with gingivitis to massage gums
Tongue Cleaner
3. Do you get replacement brush heads?
The device comes with either Ultimate Clean brush heads or Gentle Care brush heads.
These heads are NOT exchangeable with other brush heads and are specific only for iO Series devices.
You can buy replacement brush heads separately whenever they wear out.
4. Is there a timer and quad pacer?
Yes, the Oral B iO Series comes with a 2-minute inbuilt timer to ensure adequate brushing.
There's also a quad pacer to guide you to move to a different quadrant every 30 seconds.
5. Is there a pressure sensor?
Yes, there is a pressure sensor. It not only warns you when pressing down too hard on gums and teeth. It can also sense if you are not delivering enough pressure for adequate cleaning.
There is both a visual cue in the form of a glowing light ring, and a change in the motor strength.
6. Does the Oral B iO Series have Bluetooth?
Yes, there is wireless bluetooth connectivity with a smartphone app that runs on Android and iOs. It can help guide your cleaning sessions through AI and 3D tracking (only with iO Series 9 models).
7. Is there a travel case?
Yes, all models of Oral B iO come with a travel case.
Some models have a premium Power2Go case. This lets you recharge even while storing away the toothbrush.
8. Does the package include a recharger?
Yes, you'll receive a magnetic no-wire charging station in your pack. It can recharge the battery in 3 to 4 hours.
9. How good is the battery life?
With typical use, a single full recharge will last for 2+ weeks.
The manufacturer advertises that it will work for upto 6 weeks. However, in practice you'll often need to recharge sooner.
10. Is there a warranty?
Yes, the Oral B iO Series has a 2 year warranty against manufacturing defects.
See our ULTIMATE Electric Toothbrush Buyer's Guide - and make an informed and smart choice.