Oral-B Pro 500 Electric Toothbrush Review
Disclaimer: As an Amazon Associate we earn from qualifying purchases at no additional costs to you.
The Oral-B Pro 500 electric toothbrush is a worthy inclusion in the extensive line of models from the world's favorite brand.
With an Oral-B Pro 500
you'll get great value for a fair price. This electric toothbrush is great at cleaning teeth, with an inbuilt timer and quad pacer to ensure that you brush adequately and cover all areas.
If You're In A Rush…
In case you don't have time to go through a detailed Oral-B Pro 500 review, then here are just 3 of the most critical points to consider before making your decision.
Of course, we highly recommend that you also go through the complete Oral-B Pro 500 electric toothbrush review to get more information about the benefits and drawbacks of this model.
1. What are the critical flaws in the Oral-B Pro 500 electric toothbrush?
To put it simply, there are none.
If you're looking for an easy to use electric toothbrush that's effective at cleaning your teeth and priced affordably, then the Oral-B Pro 500 is a great choice.
2. Are there any other models or brands to compare against this one?
One of the best sellers from this manufacturer is the Oral-B Pro 1000 model, which consistently ranks among the top 5 picks in any electric toothbrush review roundup.
The Oral-B Pro 500
is comparable to it in most aspects, and is an ideal alternative if you're on a tight budget and can't afford to spend a lot on your toothbrush.
As you might expect from one of the best models, and as this Oral-B Pro 1000 review clearly highlights, you'll find it a premium model which fits more comfortably into your hand, delivers a little more cleaning power, and has a longer battery life after recharging.
One more electric toothbrush that you might consider as an alternative to Oral-B Pro 500 is the Fairywill electric toothbrush. It is also a lightweight model that's sleek and slim, offers multiple cleaning modes and has a good battery life.
You can read more about it in this Fairywill Sonic toothbrush review here – read it now.
3. Where to buy the Oral-B Pro 500 electric toothbrush?
You can pick up a toothbrush from any retail outlet like Target, Walmart or other supermarkets or chain stores.
However, if you're looking for the best deals and discounts, or want to make sure that the specific model of your choice is what you get, then online shopping may be the best pain-free option.
Online e-commerce portal Amazon often carries the Oral-B Pro 500
at the best price, and you may be lucky to catch one of many special promotional offers where you can find it at an even cheaper rate than on main street.
You'll also enjoy the hassle-free home shipment at no extra expense. And if you'd like to run side-by-side comparisons of other electric toothbrush models, or see what others think from the Oral-B Pro 500 reviews on the site, that's easy to do.
Pros
1 convenient cleaning mode
ergonomic design with firm grip to handle
in-built timer with quad pacer
Cons
battery life is less than competing brands
Why Should You Even Trust 'A Dentist's Daughter'?
We are a site devoted to the study and analysis of various electric toothbrush brands and models. We have no bias towards or against a particular brand, and are not funded or sponsored in any way by these brands and manufacturers.
As a result, our Oral-B Pro 500 review along with every other electric toothbrush review published over the years, is free of fear or favor. Our only focus is to offer consumers like you a fair and complete view of what's available, what's good about it, and what's not.
That way you are free to make informed choices about buying one or not – and if you do purchase using a link on our site, we will get a small affiliate fee, but that is never the reason why we will recommend or favor a particular model of electric toothbrush.
So if you're looking for fair and unbiased electric toothbrush reviews, 'A Dentist's Daughter' is a great place to browse, learn and decide.
A Full Oral-B Pro 500 Review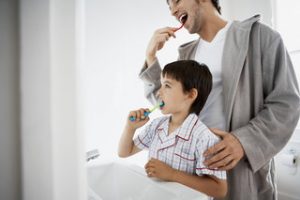 As any Oral-B Pro 500 review will confirm, this is an electric toothbrush that offers excellent features for an affordable price.
Of particular value are the in-built timer and quad pacer, which together with the 3-D cleaning action of all Oral-B toothbrushes will ensure that you have clean, healthy, sparkling teeth.
The Oral-B Pro 500
has been recently upgraded and improved, making what was already a good electric toothbrush even better!
If anything in this Oral-B Pro 500 review sounds different from what you've read in other reviews, it's probably because of these upgrades not being reflected in older reviews.
And if you purchase the Oral-B Pro 500 from a retail outlet, you might receive an older version that was manufactured before 2019 – so be aware of this possibility. That is still a very good model, so there's absolutely nothing wrong with that – just as long as you're aware.
What's Different In The New Oral-B Pro 500 Electric Toothbrush?
There are a few minor changes to the latest edition of the Oral-B Pro 500
which make it even better than the already good older version.
1. Looks and Design – the new Oral-B Pro 500 looks nicer, with a slick appearance enhanced by the rubber hand grip on the brush handle extending all around for a better hold as you clean your teeth
2. Brush Head – the older model came with one of different brush heads, while the new edition has a Precision Clean brush head by default
3. Better Battery – the previous Oral-B Pro 500 battery lasted around 5 days, while the newer model is longer at 8 days
What Is Included With Your Purchase?
one Oral-B Pro 500 electric toothbrush
one Precision Clean brush head
a charging station
documentation including manufacturer's warranty
What are the Key Features of the Oral-B Pro 500 toothbrush?
This electric toothbrush has the same patented Oral-B oscillatory and rotatory cleaning action for effective plaque removal and whitening.
It is extremely effective at getting rid of dental plaque, with several reports indicating an improvement of over 100% as compared to manual toothbrushes.
The rechargeable battery that powers an Oral-B Pro 500 electric toothbrush is sturdy and lasts for upto 8 days following a complete recharge.
An in-built timer ensures that you'll brush your teeth for the dentist-recommended 2 minute period, while a quad pacer lets you know when it's time to move to another quadrant so that no part is missed.
Oral-B Pro 500 – Design & Ease of Use
The Oral-B Pro 500 electric toothbrush
is a simple, no-frills device that most users love for its simplicity and efficiency. It was designed to appeal to those who don't have a large budget for dental hygiene – but still desire white teeth, a sparkling smile, and clean, fresh breath.
This Oral-B Pro 500 model offers it all. It's a functional toothbrush that delivers an impressive performance, while forgoing several fancy add-ons like Bluetooth connectivity with a Smartphone app that most users will not miss.
In fact, it's likely you'll be slightly disappointed when you open the box of your purchase to only find a brush handle with one brush head and a charging station. There's little else inside the box, but that's enough to keep your oral hygiene high and your smile bright!
Designed to be easy and convenient to use, the Oral-B Pro 500 feels good in your hand. It is easy to grip, doesn't slip when wet, and has a balance that makes it convenient to handle while you move around inside your mouth.
Made of white plastic, the Oral-B Pro 500 electric toothbrush has an almost clinical look and feel to it, broken only by a black rubber grip that runs all the way around the handle to give you a firm hold on the device.
A power button on the front turns on the brush, which then operates in only one mode called Daily Clean. It runs for 2 minutes after which an audible indicator beeps thrice. However, the brush will not automatically turn off.
A quad pacer indicates that 30 seconds have passed by a transient lull in motor vibration, so that you can move to another quadrant. That way you will not miss out cleaning any part of your mouth.
A nice addition that has value for certain users is a projection in the base that keeps the handle from accidentally rolling off the counter when you lay it down.
The base has a depression into which the charging prong fits. Everything is sealed and waterproof against moisture or dampness.
Like any other electric toothbrush, the brush head can be slipped off the handle. When it is removed, you'll see the metal prong that goes into the base, where it is attached to the motor that drives the brush head to rotatory and vibratory movement.
Being a budget model, don't expect great power from this motor, though. It is adequate to clean teeth effectively, but not as strong as premium models.
Like all other Oral-B electric toothbrush models, the Oral-B Pro 500
also is compatible with all types of brush heads. So although the device comes with a Precision Clean brush head in the box, you can purchase additional brush heads and use them interchangeably.
The following brush heads are compatible with the Oral-B Pro 500
CrossAction
3D White
Sensitive
Floss Action
and a few others, as well. You can learn all about the different kinds of Oral-B brush heads here.
Oral-B Pro 500 – Durability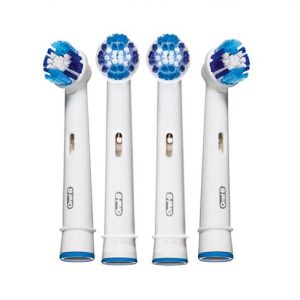 Buying an electric toothbrush is an investment into your future dental health.
While making your choice, understand that it will affect how clean and healthy your teeth and gums will be, and how much you will save on expensive dental care over the years ahead.
The Oral-B Pro 500 electric toothbrush
is a sturdy and durable instrument, which you can expect to last 3 to 5 years of regular use. A component that might require replacement sooner than later is the battery.
Due to frequent recharging, it is possible that some batteries could fail early, at around 3 years.
The manufacturer's warranty lasts 2 years. So if there is any fault that makes your toothbrush non-functional before then, you can get it repaired or replaced at no cost.
Frequent cleaning and good maintenance of your Oral-B Pro 500 electric toothbrush can ensure you get more longevity from it and save on overall costs in the long run.
Length: 22 cm.
Width: 3 cm.
Thickness: 3.2 to 2.4 cm.
Weight: 105 grams
Oral-B Pro 500 – Battery Life
The Oral-B Pro 500 battery is housed inside the handle and is a Nickel metal hydride (NiMH) cell. From a single full charge, you can expect 8 days of battery life for typical use (twice daily, for 2 minutes each).
If many different people use the same toothbrush handle, then obviously the battery will drain faster. From each complete recharge, you can expect 16 brushing sessions.
While this may seem like it's not too great when contrasted against Philips Sonicare electric toothbrushes that typically last 2 weeks on a single charge, all Oral-B brushes including the premium models have a somewhat comparable battery life.
Unless you travel extensively, however, this may not matter much because you can always recharge the brush as often as necessary. For road warriors, an Oral-B Pro 500 isn't a great choice.
A part of the reason for this limited battery life is the technology itself.
NiMH batteries have been replaced in other brands by Lithium ion cells which last longer, but also cost more. Maybe future versions of Oral-B brushes will also change over to the superior battery technology, though that shift may come at a higher price.
A problem many users highlight in their Oral-B Pro 500 review is how there is little feedback about battery charge. There is no battery life indicator like other Oral-B models, but you can sense the motor power weakening and know that it's time to recharge.
A charging station is included in the box and a full charge can happen overnight. The charger runs on a voltage of 110 to 130 volts and comes with a standard US/Canada pin. Travellers will need appropriate adapters to use them in other countries.
Where To Buy an Oral-B Pro 500 Electric Toothbrush?
You can pick up the Oral-B Pro 500 from a retail store or supermarket. Most of the chains like Walmart and Target will stock electric toothbrushes.
The potential drawbacks of shopping in a store for an Oral-B Pro 500
is that you could get an older version, or the particular model you want may not be in stock at the moment. Prices are often higher in retail outlets than online, too.
If you shop online at one of the e-commerce portals like Amazon, you can be sure of the model and version you're getting, and also save a few bucks by taking advantage of special offers and discount coupons.
While that shouldn't be the only reason you choose a particular brand or model of electric toothbrush, there's nothing wrong in picking a shopping medium that saves you money once you've decided upon a toothbrush based on its merits.
How much does it actually cost to own an Oral-B Pro 500 electric toothbrush?
While you'll pay around $30 to $50 for the toothbrush, depending upon where you order it and whether or not there are special pricing deals in effect, you shouldn't forget to calculate the average expense of replacement brush heads.
You get one PrecisionClean brush head in the box, and replacements will typically cost $5 to $10 – which means, over the course of three years, you'll spend an additional $60 to $80.
When you run this calculation, you might begin to wonder if you should pick up a more premium model instead – and it may well be the right choice for you. So make sure you consider all options, and if the Oral-B Pro 500
is still ideal for you, pick it up
with the assurance and confidence that you're getting a great toothbrush at a good price.
In Summary…
The Oral-B Pro 500
is a good choice for electric toothbrush if you're looking for a simple, convenient and effective device to keep your teeth clean, mouth fresh, and gums healthy.
It is good value for money, and comes with several attractive features like an 8-day battery life, in-built timer with quad pacer and ease of operation.
There are some features missing that you'll find in a premium model, but most of them aren't necessary for an average user. For cleaning effectiveness and high performance, it's hard to find a better electric toothbrush at this price.
Oral-B Pro 500 – Frequently Asked Questions
1. Does the Oral-B Pro 500 provide oscillating, rotating and vibrating effects for cleaning teeth?
The Oral-B Pro 500 electric toothbrush has a powerful motor that oscillates and rotates. It does not generate a vibratory motion, though.
2. How many modes of operation are there?
The Oral-B Pro 500
runs in only one mode called Daily Clean. This is a very effective mode to remove plaque and clean teeth very well. Studies have shown that this toothbrush can remove twice as much plaque as a manual toothbrush and prevent dental caries.
3. What brush head is included?
The Oral-B Pro 500 comes with a PrecisionClean brush head in the box. However, like any other Oral-B electric toothbrush, the brush handle is compatible with all other brush heads including Cross Action, Floss Action, Sensitive, Deep Sweep, Pro White and more.
4. Is there a pressure sensor?
No, the Oral-B Pro 500
does not include a pressure sensor.
5. Is there Bluetooth connectivity?
No, this instrument does not have Bluetooth for wireless connection with a Smartphone app.
6. How long is the warranty?
The Oral-B manufacturer's warranty for this electric toothbrush lasts for 2 years and will cover you against manufacturing defects and other failures.
7. Is there a timer?
Yes, there is a 2-minute timer to ensure you brush for the dentist-recommended two minute duration. There is also a quad pacer to indicate when it's time to move to another quadrant.
8. How good is the battery life?
The Oral-B Pro 500
battery lasts for 16 brushing sessions of 2 minutes each from a complete charge. This means a typical user can enjoy 8 days of brushing from each recharge.
9. Is there a charger?
Yes, a charging station is included with your purchase.
10. Is there a travel case?
No, a travel case is not included. In fact, if you are a regular traveller and plan to take your electric toothbrush along, this model may not be your best choice.