The Best Brush Heads For Sensitive Teeth
Oral-B Sensitive Electric Toothbrush Brush Heads
Oral B sensitive toothbrush heads are ideal for people who have sensitive teeth or sore gums that need gentle care. Some people have inflamed or sensitive gums that will bleed easily or suffer from teeth so sensitive that regular brushing modes would cause excruciating pain or severe discomfort.
Oral B has introduced Sensi Ultra-Thin brush heads
 especially for such users.
The bristles of Oral B sensitive toothbrush heads are softer and glide gently over sensitive teeth and gums, cleaning them without setting off shock waves in sensitive teeth or triggering pain in inflamed gums. Their action is less aggressive and less abrasive so that you can brush with confidence, secure in the knowledge that your teeth won't hurt after your morning ritual.
The Sensi Ultra-Thin is compatible with any Oral-B or TriZone brush handle. But you'll get the greatest benefit of the sensitive brush head only if you combine it with a toothbrush handle that offers Gum Care or Sensitive or Massage Cleaning modes. Other modes of cleaning might still be hurtful to your teeth.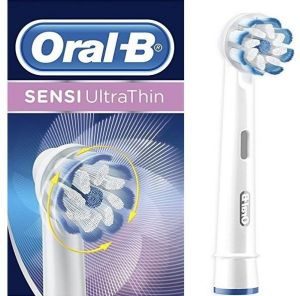 Note: If your teeth sensitivity or gum problems don't subside quickly, please seek advice from a dental professional as you may need to change either your toothpaste or diet. Sometimes avoiding certain types of food helps. Toothpaste that's specially formulated for sensitive teeth is also very helpful.
If these don't work, you may need some dental work done to reduce sensitivity of your teeth or for treating your gums.
New Sensi Ultra-Thin Brush Head
Oral B sensitive toothbrush heads for the really sensitive teeth
The Sensi Ultra-Thin head is designed uniquely for users with sensitive teeth. The bristles are extra soft, and gentle on the gums and teeth. They are shaped like petals and move gently over your teeth and along the gum line.
If you have sensitive teeth and sore or inflamed gums, you'll appreciate the action of this new Oral-B Sensitive toothbrush head
– especially as a valuable addition to their already impressive array of brush heads.
Oral B Sensitive brush heads are available in packs of 2, 4 or 8 brush heads from online retailers like Amazon
, and also in retail chains like Walmart or Target
.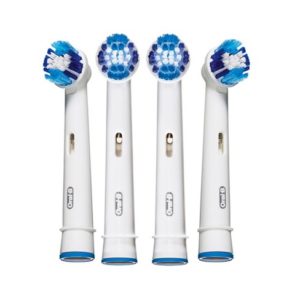 Oral-B Sensi-Ultra Thin Review
Sensi UltraThin replaces the older Sensitive brush heads from Oral B. It's an improved version that takes into consideration the needs of people with teeth and gums that need special attention. Older sensitive electric toothbrush heads were already quite good, but this newer model is a much improved version of it.
These Oral-B Sensitive toothbrush heads
are round and are made up of several clusters of soft bristles. Oral-B refers to these clusters as 'petals'. They are engineered to be aligned in such a way that, on close observation, you will notice a sweep and curve to the bristle clusters in the outer ring.
The outer ring has 8 clusters which are white with blue tips. The blue tips fade over several uses and alert you that it is time to replace the brush head when they are almost white.
The inner ring of these brush heads have 8 more bristle clusters which are white surrounding the innermost tight cluster of blue bristles. The innermost bristles are also the shortest. The inner ring is slightly longer than the central clusters and outer ring has bristles of varying length. This pattern is intricately designed to deliver effective cleaning action at a very gentle application of force on your teeth and gums.
Some bristles are of the same height as the inner ring bristles, while others are slightly taller. The purpose of this sort of positioning and different heights is to provide the most comfort while brushing. The bristles are firm but soft in consistency to avoid accidental injury to sensitive areas.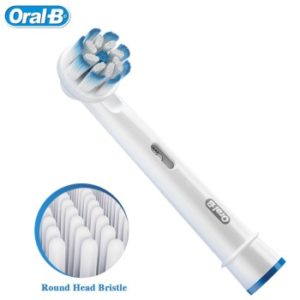 Sensi UltraThin does a very good job of cleaning teeth and gently massaging the gums. Dentists often recommend soft bristle toothbrushes for those with sensitive teeth. These sensitive toothbrush heads from Oral-B are the answer to meet that demand.
When you compare the Sensi UltraThin to older Sensitive brush heads, you will notice fewer bristles on the new version. The bristles on Sensi UltraThin brush heads are of differing heights. The newer version is much more gentle on the teeth while providing a superior cleaning effect.
Compatible With Different Brush Handles
Considering the fact that our dental hygiene needs keep changing over time, it is worth knowing that most Oral-B brush heads are interchangeable.
The entire range including the Oral-B Sensitive toothbrush heads
work with any of the Pro or Trizone series toothbrush handles. You won't need to change your brush handle every time you want to try out a different brush head or switch permanently to another one.
Keeping in mind the fact that Pro 2000 and TriZone 2000 can be used with a wide variety of Oral B toothbrush heads, it is possible to invest in one toothbrush handle and several types of brush heads matching the needs of different members of your family. For instance, Oral B sensitive toothbrush heads like Sensi Ultra-Thin are suitable for users with sensitive teeth, while others with normal teeth and healthy gums can choose brush heads that meet their individual dental needs.
There is no need to invest in 4 brush handles for a four member family because everyone can conveniently share the same handle by just replacing it with their own brush head.
Note: Stick to Oral B brush heads with your sensitive brush handles. Other brands may not be compatible, or deliver the best performance.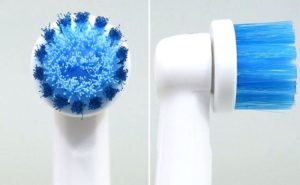 Oral B Cleaning Modes
There are a range of choices when it comes to cleaning modes available on different Oral B electric toothbrushes.
A toothbrush you own may or may not have a particular mode. So check if your model of choice offers Sensitive Mode/Gum Care Mode/Massage Mode options. The most popular cleaning modes are
Daily Clean
Sensitive
Gum Care/Massage
Whitening
Deep Clean
Tongue Cleaner
Almost all Sensitive toothbrush heads
can be used in these cleaning modes. But for best results and performance it is better to match brush head to cleaning mode. This results in the most appropriate cleaning of your teeth and contributes to overall oral health.
Brush head Replacement
Dentists recommend replacing Oral-B sensitive toothbrush heads every 3 months. But this clearly depends upon the frequency of use, which is why another feature of Oral-B brush heads is helpful.
Oral-B Sensitive toothbrush heads
have an outer ring of blue and white bristles. The blue bristles fade over time becoming almost white. When this happens, you'll know that it's time to replace the brush head.
Even though you may notice that the bristle formation is same as when it was new, using the brush head beyond this point can be harmful because the bristles might be damaged and therefore could miss spots when sweeping over the tooth and gum surfaces. This leads to  plaque build-up or ineffective cleaning between teeth. In the long run, that is not good for your oral health.
So keep a close watch on the brush head. Your Sensitive toothbrush heads
might need replacement earlier than 3 months if you brush more frequently, or if the brush heads are shared between more than one user.
The bristles may fray or appear out of shape due to too much force used while brushing. In that case it is better to replace your brush head ahead of time in order to avoid ineffective cleaning.
Oral-B Sensitive Electric Toothbrush Brush Heads
See our ULTIMATE Electric Toothbrush Buyer's Guide - and make an informed and smart choice.