Best Electric Toothbrush Under 100 Dollars
Disclaimer: As an Amazon Associate we earn from qualifying purchases at no additional costs to you.
As reviewers of the best electric toothbrush models and brands, we often get asked these questions:
What is the best cheap electric toothbrush?
What is the best inexpensive electric toothbrush?
What is the best budget electric  toothbrush?
What is the best Oral B electric toothbrush to buy?
Most first-time shoppers for an electric toothbrush are easily convinced that an electric device is better than a manual toothbrush to improve dental hygiene and remove dental plaque. But they aren't sure the difference is worth investing a few hundred bucks to test out!
The good news is that there are some excellent electric toothbrush models that deliver very high performance standards without breaking your budget.
These inexpensive electric toothbrushes are priced under $100, with some even much lower. While these budget electric toothbrush models will not have all the bells and whistles of the top end brushes, they are almost as good at the fundamental function of keeping your teeth clean.
The most expensive electric toothbrushes offer features like bluetooth connectivity, multiple brushing modes and programmes, and more accessories like a travel case or spare brush heads. But when it comes to the core function of cleaning teeth and removing plaque, what matters more than anything is the technology it is based on.
Sonic toothbrushes and rotating head brushes operate differently in cleaning teeth and getting rid of plaque. Yet the highest priced models and the least expensive budget electric toothbrushes have nearly similar efficiency on this aspect.
So just because you buy a cheap electric toothbrush doesn't mean that you are compromising on cleaning efficiency.
Which is the Best Budget Electric Toothbrush?
The answer, of course, depends upon your budget.
Top-rated models can set you back $250 to $500 depending on the features and functions you're looking for. Or you can buy a budget electric toothbrush for under $100 – or even $50 – and still get a great deal.
Most electric toothbrush reviews will confirm that in the sub-$100 range, there are two models that are head and shoulders above the rest of the field. One of them is from the Oral-B family, which is well known across the world as a leading brand in dental care and hygiene. The other is from the equally popular Philips Sonicare stable of quality oral care products.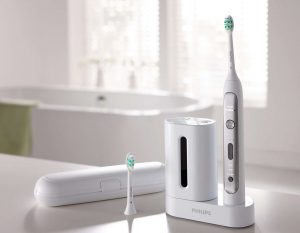 Best Budget Electric Toothbrush Under $100 – Models In 2020
The best budget electric toothbrush models in 2020 are:
1. Oral-B Pro 500
2. Philips Sonicare 5100
Best Budget Electric Toothbrush
Oral B Pro 500
The Oral B Pro 500 budget electric toothbrush is a simple, no-frills device to keep your teeth healthy and clean. This rotary head brush comes with a tiny round brush head that can reach every nook and cranny comfortably, and can be moved easily around the mouth. It is quite effective at cleaning teeth and removing dental plaque.
Like higher-end models, the Oral B Pro 500 electric toothbrush comes with a two-minute timer to ensure adequate cleaning, as well as a quad-pacer function that notifies you when it's time to switch to another quadrant. Both help enhance cleaning efficiency and make sure you brush for an adequate duration.
The only disappointment with the Oral B Pro 500 is the battery life. It often lasts for only a week on a full charge. However, unless you're a frequent traveller who carries an electric toothbrush along, this isn't a big deal as the accompanying charger is very effective at topping up between cleaning sessions.
For the inexpensive price, this is an amazingly good quality product from one of the best known brands in the field. If you shop around online, you might even find discounted rates (or coupons that help you save some money).
Buy this Budget Electric Toothbrush Now
Top Rated Budget Electric Toothbrush
Philips Sonicare 5100
The Philips Sonicare 5100 budget electric toothbrush is one of the best choices in this price range because it combines the patented Sonicare 31,000 oscillations per minute sonic cleaning design with an affordable high-quality product that delights users.
The Sonicare 5100 includes all the features that have made Philips a popular global brand, as well as the unique Brush Synch technology that optimizes teeth cleaning and oral hygiene. It monitors your brushing performance, and lets you know when a brush head is worn out and needs to be replaced.
The Philips Sonicare 5100 electric toothbrush
offers three distinct cleaning modes for specific types of users. There is an inbuilt pressure sensor to avoid damage to sensitive teeth and gums. A two-minute timer with quad-pacer functionality is also provided so that you'll be sure to clean all teeth for the recommended duration.
Buy this Budget Electric Toothbrush Now
Which Is The Best Cheap Electric Toothbrush?
While $100 is not much to pay for the robust technology and powerful performance delivered by our two top rated budget electric toothbrush picks, we understand that your budget may be even smaller… and have also selected three cheap electric toothbrushes for under $50.
But don't make the mistake of under-estimating them simply because they are priced lower!
These 3 cheap electric toothbrushes are from the best-known brand names in the business. They boast of some features that are also found in the most expensive models. And they all perform to the highest industry standards.
What you'll lose out on are options and choices, like being able to brush in different modes, or have specific adaptations for sensitive gums, or enjoy a range of perks like wireless connectivity or tracking your brushing performance.
Frankly, however, most users do not need them. If what you're looking for is a way to keep your teeth clean, gums healthy and remove dental plaque, then you'll find any of these cheap electric toothbrush models completely satisfactory.
Best Cheap Electric Toothbrush
Oral-B Pro 1000
Regardless of price, the Oral B Pro 1000
is among the best electric toothbrushes in 2020 according to many experts and reviewers. That isn't surprising when you consider how much value is packed into this little power-device.
Durable, high-quality and top performing, the Oral B Pro 1000 has only pluses – with the only potential drawback being that it offers only one cleaning mode of operation. This is a nicely designed, effective teeth cleaning instrument that gets rid of dental plaque better than almost any other electric toothbrush. The proprietary Oral-B 3D cleaning method is extremely good at getting rid of even stubborn plaque between teeth.
Because it only operates in one Daily Clean mode, this may not be the best choice if you suffer from sensitive gums or teeth. But for almost any other type of user, the Oral B Pro 1000 is easily one of the best choices for a cheap electric toothbrush.
Buy this Cheap Electric Toothbrush Now
Top Rated Cheap Electric Toothbrush
Philips Sonicare 4100
One of the top rated models from Philips Sonicare, often ranked next to the popular Sonicare Flexcare, is the Sonicare 4100 electric toothbrush. This affordable model is extremely good at removing dental plaque, and also includes features more typically seen in premium models.
This cheap electric toothbrush offers a cost effective solution to dental hygiene and teeth care. The Philips Sonicare 4100 has a pressure sensor to help avoid accidental damage to teeth and gums from pressing too hard while brushing. There is a timer with quad-pacer to ensure that you clean all sectors adequately.
The BrushSync feature even indicates when it is time to replace a worn out brush head for best results. Boasting the sonic action delivered through 31,000 brush strokes per minute, this is one of the best 'value for money' deals you'll get on a cheap electric toothbrush in 2020.
Buy this Cheap Electric Toothbrush Now

Best Inexpensive Electric Toothbrush
Philips Sonicare Essence
The Philips Sonicare Essence
is an often under-rated model that has only lately come into vogue, becoming a hot selling cheap electric toothbrush in 2020. It is a basic device, with only one brushing mode on offer.
However, like any other Sonicare toothbrush, the Philips Sonicare Essence electric toothbrush
also has fantastic battery life, features EasyStart functions for first time users, and comes with an inbuilt 2-minute timer with quad-pacing functionality.
There are some things you'll miss in this cheap electric toothbrush, like a travel case or advanced functions like Bluetooth connectivity. But you're not very likely to feel handicapped by their absence, especially considering that this is among the least expensive of the cheap electric toothbrush models on the market.
Buy this Cheap Electric Toothbrush Now

If you have any other favorite cheap electric toothbrush brands or models, please feel free to suggest them in a comment.