This Oral-B Pro 3000 review will examine one of the best electric toothbrush models today – and its newer replacement version the Oral B Smart 3000 electric toothbrush with a significantly improved battery.
Any Oral-B Pro 3000 review must focus primarily on what sets it apart from the competition. So let's start with the best features.
Where the Oral B Pro 3000
runs on a NiMH battery which lasts approximately a week on a single charge, the Oral B Smart 3000
features a lithium ion cell which doubles the longevity and enhances performance of the more powerful motor in the newer version.
As our other electric toothbrush reviews have made clear, this extra battery life is of little practical relevance to users unless they travel very frequently. The Oral B Pro 3000 is a great model with several advantages that make it a popular favorite.
Just keep in mind that during the switchover to a newer Oral B Smart 3000, you may get one or the other when you order online.
For Shoppers In A Hurry…
3 Points To Help You Decide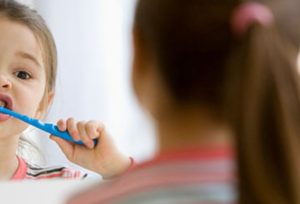 Is the Oral B Pro 3000 the right electric toothbrush for you?
The answers to these 3 questions will help you decide.
1. Are there any critical flaws in this model?
No. The Oral B Pro 3000
and Oral B Smart 3000
are excellent devices. They offer more value than a basic electric toothbrush like the Oral B Pro 1000 (which is a great choice if you don't need features like Bluetooth wireless connectivity).
2. What other choices are just as good?
There are a few other models from the Oral B line up that work quite as good as the Oral B Pro 3000. One of them is the Oral B Pro 1000 which is ideal if you're not interested in any of the bells and whistles, and are just looking for a simple, straightforward toothbrush for effective cleaning.
If you'd enjoy having some of the advanced features, but are looking for the best value for your money, take a look at the Oral B Genius line of toothbrushes – particularly the Oral B Genius 6000 and Oral B Genius Pro 8000.
And of course, if you're not wedded to the Oral B brand, there are some excellent options from Philips Sonicare like the popular Sonicare ProtectiveClean 4100 electric toothbrush (see our review here).
3. Where to buy the Oral B Pro 3000 electric toothbrush?
You have a choice between shopping in a supermarket or retail chain offline, or picking up the toothbrush from an online portal like Amazon.com
You'll typically find the Oral B Pro 3000
stocked in Walmart, Target, Walgreens, Best Buy or other chains. It is quick and convenient, though, to shop online and have it delivered to your doorstep.
A nice advantage is that you'll often find special deals and discounts on e-commerce websites like Amazon.com which help you save money while getting the same product.



Why Trust 'A Dentist's Daughter'?
We are a consumer-oriented resource that does not let our electric toothbrush reviews be influenced by any brand or manufacturer. Our goal is to cut through the clutter of information that's growing so fast it will confuse and paralyze you in the quest to try and find your ideal electric toothbrush.
We are not trained or qualified dental or healthcare professionals. Our reviews are not medical recommendations. If you have any specific conditions that need special care in choosing a toothbrush, you shouldn't take this information as the basis for choosing. Always decide based on the recommendation of your dentist or dental hygienist.
Our reviews are impartial, unbiased, and never influenced by commercial interests. We may earn a small affiliate revenue if you order from this site, at no extra cost to you – and that compensation will never be the reason we endorse or condemn a brand or model of electric toothbrush.
Our sole concern is to help you get the best value for your money.
Oral-B Pro 3000 Review

The Oral B Pro 3000
and its newer iteration the Oral B Smart 3000
is an excellent mid-range electric toothbrush. While more expensive than the no-frills Oral-B Pro 1000, it is much cheaper than the fancy Oral-B Genius Pro 8000 and other premium models.
Key Features
slim and slender brush handle
cleans by pulse and sweeps
operates on Oral-B's patented 3D movement
better at dental plaque removal
top-class battery performance
range of 3 different brushing modes
Bluetooth connectivity
Timer with quad pacer
Pressure sensor to guard against damage
If you're looking for a compelling reason to pick the Oral B Pro 3000 over other choices, or want something unique to be your deciding factor, you'll be disappointed. This is simply a nice, feature-rich electric toothbrush that offers good performance at an affordable price.
What You'll Get
Oral B Pro 3000 electric toothbrush
Oral B CrossAction brush head – 1
Charging station
Storage unit for holding spare brush heads
Warranty and documentation
As mentioned before, the Oral B Pro 3000 is being replaced by the Oral B Smart 3000 model which has a better battery life and a motor that oscillates 9,900 times a minute against the older model's 8,800 and can pulsate at a rate of 45,000.
In all other ways, both models are almost identical. And they are both excellent electric toothbrushes.
Pros:
a choice of multiple modes for brushing
slender handle and lighter weight makes for easy handling
in-built timer with quad pacer ensures uniform cleaning
pressure sensor alerts you to excessively hard brushing
storage compartment to hold replacement brush heads
Bluetooth wireless connectivity to link with a Smartphone app
Cons:
other models offer similar range of features
price is slightly higher than expected
Oral B Pro 3000 : Ease of Use & Design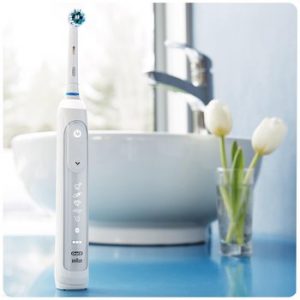 The Oral B Pro 3000 is sleek, slender and easy to hold and use. It has a round profile, isn't too heavy, and can be moved comfortably inside your mouth to reach behind and between teeth.
The Oral B Pro 3000 electric toothbrush
comes with a choice between an all-white handle, or a black-and-white version – both with CrossAction brush heads.
If there's a downside to its design, it's that the handle feels slippery, especially when it is wet. This is where the rubber grip that runs along its length comes in handy. It offers ridges that lend more security while you clean.
The power button is indicated by an icon and stands out clearly against the all-white handle. It is easy to operate, avoiding spills or spraying saliva while you brush.
Icons that are backlit to be readily visible indicate the battery levels and if the device is charging.
The handle can be safely used in the shower or washed since it is water resistant. A groove or recess at the bottom of the brush handle allows it to dock with the charging station in which it stands straight up. The battery housed within the slim handle charges quickly.
Oral B Pro 3000 : Brushing Performance
Oral B Pro 3000
operates in 3 different cleaning modes:
Sensitive
Whitening
Daily Clean
They differ by way of brushing power and intensity. At each setting, the brush oscillates, pulsates and rotates at different speeds to achieve cleaning action suitable to the user.
Sensitive mode is useful for those with sensitive teeth or gums, gum infections like gingivitis, or following dental procedures like implants or root canal work.
Whitening is a more powerful brushing mode which aims to get rid of stains on the teeth, leaving them white and shining.
Daily Clean is the most often used mode which ensures adequate cleaning and plaque removal.
It is simple to switch between modes. Pressing the power button on the handle cycles from one mode to the next. So you can go from Daily Clean to Sensitive mode with a single press on the button.
When you hold down the power button for two seconds, the toothbrush turns off.
Until you get used to these settings, this process can seem a bit cumbersome. There's also the disadvantage that you'll have to switch between modes with the toothbrush in your mouth – or risk being sprayed with spit.
An inbuilt timer and quad pacer help ensure adequate cleaning of all parts of your mouth. Ideally, you should devote 30 seconds to each of the 4 quadrants, a task made easier with the timer indicating that you've been brushing for long enough and that it's time to move to another sector.
The pressure sensor is also easy to see and glows red whenever you press down too hard while brushing. At the same time, the motor automatically reduces power, making the vibrations softer until you ease off on the pressure.
Oral B Pro 3000 : Replacement Brush Heads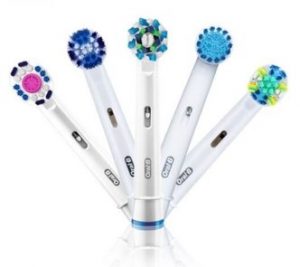 The Oral B Pro 3000 electric toothbrush
– and its newer version the Oral B Smart 3000 – come with a single Cross Action replacement brush head. This can be interchanged with any other brush head of your choice, like the Precision Clean, Gum Care or Floss Action heads.
Swapping between brush heads is quick and easy. All you have to do is correctly align the rod in the handle with a hole in the brush head. Then push them together until a snapping noise indicates they are engaged.
To separate the head, all you have to do is tug them apart.
A brush head typically lasts around 3 months of regular use. After this, the bristles splay out and lose strength. This may impact cleaning efficiency. So if the indicator bristles change in color, or the brush head itself looks frayed, then you'll know it's time for another replacement brush head.
A nice extra is the storage compartment which can hold the replacement brush heads in between uses. This accessory is beautifully designed and keeps the extra brush head clean, dry and ready for use.
This especially comes in handy when you travel with your electric toothbrush along, and upto 4 spare brush heads.
Oral B Pro 3000 : Wireless Bluetooth Connectivity
The Oral B Pro 3000
is among the cheapest toothbrushes that boasts of Bluetooth connectivity to a Smartphone app. This is because the evidence suggests an app encourages and motivates users to clean their teeth more regularly and with better results.
Various aspects of the cleaning session such as the brushing mode you're using, the duration of your cleaning, and when you're ready to move to another quadrant are all displayed on the app's interface. The data is also stored for later review.
The app offers guidance with cleaning, through excellent graphics and screen shots coupled with instructions that let you know what to do next, and when it's time to move to a different quadrant.
If there's a limitation to this technology, it's that the device does not track where the toothbrush is within your mouth.  So it cannot direct brushing activity in real time or point out overlooked areas. What the technology monitors is duration, frequency and pressure while brushing.
The companion app is available both for Android and iOS phones. It's a neat extra to a nice toothbrush. But some users do not benefit from using it, and ignore the wireless functionality altogether. The choice to use it or not is always yours to make.
Oral-B Pro 3000 Review : Battery Life
The new Oral B Smart 3000 electric toothbrush has improved by leaps and bounds in terms of battery life. The older NiMH batteries have been replaced by the superior lithium ion battery.
This change ensures doubling of battery life from one week in the older Oral B Pro 3000 model to at least two weeks of typical use. In fact, on a full charge you'll find that the device often lasts even longer.
But despite its advanced technology, the battery life on an Oral B Pro 3000
still falls far shorter than the industry-leading Sonicare electric toothbrush models.
Even a sizable boost in battery life is only important for those who travel often and take an electric toothbrush along. In the pack you'll also get a charging station, which makes it easier to go on extended trips without worrying about running out of battery power.
A full recharge takes around 16 hours.
To match voltage and current requirements in other countries, you may need an adaptor to run the charging station safely.
Where To Buy The Oral B Pro 3000 ?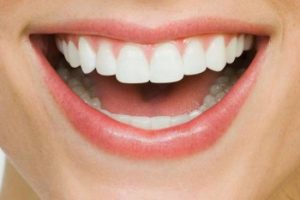 As we've discussed before, most retail outlets like Target, Walmart, Walgreens and Big Buy as well as several supermarkets and larger stores stock this model of electric toothbrush.
You'll find the product discounted by as much as 25% during special sales and promotions. Unless you're in a hurry, it's always good to wait for occasions when sales like Black Friday to bring down the price.
A simpler way to shop is to order online from portals like Amazon.com. This conveniently and quickly ship the product right to your doorstep. You'll also often save a significant amount from deep discounts and coupon offers.
In Summary: Oral-B Pro 3000 Review
The Oral B Pro 3000
is a competent and capable electric toothbrush for most users, and offers great value for your money.
It has great performance, an excellent battery life of upto two weeks of typical use, and is great for travel. The portable charging station and storage compartment for spare brush heads are convenient for travel.
The toothbrush is durable and delivers great performance at three different brushing settings. Replacement brush heads last for upto 3 months of regular use. A rock-solid manufacturer's warranty for 2 years adds to your confidence if you choose this model over others.
If you're looking for a good electric toothbrush at reasonable price without too many bells and whistles, this is a good choice. It has features like timer, quad pacer and pressure sensor, not to mention Bluetooth connectivity to a Smartphone app.
The Oral-B Pro 3000 review – or its newer cousin the Oral B Smart 3000
are an excellent choice.
Specifications
Length – 19.75 cm
Width – 2.5 cm
Thickness – 3 cm
Weight – 125 grams
See our ULTIMATE Electric Toothbrush Buyer's Guide - and make an informed and smart choice.