The Hum by Colgate review analyzes the pros and cons of a new Colgate electric toothbrush – so you'll be able to decide if it's right for you.
Hum by Colgate is one of the finest electric toothbrush models in its category.
While premium models like the Sonicare Prestige 9900 and Oral-B iO series are superior models, they also cost a lot more.
The hum by Colgate electric toothbrush, on the other hand, will surprise you by how much value you're getting for an affordable low price.
(Updated on 26th January, 2023)
Hum by Colgate Review : An Overview
The Hum by Colgate is a nicely designed toothbrush with several exciting features and advantages.
No, hum by Colgate isn't perfect. There are minor drawbacks, such as with the tracking.
But if you're not picky about getting a 'smart' electric toothbrush, then get hum by Colgate today.
Our Rating:
4.7/5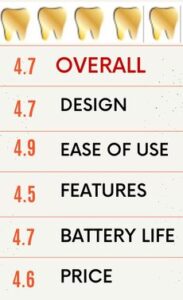 Key Features:
cleans by sonic action
brush head vibrates at 30,000 strokes per minute
inbuilt timer with quad pacer
Smartphone app functionality
rechargeable or replaceable battery
Pros:
Sleek and elegant design
Lightweight, comfortable to hold and brush
Comes in several colors
Choice of 3 cleaning modes
Inbuilt timer and quad pacer
Travel case included
Smartphone app offers real time feedback
Affordably priced, great value for money
Cons:
No pressure sensor to avoid injury to sensitive teeth
Doesn't automatically turn off
Cleaning performance is rather weak
What's In The Box?
Hum by Colgate electric toothbrush handle
Replacement brush head
Travel case
Recharging stand
Warranty information
User manual
Documentation
Technical Specs
Manufacturer: Colgate
Brand: hum by Colgate
Category: Sonic toothbrush
Weight: 48 grams
Height: 17.5 cm
Width: 2.4 cm
Thickness: 2.4 cm
Color: teal, blue or purple
Battery powered: Yes
Cleaning modes: 3 (normal, sensitive, deep clean)
hum by Colgate Review
3 Quick Questions… If You're In a Hurry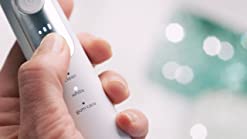 To learn all about this model, you should go through this detailed hum by Colgate review.
But if you don't have enough time and want to cut to the chase, here are 3 important questions to help you decide.
1. Is there any serious problem with the hum by Colgate?
No, the hum by Colgate electric toothbrush is a good model that delivers on the promise of clean and healthy teeth at an affordable price.
In case you're worried if there might be some serious flaws or problems with this new model, set your mind at ease. There aren't any such issues. Go ahead and buy the hum by Colgate.
2. Are there other alternatives to the hum by Colgate?
While there's nothing to detract from your choice of the hum by Colgate electric toothbrush, there are other alternatives that may offer just as much value.
3. Where to get the hum by Colgate?
You can buy the hum by Colgate electric toothbrush at retail outlets like Walmart, Target or Best Buy.
You could also order it online from the official Colgate website, or from e-commerce portals like Amazon.com
Shopping online comes with certain advantages.
You won't have the hassle of traveling to the store to buy.
Your toothbrush will be delivered to your doorstep for free.
You might enjoy seasonal discounts in the form of coupons or special deals.
Hum by Colgate Review
The well known Colgate brand has only recently expanded its product line with electric toothbrush models.
Their introductory bestselling E1 model is out of the market now. But a lot of its technology has been built into Hum by Colgate.
Types of Hum by Colgate
You can get the Hum by Colgate in two variants:
1. Rechargeable battery (non-removable)
2. Battery powered (two AAA batteries that can be replaced)
What's the difference?
Well, the battery-powered version only delivers 20,000 brush strokes per minute, against the 30,000 that a rechargeable battery can offer.
The rechargeable version also comes in 3 cleaning modes:
Normal
Sensitive
Deep clean
Only the first two are available with the AAA battery version.
The Hum by Colgate toothbrush comes in several color choices. You can buy it in teal, blue or purple.
hum by Colgate Electric Toothbrush Review
Design
Packaged in a standout red box, the Hum by Colgate has an elegant design aesthetic that nicely complements function.
With 3 color choices – teal, purple and blue – there's enough range to appeal to most tastes.
Even if it doesn't quite have a premium look and feel like other high-end electric toothbrushes, the Hum by Colgate still offers wireless connectivity via Bluetooth and a smartphone app with real time feedback on brushing activity.
The toothbrush itself is slender and lightweight. The all-plastic handle is tapered, being wide at the brush head and narrower at the base.
A rectangular panel on the handle houses the power button. A clear ring lights up to indicate the toothbrush has turned on.
There are no ridges or grooves to get a better grip while brushing. A tiny projection on the handle keeps the brush from rolling off a countertop.
You can stand it up on a flat surface, or fit it onto the charging station where a prong slots into a recess in the handle's base.
hum by Colgate Review
Brush Head
A single brush head comes packaged with your toothbrush, in a color that matches the handle.
Only one kind of brush head is available with the Hum by Colgate. It cleans effectively while managing to be gentle on gums. Wide rubber bristles ensure the tooth surface is adequately cleaned.
The brush head is small enough to comfortably manipulate into crevices and behind the molars. This ensures adequate cleaning of all parts of the mouth.
A rough tongue cleaner on the back of the brush head is nice.
To remove it, just pull on the brush head firmly. Another brush head can snap into place by simply pushing it in with a click.
Like with other electric toothbrushes, it is advisable to replace your brush heads at least once every 3 months. There are indicator bristles on the brush head that fade to white when it's time to change.
Being a smart toothbrush, the app also will remind you when a replacement is due for your brush head.
While you can order replacement brush heads from Colgate at any time, you also have the option of subscribing to a regular replacement schedule.
Old and worn out heads can be recycled using Colgate's own program.
hum by Colgate Review
Ease of Use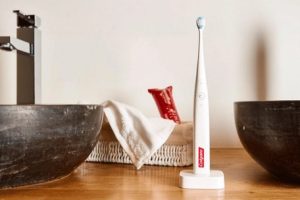 Pressing on the Power button once will start the Hum by Colgate electric toothbrush.
Push on the same button to change cleaning modes. There isn't a separate control for doing this.
You can select between these three modes:
Normal – medium speed
Sensitive – low speed
Deep Clean – high speed, vigorous movements
The same button also switches off the toothbrush when you're finished.
Timer and Quad Pacer
When the toothbrush turns on, an inbuilt timer is activated.
Every 30 seconds, there's a pause to indicate that it's time to move to another quadrant.
After 2 minutes, the motor pauses 3 times – but it doesn't switch off automatically. You should turn it off once the brushing session ends.
A limitation is the lack of a pressure sensor. This would safeguard against accidental injury to teeth and gums from pressing too hard with the toothbrush.
Noise
The Hum by Colgate is aptly named because it cleans teeth while making an audible humming noise. It is much quieter while brushing than an Oral-B or Sonicare toothbrush.
Hum by Colgate Review
Smart Electric Toothbrush
The 'smart' features of the Hum by Colgate are optional, and not necessary to use the toothbrush.
A companion smartphone app records a lot of data while brushing, once you've paired it using Bluetooth.
The dashboard stores brushing data. There's a link from the app to an online store where you can order refills and replacement brush heads.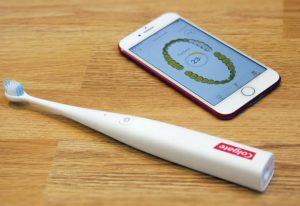 You can choose to receive real time feedback to improve your brushing technique.
The app can also let you select a specific brushing program, or decide how long you'd like the brushing cycle to last.
Data can be exported for analysis, or to share with your dentist or dental hygienist who wants to keep track of your cleaning habits.
The smart electric toothbrush can also tell you how much battery power is left, when the brush head was last changed, or even which software version is running.
Brushing sessions win you 'points' that can be redeemed against future purchase from the online store. But all balance points reset at the end of a year – so be aware and redeem them ahead of time.
hum by Colgate Review
Travel Friendly
The Hum by Colgate electric toothbrush comes with a plastic travel case that matches your brush handle in color. It has a clip to secure it closed.
The travel case can protect the handle and store up to 2 replacement brush heads. Tiny holes in the bottom aerate the compartment.
A small and handy charging station is also convenient to carry along on longer trips.
Warranty
There's a 2-year manufacturer's warranty that safeguards you against flaws and defects like mechanical battery faults or a charging station that won't work.
However damage incurred while using the device isn't covered.
An interesting feature is the 30-day money back guarantee Colgate offers on this device.
This means you can 'try before you buy' – just as long as you make sure to return the piece for a refund if you're not satisfied within 30 days.
hum by Colgate Review
Battery Life
For typical users of an electric toothbrush, battery life is rarely a major issue.
Since most models come with rechargeable batteries, it doesn't quite matter if a battery lasts 1 week or three on a full recharge. If it runs down, just plug it in to a socket.
Of course, for frequent travellers who take their toothbrush along, it is a big deal.
Hum by Colgate has a battery life of 10 days on regular use (2 minutes per session, twice daily).
It compares poorly against better batteries such as the Philips Sonicare line of electric toothbrushes, that average 3 weeks on a single charge.
So if this is important to you, factor it into your buying decision.
The nickel metal hydride (NiMH) battery cannot be removed from the handle. It takes around 10 hours to charge fully. When the recharging is complete, a flashing light goes out.
You can tell when it's time for a recharge by a red LED glowing to alert that there's less than 20% charge left. The smartphone app also gives you the charge percentage.
Recharger
The Hum by Colgate comes with a charging stand that supports voltages of 100 to 240 and attaches to a power outlet with a 2-pin adapter.
If you get the Hum by Colgate model with replaceable batteries, then you won't have to bother with a charging station.
hum by Colgate Electric Toothbrush Review
Price
Hum by Colgate is an inexpensive smart electric toothbrush.
Many other electric toothbrushes that offer Smart features like Colgate's Hum are priced a lot higher.
The Philips Sonicare ProtectiveClean 4100 and Oral B 1500 Smart Pro are almost the same price as Hum by Colgate – but lack any of the Smart features it has.
And Sonicare DiamondClean Smart or Sonicare ExpertClean 7500 that have them are nearly twice to three times costlier.
Just as important as what you'll pay upfront is the cost of replacement brush heads.
The Hum by Colgate brush head is priced at $10 for a pair, and each lasts you around 3 months. So the ongoing cost of ownership is an extra 20 dollars per year.
All things considered, Hum by Colgate is excellent value for your money.
And when you purchase it online from an ecommerce portal like Amazon.com, you might enjoy discount coupons or special deals that further bring down the cost.
hum by Colgate Review
Our Verdict
The Hum by Colgate is a nice addition to the array of budget electric toothbrush models.
It combines cleaning efficiency with Smart features, delivering value for your money.
There's a convenient subscription model to get replacement brush heads delivering on schedule.
Battery life is adequate, and there's a travel case included for frequent travellers.
Although there are several other choices that are more powerful or have more features, the Hum by Colgate is a good smart toothbrush.
It is affordably priced for the range of functions it includes, making it a good choice for the right kind of buyer.
hum by Colgate Review : Frequently Asked Questions
How does the Hum by Colgate compare with a Sonicare toothbrush?
There are a few similarities between both. The Hum by Colgate is a single model, while there's a range of different toothbrushes under the Sonicare banner.
So comparisons aren't equivalent.
Both are effective sonic electric toothbrushes with a range of useful features. For the price, Hum by Colgate is the one with 'smart features' and an interactive mobile phone app to enhance the brushing experience.
Battery life is better with the Sonicare models.
Is the Hum by Colgate an oscillating electric toothbrush?
No, it is a sonic toothbrush that cleans through vibratory motions set up within the mouth.
How many modes does the Hum by Colgate offer?
Three modes – Deep Clean is most vigorous, with the fastest brush head movements. Normal is the medium intensity cleaning mode. And Sensitive is gentler and designed to avoid injury to sensitive teeth and gums.
What brush heads are compatible with Hum by Colgate?
There is only a single type of brush head with the Hum by Colgate toothbrush.
Is there a timer?
Yes, the Hum by Colgate has a timer with quad pacer to ensure uniform brushing of all teeth.
Is there a pressure sensor?
No, the Hum does not come with a pressure sensor. So you must be consciously aware not to press down too hard while brushing with it, to avoid injury to teeth.
How good is the battery life of Hum by Colgate?
After a full recharge, the battery in a Hum by Colgate lasts for 10 days of regular use (brushing for 2 minutes each, two times in a day).
Is there a recharger included?
Yes, you'll get a charging station along with your purchase.
Is a travel case included?
Yes, the Hum by Colgate comes with a travel case that can store your brush handle and two spare brush heads.
Is it waterproof?
The Hum by Colgate electric toothbrush is water resistant and splash proof. But you should not immerse it in water, or use it in the shower.
Does the Hum offer wireless connection?
Yes, Hum by Colgate is a smart toothbrush with Bluetooth connectivity with a smartphone app.
Is there a warranty?
Yes, there's a 2 year warranty from Colgate.
See our ULTIMATE Electric Toothbrush Buyer's Guide - and make an informed and smart choice.