Which Is The Top Electric Toothbrush In 2023 ?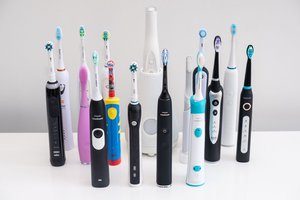 Which is the best electric toothbrush this year and where to buy one?
It's the time of the year when we wear our researcher hats and try to figure out the answer to this suddenly important question.
There's little argument that brushing your teeth regularly helps you prevent tooth decay, and whitens your teeth for a bright, brilliant smile. It is also essential for gum health. A lot of research has concluded that using an electric toothbrush is better than manual brushing for optimal results with oral hygiene.
Electric toothbrushes are different in the way they clean your teeth as compared to manual brushes.
You may already be familiar with an electric toothbrush, or contemplating your very first purchase. In either case, there's a lot of information to sift through before you identify the best electric toothbrush in 2020 that's ideal for your needs.
If You're In A Hurry…
In case you don't have much time to compare and contrast different choices of the best electric toothbrush in 2020, here is a list of the top 15 models. Pick any one of them and you can't go wrong.
Now let's get into a bit more detail about each of these best electric toothbrush models of 2020 – so that you'll be able to make an informed choice.
Philips Sonicare ProtectiveClean 4100
A perennial best-selling top electric toothbrush in 2019 and set to continue in the same trajectory for many more years, the Philips Sonicare ProtectiveClean 4100
is a relatively inexpensive electric toothbrush that is extremely effective at getting rid of dental plaque.
A durable and easy to operate device, it offers a range of features – some of which you may not even need. All the benefits of a premium electric toothbrush are included, like a timer, Quad Pacer to ensure you brush all quadrants evenly, and a notification system to tell you when to replace a worn out brush head.
If you brush too hard, the instrument will pulse softly to tell you to ease off. In fact, for its affordable price the Protective Clean 4100 is quite a gem, as you'll see in this detailed Philips Sonicare Protective Clean 4100 review.
Pros:
extremely affordable price
loaded with premium features
timer and quad pacer functions
alerts you when to replace brush heads
pressure sensor avoids tooth damage
Cons:
frankly, there are no drawbacks to this choice!
Oral-B White Pro 1000 Power Rechargeable Electric Toothbrush
A close contender to the spot of best electric toothbrush in 2020 is the Oral-B Pro 1000, a device that's easy to operate with just a single button that controls everything.
Battery life is excellent, lasting upto two weeks of regular use on a single charge. The brush handle is waterproof and easily cleaned. There's just one cleaning mode which makes it a less than optimum choice if you suffer from sensitive teeth, or want to customize your tooth cleaning cycle.
The Oral B Pro 1000
is compatible with the entire range of replacement brush heads, which means you can pick the perfect brush head for your needs. Stocks are readily available, both online and in retail outlets, pharmacies or malls.
If you're using an electric toothbrush for the first time, the brush strokes may initially seem a bit forceful. But your teeth will feel really clean, and you'll quickly get used to the vibration. For more about this excellent electric toothbrush, read our detailed Oral-B White Pro 1000 review.
Pros:
easy to operate, has just one button
price is affordable for most users
compatible with range of brush heads
waterproof handle, easy to clean
Cons:
only one mode of operation
vibration may take a while to get used to
Philips Sonicare ProtectiveClean 5100 Whitening Electric Toothbrush
The Philips Sonicare ProtectiveClean 5100 is an automatic shoo in on any list of top 10 best electric toothbrushes in 2020 because it combines a rich array of features with a price tag that's sure to fit most household budgets.
As you'll discover in our detailed Philips Sonicare ProtectiveClean 5100 review, there's plenty of room to customize your brushing experience with 3 different settings for intensity, and three modes of operation.
Battery life is excellent as with all Sonicare electric toothbrushes, with a single charge comfortably lasting two weeks. If at all there's a problem, some feel the charger base is too light and this causes the brush to topple over while charging. The Sonicare ProtectiveClean 5100
offers an excellent, thorough cleaning effect, and intensity can be adjusted for users with sensitive teeth.
Pros:
customizable brushing experience
3 different intensity settings
runs in three distinct modes
long-lasting battery life
budget-friendly pricing
Cons:
charger base is light, causing the brush to topple over while charging
Oral B Genius Pro 8000
An elegant appearance coupled with fantastic cleaning efficiency makes the Oral-B Genius Pro 8000 electric toothbrush
one of the favorites among users across the world. It is a top-of-the-line model with advanced features including bluetooth functionality that offers feedback in real-time even as you clean your teeth.
Indicator LEDs tell you whenever you're brushing too hard and need to ease up, as well as to suggest that it's time to move to another quadrant. Delighted reviewers claim it leaves them feeling as if they just got back from a dental hygienist.
While you might want to read a more complete Oral-B Genius Pro 8000 electric toothbrush review before you buy one, making that decision definitely will be 'genius'!
Pros:
fabulous cleaning efficiency
feature-rich as any premium model
offers bluetooth connectivity
elegant appearance
Cons:
price is slightly higher, because it is a high-end model
Philips Sonicare FlexCare Platinum
The Philips Sonicare FlexCare Platinum electric toothbrush makes it onto most hand-picked collections of the best electric toothbrushes of 2020. And that's no surprise to anybody who has used one. Powered by Sonicare's patented sonic cleaning technology, the brush head vibrates at over 31,000 strokes per minute to deliver excellent cleaning impact.
Stain removal and teeth whitening is very good with the Sonicare FlexCare Platinum
. In a week or less, people will notice your brighter smile and whiter teeth. The FlexCare is also more efficient at getting rid of dental plaque and simultaneously massages gums to improve their healthiness.
Among other things, you'll learn in this Philips Sonicare FlexCare Platinum review that the device operates in 4 distinct modes for cleaning and whitening, including stain removal. Gum care is especially useful for those with sensitive teeth or gums, as it gently cleanses your gums and increases blood flow to maintain oral health and hygiene. If you're searching for the ultimate teeth cleaning and oral care experience, look no further.
Pros:
high speed vibration at 31,000 strokes per minute
excellent cleaning effect
removes stains and whitens teeth
4 cleaning modes
massages gums and improves circulation
Cons:
little more expensive than other lower end models
Philips Sonicare DiamondClean Smart 9700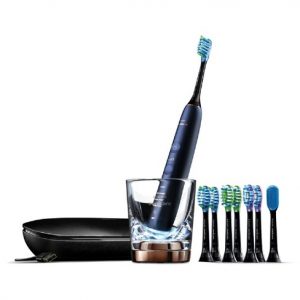 If there were a Maybach or Rolls Royce of electric toothbrushes, it would be the Philips Sonicare DiamondClean
. It cleans teeth and removes stains until your smile sparkles and shines. But it also syncs with your phone app, tell you when to stop pressing too hard, ask you to shift to another quadrant every 30 seconds, and tracks your teeth cleaning record over time.
It's like having a dentist or dental hygienist on call. Many experts agree that the DiamondClean has taken oral hygiene to a newer, higher level. Loaded with more features than even the Sonicare ProtectiveClean 4100, this top-of-the-line model electric toothbrush offers 3 modes and intensity settings, specially designed brush heads and a versatile handle that can be matched with several different models of heads for optimal results.
As mentioned in our Philips Sonicare DiamondCare review, this model is highly effective at removing even stubborn, long-standing dental plaque. It also improves gum health and hygiene, being suited even for those with sensitive teeth.
Pros:
top-notch premium model
elegant looking and long lasting
excellent plaque removal
3 intensities and 3 modes of function
compatible with wide range of brush heads
Cons:
more expensive than other models
Waterpik Complete Care 5.0 Water Flosser and Sonic Toothbrush
The Waterpik electric toothbrush is much more than just a brush. It's a complete dental care package, including everything you need for brushing, flossing and cleaning to enjoy complete oral hygiene.
A convenient high capacity reservoir gently irrigates warm water to ensure comfortable and thorough cleansing. The Waterpik complete care electric toothbrush kit
offers 4 customizable tips to help you clean even if you're wearing braces or had implants or dental work done. Waterpik's triple sonic toothbrush bristles ensure better plaque removal and cleaning than most other models.
If you go through our Waterpik electric toothbrush review, you'll discover details about other aspects such as the 2-minute cleaning power, the stain removing 'whitening' mode, and how to pick the right brush head to enjoy better dental hygiene at the click of a button!
Pros:
Complete dental care solution
Excellent plaque removal
Triple sonic bristles for better cleaning
Works even with braces and implants
Cons:
Few users report battery trouble
Flossing is often noisy
AquaSonic Black Series UltraWhitening Toothbrush
An AquaSonic Ultra Whitening electric toothbrush
is feature-rich, yet affordably priced. Powered by an ultrasonic motor that vibrates at a frequency of 40,000 per minute, this brush delivers a quicker, better cleaning experience.
There are 4 distinct modes, including Clean for deep cleansing, Soft for sensitive teeth and gums, Whitening for removing stains and plaque, and Massage mode that promotes blood circulation to your gums. An inbuilt timer helps you brush adequately. The wireless charger and 8 replacement brush heads make up the complete package. Battery life is excellent, and you'll get a full week of action from a single charge.
The AquaSonic UltraWhitening electric toothbrush is beautifully designed and looks great in any bathroom. It is waterproof, and you get a hardshell travel case to conveniently carry it along on trips. This is among the best electric toothbrush models of 2020, especially if you're a frequent traveller.
Pros:
loaded with features
motor vibrates at rate of 40,000 per minute
operates in 4 modes for specific benefits
lovely design and aesthetic
convenient to carry along on trips
Cons:
travel case doesn't fit the charger
Philips Sonicare ProtectiveClean 6100
The Philips Sonicare ProtectiveClean 6100
is one of the best electric toothbrushes of 2020 for those with sensitive gums and teeth. But even for other users, it offers great value for money thanks to the extensive range of special features it includes.
The ProtectiveClean 6100 has 3 modes for cleaning – Gum care, White and Clean. Rotating and oscillating at over 60,000 movements per minute, this is among the most powerful electric toothbrushes ever manufactured, and is proportionately superior at cleaning efficiency. An inbuilt timer lets you know when it's time to move to another quadrant. A pressure sensor notifies you when you press too hard, thereby avoiding damage to your teeth.
Battery life is very good, and extended by the automatic turn off function to conserve power. Specially designed brush heads for gum or teeth care gives you a wider range of options for oral hygiene. An excellent travel case keeps your electric toothbrush safe during travel.
Pros:
great for sensitive teeth
excellent value for money
feature-rich with 3 modes of cleaning
battery life is fantastic
travel friendly
Cons:
some brush heads are not compatible
Oral-B Vitality Dual Clean Rechargeable Electric Toothbrush
Boasting a dual action brush head that is excellent at removing dental plaque, the Oral-B Vitality electric toothbrush
ranks among the best electric toothbrushes of 2020 primarily because of a dual action brush head with a top brush that spins, and a bottom brush which oscillates from side to side.
To further enhance the cleaning effect, Oral-B Vitality features MicroPulse bristles to more efficiently clean the area between your teeth. These are hard to reach using any other device, which is why this model is excellent at removing plaque that can harm your teeth. A built in timer indicates when you've brushed for two minutes. The electric toothbrush is compatible with other Oral-B brush heads like the Cross Action, 3D White or Deep Sweep models.
Pros:
dual action brush head
very effective at plaque removal
MicroPulse bristles reach between teeth
compatible with many brush heads
Cons:
some users find the dual action brush uncomfortable
Fairywill D Series Sonic Toothbrush
A recent entrant into the exalted ranks of best electric toothbrushes of 2020 is the Fairywill D series sonic toothbrush.
With several modes including whiten, rinse, clean and polish, the Fairywill brush can deliver a 'fresh from a dentist visit' clean feeling.
For everyday brushing, the Clean mode works just fine. Massage mode is great for gum care, while the Sensitive mode can be activated for sensitive teeth or while suffering from toothaches. The Whitening mode achieves a bright, sparkling smile, while Polish extracts an additional shine.
All in all, this is an excellent new electric toothbrush you'll feel happy buying and using in 2020 and beyond.
Pros:
multiple operational modes
fantastic cleaning effect
affordably priced
Cons:
relatively new and untested in long term
Foreo Issa 2 Toothbrush
Another recent inclusion in many lists of the best electric toothbrush of 2020 is the Foreo Issa 2 electric toothbrush
which is easy on the gums, making it an ideal choice for the segment of users who suffer from sensitive gums and painful teeth.
While happy users rave about the soft silicone bristles that are coated in anti-bacterial material to lower germ counts in the oral cavity, what's even more exciting is how the device delivers 800 uses without needing to swap batteries.
Great value for money, and an excellent electric toothbrush to own this year.
Pros:
easy on gums, ideal for sensitive teeth
bristles coated with anti-bacterial material
can be used 800 times before battery change is needed
great value for money
Cons:
non-rechargeable batteries
Shyn Sonic Toothbrush Kit
Shyn (pronounced "shine") is an innovative new electric toothbrush model that's offered as a package with periodic subscriptions for automatic refills and replacements. The number of options is extensive, allowing for customization to every taste and requirement.
In your Shyn subscription, you can opt for brush heads of different types – gum care, whitening, plaque-removing – and add on options such as dental floss picks, toothpaste as well as whitening strips. Typically, refills are sent once in 2 or 3 months. But they are not compulsory. You can try it out without subscribing for a modest one time cost.
The Shyn Sonic electric toothbrush kit
has a fantastic bundle which includes everything necessary to enjoy a great dental cleanse. The sense of cleanness you'll feel instantly is magical. If you suffer from sensitive teeth, be sure to choose the rubber head instead of hard plastic to prevent a jarring vibration.
Pros:
subscription offers refills of brush heads and toothpaste
choose from multiple brush head options
bundles everything needed for cleaning teeth
Cons:
hard plastic handle produces jarring vibration while cleaning
Oral B Pro 7000
Sensitive teeth can seriously restrict your options from among the best electric toothbrush models of 2020. But that doesn't mean you have to settle for second best. The Oral B Pro 7000 electric toothbrush
is a top notch option for sensitive teeth.
It's an improvement on earlier models and includes specific features that users find extremely valuable. A 6th brushing mode has been added to the previous sensitive, daily care, deep clean, gum care and massage modes. Tongue cleaner mode helps lower bacteria count and eliminates troublesome gum infections and dental caries.
You'll immediately enjoy fresh breath, fewer oral infections and better, cleaner teeth. A wireless smart guide serves as a visual real-time feedback loop to ensure you brush thoroughly and for long enough. There are 3 brush heads – ProWhite, Sensitive and CrossAction – you can choose from. Battery life is very good. A travel case and charging station are included.
For all this functionality, you'll pay a very modest price for the Oral-B Pro 7000 electric toothbrush. No wonder it has remained consistently on several lists of the best electric toothbrush models of 2020.
Pros:
great for users with sensitive teeth and gums
improves upon earlier models
6 brushing modes offered
compatible with different brush heads
modestly priced for a wide range of features
Cons:
battery life isn't as great as other models
Quip Electric Toothbrush
You probably have already heard about this novel electric toothbrush whose manufacturer has engaged in extensive advertising campaigns to help spread word. And before you wonder, yes, it is fully worth the hype!
Once in every 3 months, as part of your subscription, you'll receive a replacement battery along with new brush heads for your electric toothbrush. The flexible brush head features 1200 nylon bristles with round tips. They vibrate at an impressive 15,000 rotations every minute, as well as pulsing every 30 seconds for an excellent cleaning effect.
Two minutes of brushing twice every day with the Quip electric toothbrush
will transform your oral health.
Pros:
subscriptions refill batteries, brush heads and toothpaste
nylon bristles vibrate at 15,000 RPM for great cleaning
timer and pulsing effect ensure complete brushing
Cons:
some users don't like the brushing action
So there you have it. The 15 best electric toothbrush 2020 choices.
See which ones are most ideal for your unique needs. Then buy them right away online from Amazon or pick one up at a nearby retail outlet.
And whenever someone asks you one of these questions, you'll know how to answer them comprehensively:
What electric toothbrush do dentists recommend?
Which is the best electric toothbrush on the market?
Which is the best Sonicare toothbrush to buy?
What's the best electric toothbrush 2020 ?
Now that you know, please share this review with your friends, too. Spread the oral health around!
See our ULTIMATE Electric Toothbrush Buyer's Guide - and make an informed and smart choice.