Sonicare Healthy White Review
Disclaimer: As an Amazon Associate we earn from qualifying purchases at no additional costs to you.
What's good (and what's not) about the Philips Sonicare HealthyWhite+ electric toothbrush? This Sonicare Healthy White review has the answers.
The Philips Sonicare HealthyWhite
is a highly rated electric toothbrush that consistently gets rave reviews from users. It is a mid-range offering in the Philips Sonicare line. Its popularity comes from the combination of an economical price and advanced features.
Here's a quick look in this Sonicare Healthy White review of what's so special about the electric toothbrush.
Pros of Sonicare Healthy White:
31,000 brushstrokes per minute makes it very effective at cleaning teeth and removing dental plaque
3 brushing modes – Clean, White and Sensitive – suited for users with different needs
QuadPacer and Smartimer to ensure that you brush for an adequate duration
Excellent at removing stains and whitening your teeth
Package includes a ProResults brush head and a travel case
Cons of Sonicare Healthy White:
Lacks a pressure sensor to prevent injury
Price may be out of some people's budget (but I'll show you how to get it at a low cost)
Also recommended:
Here's A Detailed Philips Healthy White Review
The Sonicare Healthy White electric toothbrush is a popular pick that combines affordability with high-end features. The Sonicare power-brushing capability is at the heart of this toothbrush. The 31,000 brushstrokes per minute standard that Philips Sonicare imposes on much of its product line is responsible for the effective cleaning action.
The company guarantees that the Philips Sonicare HealthyWhite
will take away stains on your teeth within 15 days of regular brushing. No longer do you have to worry about stains caused by coffee, tea, tobacco or wine. Your teeth will be whiter and your smile brighter!
Sonicare HealthyWhite+ : Brushing Modes
The HealthyWhite electric toothbrush
can be used in 3 custom modes for teeth cleaning.
Clean – Also called 'power brushing' mode, this is the regular one suited for everyday use. Most users will never try out any other mode!
White – This teeth whitening mode is intended for stain removal.
Sensitive – A softer mode that's specially useful in people with gum disease (gingivitis), or who have sensitive teeth.
Most users will operate the Philips Sonicare HealthyWhite
in regular Clean mode only. I don't personally feel the other modes are any more effective when it comes to cleaning teeth. They have an advantage only in individuals with specific needs, such as those with gingivitis or sensitive teeth.
Like all Sonicare toothbrushes, the 'non contact brushing' effect that's the result of little jets of water and paste whipped into foam by the vibratory sonic toothbrush helps clean areas of your teeth that are beyond direct reach and is extremely effective at removing dental plaque.
Sonicare Healthy White Brush Heads
Your Sonicare toothbrush will come with a ProResults brush head. The bristles are soft and even those with sensitive teeth and gums will find it comfortable. It takes awhile to get used to the grooves and peaks on the brush head, especially when you clean behind your front teeth.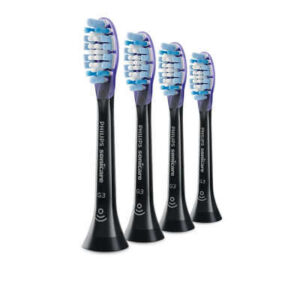 There's an interesting feature of this brush head. When the blue colored bristles turn white, it's time to replace it with a fresh head. Typically you'll do this every 3 months.
Like other Sonicare products, the brush heads can be switched for other kinds using a simple snap-on attachment which is quick and convenient. You can purchase any of a range of brush heads separately from the product catalog. There are many retail outlets and online stores like Amazon.com where you can order replacement brush heads
– and often, you'll find good deals on them, too.
The Healthy White Easy Start
If you've never used an electric toothbrush before, it can be a little disconcerting to have a vibrating device inside your mouth.
A sonic toothbrush creates vibrations rather than a physical to-and-fro brushing motion, and the power wave it generates will create a froth with toothpaste and saliva to cleanse your teeth. Until you get used to this, it can seem a bit strange and uncomfortable.
Philips Sonicare HealthyWhite
provides a workaround called the Easy Start program. You begin using the electric toothbrush at a lower power and frequency setting. This is more comfortable for beginner users.
Once you get used to the idea of cleaning your teeth with an electric toothbrush, you gradually work up to the full powered Clean mode of the Sonicare Healthy White over 2 weeks.
Control Brushing Duration With a Timer
For the best results for cleaning your teeth and getting rid of dental plaque, dentists recommend brushing for 2 minutes each, twice a day.
But most of us are in a hurry, and thinking of other things while we clean our teeth. As a result, even though we perceive the brushing duration to be adequate, it often falls far below the recommended minimum.
With Philips Sonicare HealthyWhite
brushing timers, you won't have this problem. There are 2 inbuilt timers which make sure that you brush for greatest effectiveness. The QuadPacer works on 30 second increments so that you know exactly when to switch from cleaning one quadrant to the next. The Smartimer notifies you when the two minute period ends, so you know when to stop brushing.
A potential downside which annoys some users is that the QuadPacer causes the brushing action to stop temporarily after 30 seconds, before it restarts – and there's no way you can avoid that happening. Also, if you prefer cleaning your teeth for longer than 2 minutes, you'll have to manually restart your brush after the Smartimer stops it automatically!
Battery Life of Sonicare HealthyWhite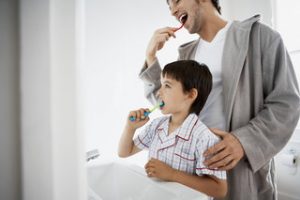 Like other models in the Sonicare electric toothbrush line, the Sonicare HealthyWhite
runs on rechargeable lithium ion batteries which are smaller, last longer per charge, and are lighter in weight. The Philips website suggests that you can go 3 weeks between charges when you brush twice every day.
Battery type is not typically a major factor in selecting your ideal electric toothbrush. But a lighter and longer-lasting battery means you won't have to compromise on either appearance or convenience.
You'll get a recharger along with the product and charging units operate on 110 and 220 volt systems, which matters if you travel globally.
Sonicare Healthy White : What's In The Package
Where Can You Buy a Sonicare HealthyWhite+ Toothbrush?
There are retail outlets that stock electric toothbrushes. And if you're lucky, you might even find it on sale and can save a sizable amount on the regular retail price. However, it is often quick and convenient to order the Sonicare Healthy White online from Amazon.com where you are more likely to get a great deal because there are frequent discount sales and special offers going on.
You can also compare between other models to make sure this is the best electric toothbrush for your needs. Hopefully this Sonicare Healthy White review has given you all the information you need to make a decision. You can find more on the official Philips website
.
In case you have any more questions or comments about the Philips Sonicare line of electric toothbrushes
, please let me know. It's my pleasure to help answer them.