Best Electric Toothbrush Brands : Others
Disclaimer: As an Amazon Associate we earn from qualifying purchases at no additional costs to you.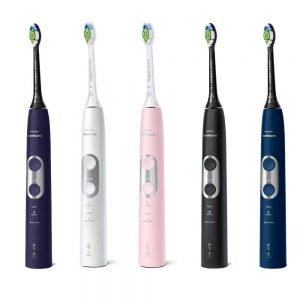 When we talk about the best electric toothbrush brands, the two that come first to mind are the
Collectively, these two giants dominate the dental hygiene and personal oral healthcare with a wide array of electric toothbrush models and replacement brush heads.
Not only do they have offerings tailored for specific kinds of users – budget electric toothbrushes, electric toothbrush for sensitive teeth and electric toothbrushes for kids – but they also have top quality products in each of these sub-groups.
No wonder many users are content to stop looking for the best electric toothbrush brands – without caring if OTHER such manufacturers and models might even exist.
And that would be a sad thing… because there are some excellent electric toothbrush brands other than Sonicare and Oral-B that also have brilliant dental hygiene devices, some of them even at a better price or including some unique features and advantages that the two behemoths don't have.
Among this short list of best electric toothbrush brands other than Sonicare and Oral-B are
In this special report, let's take a look at each of these best electric toothbrush brands other than Oral-B and Philips Sonicare – and a review of their best electric toothbrush models.
Maybe one of them will be a better choice for you!
Colgate 360 Optic White Electric Toothbrush
A Colgate electric toothbrush is a work of art. The brand that dominates in the arena of manual toothbrushes has a surprisingly smaller array of electric toothbrushes available in the market. But those which are available are gems.
While the ProClinical 250+ and ProClinical C600 are decent alternatives to consider as your picks, there's one model head and shoulders above the rest and that's the Colgate 360 Optic White electric toothbrush, with its two variants – the Deep Clean brush head model and the Whitening model.
All Colgate electric toothbrushes clean by sonic action, with the head vibrating at a powerful 30,000 times per minute. The Colgate 360 Optic White model has an inbuilt two-minute timer to ensure that you clean for the dentist-recommended period, as well as a quad-pacer that lets you know every 30 seconds that it is time to move to another quadrant.
The Optic White has an automatic shut down function which switches off the motor at the end of a brushing session. The Colgate 360 Optic White electric toothbrush
is excellent at removing plaque while also having a slender, light design structure which makes it convenient to use.
There are two distinct cleaning modes:
The Deep Clean brushing mode delivers a higher number of brush strokes per minute for more effective cleaning, including behind and between teeth.
Battery life is superb with a full recharge giving you typically 21 days of cleaning. That's a stunning 84 minutes per charge, which rivals the top rated battery of a Philips Sonicare electric toothbrush.
There are a few drawbacks to the Colgate 360 Optic White toothbrush – but not many. And none are serious enough to be deal breakers. The handle gets a bit slippery after a while, and the charging station isn't quite stable as it stands on a counter top. Apart from these minor flaws, there's nothing to dislike about this nice little toothbrush.
BURST Sonic Electric Toothbrush
A relatively new arrival on the electric toothbrush scene, BURST punches far above its weight and holds its own in a crowded field against Oral B and Philips Sonicare. In fact, the BURST Sonic electric toothbrush
finds a place in our hand-picked collection of the best electric toothbrush under $50 picks.
The star of this manufacturer's rapidly expanding collection of models is the BURST Sonic electric toothbrush with charcoal bristles. What makes it unique is the capacity to absorb bacteria that form dental plaque. This makes the BURST Sonic electric toothbrush excellent at removing plaque, improving dental hygiene and keeping your teeth healthy and clean.
The brush cleans with a sonic action at 33,000 strokes per minute. An inbuilt timer indicates when you have brushed for two full minutes, making sure that you get great value from every session.
There's a pressure sensor to ascertain that you don't press too hard and damage your teeth or gums. This also makes it a good choice for users with sensitive gums and previous dental work or surgery.
Battery life is excellent, especially considering that this is a budget electric toothbrush. A full recharge gives you four weeks of brushing action, which makes it ideal for a travel electric toothbrush to take along on long trips.
Buy the BURST Sonic Electric Toothbrush here
Fairywill Sonic Electric Toothbrush
Another up and coming electric toothbrush brand other than Oral B and Philips Sonicare that has rapidly caught the imagination of customers is Fairywill. With a wide range of sonic toothbrush models that deliver consistently outstanding results, it is ramping up in market share.
Priced affordably enough to qualify as a budget electric toothbrush, the Fairywill Sonic electric toothbrush
is powered by a maglev motor that delivers 62,000 movements per minute of the brush head. At this power, the toothbrush is astonishingly noiseless and delivers a comfortable and convenient brushing experience.
Even more surprising is how the battery life is so good, lasting 30 days on a single recharge. This puts it in direct competition against far more established brands like Philips Sonicare that is famous for its superior battery technology and performance.
In design and looks, too, this electric toothbrush stands out as special. The manufacturer has won the prestigious Red Dot award for product design in 2020 and once you've used the Fairywill electric toothbrush you'll appreciate the reason for this recognition.
Bold and sharp in appearance, rugged in its build, simple and easy to operate and durable in its structure, this electric toothbrush is a rightful entrant into the echelons of best electric toothbrush brands other than Oral B and Sonicare.
You get 3 different high performance modes of cleaning to deliver complete oral care. You'll enjoy a fresh breath, healthy gums and clean, white teeth by regularly using a Fairywill sonic toothbrush. Waterproof and safe to use in the shower, this dentist-approved model has a sleek surface that keeps it free of mildew and fungus.
A two minute built in timer automatically guarantees that you will clean your teeth for the recommended period. An interval vibration reminder lets you know once every 30 seconds so that you can shift to another quadrant, thereby making sure that all parts of your mouth are cleaned equally.
The Fairywill Sonic electric toothbrush
is a great device to use, whether you're at home or travelling. It has been endorsed by the American Dental Association, which is itself a reflection of the high quality standards the instrument meets.
There are 4 DuPont brush heads and a travel case included in the box. Reminder bristles in a brush head let you know when it's time to replace it with a new head by noticing when the color fades.
And with all these incredible features, the icing on your cake is how it is priced to fit any budget. In fact, many reviewers think it offers great value for the price you'll pay for a Fairywill Sonic electric toothbrush.
Buy the Fairywill Sonic Electric Toothbrush here
Waterpik Complete Care Flosser
Among the well-known best electric toothbrush brands other than Philips Sonicare and Oral B is another favorite of thousands of delighted customers – the Waterpik flosser.
Cleverly harnessing the power of a water jet to remove debris from between your teeth and to get rid of harmful mouth bacteria, the Waterpik electric toothbrush system
helps keep your oral hygiene good, teeth white and breath fresh.
This electric toothbrush is effective at removing 99% of all dental plaque. It is ideal for those wearing braces, as the cleaning action depends more upon the water jets than the actual brush rubbing against your teeth. There is a choice of 10 distinct settings for pressure to help effective cleaning.
The water flosser can be combined with either manual or electric toothbrushes for great results, leaving a clean, fresh feeling in your mouth all day. Within 15 days of using this toothbrush, you'll notice cleaner teeth, healthier gums and better oral hygiene.
If there's one thing most electric toothbrush reviews focus on, it's the size of the Waterpik Complete Care Flosser
. It is indeed bulky and will require extra shelf space in the bathroom. But in return for this, you'll get a powerful punch in cleaning and flossing effectiveness.
The device is easy to use and simple to operate, even when your hands are slippery while wet. The water tank holds over half a liter of water, that can floss for almost 90 seconds. You get a choice of 5 different tips for specific purposes. One is for general use, another for those with veneers and crowns, while a third is for users who wear braces.
An annoying drawback of the Waterpik Complete Care Flosser is how noisy it is to operate when compared to other electric toothbrush brands. This can take a bit of time to get used to.
Buy the Waterpik Complete Care Flosser here
AquaSonic Ultra Whitening Toothbrush
Powered by a brush head that oscillates at 40,000 vibrations per minute, the AquaSonic Ultra Whitening toothbrush
rivals its better known competitors to qualify as one of the best electric toothbrush brands other than Oral B and Sonicare.
Combining beauty and brains with power, the AquaSonic is a world class electric toothbrush that runs on state of art technology and is powered by an industry-leading motor. A lithium-ion battery operates the brush at upto 40,000 vibrations per minute in 4 different modes for specific purposes.
In the box you'll get 8 DuPont brush heads and a custom travel case which makes it easy to carry along an AquaSonic toothbrush on trips. Each replacement brush head lasts typically for 4 months, which means you won't have to worry about buying extra heads for another couple of years.
When it comes to performance, the AquaSonic Ultra Whitening electric toothbrush does not disappoint. It is effective at removing upto 10 times more dental plaque than a manual brush, especially plaque along the gum line and behind or between teeth.
Using the toothbrush in Whitening mode helps make your teeth whiter by dissolving surface stains through an intelligent use of inverted frequencies. In Massage mode, the toothbrush ensures gentle massaging of gums which improves blood supply and keeps them healthier.
The battery recharges ultra fast, which makes this an ideal travel electric toothbrush to take long when you're away from home. An inbuilt vibrating timer to let you know when to move to another quadrant ensures complete cleaning of all teeth. However, there is no pressure sensor in this electric toothbrush.
Loaded with desirable features, including 4 modes of operation and a lovely design aesthetic, it's no wonder that the AquaSonic electric toothbrush made it onto our selection of 15 top electric toothbrushes in 2020.
Buy theAquaSonic Ultra Whitening Toothbrush here
Best Electric Toothbrush Brands Other Than The Top Two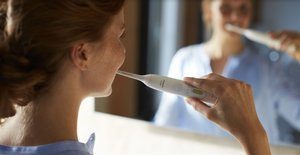 As you've seen, it's clear that the list of best electric toothbrush brands other than Oral B and Philips Sonicare is not a small one. There are several new and lesser known brands that can give the giants a run for their money.
More important, for discerning buyers like you, these alternative brands can offer just as good a brushing experience – often at a lesser cost, and with even better technology than the popular Oral B and Sonicare brands.
If you've been holding back from getting an electric toothbrush purely because you've found the high price point of other models forbidding, then rest assured that you can find an instrument to meet your budget – and still get most of the advantages from a high-end electric toothbrush.
Where To Buy The Best Electric Toothbrush Brands?
You could pick up one of these best electric toothbrush brands in a retail store like Target or Walmart or Walgreens. Usually they have the popular models in stock, though it may be that on a given day you won't get your choice of color or other specific preferences.
On the other hand, you can go shopping online and order the same electric toothbrush brands from e-commerce websites like Amazon.com
In fact this is a better option because of the fact that there are frequent sales and discounts on offer which can help you save money even as you get a great deal.
The same manufacturer's warranty and other perks of buying in a store are also available with online shopping – along with the added benefit of having the order conveniently shipped to your doorstep, usually at no extra cost.
Hopefully this review of the best electric toothbrush brands other than Oral B and Philips Sonicare has helped you find an alternative to suit your preferences.
If you know of any other brand that belongs on this list, please leave a comment below.